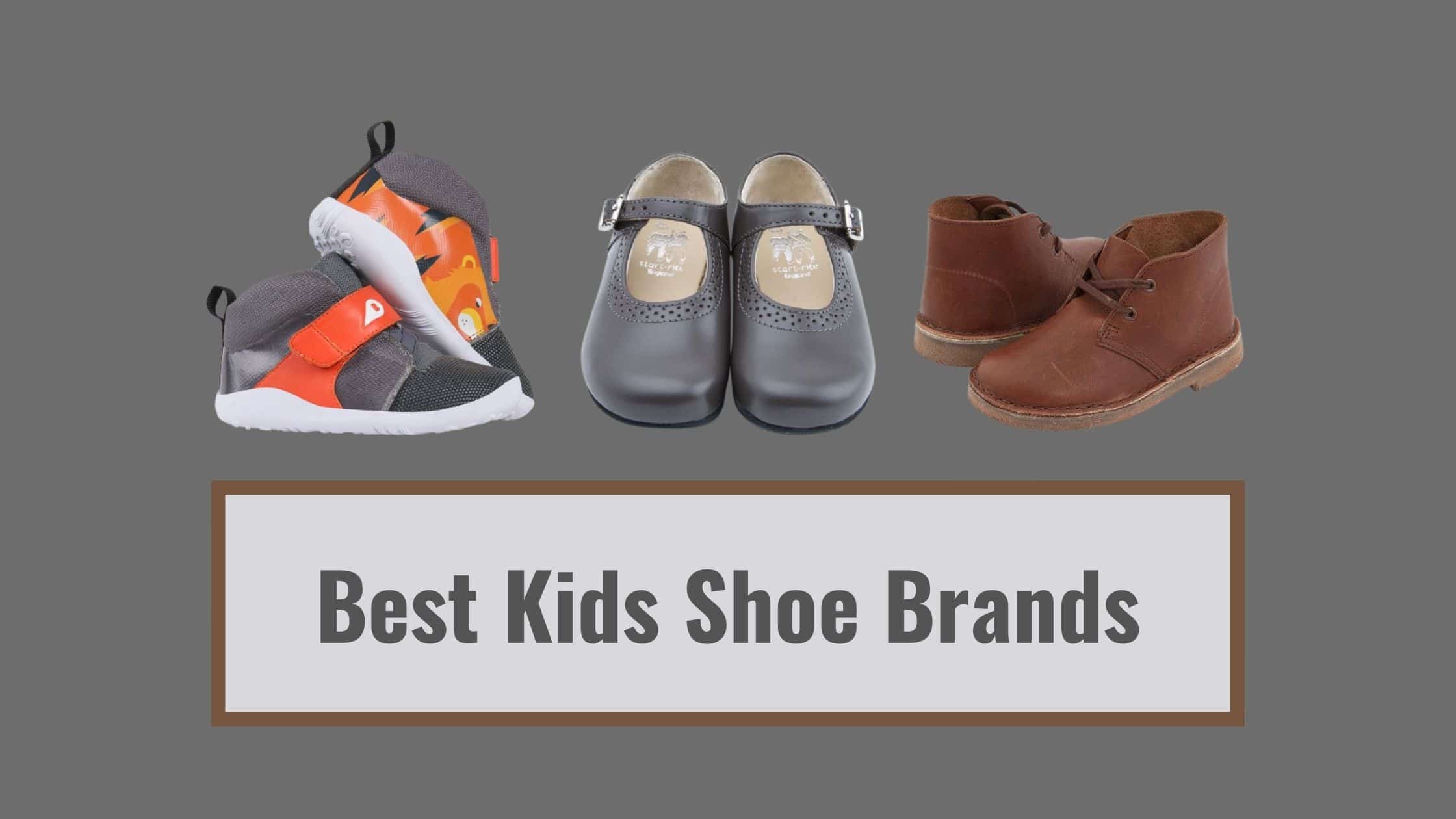 Children have delicate feet that are prone to injury and the only solution to this predicament is a nice pair of shoes to protect their feet. If you're looking for the best kids shoe brands in the UK, then this article is for you.
It's well known that ill-fitting shoes can damage your child's feet and disfigure their bones, so it's best to measure their feet for the perfect fit. Many brands of today offer detailed and comprehensive sizing charts on their sites and this can help you determine the correct size for your child.
Also Read: Best Microphone for Kids
In order to make the selection easier, we will be listing out all the stylish, comfortable and affordable shoe brands available in the market today that are beneficial to your children's development and promote healthy growth.
Tried and tested, here are the top 10 best kids shoe brands in the UK.
Bobux
Start-rite
Clark's
Young Soles
Plae
Salt Water Sandals
Ricosta
Kickers
Pediped
Livie and Luca
Top 10 Best Kids Shoe Brands in the UK
Bobux

Bobux is originally a New-Zealand based brand that has been around for well over 25 years. They are podiatrist-endorsed and have been designing modern day shoes that enhance your kids' growth.
These lightweight shoes are available from around £20 and would be ideal for infants and children up to the age of 2 years. The shoes are crafted from the finest materials and the range to choose from is pretty vast, so you will definitely find something that will fit well on your kids feet.

What's more is that Bobux has an online measurement tool that you can use to find out the exact foot size of your child. The shoes can either be ordered on their website or via Amazon.
Start-Rite

One of the oldest British kids shoe brands in the market today is Start-Rite. They have been manufacturing kids shoes for well over 300 years and are well-versed in what they do. These days, Start-Rite works alongside leading podiatrists and physio experts to develop shoes that support the growth of your kids feet rather than stunting them.
Ideal for children between the ages of 1-6, Start-Rite offers a range of beautiful styles to choose from. Their shoes even come with flexible and lightweight soles making them easy on your child's feet.
Unfortunately, Start-Rite does not come with an online mode of measurement, but you can drop in to their stores if you want to measure your child's feet. The shoes from Start-Rite are a must have, especially if you're looking to help your child grow.
Clark's

Clark's is a well renowned brand that makes shoes for children and adults. Many of us would have probably started off with a pair of shoes from Clark's when we were kids. It truly is one of the best shoe brands to start off with.
The brand offers loads of different prints and patterns for children and is one of the few brands that come with a range of fittings.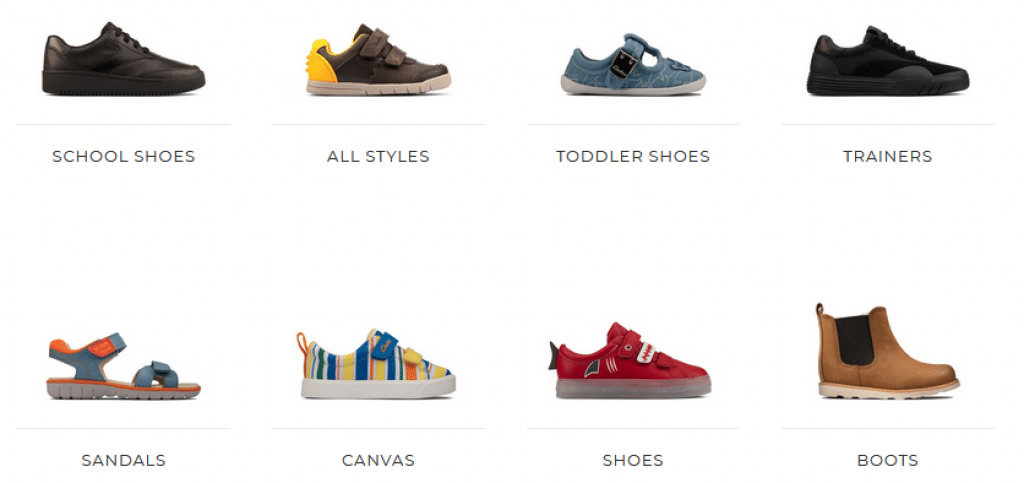 Ideal for kids between the ages of 2-10, as a parent, you would be able to choose from pram shoes, cruisers, trainers and party-shoes for your kids and they will never be disappointed with the level of comfort that Clark's has to offer.
Young Soles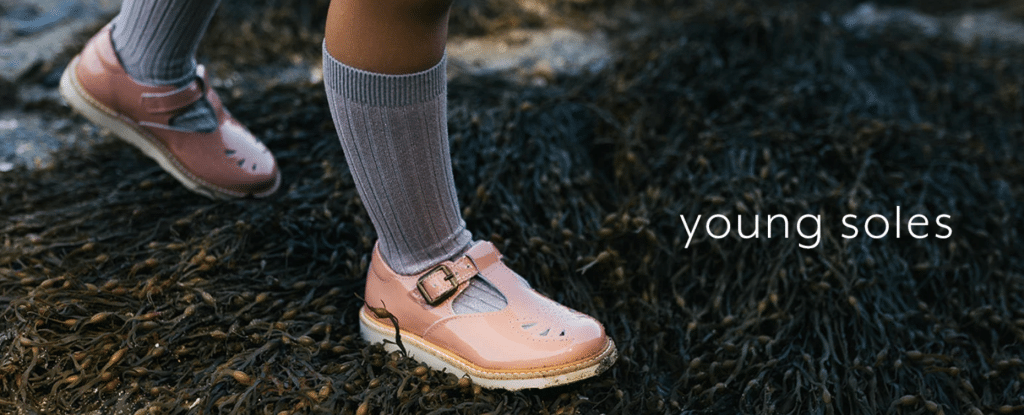 Young Soles is another fine East London based brand that delivers some uber cool kids shoes. They have been known for their lightweight and flexible shoes that are made from natural materials including leather.
The shoes have been designed to help your kids grow and there are loads of pairs to choose from. Some of the best Young Soles shoes for kids would be the T-bar and others from the new summer collection.
Acknowledging trends and adding their own twist to the designs, a pair of Young Soles shoes on your kids feet will make them look and feel like the coolest kid on the block.
Plae
Plae is another UK based brand that manufactures kids shoes that ensure a healthy and natural growth. Their shoes are washing machine safe and have been strategically engineered with the help of scientists that specialize in children's growth and development.
Their shoes are bright, colorful and are something kids would love to wear all the time. The best part, Plae shoes can fit kids between the ages of 4 all the way to 18 years.The shoes have been manufactured in an environmentally-safe factory that uses recycled products and water based glues.

What makes this product a safe and ideal option for your kids is that every shoe has been made to stand out and would contain some percentage of recycled materials. You can use the robust measuring system on their website to determine the right size of your child's feet.
Salt Water Sandals
Salt Water is a cult brand that features some really cool looking shoes and sandals to choose from. This brand is quite similar to Young Soles in terms of manufacturing style and design of the footwear.
They have been running their operations for over 70 years and have become somewhat of a sensation thanks to their metallic colourways. These comfortable shoes are safe to wear for prolonged periods of time and are machine washable, meaning they do not rust or fade.
Another range of their shoes is the Sun-San range that offer extra protection for your kids feet. The soles are made with a thicker sponge base that ensures your kid's feet don't get damaged and they have a stable and natural growth.
Ricosta
If you're planning on sending your kids to school, then a nice functional pair is what you will need and Ricosta manufactures the best. Their shoes are made up of breathable soft leather and have lightweight, flexible soles quite like Clark's.
Ricosta shoes have been developed post collaborating with certified children specialists and orthopedics. They help develop your kids' growth and are considered to be one of the best shoes in the market that your kids can wear for long periods of time and still find some level of comfort.
What makes this brand unique is that their shoes have been designed to be used by every type of kid out there, even if the child is wearing orthotics. You are able to remove the foot beds of the shoes for an easier fit.
Kickers

If you were a 90's kid, then you would have either probably grown up wearing a nice pair of Kickers, or one that resembles them. Since then, they have revamped their collection by including other materials to make their shoes, such as suede and metallics.
Kickers are available for kids, newborn and even some that adults can wear. What's special about the Kickers shoes is that each pair has been put through around 50 different stress tests allowing them to be long-lasting, durable and playground proof.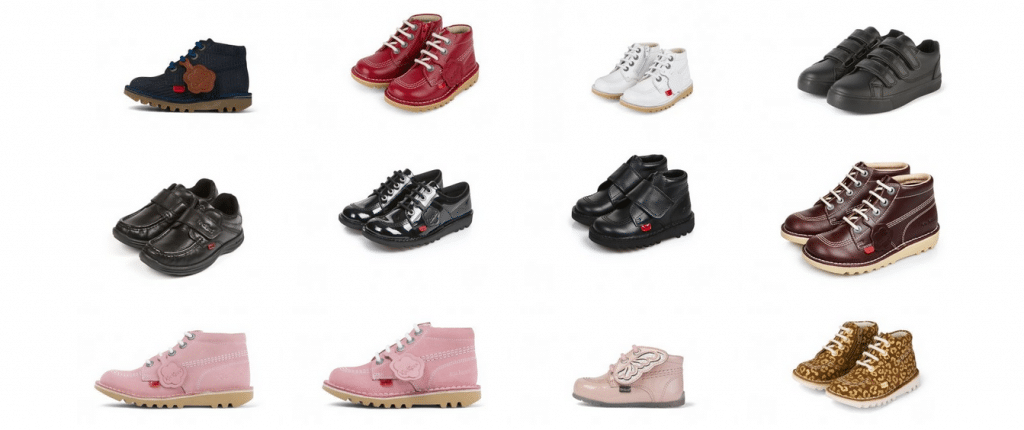 If you're the kind of parent who likes twinning with your child, then two pairs of matching Kickers are what the doctor ordered. These shoes are pretty affordable and considering their wide range, are truly some of the best kids shoes available.
Pediped
Pediped, another affordable kids shoe brand, is literally one of the most silent shoes your kid could ever wear. They have a baby range that are made using soft leather and velcro enclosures so there's absolutely no sound as your child begins to walk.
Quite like Bobux and Clark's, Pediped has worked with top scientists and pediatricians to develop products for kids that enhance their growth.
They come highly recommended by the American Podiatric Medical Association and were even awarded the Seal of Acceptance for creating shoes that promote a healthy growth in kids.
Livie and Luca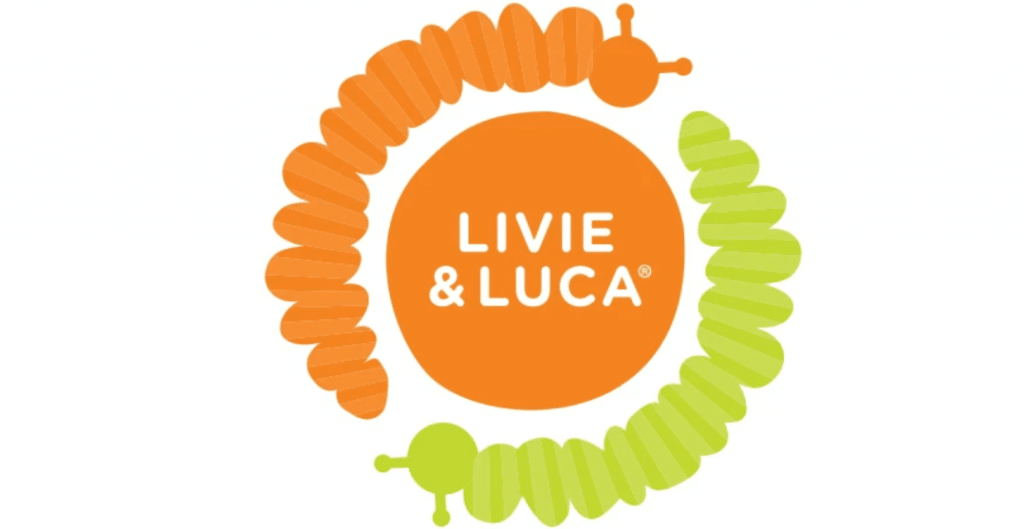 Livie and Luca is one of the best kids shoe brands in the UK that comes with the most unique designs and prints on kids shoes. It is currently owned by the beans Happy Little Soles which was founded by a group of foot health conscious parents. Each pair of shoes made here are designed to be beneficial to your kids' growth by ensuring they are a perfect fit.
Though the website does not come with a built-in measurement guide, the shoes available come with detailed descriptions that highlight any size or measurement related information, so you can make your decision and then purchase them online.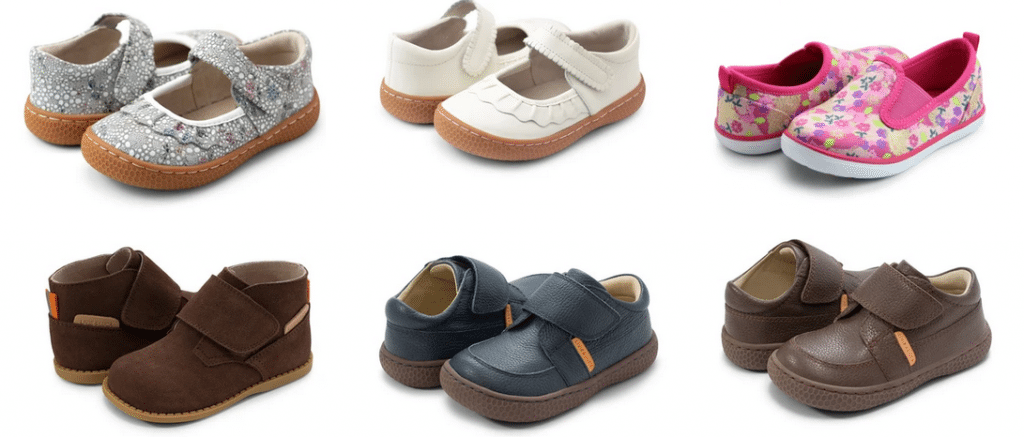 Available for kids between 12 months to 3 years, Livie and Luca shoes will always be the right choice for new parents who know that healthy feet are essential for your child's development.
Best Kids Shoe Brands – Buyers Guide
While buying shoes for your kid, it's best to consider a couple of options first. This list will help you determine which is the best brand for your child. These are the same factors we took into consideration before listing out the top 10 best kids shoe brands.
Material – One of the most important things to consider when picking the right brand of shoes for your kid is the material they're made from. You will need to pick something that expands, keeps your kids feet cool, doesn't cause any allergic reactions and is soft. Premium choices are soft leather or durable memory foam.
Design – Another point to keep in mind is the design of the shoes, you will definitely want something that appeals to kids and looks cool. Pick a brand that offers many different designs, but are beneficial to their growth.
Cost – Kids shoes normally cost between £20 and £50 but can go up to £100 depending on their material and design. The shoes and sandals listed above all fall within the £20-£50 category and when it comes to shoes for your child, you will need the best, so make sure you keep a little set aside for the shoes.
Takeaway
After trying and testing numerous brands, we have drawn the conclusion that these are the best of the best and Bobux takes the mantle as the best kids shoe brand in the UK.
I do hope this list has proven to be helpful. All the best with your shoe hunt!
Ciao!
Also Read: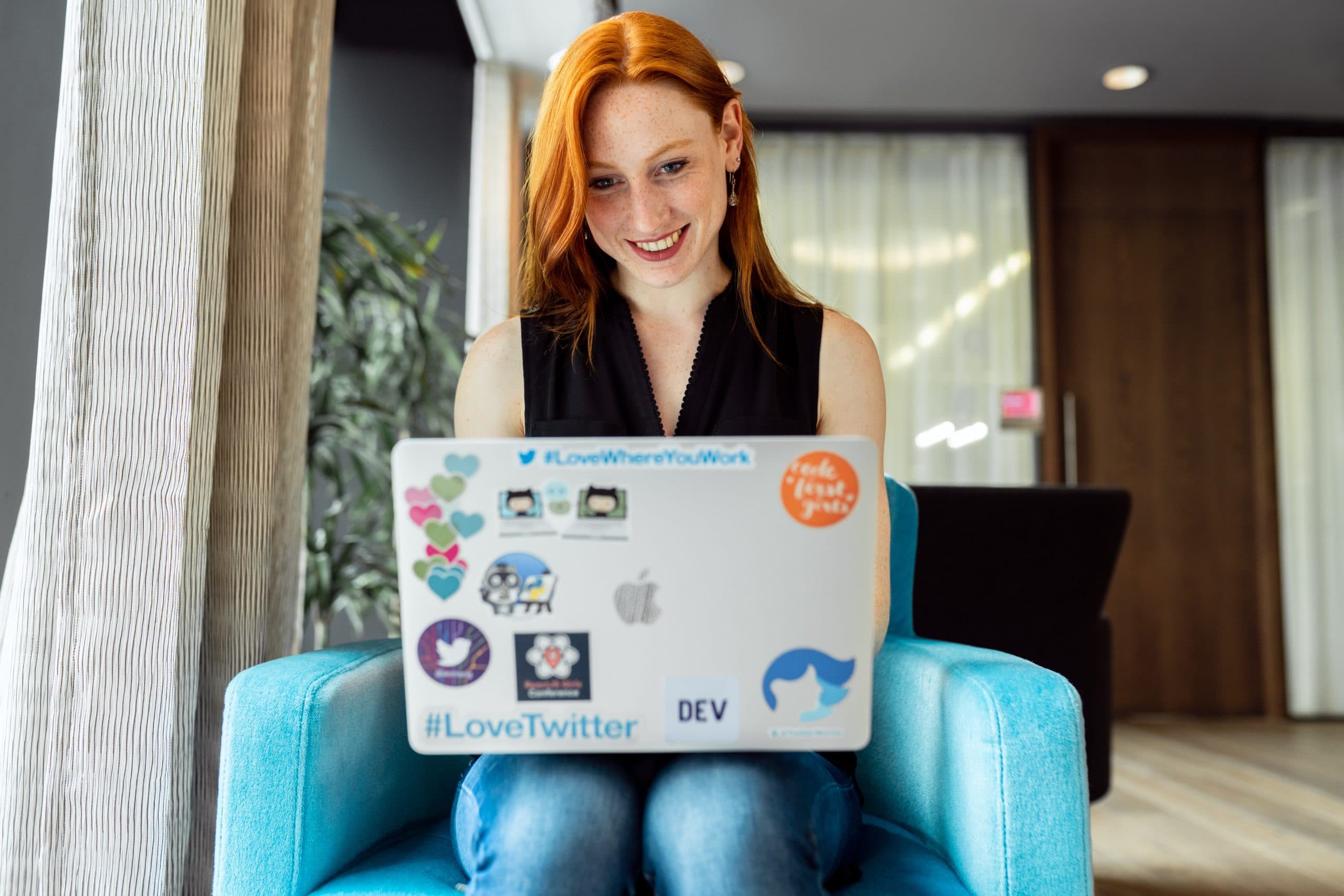 Joanna is a writer, poet, stand-up comedian and holds two master's in arts and history. She founded Discount-age with the intention of providing her readers with solutions to everyday household problems. During her free time, Joanna loves cooking but usually ends up ordering in.