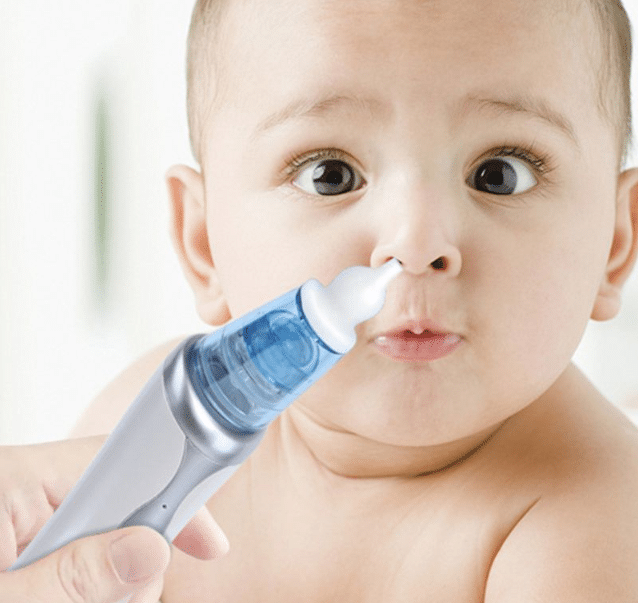 When flu season is around the corner, aspirators are a necessity in every medicine cabinet. This tool is a great help especially for newborns and for babies who have not yet learned how to blow their noses. Parents need to select the best gadgets for their children especially when it comes to their health and hygiene. We at Discount Age have compiled a list of the Best Baby Nasal Aspirators UK of various types.
There are many available products in the market, but nothing comes close to the nasal aspirator. It helps babies relieve clogged nose and make them breathe easier in an instant.
The list below can help parents decide which aspirator might be best to have that congested-free and clear nasal passage for your baby. Anyway, here's our list of the Best Baby Nasal Aspirators UK.
After reviewing 75 baby nasal aspirators in the UK based on various types of factors like effectiveness, sensitivity, design, comfort, features, function and price; My team and I zeroed in on 11 that really stood out. These 11 were further put through a series of stress tests. We found that:
The best baby nasal aspirator in the UK is the Nosiboo pro aspirator. It has a baby-friendly and parent-friendly design. This device has a fun shape that will keep your baby entertained and distracted as you clean their nose.
Recommended Read: Best Baby Sleep Products
Best Baby Nasal Aspirators UK 2021
Nosiboo Pro Aspirator
The Nosiboo Pro Aspirator is a highly efficient device that has been designed in partnership with leading ENT's of the world. This nasal aspirator is made from a lightweight and soft material that's easy to clean and is easy on your baby's nose.
It features a unique design that will keep your baby distracted while you clear their nasal passage of mucus.
The patented design makes it easy to maintain and clean. You get complete control over the suction power and it comes equipped with multiple settings.
The Nosiboo pro aspirator has been worked on in such a way that it will easily clean your baby's nose and be fun while doing so. The settings let you adjust the aspirator depending on the age of the child and thickness of the mucus.
Key Features
Developed by ENTs
Child friendly design
Easy to clean
BPA free
Watolt Electric Baby Nasal Aspirator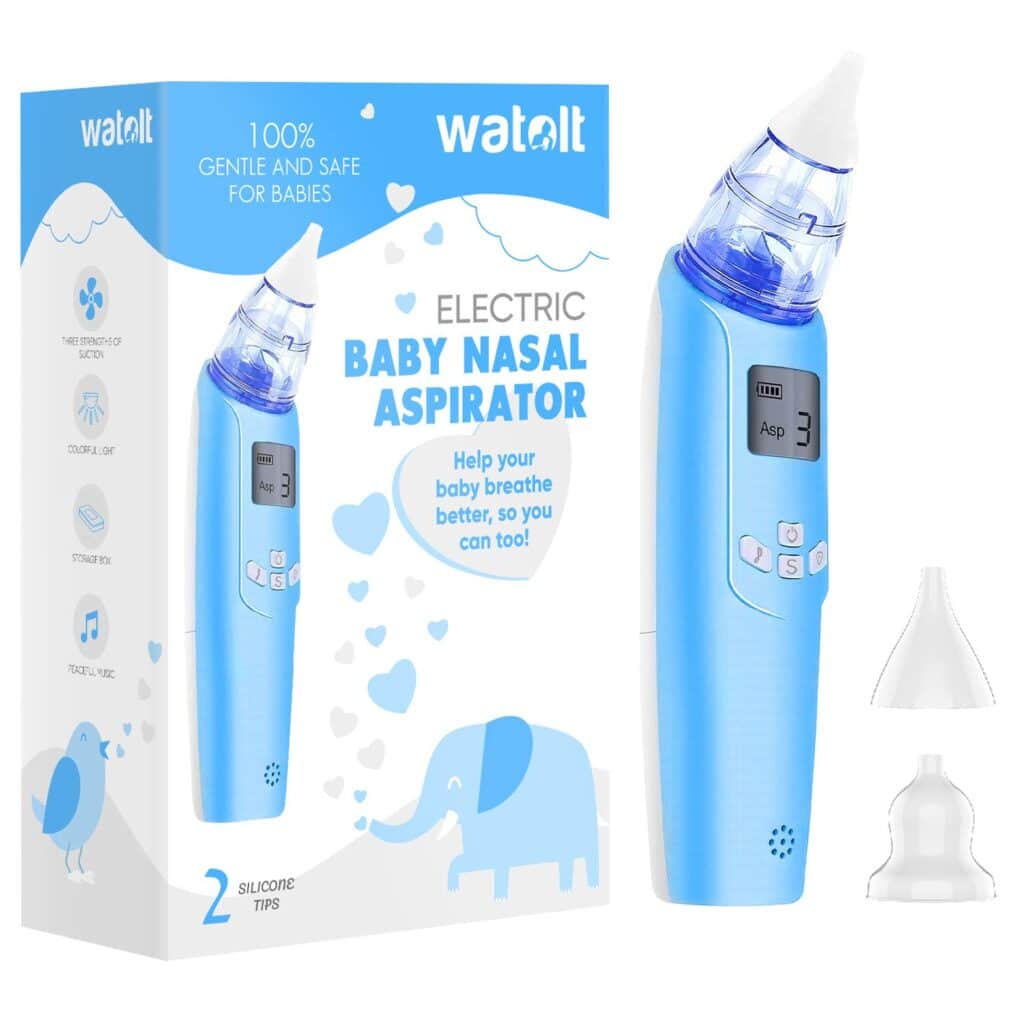 The Watolt Electric Baby Nasal Aspirator is one of the most effective baby nasal Aspirators in the UK. This nasal has a baby-friendly design and comes with adjustable power settings, reusable tips and an LCD screen. Most importantly, it comes with a music feature to distract the baby from the noise and the discomfort. It is one of the Best Baby Nasal Aspirators UK.
As mentioned earlier, this nasal aspirator comes with a hassle-free and baby-friendly design. Parents would love this one as it doesn't require complicated processes or multiple components. It comes with two tips that can be washed and reused.
Other than being portable, It also has an LCD screen on the handle that shows the various settings and features. You can even access the musical feature of this device and distract the child with some soothing tunes while you remove those boogers.
This is an electric nasal aspirator. So, it runs on battery power and you'll have to charge it every now and then using the companion charger. It is also easy to carry around and can even fit in purses.
This baby nasal aspirator comes with three suction modes: a mode for newborns, a wide purpose mode and long reach mode to get the really tough boogers. You can always use a saline spray to make the process much easier.
Key Features:
3 suction modes
Play's music to distract the chile
2 reusable tips
LCD screen to control the various features
Preventing Backflow Aspirator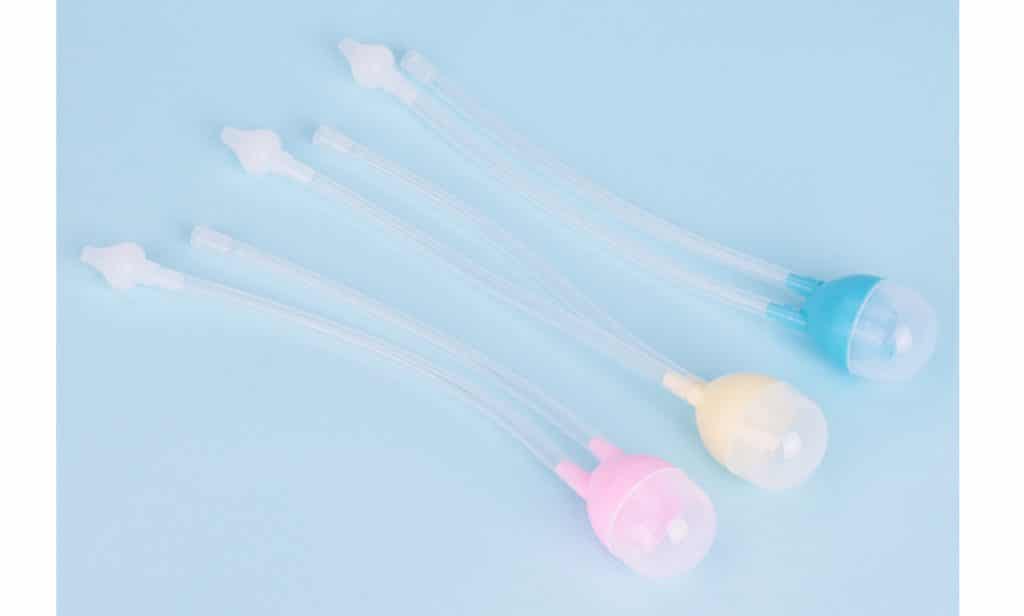 This nasal aspirator has a U-shaped design that can effectively suck out your baby's nose fluid. It is also commonly known as a bulb syringe aspirator. It is one of the Best Baby Nasal Aspirators UK.
It is made from a soft silicone material that will not cause damage in your baby's delicate nose.
This flat bottomed aspirator can easily fit your palm, portable and can easily store away in baby bag and cabinets.
It has an anti-backflow device that is made to prevent the liquid from spilling back to your baby's nose.
Key Features:
Soft material that won't damage your baby's nose
Anti-backflow so that the liquid won't go back into your baby's nose
Easy to handle and use
Ravifun Electric Nose Cleaner
Using a cotton swab or a tissue to clean your baby's nose might do more damage than relief. This electric aspirator allows you to clear your baby's nasal passage carefully while allowing them to breathe easier and sleep harmoniously
This aspirator has 5 levels of suction power and 2 sizes of soft reusable silicone tips suitable for newborn and for babies over 2 years of age.
It also comes with a USB cable to easily recharge the device. It has an efficient, zero screw exposure design which makes it super handy and easily controlled by the simple button. This one of few must-have baby products.
You will never have to worry about harming your baby's delicate sinuses with this electronic aspirator.
Key Features:
Unlike cotton swabs or manual aspirations, this electric one has perfect control.
5 levels of suction power
USB rechargeable
Suction Bulb Aspirator
The Suction Bulb Aspirator is amazing when it comes to removing mucus from an infants nose. The best part is that it's super hygienic and easy to clean.
It is also easily dismantled for convenient cleaning making it more sanitary for your baby's next use.
The suction can be easily controlled and simple to operate making it comfortable for your baby.
This aspirator is made from quality silicone with a soft suction nozzle that is safe and protects your baby's nostrils.
Key Features:
Made from soft silicone
Easy to use and clean
Extremely Hygienic
Nasal Wash Bottle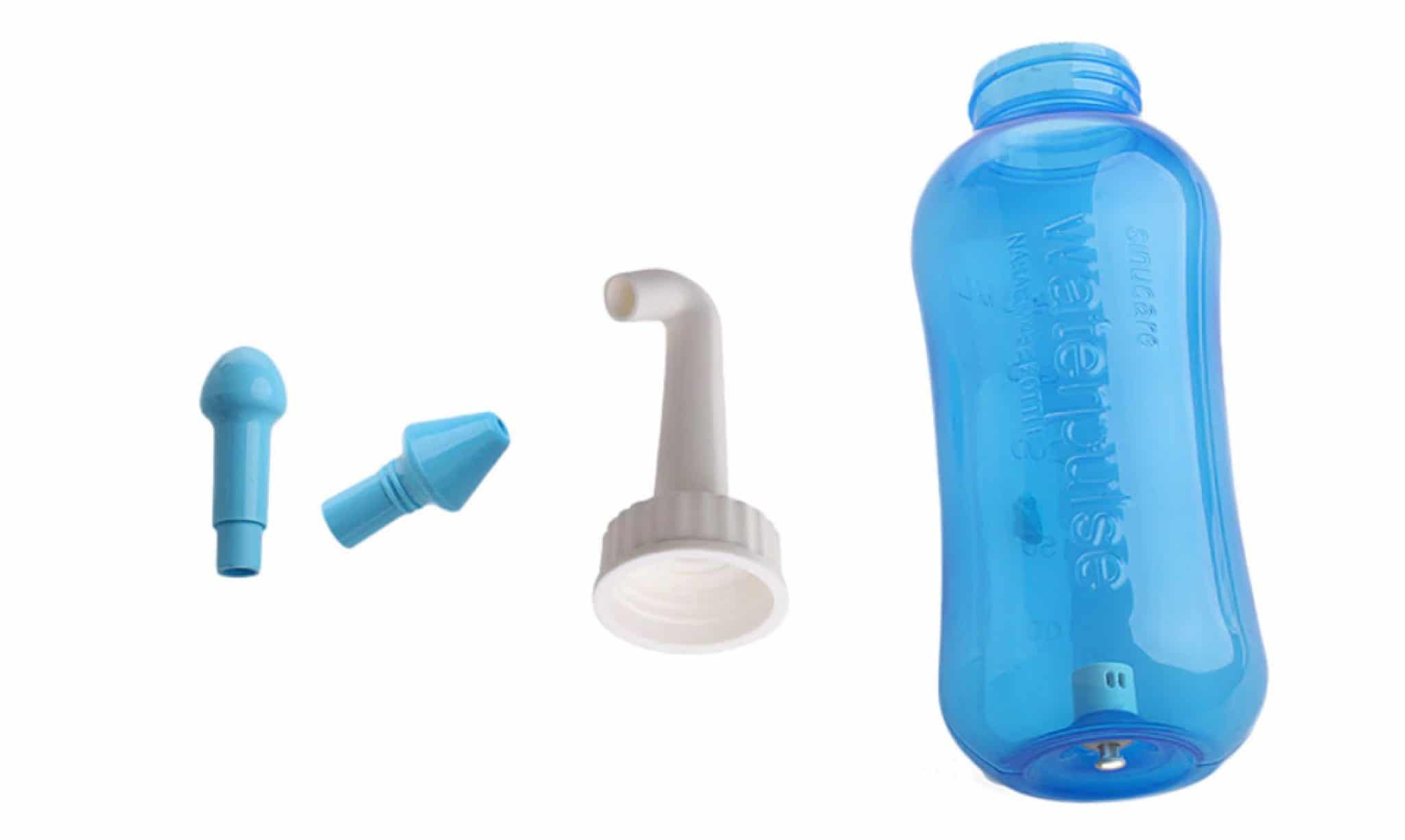 Studies show that saline solutions help restore moisture to dry nasal passages and sinuses. It can effectively help to thin mucus, reducing postnasal drip and cleanse the nasal passage from bacteria. This nasal wash bottle is a perfect neti pot for your saline solution.
It is designed according to the internal structure of the human nasal cavity. It is perfect when it comes to removing dirt, pollens, dust and mucus from your baby's nose.
Simply turn the bottle upside down and press the button to allow the saline solution to flow gently through the nostrils.
This wash bottle can keep both babies and adults' nose clean, hydrated and soothing. It is the perfect tool for daily nasal care.
Key Features:
Designed to clean the nasal cavity
Saline solution based nasal aspirator
Great when it comes to removing dirt, pollen, dust and mucus.
Baby Care Nasal Aspirator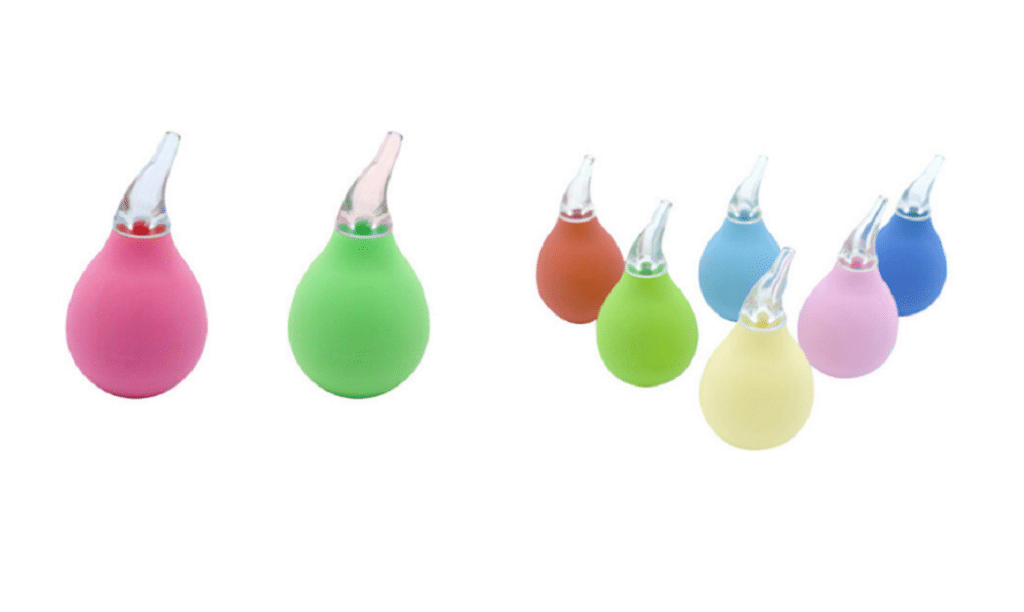 Relieve your baby's runny, stuffy, crusty or dry nose with this baby care nasal aspirator. This medical-grade PVC, which is FDA approved and 100% BPA free helps flush and removes mucus from noses to help your little ones breathe easy.
It has a detachable spout made from a soft, flexible material that is easy to use and a pump that can be easily controlled.
Simply detach the tip and rinse with warm water to sterilize after each use.
It's made from BPA-free non-toxic materials. Most importantly, it's an FDA approved medical grade aspirator.
Key Features:
Soft flexible material
Detachable components that make it easier to clean
FDA approved and BPA-free
Medical / Hospital grade nasal aspirator
One of the Best Baby Nasal Aspirators UK 2021
Newborn Adjustable Nasal Aspirator
Give your baby the best nose hygiene device with this adjustable nasal aspirator. It can be rewashed and be used multiple times to also help save the environment.
It comes in a baby-friendly design that is easy to work with infants and toddlers. It's easily clear your baby's nose without hurting the nose.
This device has 3 gears that can be adjusted based on the needs of the child. The suction head is made from soft and skin-friendly silicone.
It has a detachable design. Basically, this nasal respirator can be taken apart for cleaning. The design itself is also pretty ergonomic and is comfortable to hold.
Since it's an electric nasal aspirator, It can be charged with a USB cable. It has quite a decent battery life.
Key Features:
Baby-Friendly Design
Skin-friendly
3 gears that can be adjusted
Detachable and ergonomic design
USB Charging feature
Soft Tip Nasal Vacuum
This simple designed nasal vacuum is designed for parents to effectively help their babies with a stuffy nose.
Made from latex-free, BPA-free, and non-allergenic material, this nasal vacuum does not rely on any batteries but only through the parents' mouth through sucking, making it one of the most dependable nasal aspirators in the market.
Just place the tube against the child's nostril and use the red mouthpiece to suck out the mucus from your baby and your little one will instantly feel relieved.
Key Features:
Simple design and made from Non-allergen material
Manual Aspirator.
Electric Aspirator for Children
This multi-functional device can both be a nasal aspirator for babies and a beauty tool for parents.
It comes with 3 different shaped silicone tips such as the gourd shape, funnel shape and curved type for nasal cleaning needs.
Meanwhile, a large round hole suction tip for removing blackheads, acne, grease etc. and a microlite tip for removing dead skin is included in the package to help maintain every parents' skin routine.
This rechargeable suction device has 3 levels of suction power. So you can control the intensity of the suction.
Key Features:
Multi-functional
3 different tips
different tips to remove blackheads and dead skin
3 levels of suction
Nasal Aspirator with LCD Screen
With a powerful motor and quality components, this nasal aspirator can remove nasal blockage making your baby breathe easier and sleep longer. It is the Best Baby Nasal Aspirators UK on this list.
It has two sets of different silicone tips suitable for newborns and toddlers. The tips can be easily cleaned using soap and warm water.
It is recommended to use the gourd tip for newborn babies ages 0-1-year-old and the funnel type tip for kids 2 years old and up.
The filter in the device prevents the mucus from flowing back to your child's nostrils.
The LCD screen displays the suction level making it easier to determine the suction power based on your needs.
Key Features:
Powerful motor
Different silicone tips
LCD screen display
Filter to prevent the gunk from flowing back inside
Electric Nasal Aspirator
Maintain your baby's peaceful sleep after or while cleaning their nostrils with this nasal aspirator that can play with soft music which can help your baby feel at ease.
This device has two sets of suction tips for both newborns and kids over 2 years of age.
Other than music, it also has a blinking colourful light function to keep your baby distracted while cleaning their nose and to make the cleaning more precise.
Key Features:
Plays music to soothe your baby
Lights to distract your baby
different sized tips for different ages
What is the best nasal aspirator for a baby?
Baby Nasal Aspirators are all simple to use, affordable and easy to clean making it easier for parents to help relive their babies' stuffy nose.

Two of the Best Baby Nasal Aspirators UK are the Nasal Aspirator with LCD Screen and the Baby Care Nasal Aspirator. Check out the article for their reviews.
Are nasal aspirators safe for babies?
During the first few months when infants rely heavily on their nose for breathing, their small nasal passageways are sensitive and can be easily clogged especially during the cold season or when the air is dry.
Since they can blow their own nose, a nasal aspirator is really important to help remove the gunk, dirt, pollen, and mucus. That being said, it is absolutely safe to use a nasal aspirator provided you have the right brand like the Nasal Aspirator with LCD Screen.
Also Read: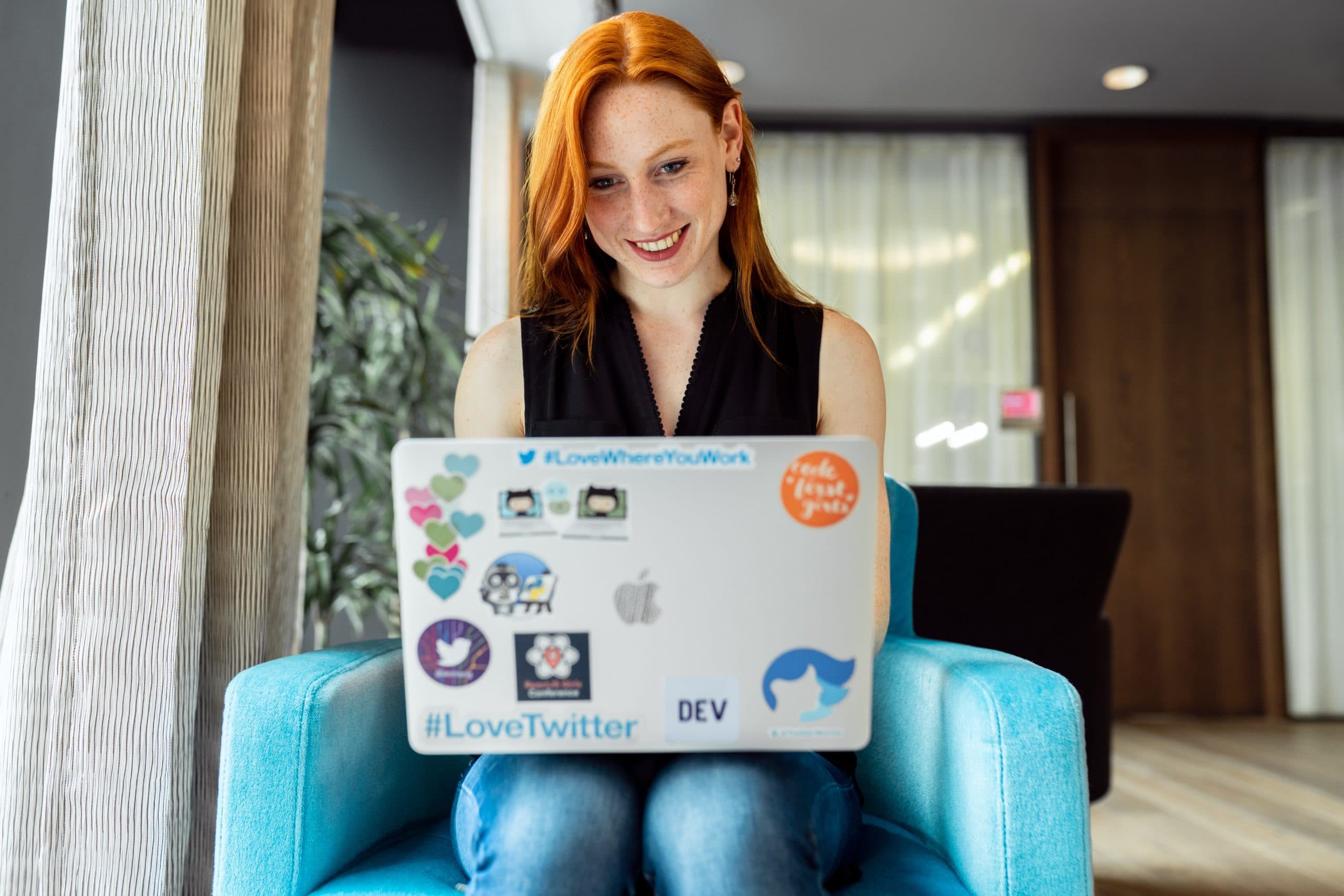 Joanna is a writer, poet, stand-up comedian and holds two master's in arts and history. She founded Discount-age with the intention of providing her readers with solutions to everyday household problems. During her free time, Joanna loves cooking but usually ends up ordering in.