A good nights sleep is rare to find when you have babies at home, especially if they are newborn ones. But when the time when your little ones reach the moment where they can sleep longer at night, parents would normally want to keep this up. This is where overnight nappies can make a whole lot of difference. Check out our list of the Best Overnight Nappies UK for all the details.
Having an overnight diaper greatly helps because the chances of your babies waking up in the middle of the night feeling wet and uncomfortable are lesser compared to wearing regular diapers. It also saves you the time and effort to put the blankets and mattress on laundry.
There a lot of diapers in the market today that offer different absorption feature to keep your babies dry. Overnight diapers are specially designed for extra absorbency, leak protection and overall comfort during the night.
It also offers around 20-25 per cent more capacity than the usual diapers. In our list of the Best Overnight Nappies UK, we've mentioned a few pointers on what to look for in purchasing overnight diapers. So, be sure to check it out.
Best Overnight Nappies UK 2020
#1 — Pampers Swaddlers Overnights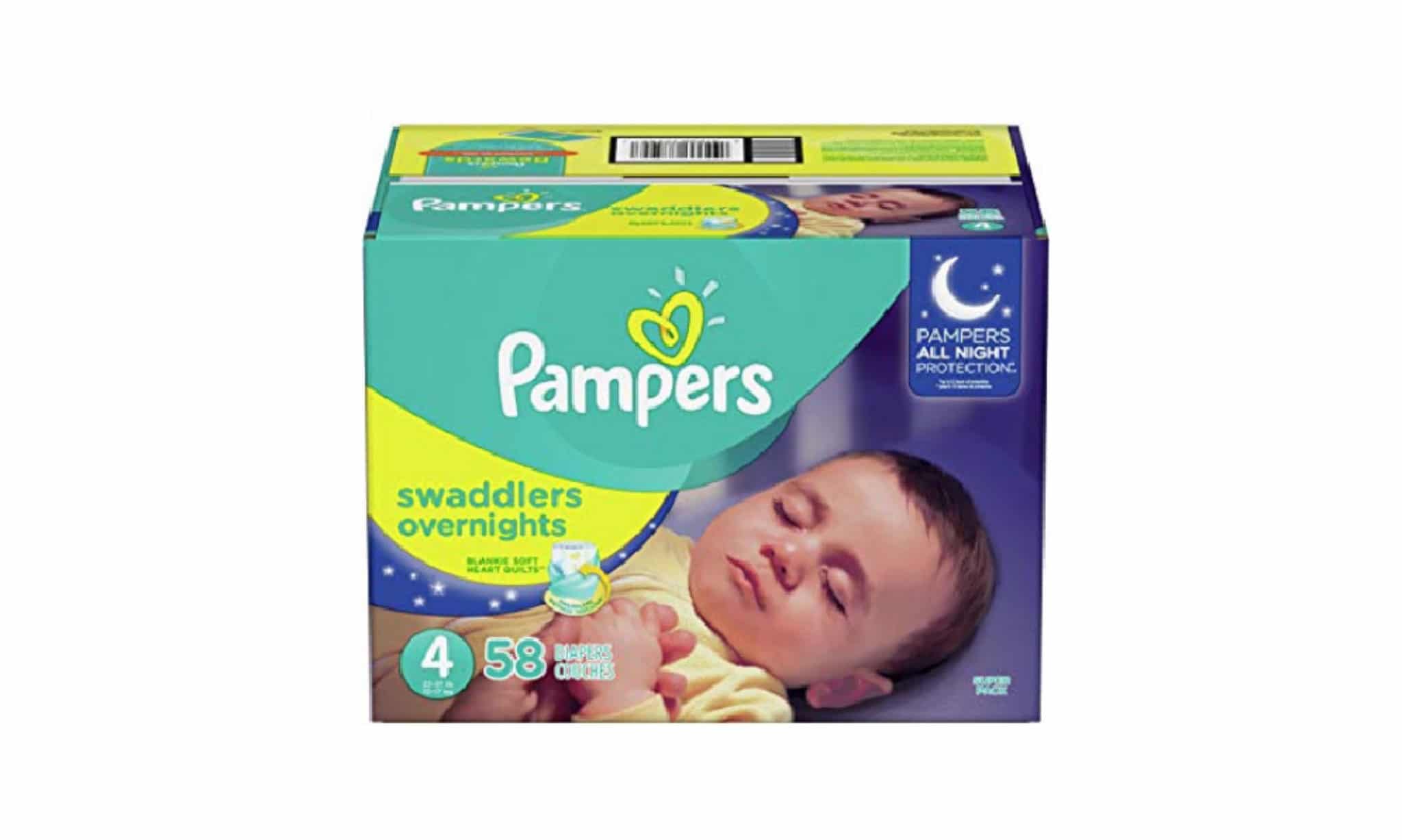 From one of the best diaper manufacturers in the world; Pampers Swaddlers Overnights are made with nighttime protection in mind.
It is made from a gentle blanket-like material that gives your baby a super soft blanket like comfortability at night.
It has air channels that allow air to reach your baby's skin to keep them dry and avoid rashes.
This overnight swaddle gives up to 12-hour protection and has a wetness indicator that lets you know when it is time for a diaper change.
Key Features:
Gentle blanket-like material
Air Channels that allow air
12 hours of protection
Wetness Indicator
#2 — Goodnites Bedwetting Underwear
Start the day right by waking up dry and comfy with Goodnites Bedwetting Underwear. This underwear has a 5-layer absorbency protection and double leg barriers to prevent overnight leaks.
The stretchy waistband provides a soft, underwear-like fit for all body shapes.
It also has an odour-absorbing feature to prevent unwanted smell when your child accidentally pees.
It comes in sizes that range from 25 pounds to 128 pounds since Goodnites are specifically tailored to fit and provide protection for kids and toddlers who only wet at night. It has Marvel Superheroes and Disney Princesses designs that you can choose from.
Key Features:
5-layer absorbency protection
Double leg barriers
Fits all body shapes
Odour Absorbing feature
Marvel's and Disney Princess designs
#3 — Honest Overnights
Derived and made from natural and sustainable materials, Honest Overnights diapers are perfect for your baby's delicate and sensitive skin.
It features an ultra-thin core technology that provides better absorption with up to 20% more capacity and keeps the baby dry up to 12 hours compared to their regular diaper variants.
The secure-fitting barrier cuffs and comfy elastic waistband help prevent leaks from happening.
Its secure fit, softness and comfort is everything that you need for an overnight diaper. This dermatologically tested diaper is free from chlorine processing and made without latex, fragrance and lotion.
Key Features:
Made from natural materials
Ultra-thin core technology
Can keep your baby dry up to 12 hours
Secure fitting barrier cuffs
Made from toxic-free materials
#4 — Huggies Overnites
Regarded as the most absorbent diaper, Huggies Overnites has a soft and durable dry touch liner that has 25% more absorbency than their other diaper products.
It absorbs wetness upon contact to keep them dry during the night. It is hypoallergenic and free from lotion, fragrance and other volatile chemicals to protect your baby's soft and sensitive skin.
The double grip strips are made to keep the diaper secure throughout the night even if your baby constantly shifts position while sleeping.
It also has a wetness indicator stripe that changes colour when the diaper is needed to be replaced. Huggies has always been a durable and reliable diaper for your baby's diapers.
Key Features:
Soft and Durable
Perfect for sensitive skin
Secure
Wetness Indicator
#5 — Seventh Generation Overnight Diapers
Parents and kids will truly have a comfortable sleep with Seventh Generation's overnight diapers.
With cute design perfect for little boys' and girls' sensitive skin, this diaper is made to protect and keep them dry at night. It is also free from chlorine processing, fragrance and lotion.
The Seventh Generation Overnight Diapers is actually made from corn and wheat materials and sustainably harvested wood pulp which is designed to feel as close to actual cloth as possible.
Key Features:
Comfortable
Cute design
Free from toxic materials
Made from eco-friendly materials like corn, wheat materials
#6 — Parent's Choice Overnight Diapers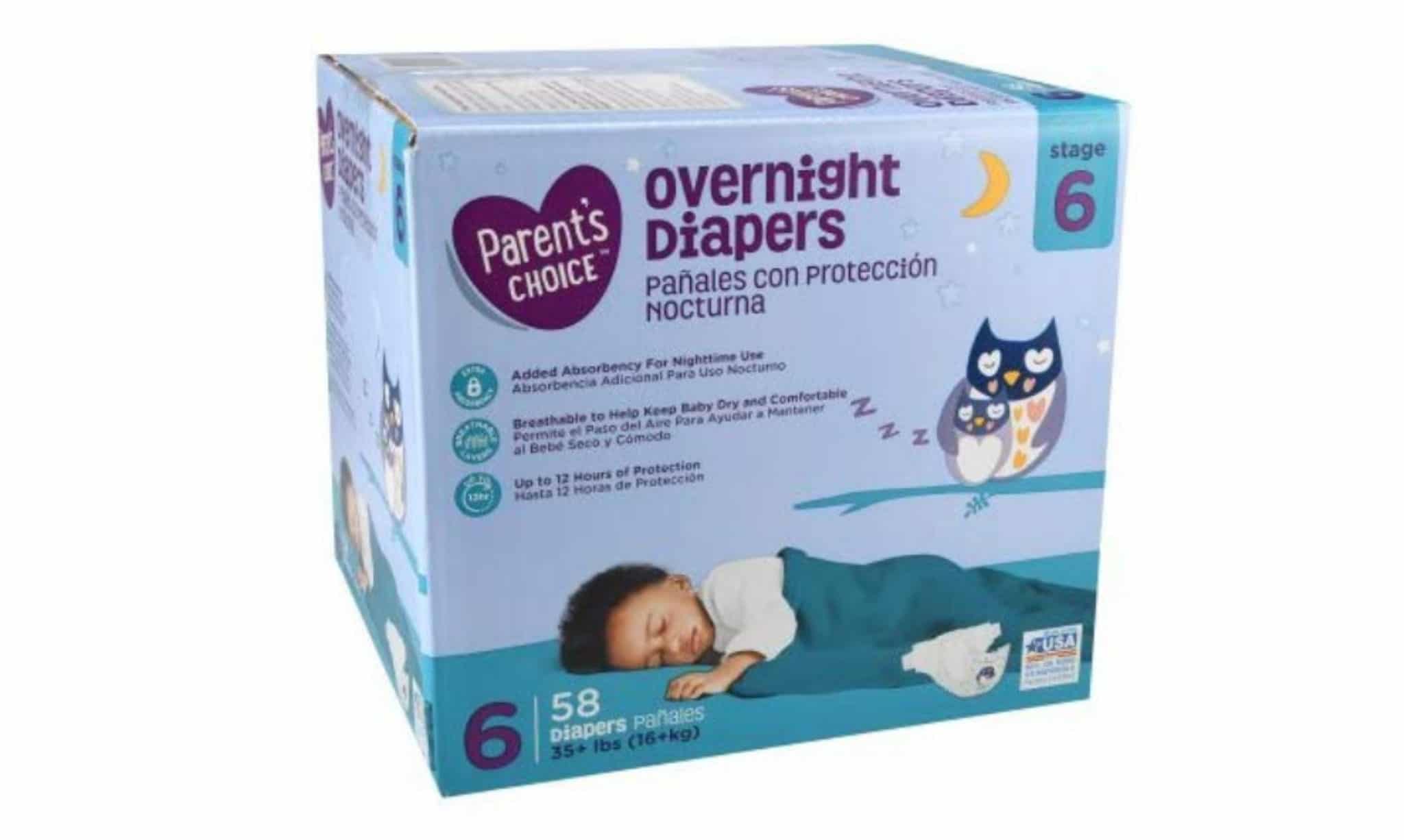 Parent's Choice Overnight Diapers is designed with baby's comfort and skincare in mind.
This overnight diaper from Parent's Choice is super absorbent and made from soft, breathable materials that keep your precious ones dry and comfortable at nighttime.
The anti-leakage barrier prevents leaks from your baby's legs. This hypoallergenic overnight diaper can protect your baby up to 12 hours.
Key Features:
Comfort and easy on the skin
Super absorbent
Soft, Breathable Materials
Anti-Leakage barrier
#7 — Pampers Baby Dry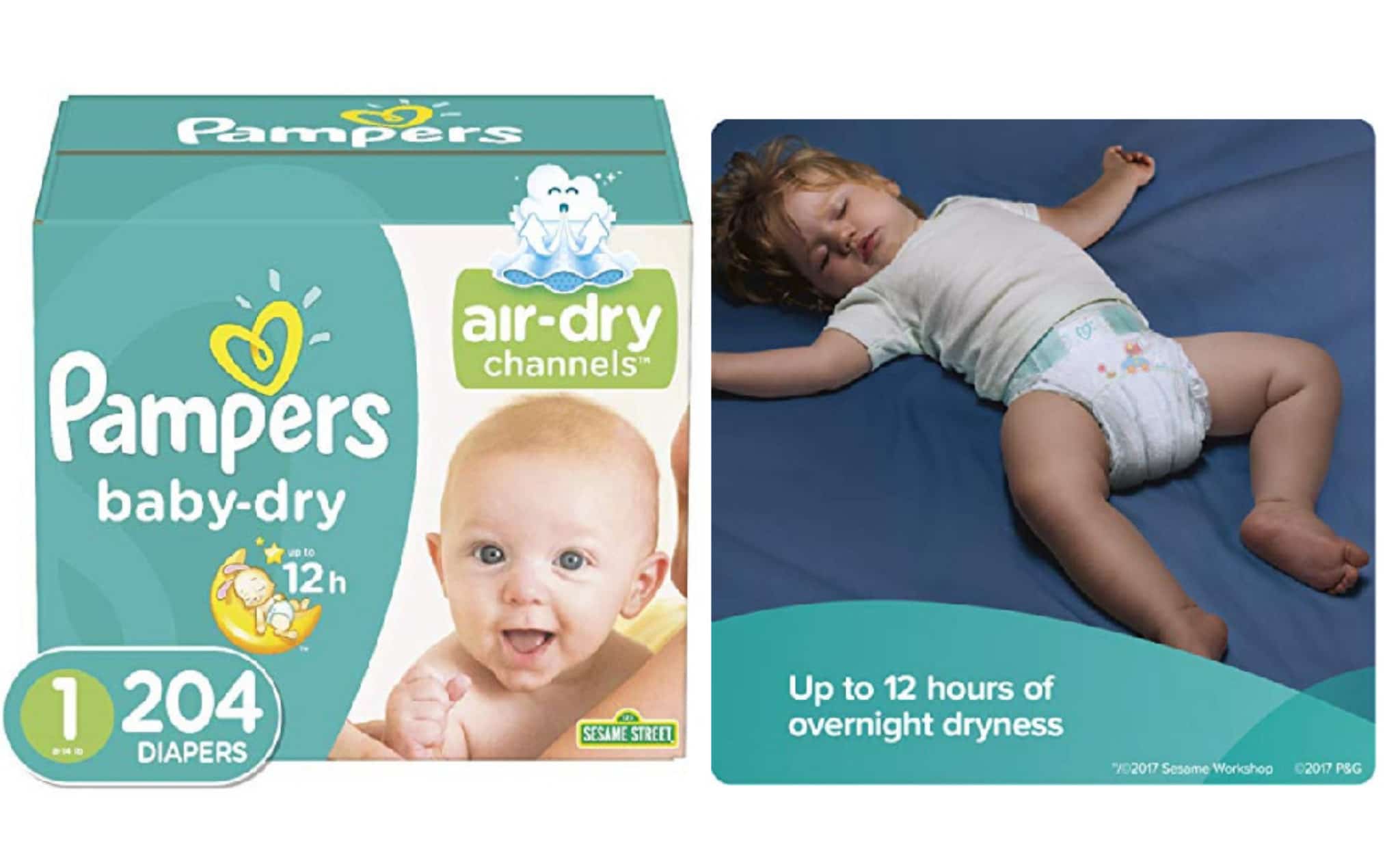 With the Pampers Baby dry you can get up to 12 hours of overnight dryness and protection with Pampers Baby Dry.
It has stretchy sides for a comfortable fit and a wetness indicator that shows when your baby needs to change.
Its 3 layers of extra absorb channel help distribute wetness evenly and keep your baby dry.
The thin material made it less bulky under pyjamas and perfect for travelling. It has a fabric that is softer than average and the skin-friendly elastic sides prevent chaff from happening.
Key Features:
12 Hours of dryness
Stretchy
Wetness indicator
3 extra layers
Thin material
#8 — Huggies Snug and Dry
Another good quality product from Huggies is their Snug and Dry variant. It provides up to 12 hours of protection at a great value for up to 12 hours.
This Snug and Dry diapers are made with four layers of protection that absorbs wetness in a second.
The Leak Lock System and Quilted Liner helps keep your baby dry for more comfortable sleeping time.
The wetness indicator changes from yellow to blue which makes it easier to identify when it's time to change diapers.
Featuring its Disney Mickey Mouse designs, this diaper is hypoallergenic, paraben-free, lotion-free and fragrance-free. It is also free from any latex and chlorine and bleach processing.
Key Features:
12 Hours of protection
Absorbs wetness in seconds
Leak Lock System
Wetness indicator
Mickey Mouse design
Toxic-free Materials
#9 — Mama Bear Gentle Touch Diapers
The Mama Bear Gentle Touch Diapers have excellent leakage protection making them perfect for both day and night use.
The wetness indicator helps parents to know when it's time for a diaper change.
The design features a thin, flexible fit to make your kids comfortable while its soft and stretchy sides make the diaper secure and fit snugly your baby.
The breathable outer cover helps keep baby's skin dry and healthy.
It is free from chlorine bleaching, perfumes, lotions, phthalates and parabens. It is also hypoallergenic making it a good diaper option for babies with sensitive skin.
Key Features:
It has a wetness indicator
Thin, flexible and comfortable
Snug fit
Free from toxic materials
Breathable
#10 — Alvababy Baby Cloth Diapers
Help save the environment by switching to these reusable, washable and super absorbent cloth nappies or Modern Cloth Nappies (MCN). The Alvababy Baby Cloth Diapers is one of the few eco-friendly diapers and it also happens to be one of the Best Overnight Nappies UK.
The outer layer is made from waterproof and breathable cloth that does allow leaks to seep through, on the other hand, the inner layer features are made from suede cloth diaper lining that helps draw moisture away from your baby's skin.
This eco-friendly diaper comes with 5-layers bamboo charcoal inserts. It's a one size fits all nappy that you can adjust by snapping onto different rows of buttons in front.
Key Features:
Reusable and washable
Eco-friendly
It has a waterproof and breathable outer layer
It has an Inner Layer that absorbs moisture
Has 5-layers of bamboo charcoal inserts.
One size fits all.
Which nappies are best UK?
Finding the best nappies in the UK that best suit your baby might involve a few trials and error, after all every baby is unique, from proportions to product sensitivity.
The huge and massive varieties of diapers available might leave you frustrated and confused. But there are a few brands out there that are are the best in the market. You can never go wrong with Pampers, Huggies and Mama Bear.
These brands will perfectly suit your baby's needs and to help you achieve that sound, peaceful sleep that you are longing for. Check out our list of the Best Overnight Nappies UK for all the details.
What is the best nappy for overnight?
There quite a few brands in the market but any random nappy might not suit your baby. There are of course legacy brands that can suit any baby like Pampers, Huggies and Alvababy.
But you should ideally take a look at the factors below before deciding the best overnight nappy for your baby. Also, Check out our list of the Best Overnight Nappies UK for all the features.
Absorbency
The best thing about most diapers is that it is absorbent which prevents you from cleaning up every time your child accidentally pees.
Major diaper brands are constantly researching and innovating for the best technology to give your babies the driest and comfortable feeling even during at night. When choosing a diaper brand pick the one with good absorption capacity.
Elasticity
A diaper that is too tight might cause constriction of blood flow especially around the leg area that may produce marks and diaper rashes. A loose diaper, on the other hand, might cause leakage and may not absorb wetness evenly.
Most diaper brands have a size chart making it easier to choose the right size for your baby. Generally, a good diaper has a perfect elasticity that fits nice and comfortable for your baby.
Material
Babies have one of the most delicate and sensitive skin. It is a good practice to check the label and the materials used to manufacture the diaper.
Ideally, it is good to choose for a hypoallergenic, breathable, soft and non-toxic material to avoid rashes. An outer layer that is waterproof is preferred to avoid leakage.
Do overnight diapers make a difference?
As your baby grows older, they also learn how to sleep longer at night. This will not be possible if they keep on waking up to a wet feeling due to diaper leakage.
Overnight diapers are a perfect solution even for your toddlers who still wet the bed during nighttime even if they do not mean to. It is actually a good tool for your toddler's potty-training process.
One last tip is that remember to avoid buying in bulk if you are just testing out brands for the first time to help you save some cash if ever this fails your expectations. Overnight diapers are trustworthy products available in the market to help you achieve a perfect, good night's sleep.
Also Read: