Babies are a gift. However, during those initial few years, toddlers and parents have a hellish experience as absolutely have to sacrifice a good night's sleep. Especially, since infants spend almost 75% of their day sleeping and get really cranky at random times.
Thankfully, we live in an amazing time of technology. Here are innovative products out there that can help your baby sleep. Check out our list of the Best Baby Sleep Products UK.
A good night's sleep helps promote growth, boost their immune system and allows brain development. The list below contains items perfectly curated to help every baby achieve a calm and stress-free bedtime. Anyway, here's our Best Baby Sleep Products UK.
After reviewing close to 50+ various baby sleep products based on various factors like effectiveness, design, safety, performance and price, we zeroed in on 14 that really stood out. We further put these 14 through a series of tests to determine the best. We found that:
The best baby sleep product in the UK is the Tommee Tippee Dreammaker. It's a budget-friendly baby sleep aid that is loaded with different functions to help put your baby to sleep such as pink noise, red light, pulsing glow, crysensor and can also act as a night light.
Recommended Read: 12 Best Baby Monitors
How to pick the best baby sleep aid?
Well, the best baby sleep aid should be capable of putting your baby to sleep in different places. So it should be portable and ideally, it should soothe your baby through sounds, lights or vibrations.
Sounds are considered the most effective as lights and violations might sometimes actually agitate them. So choose a device or toy that produces low volume pink noise or other soothing sounds that can promote sleep.
If your baby likes to hold onto something as they sleep then go for a sleep aid that's in the form of a plush or a cuddle buddy. Also, make sure thee sleep aid does not have any wires if it's for your baby to hold.
Finally, there are hundreds of options to choose from. Pick the one that appeals the most to your baby and you will never have to worry about them falling asleep again.
How did we test the best baby sleep aids?
We tested over 50 different sleep aids for baby's and found the following 14 to be quite effective. While testing the products we considered value for money and how effective the products were at putting your baby to sleep.
We have rated each product on a scale of 5, and are happy to inform you that every single one of these baby sleep products managed to score over 4 on the tests. So go ahead, read on and find out which are the best baby sleep products in the UK this year.
Top 14 Best Baby Sleep Products in the UK
Tommee Tippee Dreammaker
I found the Tommee Tippee Dreammaker to be one of the best baby sleeping aids in the market. The best thing about the Dreammaker is that once you have used it to put your baby to sleep, you can use it on yourself and improve your overall sleep cycle. Tommee Tippee is one of the most reliable brands in the UK when it comes to baby sleep products.
The Dreammaker is equipped with a maximum volume of 50dB which is the perfect sound level to help keep your brain waves active while not disturbing your baby from their sleep.
There's a red light feature which helps promote the production of melatonin. You can choose between three different brightness levels depending on the time of day and it can also be used as a night light in case you're feeding your baby.
It's USB powered and the best feature of the Dreammaker is that it comes equipped with a pulsating light that helps your baby relax and will get them ready for sleep. It comes with two speeds, fast and slow so once your baby has dozed off, you can switch the speed to your liking.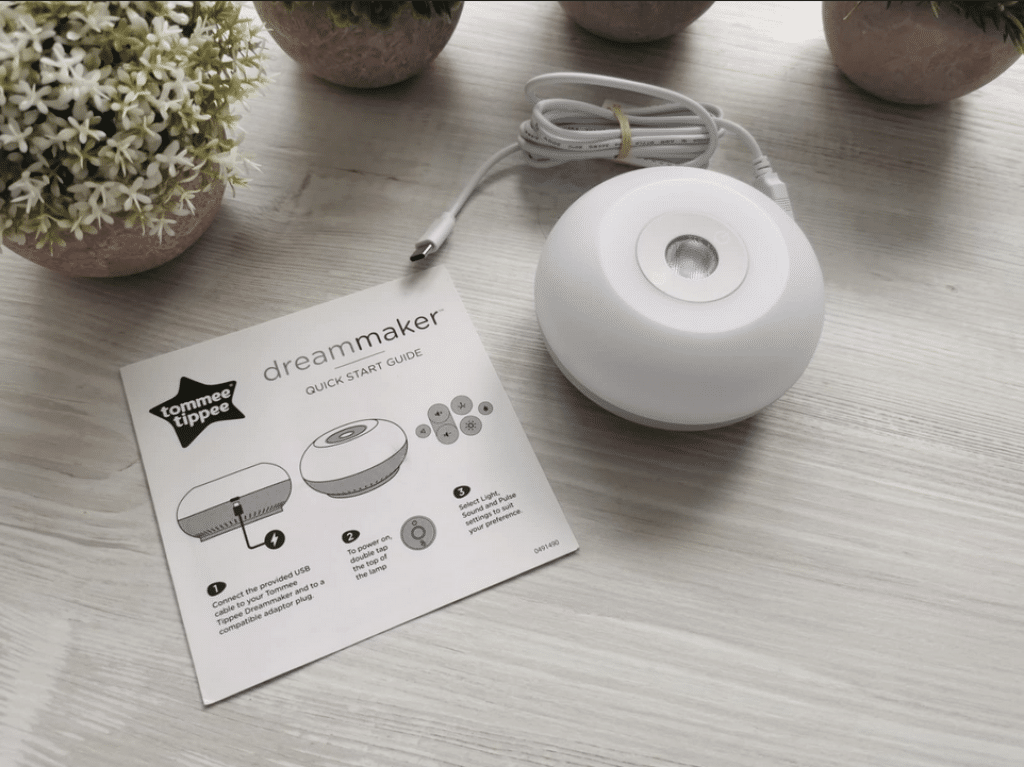 The pink noise is designed to mimic the sounds of the womb and will encourage the baby to sleep well for longer than other traditional sleep aids.
Key Features
Compact design with USB charging
Equipped with a soothing red light
Adjustable volume settings
Cry sensor built into the Dreammaker
Soft and soothing pink noise for the baby
Rating – 5/5
Zed by Rockit
Here's another fine baby sleep product in the UK, the Zed by Rockit sleep aid is a well designed vibrating tool that you can use to put your baby into a deep sleep. It's an easy to use aid and looks cute as well, so your baby will definitely feel comfortable sleeping next to one in their crib.
The Zed by Rockit is small enough and can easily sit near your baby's feet so the vibrations can move freely through their bodies and put them to sleep.
It comes with 6 calming vibration modes that you can toggle between and the Zed runs on AA batteries, so you need not worry about any wires or lose connections.
There are 3 red light levels in the night light feature. These red LEDs are designed to improve your baby's sleep and cut out any disturbance.
You can use the Zed sleep aid on your baby right from the get go and there's no age restriction on this device.
The Zed by Rockit is an award winning baby sleep aid in the UK. It's easy to use, delivers gentle vibrations simulating a car ride so your baby can sleep and it comes with night light modes to prevent any disturbance for your baby.
Key Features:
Spaceman design
Gentle vibrations with 6 levels
3 red light / night light modes
Battery operated
Rating – 5/5
Hatch Rest+ Sound Machine, Night Light, Audio Monitor
I loved using the Hatch Rest+ and I know my baby did too. This sleep aid for babies is a pretty cool looking device that kind of resembles a Bluetooth speaker. It's an easy to use tool that you can pair with your smartphone to have easy and wireless access to put your baby to sleep.
You can easily set programs for the night light and time-to-rise so the device will ensure your baby gets a good night's rest without waking up at odd hours.
The main unit doubles up as a sound machine that lets you select songs from a collection of lullabies, white noise and even sleep-inducing sounds.
What's great about the Hatch Rest+ is that not only is it a night light and sound machine but it even acts as a 2-way baby monitor that you can use to listen and talk to your baby from another room with the help of the smartphone app.
Key Features
Kids night light
Sound machine with sleep-inducing sounds
2-way baby monitor
LED clock
Sleep trainer for babies
Rating – 4.5/5
Dreamegg D8 White Noise Machine
The Dreamegg D8 is a well built sleep aid for babies who are fussy sleepers. It comes equipped with loads of functions to help put your baby to sleep. This is one of our favorite baby sleep products and i'll tell you why.
Its weight of 400g makes it super portable and lightweight; It's wired and uses a USB cable to power the device.
This soothing machine has an adjustable volume buttons and plays over 21 sounds which you can choose between nature sounds or lullabies.
The timer can be set in 30, 60 and 90 minute intervals and will automatically switch off once the running duration has completed. It's one of the Best Baby Sleep Products UK.
The Dreamegg comes with an adjustable volume setting allowing you to go from 0-75dB to achieve the most comfortable listening experience for your baby.
Key Features:
21 sounds including fan, campfire waves, white noise and more
Automatic shut-off with 3 timer modes
Volume is adjustable and can be set form 0dB to 75dB
Easy to use and highly portable
Rating – 5/5
Blackout Pleated Paper Shade
Blackout shades are important to have especially in your baby's nursery. This is due to the fact that natural light suppresses the production of melatonin and your baby will be restless. The answer to your problem is to install a blackout shade over your window to block out the sunlight.
One of the best features of the blackout paper shade is that it does not require any nails, screws or tools for you to install it in your baby's nursery. Simply install it either on the inside or outside of your window frame and you're good to go.
It's designed to block out 99% natural light and offers UV protection and complete privacy in your child's room.
The Blackout Pleated Paper Shade has been made from durable paper that will not fade, crack or turn yellow from prolonged exposure to the sun. It's ideal for newborn baby's that still need help falling asleep.
Key Features
Inside & Outside mounts
6 Packs of pleated paper
UV Blocker 
No tools for the installation.
Rating – 4.5/5
Sleep Miracle Soother Sound Machine For New Parents
True to its name, this baby shusher has worked miracles for parents having trouble putting their kids back to sleep. It is one of the most popular and best baby sleep soother out there.
This item uses a real human, shushing voice that set them up into slumber. It's one of the Best Baby Sleep Products UK.
You don't need to wake up in the middle of the night being out of breath and exhausted spending minutes shushing your baby, its 15-30 minutes timer gives you additional rest and achieve that peaceful sleep.
Its portability and easy-to-use design make nap time and car travel easier. Even photographers use it to get that picture-perfect cuddly deep sleep poses.
Key Features:
Uses a real human voice to put your baby to sleep
Set timer
Portable
Rating – 4/5
Little Hippo Mella Ready to Rise Children's Trainer, Alarm Clock, Night Light and Sleep Sounds Machine

When you want your kids to have a sleep trainer, alarm clock, sleep sounds machine, night light and timer then, this children's trainer is the perfect gadget for you. It's one of the Best Baby Sleeping Products UK.
The sleep trainer feature changes into a night light when the desired sleep schedule is set, a playful expression and a yellow light comes up half an hour before the wake-up time and then finally turns into a smile with a green light indicating that it's time to start the day.
This little hippo trainer is available in blue, purple, pink and teal colours. 
You can choose from three sleep sound options: ocean, white noise and lullaby which you can set in five-volume levels.
Key Features:
A nightlight that changes colour based on activity and time of day
3 sounds
5 volume levels
4 colour options
Rating – 4.5/5
Summer Infant Portable Sleep Aid
The Summer Infant portable sleep aid for babies is a compact and can easily be placed in a baby cot, pram, basket and on a play mat with the help of a Velcro fastening.
It comes equipped with adjustable volume levels and will auto power-off after 20 minutes of running.
This portable baby sleep aid comes with 5 songs or sounds to choose from that are designed to help encourage your baby to fall asleep.
It creates soothing vibrations to calm a fussy baby back to sleep.
Key Features:
Portable
Fasten onto a mattress, blanket or the cushioning of a stroller with Velcro
Create vibrations to put your baby to sleep.
Rating – 4.5/5
Rechargeable Music Sleep Soother
This sleep soother can surely help your little one get a good night's rest. This the best of the best Best Baby Sleeping Products.
It has a switch knob at the top control ON/OFF and to adjust the volume while the switch knob at the bottom lets you choose from lullaby, white noise, fetal heart and other nature sounds to calm your babies to sleep.
The auto voice sensor allows you to play the last soothing sound to calm a fussy crying baby.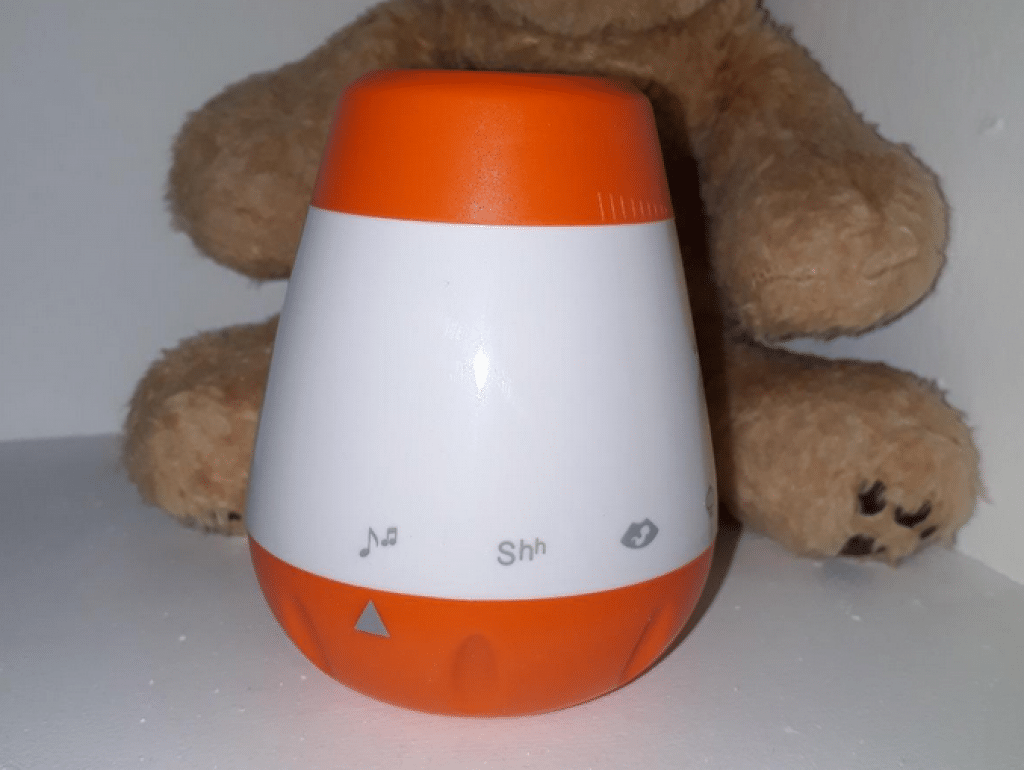 This device also saves you from the trouble of changing and switching the batteries from time to time, its built-in battery is supported by a micro USB which makes it easier charge and use. It's one of the best toddler sleep products out there.
Key Features:
Unique set of sounds ranging from lullabies and white noise to nature sounds.
Auto voice sensor
Micro-USB charging
Rating – 4.5/5
Plush Toy Soother Sound Machines
Every kid has that one snuggle buddy whom they bring anytime, anywhere. Its 24×33.5 cm size makes it easier to fit in suitcases and backpacks.
This handy and cuddly friend has 8 soothing sounds to choose from that could make them feel calm and secure which makes it easier to get back to sleep.
It can easily turn on/off which makes it easier for older babies to control if they wake up on their own.
This toddler sleep product also doubles as a night light for kids and babies who feel anxious at nighttime.
Key Features:
8 sounds
Nightlight
Easy to use
Rating – 4/5
Silver Baby Sleep Machine Soothers
Sometimes a normal lullaby or shushing sound is not enough to put your babies back sleep. They may have that special song or tune that has made you tired and beat from singing. Well, this specific sound machine has a memory card slot that lets you take control of your sound environment.
It also offers 5 traditional sounds to choose from: white noise, rain and thunder, lullaby, ocean waves and clock.
This portable sound machine will definitely help you get that healthy sleep.
Its rechargeable batteries save you the hassle of replacing the batteries every time.
Its adjustable sound volume and background nightlight can suit your sleeping situation preferences. This make is unique among the countless toddler sleep products out there.
Key Features:
5 Sounds
Adjustable volume
Nightlight
Rating – 4.5/5
Stuffed Animal Shape Plush Toys Sleep Aid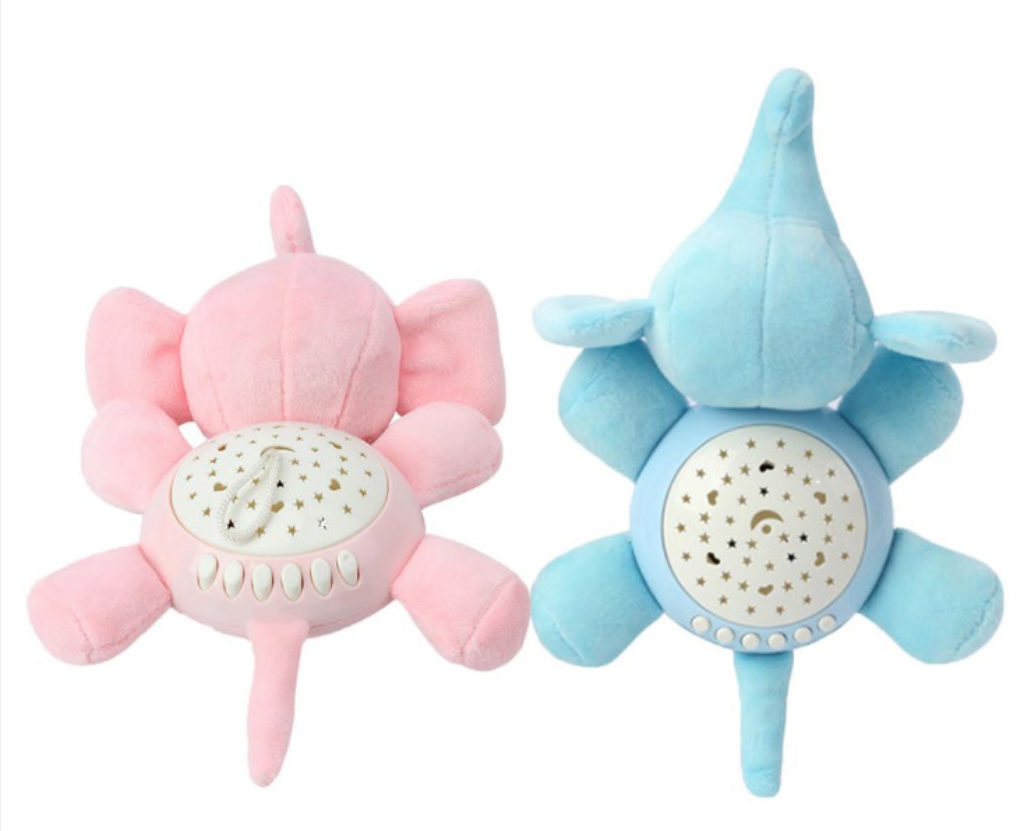 No one wants a grumpy, fussy baby especially if they didn't get enough sleep. This cute stuffed animal is available in pink and blue colours and has 12 different sounds to choose from.
This washable elephant projects glowing stars and moon that gives a comforting source of light at night.
This toy can be the perfect gift for infants or new parents. You can certainly rely on this device as its one of baby sleep gadgets out there.
You can easily switch to the next song or loop your favourite sound for 30, 60 or 90 minutes before it automatically turns off.
Key features:
Available in Pink and Blue colours
12 different sounds
You can loop songs for 30, 60, and 90 minutes
Projects stars and moons
Washable
Rating – 4/5
Cartoon Owl White Noise Machine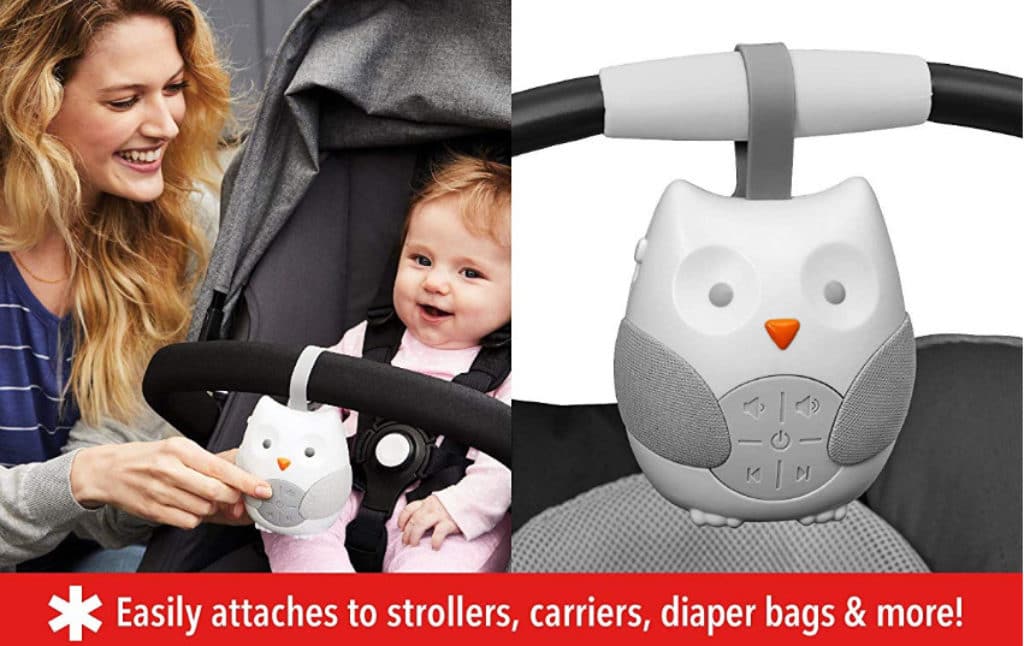 They say big things come in small sizes and this compact sound machine is a testament to that.
You can easily go out on a stroll and attach it firmly and securely to diaper bags, cribs, carriers and strollers using its silicone strap.
This little cute owl has a sound box that incorporates the latest technology to produce quality sound.
It features two lullabies and two nature sounds. The timer can be set in 15, 30 and 60 minutes. It also has a fabric speaker covers and easy to use rubber keypads.
Key Features:
2 lullabies and 2 nature sounds
You can set timers
The silicone strap allows you to attach it to multiple things like cribs and strollers.
Amazing sound quality
Rating – 4.5/5
Infantino 3 in 1 Projector Musical Mobile
The Infantino 3 in 1 Projector Musical Mobile is one of the best baby sleeping products in the UK. Not only can it help soothe your baby but it also has features that are extremely beneficial to your child's development. Additionally, it's extremely easy to assemble, and it comes with a beautiful design.
Featuring a neutral colour scheme and an interactive design, this Infantino 3 in 1 Projector Musical Mobile has three detachable characters that help develop the baby's eyes and tracking ability. It also helps baby's feel safe with its soothing light and star projector.
This mobile is extremely unique as it actually "grows" with your child. While the characters work when the child is young, it can be taken apart and converted into a night light or a table light. Even the star projector will come in handy.
It's easy to clean and maintain. The volume of the audio/songs can be adjusted as well.
It has various music and sound selection options. Additionally, it is also equipped with an auto-off timer and sleep modes to put your baby to sleep and wake-up modes to simulate daylight.
Key Features
Various sleep and wakeup modes
Decent collection of songs and sounds
Easy to assemble and maintain
3 unique feature that includes a light, a projector and musical mobile
Rating – 4.5/5
How to soothe your baby to sleep
There are many ways you can put your baby to sleep at night and most of them are effective. However, if this is your first time then this list should help you out over the first couple of months.
Here are a couple of idea you can try out at home to put your baby to sleep.
Use a night light in the bedroo
Turn off any unwanted music
Change your baby into a clean pair of his/her sleeping clothes
Read them a soothing bedtime story
Use one of the sleeping aids mentioned on the list above
Feed your baby some warm milk before going to bed
Use a swaddling sleeping bag for your baby
Rock your baby to sleep with their favorite toy
Play low pink noise in the background for your baby to fall asleep to
Is there anything to help babies sleep?
There are these amazing baby sleeping products that aid your baby by soothing it. This helps it fall asleep. These products come in the form of plush toys or cute devices that transmit lullabies and sounds to put your baby to sleep.
The Rechargeable Music Sleep Soother is one of the best baby sleep products out there as it's portable and filled with a bunch of amazing features.
FAQ's
Also Read: