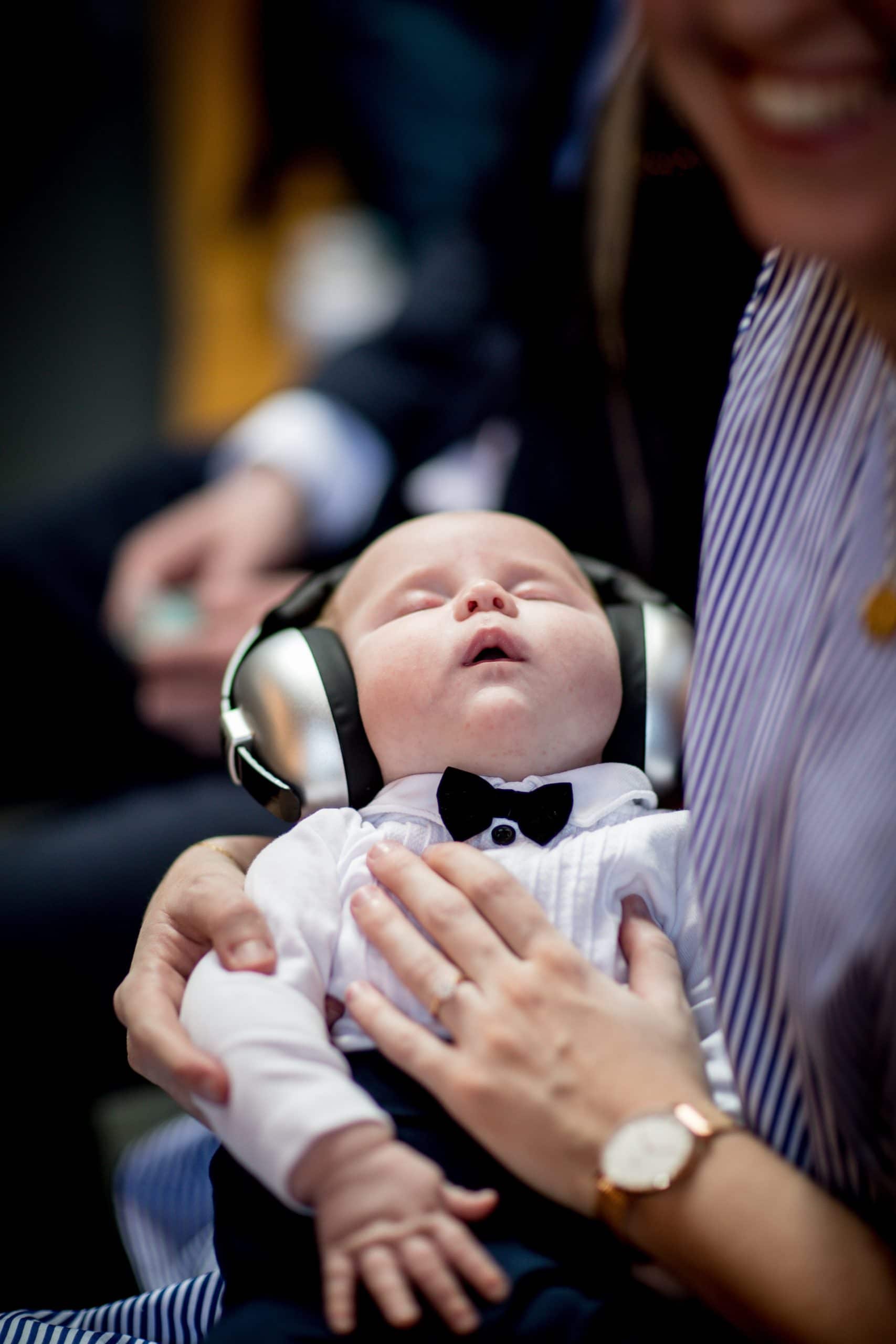 Babies are a gift but for the initial few years, toddlers and parents have a hellish experience as they don't get a good nights sleep. Especially, since infants spend almost 75% of their day sleeping and get really cranky at random times. Thankfully, we live in an amazing time of technology. Here are innovative products out there that can help your baby sleep. Check out our list of the Best Baby Sleeping Products.
A good night's sleep helps promote growth, boost their immune system and allows brain development. The list below contains items perfectly curated to help every baby achieve a calm and stress-free bedtime.
Toddler Sleep Products
Best Baby Sleep Soother
#1 — Animal Plushy Sound Soother
This adorable plushy has eight soothing sound and melodies that can help tired and desperate parents put their child to sleep at 2 AM. This definitely one of the Best Baby Sleeping Products.
Its adjustable volume plays familiar lullabies like Twinkle, Twinkle Little Star and Rockabye Baby which you can set off after 23 or 45 minutes.
It also has four white noise sounds including a heartbeat setting that resembles the sound of a mother's womb.
This adjustable panda can be easily attached to your baby's crib or bed using its Velcro tab.
You can also machine wash and dry it anytime by removing the sound machine.
The sound soother is also available in different characters such as Frankie the Fox, Sleep Sheep and Storytime Huxley.
Key Features:
Plays familiar lullabies
Set timers
4 distinct sounds
Adjustable design to fit in various places
Washable
Available in various character forms
#2 — Sleep Miracle Soother Sound Machine For New Parents
True to its name, this baby shusher has worked miracles for parents having trouble putting their kids back to sleep. It is one of the most popular and best baby sleep soother out there.
This item uses a real human, shushing voice that set them up into slumber.
You don't need to wake up in the middle of the night being out of breath and exhausted spending minutes shushing your baby, its 15-30 minutes timer gives you additional rest and achieve that peaceful sleep.
Its portability and easy-to-use design makes nap and car travel easier, even photographers use it to get that picture-perfect cuddly deep sleep poses.
Key Features:
Uses a real human voice to put your baby to sleep
Set timer
Portable
#3 — Little Hippo Mella Ready to Rise Children's Trainer, Alarm Clock, Night Light and Sleep Sounds Machine
When you want your kids to have a sleep trainer, alarm clock, sleep sounds machine, night light and timer then, this children's trainer is the perfect gadget for you.
The sleep trainer feature changes into a night light when the desired sleep schedule is set, a playful expression and a yellow light comes up half an hour before the wake-up time and then finally turns into a smile with a green light indicating that it's time to start the day.
You can choose from three sleep sound options: ocean, white noise and lullaby which you can set in five-volume levels.
This little hippo trainer is available in blue, purple, pink and teal colors.
Key Features:
A nightlight that changes color based on activity and time of day
3 sounds
5 volume levels
4 color options
#4 — Sound Machine with 8 Soothing Sound Voice recording function
This item is perfect when a child tends to become overly clingy to their moms or caretakers.
It has a voice recording function which allows you to pre-record your voice that can automatically play once its voice sensor detects your baby's noise over 75DB.
This soothing machine has an adjustable volume knob and plays over eight sounds which you can choose between nature sounds or lullabies.
The timer can be set in 15, 30- and 45-minute interval.
Its weight of 156 g/5.5 oz makes it super portable and lightweight; a hanging rope is included in the package that you may use to hang on your crib and strollers.
Key Features:
Voice recording
Plays automatically once it detects your baby's voice
8 sounds
Set timers
Portable
#5 — Munchkin Lulla-Vibe Vibrating Mattress Pad
A rocking baby bed or chair takes space or can be a hassle if ever you decide to bring it on family vacations.
This particular vibrating mattress pad makes your life on the road easier.
You can easily slip it under a mattress, a blanket and even put it in the stroller or car seat.
It creates soothing vibrations to calm a fussy baby back to sleep.
Key Features:
Portable
Slip in underneath a mattress, blanket or the cushioning of a stroller
Create vibrations to put your baby to sleep.
#5 — Rechargeable Music Sleep Soother
This sleep soother can surely help your little one get a good night's rest. This the best of the best Best Baby Sleeping Products.
It has a switch knob at the top control ON/OFF and to adjust the volume while the switch knob at the bottom lets you choose from lullaby, white noise, fetal heart and other nature sounds to calm your babies to sleep.
The auto voice sensor allows you to play the last soothing sound to calm a fussy crying baby.
This device also saves you from the trouble of changing and switching the batteries from time to time, its built-in battery is supported by a micro USB which makes it easier charge and use. It's one of the best toddler sleep products out there.
Key Features:
Unique set of sounds ranging from lullabies and white noise to nature sounds.
Auto voice sensor
Micro-USB charging
#6 — Plush Toy Soother Sound Machines
Every kid has that one snuggle buddy whom they bring anytime, anywhere.
This handy and cuddly friend has 8 soothing sounds to choose from that could make them feel calm and secure which makes it easier to get back to sleep.
Its 24×33.5 cm size makes it easier to fit in suitcases and backpacks.
This toddler sleep product also doubles as a night light for kids and babies who feel anxious at nighttime.
It can easily turn on/off which makes it easier for older babies to control if they wake up on their own.
Key Features:
8 sounds
Nightlight
Easy to use
#7 — Silver Baby Sleep Machine Soothers
Sometimes a normal lullaby or shushing sound is not enough to put your babies back sleep. They may have that special song or tune that has made you tired and beat from singing. Well, this specific sound machine has a memory card slot that lets you take control of your sound environment.
It also offers 5 traditional sounds to choose from: white noise, rain and thunder, lullaby, ocean waves and clock.
Its adjustable sound volume and background nightlight can suit your sleeping situation preferences. This make is unique among the countless toddler sleep products out there.
Its rechargeable batteries save you the hassle of replacing the batteries every time.
This portable sound machine will definitely help you get that healthy sleep.
Key Features:
5 Sounds
Adjustable volume
Nightlight
#8 — Stuffed Animal Shape Plush Toys Sleep Aid
No one wants a grumpy, fussy baby especially if they didn't get enough sleep.
This cute stuffed animal is available in pink and blue colors and has 12 different sounds to choose from.
You can easily switch to the next song or loop your favorite sound for 30, 60 or 90 minutes before it automatically turns off.
This washable elephant projects glowing stars and moon that gives a comforting source of light at night.
This toy can be the perfect gift for infants or new parents. You can certainly rely on this device as its one of baby sleep gadgets out there.
Key features:
Available in Pink and Blue colors
12 different sounds
You can loop songs for 30, 60, and 90 minutes
Projects stars and moons
Washable
#9 — Cartoon Owl White Noise Machine
They say big things come in small sizes and this compact sound machine is a testament to that.
It features two lullabies and two nature sounds.
It has fabric speaker covers and easy to use rubber keypads.
The timer can be set in 15, 30 and 60 minutes.
You can easily go out on a stroll and attach it firmly and securely to diaper bags, cribs, carriers and strollers using its silicone strap.
This little cute owl has a sound box that incorporates the latest technology to produce quality sound.
Key Features:
2 lullabies and 2 nature sounds
You can set timers
The silicone strap allows you to attach it to multiple things like cribs and strollers.
Amazing sound quality
Baby Sleep Products
What is the best baby sleep aid?
Well,The best baby sleep aid should be capable of putting your baby to sleep in different places. So it should be portable and ideally it should sooth your baby through sounds, lights or vibrations.
Sounds are considered the most effective as lights and violations might sometimes actually agitate them.
The Rechargeable Music Sleep Soother is probably the best sleep aid out there as it's portable and has pre recorded lullabies and a feature that lets your record your own voice.
Check out the Best Baby Sleeping Products for all the details.
Is there anything to help babies sleep?
There are these amazing baby sleeping products that aid your baby by soothing it. This helps it fall asleep. These products come in the from of plush toys or cute devices that transmit lullabies and sounds to put your baby to sleep.
The Rechargeable Music Sleep Soother is one of the best baby sleep products out there as it's portable and filled with a bunch of amazing features.
Also Read: