Food Processors are fantastic appliances that save can save you an unbelievable amount of time. It's almost like having an assistant to help you chop, slice, grate and even knead the dough for you while you just focus on the main task of cooking. You can save hours at a time with the amazing features of a good food processor. Check out our list of the Best Budget Food Processors UK 2021 for all the details.
Most food processors these days come with powerful motors with adjustable speeds and amazing functions for specific ingredients. These amazing Kitchen appliances even have over 50 functions.
While choosing the best food processor can be difficult, we at Discount Age have compiled a list of the best after extensive testing. So, lets' get to it, shall we? Here's the Best Budget Food Processors UK 2021.
Best Budget Food Processors — Quick Summary
How We Tested the Food Processors:
We tested the processor's grating ability of chocolates, carrots and cheese and also tested slicing jalapenos. Their chopping ability is tested on beef, breads and onions. For kneading functions we've tested bread doughs and tried whipping cream and blend mayo too. This way, we've tested all the functions of the food processors.
We reviewed close to 50 food processors based on various factors like design, features, functionality, ease of use and price, to determine the best. After an extensive review, we zeroed in on 8 that really stood out. These 8 were further put through a series of stress tests to determine the best. We found that:
The best budget food processor in the UK is the Kenwood FDM312SS Multipro Compact+ Processor. With a large capacity and proprietary crushing blades, this food processor is extremely efficient and effective. This food processor uses around 800W to slice, chop, mix and even instantly blend various dips, sauces, soups, smoothies, cocktails.
8 Best Budget Food Processors UK
Kenwood FDM312SS Multipro Compact+
Overall Best Budget Food Processor
Kenwood is a well known brand that delivers some of the best kitchen appliances in the market. The FDM312SS is by far the best budget friendly food processor that comes with an integrated weighing feature which lets you weigh what you're about to process, you can even use the base of the processor as a stand-alone weighing scale.
This food processor comes equipped with a decent 2.1L processor bowl and 2 blender bottles and even a small glass mill to process spices and grains.
While the Kenwood FDM312SS does not come with any digital touch functions and may seem like quite a let-down, the reason to consider buying this budget processor is because it's highly functional and you wouldn't face any issues while processing any kind of food.
This food processor uses around 800W to slice, dice, chop and process food and pulses you need while cooking and it can even be used to make smoothies, milkshakes, dips and sauces.
The highlight of buying the Kenwood FDM312SS is that it comes equipped with a set of highly accurate scales built-in to the device. It can measure and weigh a maximum of 3kg at a time which is more than enough if you're preparing a meal for 2-3
Key Features
Integrated weighing system
Glass Mill
2x Blend-Xtract 2Go bottles
1.2L processor bowl
800W power
Cuisinart Mini Prep Pro Food Processor
Best Compact Budget Food Processor
At under £50, this mini food processor from Cuisinart is truly a good buy. Ideal for small kitchens, this processor weighs hardly 1.3kg and is less than 23cm in height so it can be placed on any surface in the kitchen making it easy to store.
It comes equipped with a rather compact 900ml processing bowl and a stainless steel blade that offers reversible rotation so your food gets processed thoroughly.
The complete unit is dishwasher safe, you can place the blades, lid and bowl into the dishwasher and cut your cleanup time in half.
Another great feature of the Mini Prep Pro is that there are dedicated buttons for pulse grinding and chopping. Moreover, it comes with a nice blade lock safety feature that holds the blade in place even as you turn or tip the bowl onto its side.
The main reason to buy this processor is that it's really affordable and lets you chop onions, grind nuts, create dips and sauces in seconds. The lid even comes with drizzle holes making it a definite must-have.
Key Features
900ml processing bowl
Blade lock feature
Dishwasher safe
Two-way motor
Kenwood FDP301WH Multipro Compact 
Best Budget Food Processor
Ideal for beginners and amateurs in the kitchen, the FDP301WH is a small and perfectly designed food processor from Kenwood that comes with a decently sized food bowl, jub, knife blade and even a reversible slicing disc.
This processor comes with two speed settings and a pulse mode that can let you chop, grate, whisk or blend your food in a matter of seconds.
It comes equipped with non-slip feet making it quite a sturdy budget friendly processor and since it's compact, you can store it easily in your home without wondering if there's space.
The maximum capacity the food processor can hold is 2.1L and the blender can hold a maximum of 1.2L. Powered by a 800W motor, you can rest assured that your food will be processed thoroughly.
You must consider this budget-friendly processor mainly for its ability to create a variety of dishes at home. It's one of the few processors that come equipped with a two way blade so you can expect to grate even cheese and potatoes.
Key Features
800W Power
2 Speeds, 1 Pulse Mode
2.1L Bowl Capacity
Noise Level – 1dB
2.3kg dry weight
Ninja Food Processor
The Ninja Food Processor is a fantastic kitchen appliance. Even in this list of the Best Budget Food Processors UK 2021, it stands out as one of the best. Not only is this machine a high precision food processor but it also has an integrated blender and a personal blender. So, you can be assured this 3 in 1 beauty is an end to end kitchen solution.
While this food processor has a simplistic colour scheme, the minimal design and futuristic structure actually makes it stand out quite a bit. It has a 2.1L jug and an amazing set of proprietary Pro-Extractor Blades (Total Crushing Blades).
With the Ninja Food Processor, you can quickly create meals, desserts and snacks and of course drinks. It has 8 different speeds and various settings that will seriously save you a lot of time and effort.
This food processor uses around 1500W to slice, chop, mix and even instantly blend various dips, sauces, soups, smoothies, cocktails. You can even prepare complete food like fishcakes, burgers, meatballs, pizza bases and desserts like cookies, cakes and much more.
The Ninja Food Processor has five Auto-iQ programmes with one-touch intelligence system that can save you a lot of time. Basically, you just have to press one button and the machine will do all the work for you. It'll automatically deliver different pulses, pauses and blend patterns to suit the food.
Key Features:
Five Auto-iQ programmes with one-touch intelligence system
Uses 1500W
Slice, chop, mix and even instantly blend
8 different speeds and various settings
2.1L jug
Proprietary Pro-Extractor Blades
Beautiful design
Cuisinart Expert Prep Pro FP1300U
This food processor is a top of the line machine that comes with a wide variety of accessories for almost all kinds of food prep. The Cuisinart Expert Prep Pro is can easily handle any task as it combines high performance and total versatility. It'll give you perfect results while saving you endless time and effort. It's one of the Best Budget Food Processors UK.
The Cuisinart Style Collection Expert Prep Pro definitely looks like a top-range product. Although, the exterior screams posh the design actually makes a lot of sense. For example, this device comes with a large 3L capacity bowl.
It can slice, dice, grate, chop and spiralize. The combination of the powerful motor and high-grade stainless Steel blade results in a perfectly processed food every time.
This food processor is also perfect for pureeing and mixing. It includes both small and large chopping/mixing blades, a dough blade, 6 position slicing disc, a fine/medium grating disc, a dicing and spiralising kits. The Bladelock safety function keeps the blade in place when pouring food.
The Cuisinart Style Collection Expert Prep Pro comes with 3 speeds: High, Medium and Low which you can use to adjust the process to suit your needs.
You can prepare almost anything with this food processor. It also has a sealed inner bowl that prevents leakage. This results in an extremely easy cleaning session after the food is processed.
Key Features:
Easy to clean due to the anti-leak inner bowl
3 speeds
Comes with various accessories and blades
It can slice, dice, grate, chop and spiralize
Related: These Cookers Will Blow Your Mind
VonShef 1000W Food Processor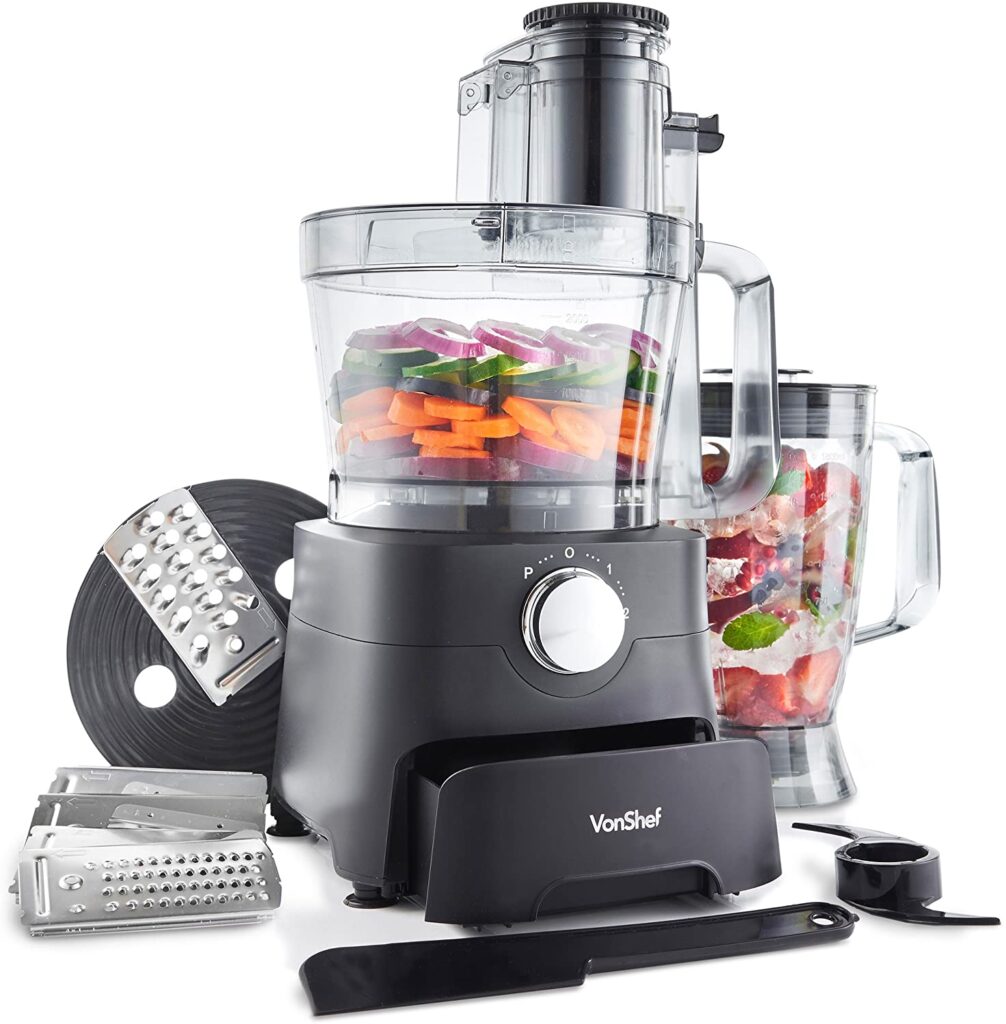 Unlike most of the bulky food processors out there, the VonShef 1000W Food Processor is a compact kitchen appliance. It still maintains the applications and versatility of a high-end food processor whilst still being highly portable. It also has a blender function which makes it really good product.
This multi-functional food processor/ blender can easily slice, dice, shred, chop and even make dough. It has a powerful motor and sturdy design that support heavy food processing tasks. It comes in a sleek matte black finish.
The VonShef 1000W Food Processor comes with a 3.5L bowl with up to 2 litres of working capacity. Of course, you also have a blender jar for drinks.
Interestingly, you will also find an accessories drawer integrated with the machine that helps you safely store your blades when not in use. It's one of the Best Budget Food Processors UK.
It has a two speed setting and a pulse function that can help you speed up the process based on your needs.
Key Features:
Two-speed setting and a pulse function
Accessories drawer
3.5L bowl with up to 2 litres of working capacity
Powerful motor
Kenwood Compact Food Processor
The Kenwood is Definitely one of the more popular food processors. It's a comparatively compact and a comfort-oriented appliance. This food processor is also amazing in terms of performance and capacity. Most importantly, it comes with excellent safety features.
This food processor from Kenwood has a unique design especially when you compare it to other brands. It is designed to make your life as easy as possible as it has a comfort-fit moulded handle.
It can carry out a variety of tasks from chopping onions to whipping cream. this model offers three dedicated speeds.
The Kenwood compact uses around 400W and has a bowl capacity of 1.4 litre so obviously it is not meant for heavy-duty processing.
As mentioned earlier this model is equipped with an excellent interlock safety feature. This interlock which is found on the bowl will prevent the machine from activating unless you align it.
Key Features:
Interlock safety feature
Variety of tasks
3 speeds
Comfort-fit moulded handle
Bosch MutiTalent8 MC812S734G Food Processor
Bosch is definitely a brand with reliable engineering. It delivers both amazing performance and unprecedented technology. And the Bosch MutiTalent8 MC812S734G Food Processor is not different. Not only can it simplify and save you a lot of time with respect to cooking but it also has smart technology that sets the speeds for you.
This Bosch food processor has a beautiful design. Like all Bosch appliances, the top-end look and feel of the machine is maintained quite well. It's a highly practical design which showcases the uncompromising quality.
The LED display shows the various speeds and functions. This will help you easily determine the best setting for optimal chopping, crushing, etc. And of course, this device also comes with a pulse function.
It has around 50 functions for an array of tasks like whisking, kneading, chopping, beating, pureeing, grating, rasping, mixing and cutting. And each and every mode delivers a perfect result, every time.
This machine comes with a powerful motor of 1200W and a large bowl with 3.9 L capacity. It also has a high-quality Tritan blender attachment with 1.5 L volume. The best part that it's equipped with a universal connection that fits all attachments.
As mentioned earlier it has an Intuitive Smart Tool Detection which automatically sets the most appropriate speed for each accessory. This ensures perfect results. With around 14 attachments, it has every tool you'll need.
Key Features:
Intuitive Smart Tool Detection
14 attachments
1200W Motor
50 functions
LED display
How to Choose a Budget Food Processor?
Attachments: Most food processors come with chopping blades, slicing disc, grating disc, and dough blades for everyday use. Other add ons can be thick and thin grating sizes, spiralizer discs or dicing blades. Choose the one that has your everyday needs.
Stability: It's essential to see if the food processor is stable or not on the kitchen countertop. Most models come with non-slip designs or suction cups that limit the movement of the food processor.
Programme: Some food processors have different programmes like kneading dough, pulsing etc. These programs can help eliminate the wait and alert you when the processor is completed. Although it's not a common feature, some food processors do have this feature.
Pulse: This helps in controlled chopping. If the full speed power is used it can turn the entire mix into puree as well so this option can help in avoiding accidents like this and makes you have the control on the function.
How much should I spend on a food processor?
While food processors can range from as little as 40 pounds to 500, your decision to buy a food processor must depend on various factors like how often do you prep and cook at home and the amount of food you cook on a regular basis. If you prepare food for a large family then investing in a large-capacity food processor is a must.
However, it also depends on the functions. If you want to save a lot of time and utilize functions such as measuring scale features, heating feature, etc. Then be prepared to spend around 250-300 pounds. If you just want to use a simple speed chopping feature with a good number of attachments for convenience. You can get an amazing food processor such as a Kenwood for just a little under £150.
Which is the best food processor to buy?
The Kenwood FDM312SS Food Processor is probably the best food processor out there in the market today. Not only does it have brilliant functionality it also comes with stunning features that will make your life super easy.
ll you have to do is press and button and it will perfectly chop/grate/slice or even blend the specific ingredients in the most pristine and perfect manner.
The Kenwood FDM312SS Food Processor is equipped with a powerful 800W motor and an integrated weighing scale that does the job effortlessly with absolute speed and precision. Check out our list of the Best Food Processors UK for all the details.
What food processors do chefs use?
Ideally, chefs require food processors that can do more than just one thing. They prefer a one-stop solution rather than having multiple appliances all over the place taking up space.
Majority of chefs prefer Cuisinart Style Collection Expert Prep Pro. This a beautiful food processor that can slice, dice, grate, chop and spiralize. It also has remarkable functionality. As in each slice is the epitome of perfection.
You can also easily control the speeds based on your preference along with various modes and settings.
Most importantly it comes with an amazing array of attachments that make any chefs life super easy. Check out our list of the Best Food Processors UK for all the details.
What's the difference between food processors and blenders? 
Blenders are used for getting food in liquid form whereas food processors can keep it solid because the blades in  later aren't as sharp. 
For example: A cucumber in a blender would result in juice whereas in a food processor, it'd just be sliced or chopped.
What size food processor do I need?
The above mentioned food processors are from 1.5 L to 4L, the bigger they are, they'll have more functions. If you're looking for basic functions like chop, grate, slice, puree, go for a 2.5L food processor which should be enough.
Can you make smoothies in a food processor?
Food processors can make smoothies but the process will be different from that of a blender. If you want to blend smoothies in a food processor then go slowly and step by step otherwise it might not blend properly or explode from the spout. First blend all the greens and then go for frozen fruits. This will keep your food cold without ice. Add the liquid and sweetener ( honey, dates etc) next and switch on to blend. You'll have to scrape the bottom to ensure everything is blended well.
Can you grind coffee beans in a food processor?
You can grind coffee beans in a food processor. To grind coffee beans in a food processor, pour a few beans in and pulse it. Tilt the processor occasionally to ensure the beans are grinding. That's about it. 
What can't you make in a food processor?
Food processors aren't meant for hot food unless they're made with glass or heat resistant material. In the latter case, it can only hold upto certain degree of hot food. You can check the instruction guide to find out because this can be a little tricky. If you're making soup, blend cold ingredients first and then move to heat it. Here's what you can't add to the food processor: liquid, tough meat, bone, gelatin, fruit peels, and ice.
Also Read: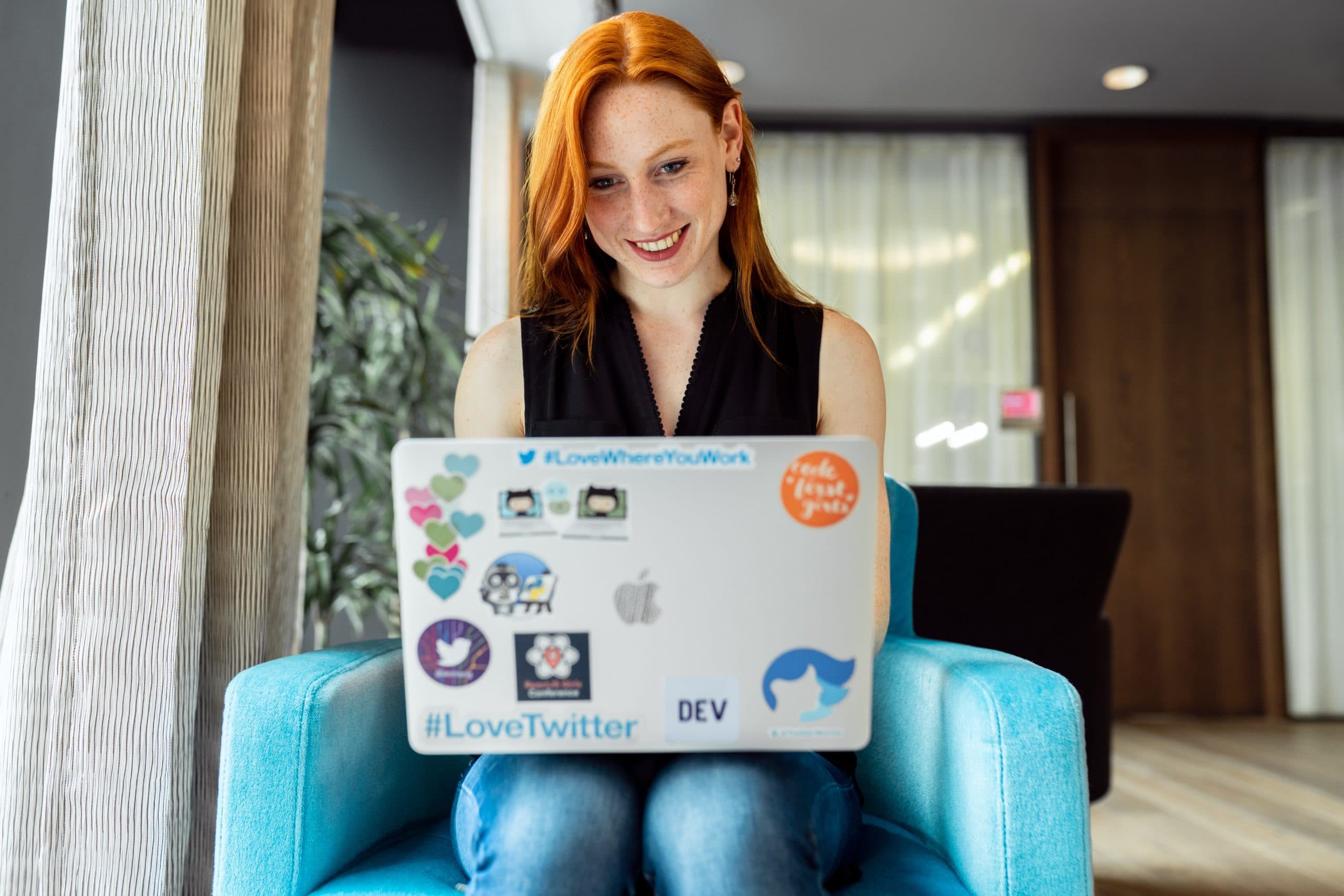 Joanna is a writer, poet, stand-up comedian and holds two master's in arts and history. She founded Discount-age with the intention of providing her readers with solutions to everyday household problems. During her free time, Joanna loves cooking but usually ends up ordering in.