Flat toasters are a great way to whip up a full breakfast sandwich in no time at all. Toasters have become a necessity since they can help you get your day started without consuming too much of your time.
Really good flat toasters are multi-functional and come with a variety of accessories. If you have a bigger budget you should consider a flat toaster that doubles as a grill or have various plates for different snacks.
Some flat toasters even have an LCD display and light indicators that help you achieve a crisper toast. Here's our list of the Best Flat Toasters in the UK 2020.

Best Toaster UK 2020
Before rushing out to get your own flat toasters there are a few things you should consider.
The size of the flat toaster is a very important factor for you to consider. If you have a larger household with more mouths to feed then you should consider a more heavy-duty flat toaster that can cook up more than 2 slices of bread at a time.
The purpose of flat toasters is to make it easier and quicker for you to cook up meals.

#1 — Tristar BR-2400 Flat Toaster
Made with a stainless steel top, Tristar Flat Toaster promises durability and practicality. If you like toasting large slices of bread that don't fit in your conventional bread toaster this is just the thing you need.
With 400 Watts of power and 6 levels of roasting adjustments, this flat toaster is compact for any countertop.
Whether its sliced bread, croissants or bagels the Tristan Flat Toaster is ideal for whipping up a quick hearty breakfast or snack throughout the day.
Simply place sliced of bread on the stainless steel rack and set the timer for about 5 minutes. The flat toaster will immediately stop for a perfectly crisp slice of bread.
The Tristan Flat Toaster is hygienic and easy to clean with a crumb tray that catches all the crumbs and residue from the bread for swift cleaning.
Easily store the flat toaster vertically or horizontally in your cupboard.
Key Features:
23x20cm stainless steel rack
2 heating elements
Removable crumb tray
6 roasting settings
400 Watts
#2 — Breville Deep Fill 2 Slice Sandwich Toaster
Based in Australia, Breville has been known as one of the best home appliances brand since the 1930s. Today they are renowned as the best toaster brand in the market and is one of the Best Flat Toasters in the UK 2020.
The Breville Deep Fill 2 Slice Sandwich Toaster is a quick and easy way to make healthy homemade snacks for you and your family.
The VST041 Sandwich Toaster has the deepest fill capacity with Cut and Seal technology that shapes and compacts bread and filling.
The new design makes evenly cooked toasties in a matter of minutes.
Easily make 2 sandwiches with its easy to clean non-stick plates.
Amazingly enough you can also cook waffles with this toaster.
Key Features:
Cut and Seal Technology
Large or small slices
Compact storage
2 sandwiches at a time
Non-stick plates
Non-slip feet
Ready to cook indicator
Waffle plates also available
#3 — George Foreman Enhanced Five Portion Grill and Melt
The George Foreman Enhanced Five Portion Grill and Melt is the perfect addition to your countertop. Its multi-functionality puts it at a step above the rest.
The flat toaster/grill can make up to 5 portions at a time which makes cooking up snacks and meals easier and quicker.
The temperature comes from its well-engineered lid flaps that morph from a toaster to a grill depending on the plates.
Do you want to perfect your grilled cheese sandwich? No worries, the George Foreman toaster and grill has a melt function that toasts the cheese slowly without burning the bread.
With removable lids and plates, it is easy to use and easy to clean.
A removable drip pan is stored at the bottom half of the toaster/ grill that captures crumbs and dripping no matter what you're cooking up.
Key Features:
14.5cmx29cmx390cm
Removable plates
Drip pan
Removes up to 42% of fat
Top lid locks for open grilling
Temperature control
#4 — Salter Deep Fill Sandwich Toaster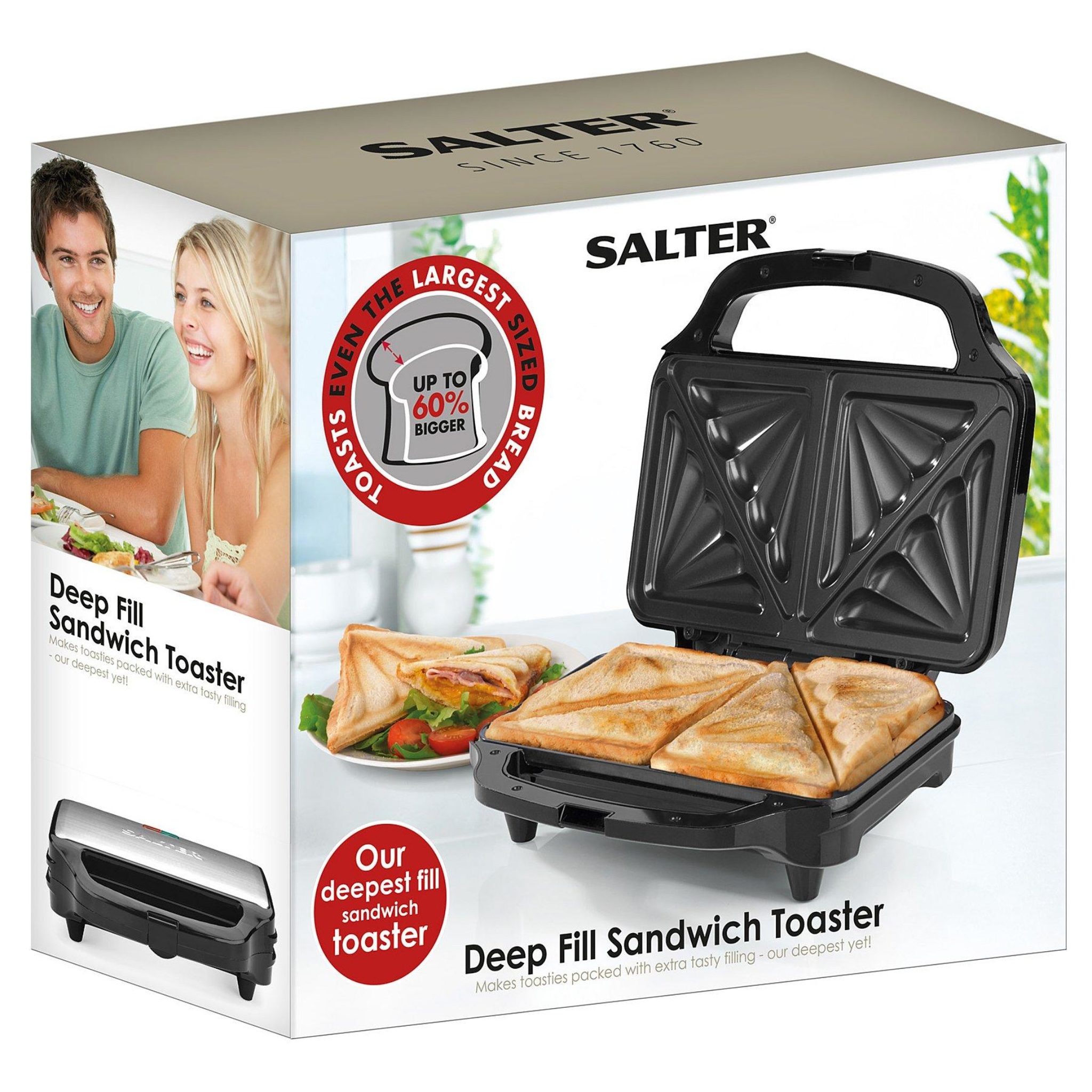 Do you want to sink your teeth into a thick slice of toasted bread but don't want to break the bank for a flat toaster? Luckily, Salter Deep Fill Sandwich Toaster is the best budget-friendly flat toaster in the market today.
With speedy heat-up time, easily cleaned plates, and great durability Salter Deep Fill Sandwich Toaster is perfect for people who love homemade bread.
Despite not being the most consistent toaster, it gives you crispbread perfect for quick snacks.
It has a 3 in 1 snack maker and a waffle maker. So if you need super fast snacks then this is the toaster for you.
Key Features:
11cmx30cmx25xm
Removable plates
3-in-1 Snack Maker, Waffle Maker, XL 4-in-1 Snack Maker options available
Cool-touch handle
900Watts
#5 — Cuisinart 2 in 1 Grill and Sandwich maker
With the Cuisinart 2 in 1 Grill and Sandwich Maker, you definitely get an amazing toaster for the money you spent.
It has two plates that can either be interchanged as a grill or a sandwich maker. The versatility is unparalleled and its deep-fill plates are perfect for variations of sandwiches.
With a variable heat setting, you can easily make sandwiches, paninis, seabass, and even steak in no time.
The lockable handle ensures a no-spill toasting or grilling every time.
What's more, is that the Cuisinart 2-in-1 Grill and Sandwich Maker is dishwasher friendly and easy to store.
Key Features:
14cmx25.5cmx29cm
Removable Plates
Deep-fill plates
Variable temperature control
Non-stick and dishwasher friendly plates
#6 — Tefal Snack Collection
Not everyone has space in their countertops to store huge kitchen appliances. Luckily, Tefal Snack Collection gives you versatility and durability that minimizes countertop space without neglecting performance quality.
The basic line includes 2 interchangeable plates for sandwiches or waffles. Or choose from 16 different plates from bagels, minibars, doughnuts, to grill that is dishwasher-friendly.
Develop various recipes with different plates and you're sure to never have a boring snack again.
With a latch handle that locks in all the filling and bread inside you get evenly toasted food every time.
The plates are non-stick perfect for easy food release.
The Tefal Snack Collection reduces the need for huge space-consuming kitchen appliances while giving you versatility right at your fingertips.
Key Features:
Dishwasher-friendly non-stick plates
16 plates to choose from
15cmx22.5cmx28cm
On and Off switch
Indicator lights
#7 — Breville Cafe Style Sandwich Press
The Cafe Style Sandwich Press by Breville is a dependable flat toaster that will make a great addition to your kitchen countertop and one of the Best Flat Toasters in the UK 2020.
Breville is a well-known household name for kitchen appliances specially toasters. This is because of the great quality and durability of their products.
The detachable plates cook faster and more even than other flat toasters on the market.
The top plates are adjustable to fit any size of sandwich you are cooking.
Whether id it's Paninis, Bagels, Cubanos, or other sandwiches the Cafe Style Sandwich Press is perfect for cooking.

Key Features:
12.6" by 14.1" by 3.7"
Stainless steel housing
With Aluminum non-stick cooking plates
On and Off switch
Makes two servings at a time
#8 — Judge Single Flat Toaster
Not everyone needs a huge flat toaster. For households with minimal members the Judge Mini Sandwich, Maker is perfect for whipping up a quick snack and toasted.
Judge Mini is a compact sandwich maker and toaster that has a cut and seal action making sure that things don't turn into a sticky mess.
Because of its compact design, it can easily be tucked away in your cupboards with no hassle at all.
It plastic covering keeps it clean despite looking a bit cheap. Overall it creates an even toasting throughout.
The plates are easy to clean and non-stick perfect for people on the go.

Key features:
7.5cm by 13cm by 21cm
Single sandwich at a time
What is the best toaster on the market UK?
Flat toasters are great for people who are on a rush to whip up a snack and or meal that don't want to fill their countertops with bulky kitchen appliances. Most of the best flat toasters in the UK are multi-functional and can make incredible toasties no matter the size, variant, or flavour.
The Best Flat Toasters in the UK 2020 would have to be the Breville Deep Fill 2 Slice Sandwich Toaster. It's a versatile and brilliant appliance and a convenient fit for any kitchen.
What is the best toaster to purchase?
The best-selling flat toasters in the UK are great investments for your kitchen no matter your budget.
Most of the best flat toasters in the UK are multi-functional. There are some who can be converted to a grill while others have a vast array of changeable plates that ensure you won't have a boring snack.
So, the Best Flat Toasters in the UK 2020 would be Breville Deep Fill 2 Slice Sandwich Toaster and Cuisinart 2 in 1 Grill and Sandwich maker.
Also Read: