Amazon is one of the few E-commerce sites that are super reliable when it comes to Home and Kitchen products. Majority of these products are vetted and are really high terms of quality. However, it can be daunting to choose the best in a vast sea full of products. Check out our list of the Top Amazon UK Sellers for Home and Kitchen for all the details.
From Blenders to Velcro tape, you can find really amazing hidden gems on Amazon UK after reviewing a bunch of products, We've compiled a list of of the best and the most useful Amazon products.
Here's our list of the Top Amazon UK Sellers for Home and Kitchen:
Top Amazon UK Sellers for Home and Kitchen 2020
#1 — Breville Blend Active Pro Food Prep Personal Blender
The Breville Blender is a versatile kitchen appliance that can help you prepare delicious and healthy meals that are filled with fresh flavours. You can make anything for juices to sauces and it's the most ideal device for gyms, work and even school.
With the Breville Personal Blender, you can Not only blend but also chop, purée and grind ingredients in seconds. This allows you to make fresh and healthy smoothies, protein drinks, chilli's, pesto, hummus, guacamole and much more in little to no time.
This blender has a 300 W motor base with a port for the detachable blade. This blade is located on a lip which can be screwed onto a 600ml bottle or a 450ml food processor. Both of which come with the blender.
After you screw the blade cap onto the bottle, just turn it upside down and place it on the motor base and let the magic happen. It's a very simple one-button control. And all the accessories are dishwasher safe.
Key Features:
BPA– Free
One-button operation
Results in seconds
300 W motor base
2 x 600ml bottles with lids
450ml food processor.
Grinding mill
4 – ways to prep food.
#2 — Pritt Glue Stick
A glue stick is just one of those things that's super indispensable. We won't need it till we need it. And the worst part is that, the majority of the glue sticks out there just downright suck. They're either toxic or they don't do a good job. However, the Prit Glue Stick is an amazing product that's has been refined to perfection after years of innovation.
This glue stick is made with low water content, this makes it highly efficient and long-lasting. It's ideal for arts and crafts. Due to the solvent-free formula, there is no possibility of paper wrinkles.
It's made from 90% natural ingredients making it one of the safest glue formulas out there. And the best part is that this formula makes the glue washable. Basically, it can be washed out under low temperature after messy playtime.
Key Features:
Long-lasting glue
Safe glue formula
Washable
#3 — Slumberdown Anti Allergy Duvet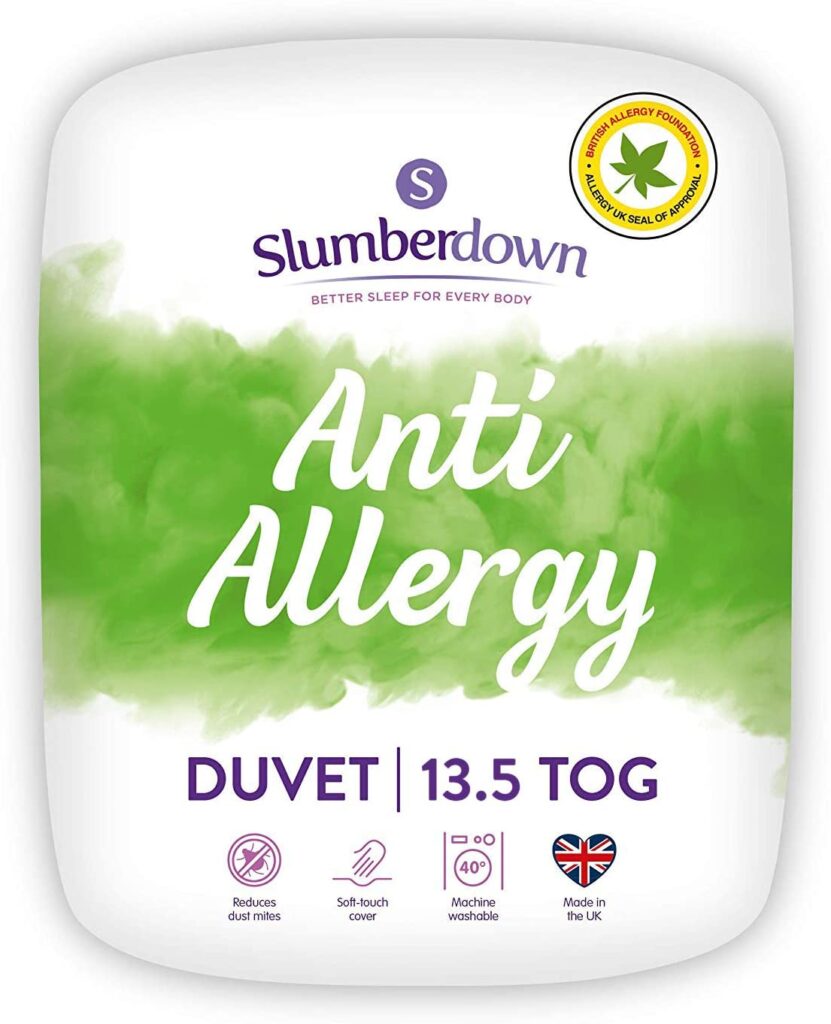 This cosy duvet is perfect for those cold winter nights. The Slumberdown Anti -Allergy Duvet is easy to clean and is one of the Top Amazon UK Sellers for Home and Kitchen.
The Slumberdown Anti Allergy Duvet is 13.5 Tog piece that is designed to provide complete comfort and warmth when it gets super cold. It fits on any double bed comfortably and is perfect for two people.
It's extremely easy to clean and is washing machine/tumble drier friendly. It's also manufactured right here in the UK.
This Duvet is filled with an Anti-Allergy filling to reduce the build-up of dust mites and bacteria. According to the manufacturer's, It's tested and approved by leading Allergy experts. So, it's definitely one of the best duvet's out there.
Key Features:
Anti- Allergy filling
Washing Machine and Dryer friendly
Extremely Comfortable
#4 — Chilly's Bottles
Chilly's Bottles are cute vacuum insulated containers that maintain the heat of the contents regardless of external temperatures. But of course, this isn't the only reason it made it to this list.
These bottles have a double insulation wall that keeps drinks cold for 24 hours and hot for 12 hours.
The Chilly's Bottles are designed with an airtight seal that prevents spills and leaks. It is also made from food-safe stainless steel that is rust-resistant and toxin-free. This makes this bottle one of the healthier choice when it comes to reusable water bottles.
This bottle is lightweight and easy to handle. It fits most cup holders and most importantly the two-ply construction of the bottle prevents condensation and water build-up. So, you won't have issues with water rings or slippery hands.
Key Features:
Slip-resistant
Made from food-grade stainless steel
Rust-free and Toxin-free
Double insulation
#6 — Russell Hobbs Mode Kettle 21400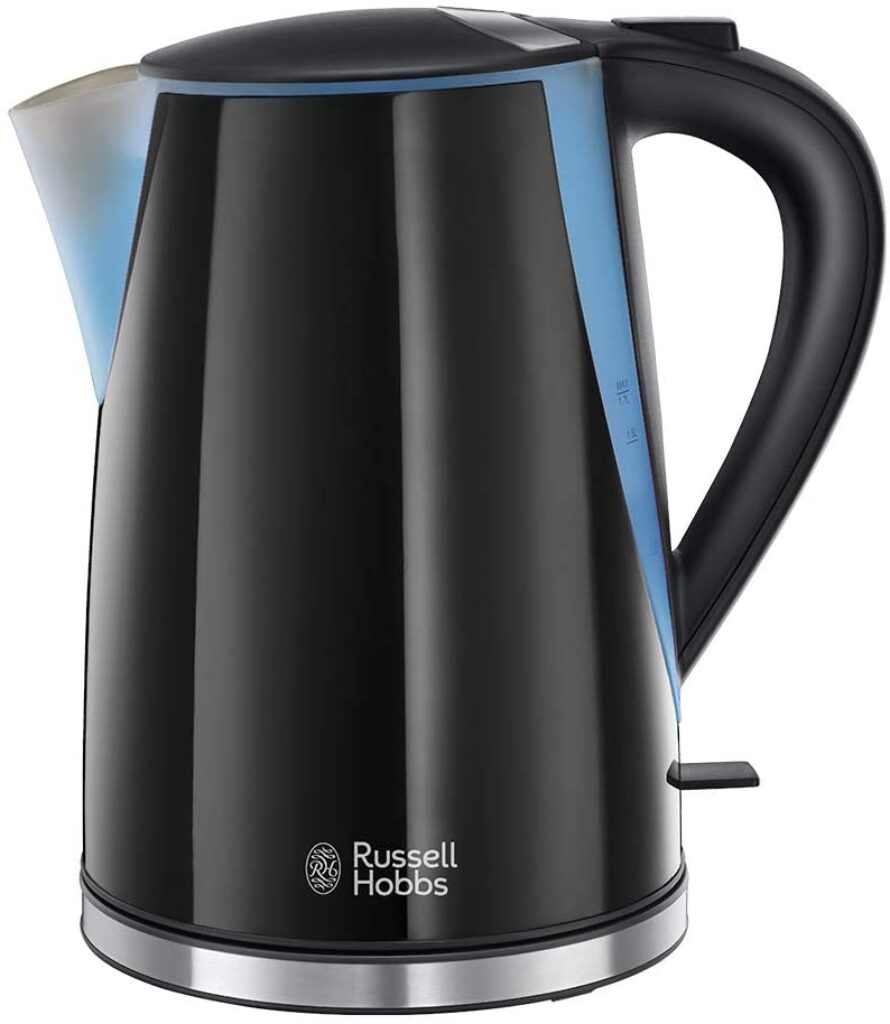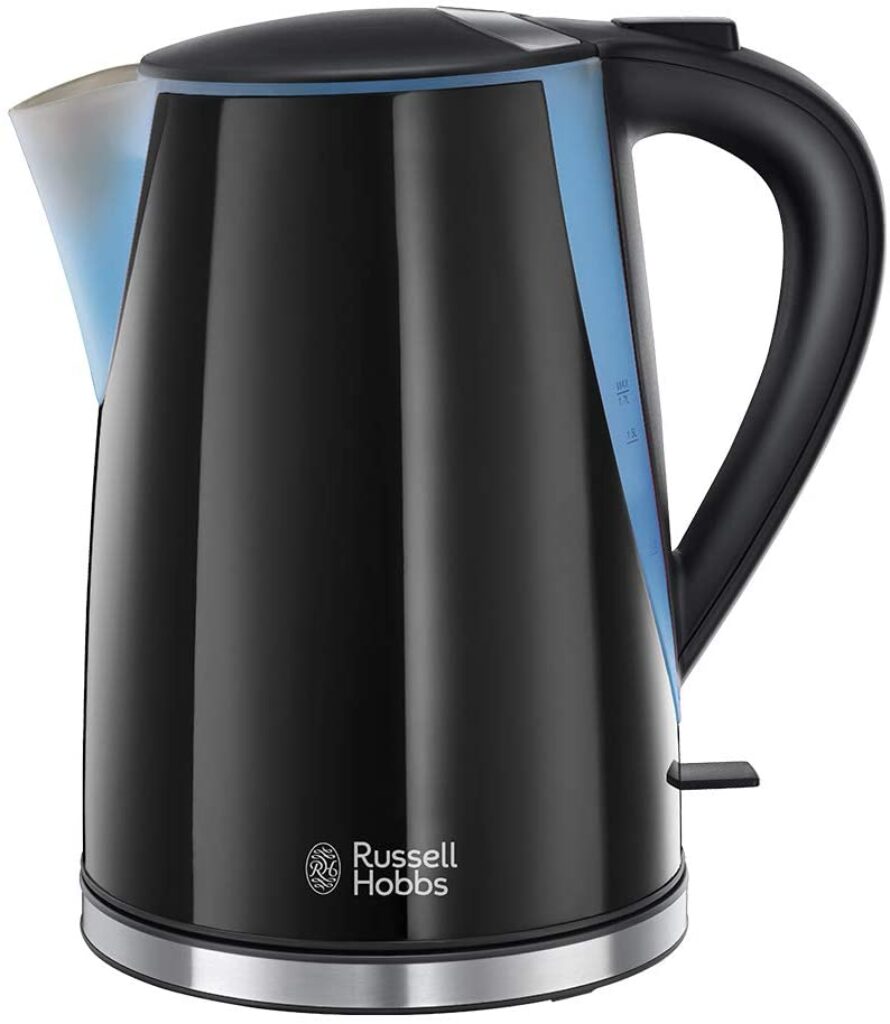 The Russell Hobbs Mode Kettle 21400 has been trending on amazon for the past year. After reviewing the item, we were surprised to find it was actually well worth the hype. It's packed with amazing functionality that doesn't lose out to even smart kettles.
The remarkable kettle is designed in a contemporary style. Basically, it's a kettle with a sleek gloss black plastic exterior and stainless steel accents.
It has a 1.7 Litre capacity and big enough to make around 6 cups of tea. This makes it ideal for families. It also comes with a 360-degree base, so it can be used by both right-handed and left-handed people.
The cord for this electric kettle is integrated at the base. So, you can extend it based on your needs.
This kettle comes with a removable and washable filter. This keeps it clean for the tea bits and other gunk. This filter sits inside the pour spout, so it's very easy to handle.
Key Features:
Beautiful design
Easy pour spout
1.7litre capacity
Removable filter
360-degree base and cord storage
#7 — JUMKEET Laptop Stand
Laptop stands are super useful as they help you with your sitting posture and also help the laptop dissipate heat. The JUMKEET Laptop stand is one of the best as it not only helps with the above things but it is also equipped with fantastic features. It's definitely a must-need product for every home. Especially with most of us working from home.
This laptop stand is ergonomically designed to help you correct your posture and prevent negative impacts on the neck and vertebrae. This laptop stand positions the laptop at eye level, and effectively reducing the stress on the eyes and neck.
This stand is foldable and compact. So, it doesn't take too much space and can easily be stored. Since it's dimensions are 24 x 19 cm and 9.4 x 7.4 cm, it can easily be carried around in a backpack or a suitcase. This makes your life super easy when you need it on your business trips.
The JUMKEET has 6 Adjustable levels to accommodate laptops of different sizes. You can choose up to 6 different angles based on your comfort and needs.
This laptop stand can easily support any laptop or tablet from 7 inches to 17 inches. Basically, anything from an Apple iPad to an Alienware 17.
It is extremely durable as it's made of aluminium alloy and stainless steel. It also has non-slip feet which prevent the stand from falling off a table with your laptop.
It comes with something called a hollow mesh design at the bottom, that allows fresh air to flow around the laptop. This helps with heat dissipation and prevents damage to the laptop hardware.
Key Features:
Non-slip feet
Heat dissipation
Durable
Supports devices from 7″ to 17″
6 Adjustable levels
Foldable and compact
Ergonomic design
#8 — VELCRO Brand VEL-EC60221 Beige Stick On Tape Roll
This tape is an amazing alternative to nails, screws and other messy stuff which are not only unreliable but also damage your beautiful home. The VELCRO Brand VEL-EC60221 Beige Stick On Tape Roll helps keep your paintings, notice boards, electric appliances tidy and secure.
This item truly has numerous applications, you can fasten paintings and tiny appliances to walls and tables. Even boards, markers, appliances like electric power strips. It's multi-purpose and can hold up items to a weight of 300g for every 20mm x 20 mm hook and loop piece.
The velcro tape comes with a general-purpose adhesive that is meant to stick on smooth surfaces. It can be used for both indoor and outdoor use.
This tape can be cut to your desired length. Ensure that the surfaces are clean and dry and allow the 10 minutes for the adhesive to set before use. This adhesive is quite strong and creates a long-lasting bond that can be applied to almost all surfaces including wood, metal and plastic.
Key Features:
Strong Adhesive
Can be used on any surface
The possibilities and endless in terms of application
What are the top selling items on Amazon?
The top-selling items on Amazon UK with respect to home and kitchen items would have to be the Breville Personal Blender, Slumberdown Duvet and the Velcro Tape. Check out our list of the Top Amazon UK Sellers for Home and Kitchen for all the details.
For example, the Breville personal Blender is by far one of the best kitchen products on Amazon UK. With this blender, you get two 600ml bottles a 450ml container. Basically, you can screw the blade can on to the bottles directly and place it on to the blender. Once it's done the job, you can carry the bottle to wherever you want.
While there are quite a few similar blenders out there, not all can provide speed and quality.
Also Read: