Check out our Guide to Buying a Smokeless Charcoal BBQ for all the details.
With summer around the corner, it's almost time to get our BBQ grills out of the dust-laden corner of the garage and enjoy a barbecue with our families and friends. But, as much as we love a nice old fashioned BBQ, the smoke makes it unbearable for most of us. Worst of all we end up investing in a huge and expensive BBQ grill that is hard to store and dangerous.
Luckily, there's is a brilliant alternative that does the same job without the hassle. Smokeless charcoal BBQ grills that give you the smoky taste without the inconveniences of smoke. And is so much safer compared to the conventional grill. It's one of the best products to buy on Amazon.
Whether you are a grilling expert, a home cook, or just starting out on your grilling journey, smokeless charcoal BBQ grills can help you practice your recipes and cook delicious barbecues for the entire family. Here's our list of some truly efficient Smokeless Charcoal BBQ's in the UK.
Recommended Read: Top 10 Multi Cookers to Fry, Bake, Steam and More..
Things to Consider When Choosing a Smokeless BBQ Grill
Size and Surface Capacity
Whether you are just cooking for a few friends or having a huge barbecue party the size and surface capacity of your grill is important.
You should consider a larger grill space if you often host dinners or parties for a lot of people.
On the other hand, you can opt for a more compact smokeless charcoal grill when you have a few household members.
Some grills have a sleek design that makes it portable and lightweight. You can easily take your smokeless grill to the outdoors for a camping adventure or have barbecue dinner indoors.
Material
Stainless steel is normally the main material used for the grill and rack since it can withstand high temperatures.
The stainless steel grill and rack are hygienic and more durable than other metals.
At the same time, the body of the grill should either be made of hard plastic or silicone, these ensure you won't accidentally burn yourself when handling the grill.
The main rack or top grill should be non-stick, it is easy to clean, hygienic and ensures quality barbecue every time.
The overall material used on your grill is highly important especially if you prioritize durability and lifespan.
Drip/ Grease Tray
When juices from the meat, fish, vegetable, or chicken you are grilling drips to the charcoal it emits is a wave of smoke that is inconvenient and drowning. Not to mention how frequent grease causes you to burn more charcoal than expected.
This is an important factor which decides which grill can make the cut and actually be one of the Best Smokeless Charcoal BBQ UK.
Smokeless charcoal grills have a built-in or removable drip/grease tray that captures excess fat and fluids to save charcoal and lessen the smoke emitted.
These grills also help reduce the unnecessary fat content of your food, all the drippings are gathered on their trays giving you a healthier meal.
Heating Element
The Heating element or rather the radiating element is unique to every smokeless grill, but it's extremely important.
When buying a grill make sure there is a radiating element. This can be a cup-like or a dome-like structure.
Smokeless charcoals grills depend on this to evenly and efficiently cook your food.
Exhaust System
Smokeless charcoal grills have excellent exhaust systems.
These fans not only maintain and adjust the heat of the grill they also deplete smoke by circulating air enough for the smoke emissions to disappear.
Smokeless charcoal grills also utilize this system to ensure you will not be flooded with endless smoke.
Attachable Parts
While the Drip tray is also an attachable part, you should be on the lookout for Smokeless charcoal grills that make your life easy.
Check if the grill you're going to buy has detachable legs or handles.
Things like attachable legs and placeholders can make a whole lot of difference.
Anti-slip feet
This feature or rather portion of the grill is an absolute necessity. Most smokeless charcoal grills are small and can be easily moved around.
There are chances that the smokeless BBQ charcoal UK can fall on somebodies leg when your flipping your steaks.
So, make sure your Smokeless Charcoal Grill has sturdy Anti-slip feet. Ideally, rubber feet are best for small-sized grills.
Guide to Buying a Smokeless Charcoal BBQ
Smokeless Charcoal BBQ
Features
Check it out on Amazon
LOTUSGRILL Tabletop Barbecue
34cm grill top,
Smokeless ventilation system,
Can be battery operated,
Dishwasher-friendly,
Low power consumption.
best smokeless bbq
Check latest price on Amazon UK
Klarstein Micro-Q 3131 Charcoal Grill
42x23cm stainless steel grill,
Fan box for instant ignition,
Faster than conventional grilling,
Portable.
Check Latest price on Amazon UK
Summit B & Co Alfresco Smokeless BBQ Grill
Non-stick plate
Drip pan
Adjustable fan and temperature settings
Stainless steel grill and bowl for easy cleaning
Can serve 5 to 6 people
2 colors to choose from
Check latest price on Amazon UK
Sunmong Electric and Charcoal Barbecue Grill
Double-walled base
Easily cleaned griddle and grease pan
The grate is 30.5in long
Low charcoal consumption
Check latest price on Amazon UK
Aobosi Smokeless Barbecue Grill
Fast Heating,
Easy to transport,
Safe to use,
Easy to clean,
The Led indicator and knob help control the temperature,
Portable,
Check latest price on Amazon UK
Quest Electric Smokeless Portable BBQ
Prevents smoke and odor,
Less mess and easy to maintain,
Pre-heat function,
Easy to clean chrome plated grill,
Detachable components,
Can be placed on a tabletop,
Check latest price on Amazon UK
Grillerette Pro -The Smartest Portable BBQ Grill
Battery-powered
Lightweight
Portable
90% smoke reduction
Has fans and gets hot faster
Check latest price on Amazon UK
Lotus Grill Smokeless BBQ
Portable
Smoke-free
Cooks in about 3-4 mins
Good for 5-6 people
Check latest price on Amazon UK
What is Smokeless Charcoal BBQ?
Unlike the conventional BBQ grill that requires smoke to cook those tender patties, this "smokeless" alternative is suitable for those who are allergic to smoke and want a safer yet similar BBQ experience. These grills are faster and way more efficient than the conventional grill.
This smokeless grill is "smokeless" because of the Turbofan system. This battery-powered system has a but in fan that circulates air inside the grill and it helps control the heat. This system is critical in delivering a smoke-free grilling experience.
Smokeless BBQ grills are typically constructed with a double-wall design. A canister holds charcoal while the meat is cooked on the grill plates.
Smokeless Charcoal BBQ's to Buy in 2022
Smokeless charcoal grills let you experience old school grilling with almost the same taste as conventional charcoal grills. The difference in taste is noticeable but subtle. You can enjoy a nice grilled chunk of meat in no time at all.
#1 — LOTUSGRILL Tabletop Barbecue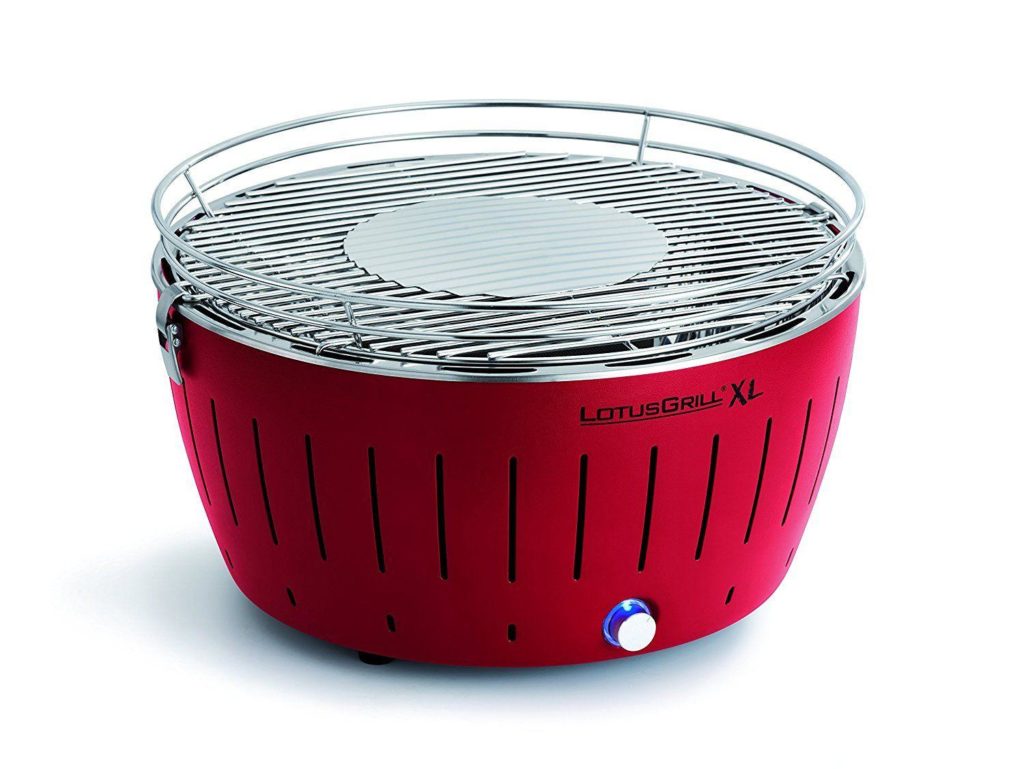 Whether you lack the space for a conventional barbecue grill or just want to avoid a bulky BBQ grill the LotusGrill Charcoal Tabletop Grill is just the thing you need. It is the number one most reviewed smokeless charcoal grill in the market, and their products live up to the standard.
An ample amount of charcoal plus some ignition gel you only need 3 minutes before you can use your grill that easily serves up to 5 people.
This smokeless grill UK is 34cm wide perfect for a quick grill with some friends.
The LotusGrill Tabletop Grill can be battery operated for more portable use and offer you the Best Smokeless Charcoal BBQ UK 2022.
The ventilation system utilizes an on and off switch and heat control system that allows for an easy smokeless barbecue for everyone to enjoy. The LotusGrill comes with a transport bag and dishwasher-friendly parts for quick cleaning.
Key Features:
34cm grill top
Smokeless ventilation system
Can be battery operated
Dishwasher-friendly
Low power consumption
Pros
Cooks fast and efficiently
Does not consume a lot of power
Cons
Relatively expensive
Difficult to find custom accessories for the grill
#2 — Klarstein Micro-Q 3131 Charcoal Grill
A transportable grill perfect for outdoor camping the Klarstein Micro-Q 3131 is your go-to portable grill for all your adventures
It is extra-large 42x23cm stainless steel grill space and fast assembly redefine barbecue standards.
With it is battery-operated fan box, you can easily ignite your charcoal without any hassle. This makes it one of the best smokeless grill UK.
The smart design lets excess fat and meat drippings fall to a drip fan that is easy to clean and removable.
The Klarstein Micro-Q 3131 Charcoal Grill is a practical portable outdoor smokeless grill that gives you hassle-free grilling anywhere.
Key Features:
42x23cm stainless steel grill
Fan box for instant ignition
Faster than conventional grilling
Portable
Pros
Value for money
Easy to maintain
Can cook thick meats
Cons
Since it distributes heat equally due to its smart design, it actually might take more time to cook food.
#3 — Summit B & Co Alfresco Smokeless BBQ Grill
Are you looking for an easily transportable smokeless barbecue grill? Summit B & Co Alfresco Smokeless BBQ Grill is just the thing you need with it is lightweight and ergonomic design.
Designed with a convenient fan that ensures your food won't be flooded with fumes nor amber from the charcoal.
This grill is environment-friendly not just because it doesn't use much charcoal but also because it is extremely energy efficient. All you have to do is wait for a few minutes for it to heat up and start cooking food. The dishes that are prepared using this grill also tend to be healthier as all the unwanted fat drips away and it generally needs very little oil.
Most importantly, you can adjust the temperature to help it retain its natural flavor. Additionally, it also happens to be easy to maintain. The stainless steel frill and the bowl can be dismantled and cleaned separately.
It is perfect for 6 people and can be carried to the back yard and or the park. This grill is made up of six sections and has handles to prevent burns. It also has a bar-shaped pan to efficiently cook the ingredients.
Spills and drips from grilling will be stored in an easy to clean drip pan which also allows you to burn the charcoal slower than conventional grilling. The adjustable temperature gauze controls the airflow for even cooking.
Key Features:
Non-stick plate
Drip pan
Adjustable fan and temperature settings
Stainless steel grill and bowl for easy cleaning
Can serve 5 to 6 people
2 colors to choose from
Pros
Cons
Does not have a long life span
#4 — Sunmong Electric and Charcoal Barbecue Grill
With a hybrid heating system that includes both electric and charcoal, the Sunmong Barbecue Grill takes only a few minutes before it is ready to use.
The perfect combination of proper airflow and an open counter top gets the grill ready in a flash. Charcoal burns in just 2 to 3 minutes and if you're using the electric mode then you can easily heat up or cook food thanks to the 2800W power supply.
Grease and drippings from food grilled runs to the sides instead of flooding your charcoal which often causes a whiff of smoke.
The grill rack and lid allows you to grill indirectly for a less charred and smoky taste. To boost, the Sunmong Electric and Charcoal Barbecue Grill has a pizza plate that can be combined with a lid for a faster cooking experience.
Key Features:
Double-walled base
Easily cleaned griddle and grease pan
The grate is 30.5in long
Low charcoal consumption
Pros
Ideal for large families
Mid range pricing
Hybrid heating
Cons
Hard to maintain and difficult to clean
#5 — Aobosi Smokeless Barbecue Grill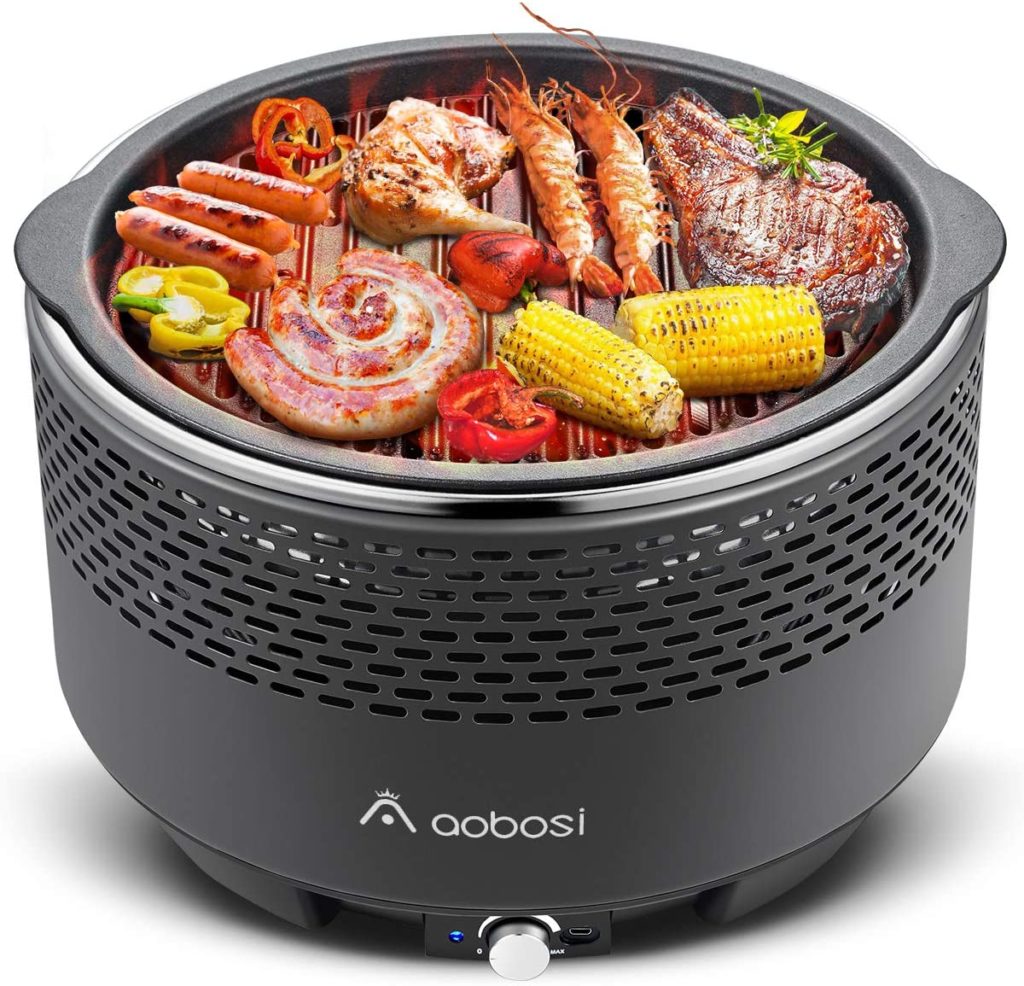 The Aobsi Smokeless Barbecue Grill is a great grill that can be carried anywhere. Not only does it comes with useful wooden handles it also large space and the perfect placement of the heating element ensure that all your meats and vegetables are cooked efficiently.
This Barbecue Grill is designed to achieve a smokey taste without the smoke. The grill is made of premium stainless steel and the build helps cook the meat while maintaining its original flavor. It is heat and scratch-resistant.
It has an LED indicator and a knob that control the temperature. This makes your job extremely easy.
One of the best things about this grill is that it comes with a detachable charcoal box that burns the coal efficiently. It heats up much faster when compared to a traditional grill. With this feature alone this grill makes it one of the best portable charcoal BBQ UK.
This grill has a portable bag which makes transportation so much easier. The best part is that this grill can be charged in two ways: You can ass AAA batteries to the fan or connect it to a portable charger. The fan then efficiently heats up the coal and allows you to perfectly grill the meat.
Key features:
Fast Heating
Easy to transport
Safe to use
Easy to clean
The Led indicator and knob help control the temperature
Portable smokeless grill UK
Pros
Doesn't get got or deformed on the sides
Easy to move around
You can efficiently and perfectly cook with this smokeless charcoal grill as it comes with temperature control.
Cons
Nothing really, it's almost the perfect grill.
Longevity might be an issue as the fan might need to be replaced after a year of consistent use.
#6 — Quest Electric Smokeless Portable BBQ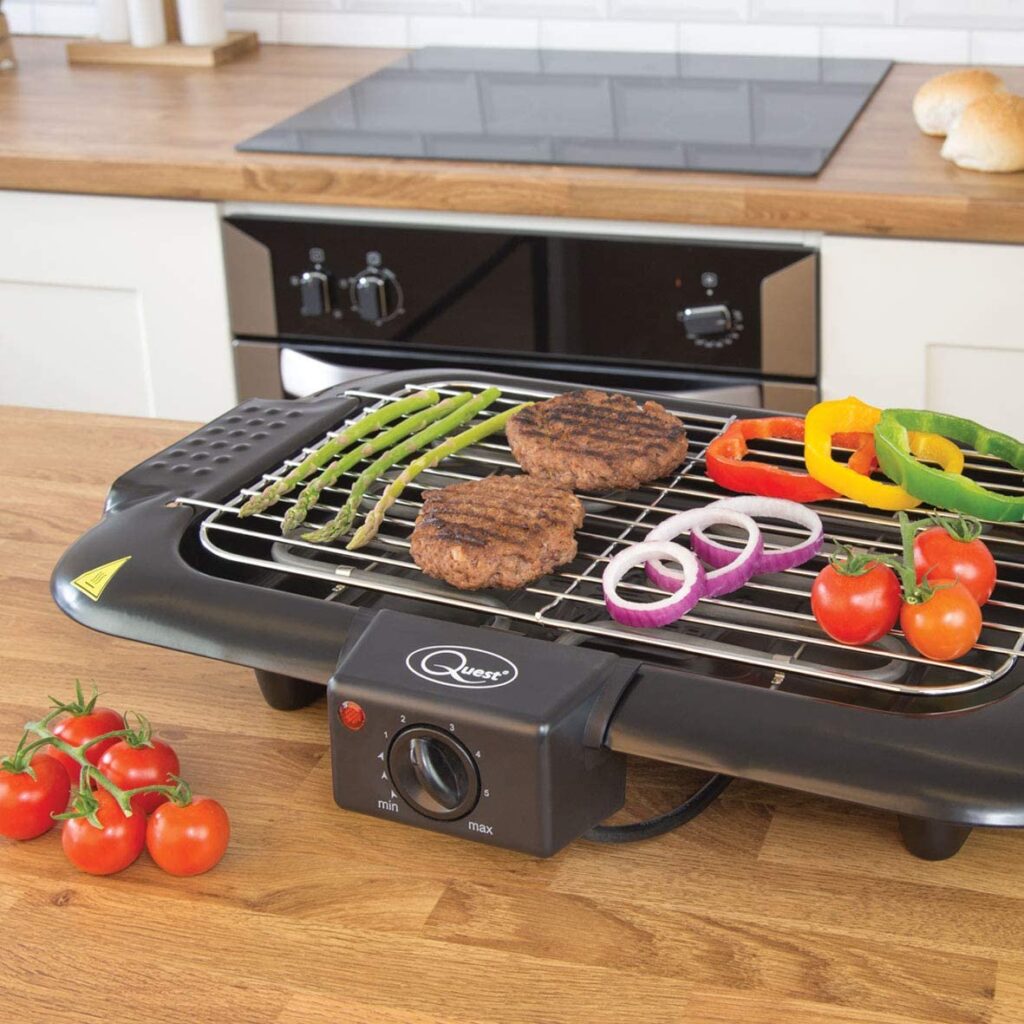 Quest is a popular domestic appliances manufacturer that builds innovative products that help save time. The Quest Electric Smokeless Portable BBQ is an indoor grill that works as a Tabletop BBQ. Not only is it quite compact and easy to maintain it also comes with amazing functionality that not only reduces the smoke but also the odor.
Regardless of rainy or cold weather, you can always cook up BBQ dishes indoors with this smokeless grill. It can easily fit on a table or a countertop. The parts are detachable, easy to maintain and clean.
Since this is an electric grill you will need a plug point. It is equipped with a thermostatic dial that controls the temperature. It also has a light to indicate the on/off status of the grill.
As mentioned earlier this electric grill is quite easy to maintain. This primarily because it comes with a chrome-plated girl and stainless steel heating elements that are easy to clean. The meat and other ingredients tend not to stick to this type of grill.
You can pre-heat this grill for 5 minutes before cooking to expedite the cooking process and effectively cook thick ingredients like steaks.
Not only does this Quest Electric Smokeless Portable BBQ reduce smoke but it also prevents odor from contaminating your house. This can be primarily attributed to a water-filled drip tray that is crucial to this BBQ grill. This water level works as a heat sink and also keeps your food moist while preventing the smell of grease from contaminating your kitchen.
Key Features
Prevents smoke and odor
Less mess and easy to maintain
Pre-heat function
Easy to clean chrome plated grill
Detachable components
Can be placed on a tabletop
Pros
It's absolutely easy to maintain. Especially when compared to the other grills on this list.
It also doesn't emit odor
Cons
Doesn't last for very long (Lifespan)
Since there water involved, make sure to be very careful and read the instructions before use.
#7 — Grillerette Pro -The Smartest Portable BBQ Grill
Grillerette Pro is one of the smartest and the best portable BBQ grills that you should own today. This grill is extremely convenient to use and very useful.
This grill is battery-powered, portable and lightweight to be carried a lot anywhere you want to take it.
The grill plate is designed in such a way that it has 90% reduction of smoke from the BBQ grill.
The grill gets hot faster and also keeps the food hot for a very long time.
The Grillerette Pro is one of the easiest to use smokeless charcoal BBQ grills that has an impressive 90% smoke reduction capabilities allowing the food to remain tasty without any smoky flavor.
Key features:
Battery-powered
Lightweight
Portable
90% smoke reduction
Has fans and gets hot faster
Pros
Easy to maintain
Lightweight
Heats faster than others
Good reduction of smoke
Cons
#8– Lotus Grill Smokeless BBQ
LotusGrill is hands down the best brand to get your BBQ grill from. It's well-known for being extremely good at grilling and charring.
This BBQ grill is smoke-free and grills the food for about 3-4 minutes.
The double layered construction helps in keeping the grill at normal temperature and can be touched anytime.
It's good for grilling food for 5-6 people at once and can be carried along to picnic sites.
Key features:
Portable
Smoke-free
Cooks in about 3-4 mins
Good for 5-6 people
Pros
Fast heating mechanism
Insulation on the body
Ideal for large gatherings
Cons
Final Thoughts
We all crave for a good barbecue every now and then, despite its huge popularity during summer we often want bbq all year round.
Smokeless charcoal barbecue grills are a great way to enjoy the mouthwatering delicacy anytime whether you are indoors or outdoors. There are tabletop and portable options if you don't have the space for conventional barbecue grills.
Performance-wise smokeless charcoal grills can go neck and neck with conventional barbecue grills.
There is, of course, a compromise you will have to make when substituting the conventional grill for the more safe smokeless grill, and that would be the taste. There is going to be a little difference with the taste.
Because of the system to reduce smoke the food you grill will not have the same smokey and really charred taste. It is a subtle difference but one you can easily spot especially if you frequently eat barbecues.
Other than this, the appliance really is convenient and relatively safe compared to the conventional BBQ grill.
When it comes to brands, the LOTUSGRILL is one of the Best Smokeless Charcoal BBQ UK 2022.
Which charcoal is best for barbecue?
The best charcoal is Royal Oak Ridge Briquettes, this charcoal is from a legacy brand and is very reliable.
It'll have your backyard barbecue ready in about 15 minutes. You can depend on this charcoal when cooking your food.
While it can have a tendency to create some smoke, you should invest in a smokeless charcoal grill like Lotusgrill. That way you can get the best of both worlds.
Which BBQ grill should you buy in the UK?
While the conventional gas grill is popular, the trend is shifting towards the more portable and inexpensive Smokeless Charcoal BBQ Grills.
These grills eliminate the smoke and hassle. It's very easy to operate and can cook your meat to perfection in under 5 minutes.
The best smokeless BBQ grills would have to be the Klarstein Micro-Q 3131 Charcoal Grill and the LOTUSGRILL. These grills have the same features as any other good conventional grill. But it's very easy to operate and maintain.
Which BBQ brand is the best?
Lotusgrill and Aobosi are some of the best BBQ brands out there in the market.
These companies make some really high-quality grills that not only have a bunch of amazing features they're also designed to make your life as easy as possible.
For example, both grills are extremely easy to clean. The Aobosi smokeless grill also comes with a dial to control the fan speed and temperature.
FAQ's
Can you get smokeless BBQ charcoal?
Yes, you can get smokeless BBQ charcoal as they let you experience authentic and traditional grilling with the same taste as that of conventional charcoal BBQ. There is a difference in taste but it's not noticeable.
Is a smokeless grill really smokeless?
No, not completely but they are somewhat smokeless. They use infrared heat rather than direct open flame heat which is what makes it smokeless and ideal for indoor grilling.
How to control the air flow in a smokeless BBQ?
There's a rotary control located on the BBQ fryer that you can use to adjust the fan speed and improve the time taken for the BBQ to heat up. This is good because you can instantly change the temperature of the BBQ and have food cooked faster.
How to clean a smokeless charcoal grill?
Smokeless charcoal grills are made for easy cleaning and you wouldn't have to spend more than 5 minutes to have the BBQ stand and grill looking brand new once again. The grill plate, charcoal chamber and the ignition plate can be dismantled, so you can easily wipe it down with a clean cloth whereas the other washable components can normally be thrown into the dish washer for an effort free cleaning process.
Also Read: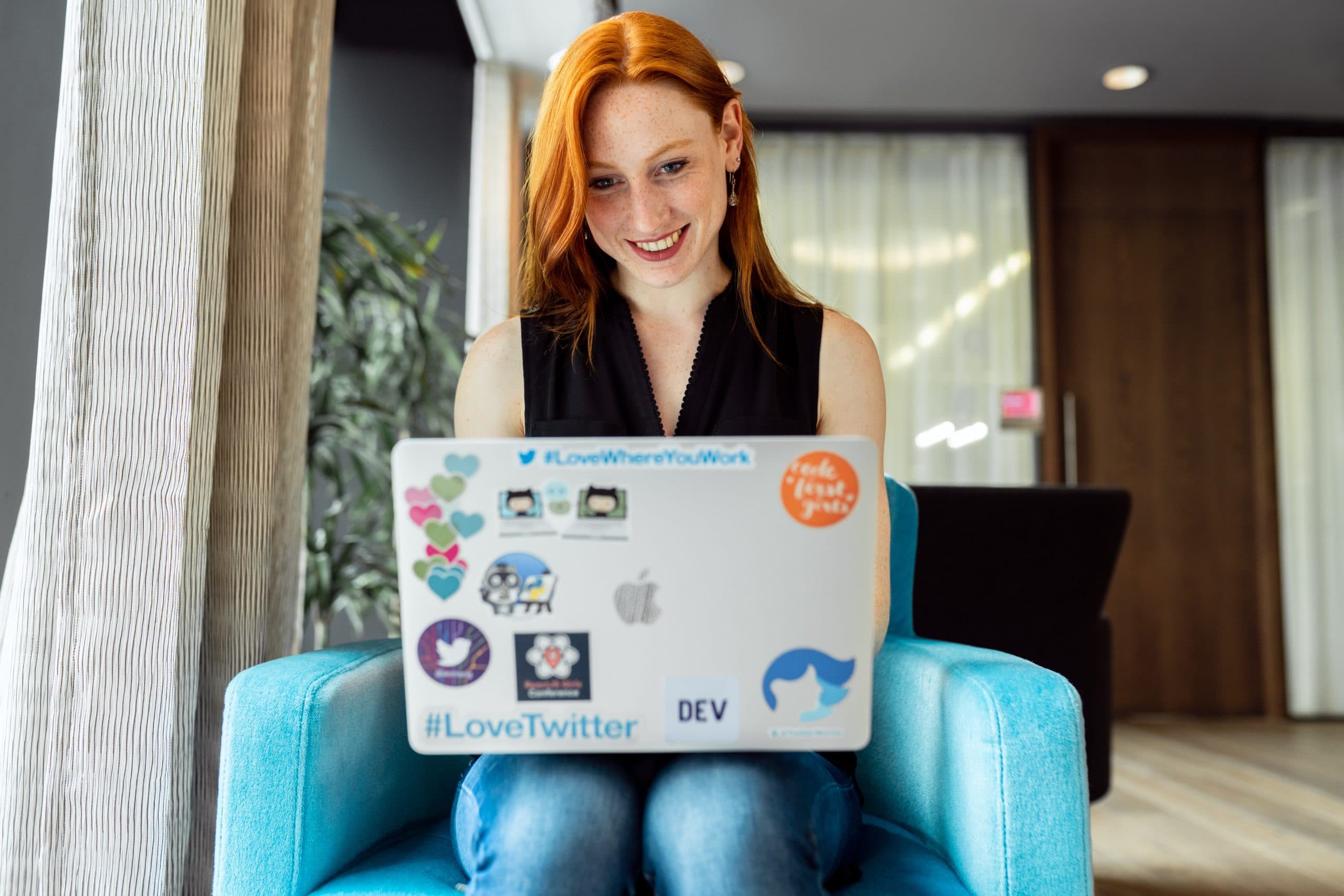 Joanna is a writer, poet, stand-up comedian and holds two master's in arts and history. She founded Discount-age with the intention of providing her readers with solutions to everyday household problems. During her free time, Joanna loves cooking but usually ends up ordering in.