Photo Book sites in the UK offer you the best chance to have your greatest memories immortalized in the perfect way. Whether you're celebrating the birth of your child or a milestone birthday, photo books will always keep those memories safe, and they make great gifts as well.
One of the many reasons why people love photo books is because of the fact that they are highly customizable. You get to pick the cover image, arrangement of the photographs within the book and these sites normally provide you with a range of templates to choose from, that can be tweaked to your liking.
But how do you know which is the best UK photo books service?
Well, the best UK photo books service is one that has an easy-to-use interface, ships fast and the delivered item is made of high quality materials. Our team at Discount-Age have reviewed and tested over 30 different UK photo book sites and have drawn the conclusion that the following 8 photo book services truly stand out.
CEWE Photoworld
MixBook
Picaboo
Shutterfly
Snapfish
Mimeo Photos
Photobox
My Social Book
Top 8 Best UK Photo Books
CEWE Photoworld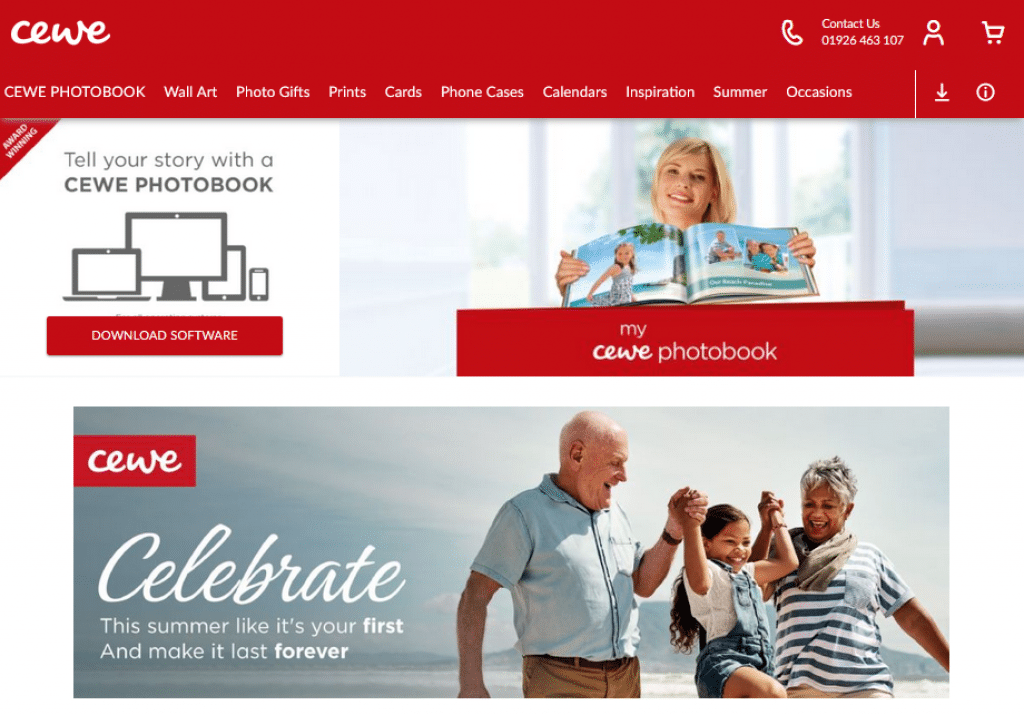 Overall Best UK Photo Book Service
CEWE Photoworld is one of the only photo book services that offer affordable, high-quality products with a range of customization options that no other service or site would provide. It uses its proprietary software to create and develop the best photo book design.
One of the good things about CEWE Photoworld is that you get to download their software onto your laptop/desktop rather than using an online editor. This makes it easier to customize your designs even when there's no electricity.
The photo book tool is rather easy to use and you're given the ability to pick from a wide range of fonts and sizes to give the book your own personal touch. We noticed that their photos were printed on high quality paper and were fairly accurate. CEWE Photoworld even has an option to add gold or silver highlights to your hardcover book.
Info
Paper Choices – Classic, High-gloss, True Matte, Classic Photographic, Gloss Photographic and Matte Photographic
Sizes – Landscape, Portrait, Square
Cover Options – Soft, Glossy, Matte, Leather
MixBook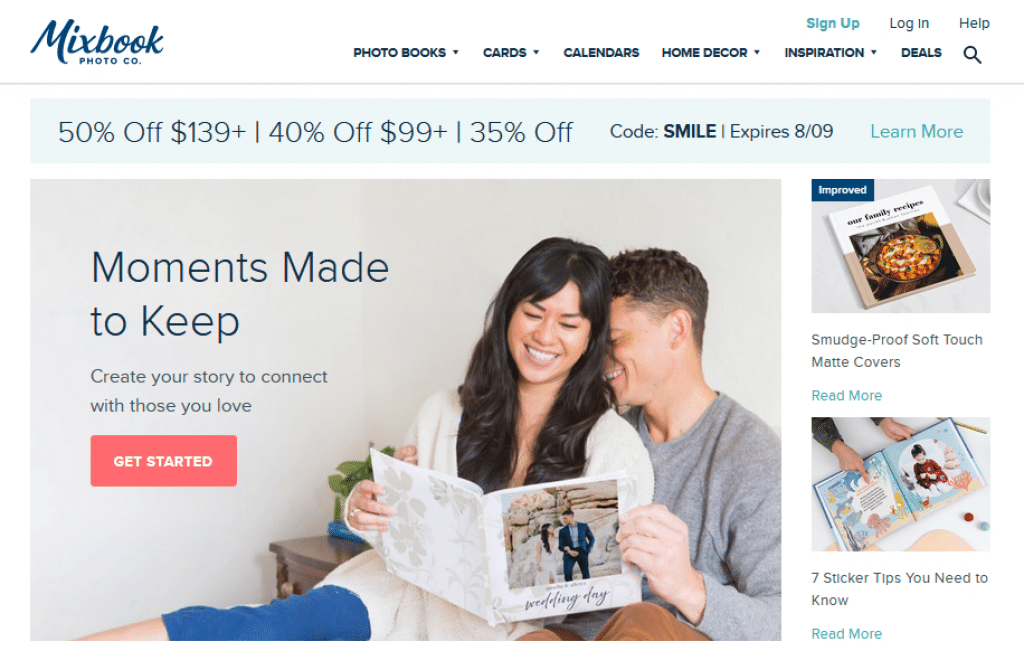 Best Value UK Photo Book
One of the best valued photo book services in the UK is MixBook. This service provides you with numerous discounts to choose from making every buy from them, literally a steal. They offer global shopping options, their software is simple-to-use and you wouldn't have to download any external software to run the editor.
It's one of the few services with over 400 different templates to choose from and they even let you add stickers and background images to your pages. MixBook photo books come with a range of paper options to choose from such as pearl finish, matte and even semi-gloss.
Their products are pretty accurate and would make a brilliant gift, but they still need to work on the cover page. Unfortunately, there were slight issues with the color of the cover image on their photo books, but all the images that were printed within the book were accurate and had the right tone and coloring.
Info
Paper Choices – Semi-gloss, True Matte, Pearl Finish, Ultra-thick Premium Matte
Sizes – Landscape, Portrait, Square
Cover Options – Soft, Glossy, Matte, Leather
Picaboo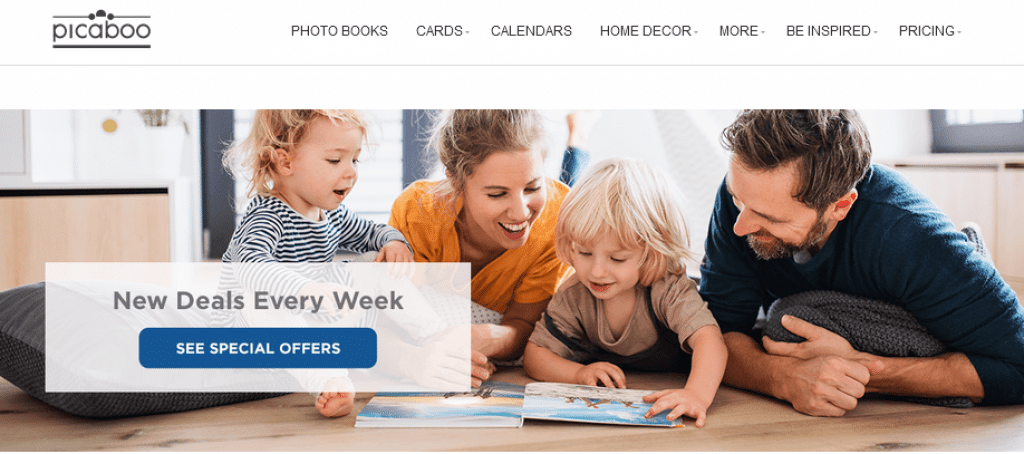 Best Professional UK Photo Book Site
Picaboo is one of the best professional-grade photo book sites in the UK. While they do not compare with the speed and quality of work as CEWE or MixBook, Picaboo makes up for everything with one of the most feature rich and customizable platforms around.
They run an easy-to-use software that lets you add personalized backgrounds and stickers as you wish. You can even choose different print qualities depending on your budget and they offer an added option to polish your photographs so that they match the background you chose.
The print quality of the photo book is pretty decent and you get excellent customization options, the site is easy to use, I mean, what more could you ask for from a professional service?
Info
Paper Choices – Standard, Lay Flat, Premium Lustre
Sizes – Landscape, Portrait, Square
Cover Options – Glossy, Standard
Shutterfly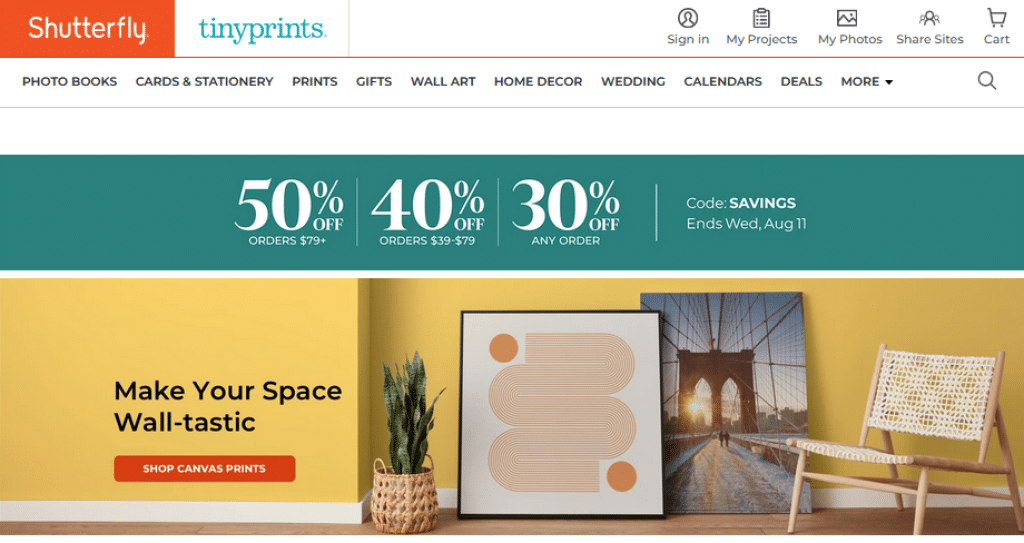 Best UK Photo Book with Quality Finish
Shutterfly is an all-round amazing photo book service that offers an easy-to-use software that lets you create the photo book of your dreams. The site offers you a range of templates to choose from and you can also make use of the Make My Book service that enables the Shutterfly designers to create your photo book for you based on your requirements.
This is one of the few sites to offer discounts on your purchases year-round and as a recommendation, wait till the offers pop-up on their website if you're looking to save some money on your photo book.
The finished product looks pretty good and the overall printing quality of the book is phenomenal. It's definitely one of the best UK photo books in the market and you should definitely consider getting one.
Info
Paper Choices – Standard Matte, Ultra-thick Satin Finish
Sizes – Landscape, Portrait, Square
Cover Options – Hardcover, Cloth & Leather
Snapfish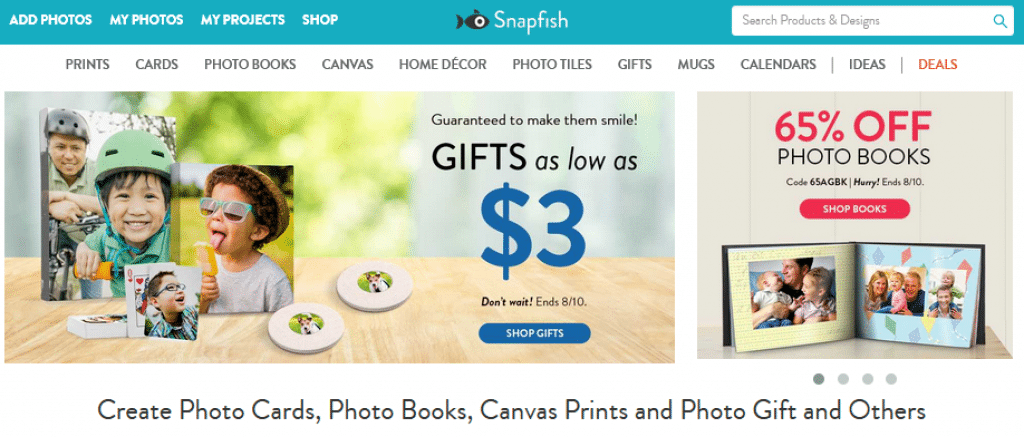 Best Easy-to-Use Photo Book Service
Snapfish has been in the photo book service industry for well over 20 years and their staff consists of trained professionals who know what they're doing.They run an easy platform that features a drag and drop photo editor allowing you to control what happens at each step of the way.
They offer some money saving deals on their products and while it's affordable with some lucrative discounts each time you purchase a photo book, they do lack the 100% professional finish and if you're clearly someone who wants something that's truly high-quality in every way, then you can opt for one of the top three services we listed above.
The photo books are worth the money as you normally end up paying less as compared to CEWE Photoworld which is a good thing, but would only be recommended to those who are willing to compromise on the best quality they could possibly receive.
Info
Paper Choices – Standard, Glossy, Lay-flat
Sizes – Landscape, Portrait, Square
Cover Options – Hardcover, Softcover, Matte Hardcover, Hardcover Lay Flat
Mimeo Photos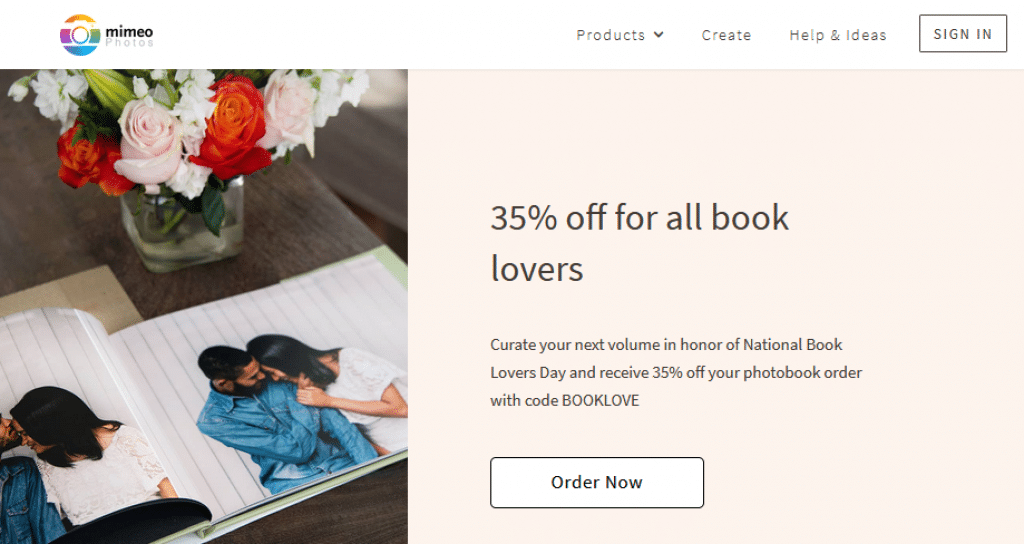 Best Photo Book for Precision & Accuracy
Mimeo Photos is by far the only site to offer both, a web-based builder/editor and a third-party app extension that you can use on your macOS. No matter which you decide to use, you're either way provided with 50 theme options, customizable layouts and background images for a more personalized feel.
Their books are printed with high-quality paper and the images are detailed and crisp. Everything about their photo books show that it's definitely one to consider. One thing we noticed with this photo book is that the cover image you select is also printed on the actual cover of the book, which is a nice touch to be honest.
The photos are true to color and Mimeo Photos would only ship out orders to the US or within the UK itself. You may want to try this software out first because we found it to be a little bit lagy and fiddly.
Info
Paper Choices – Standard
Sizes – Landscape, Portrait
Cover Options – Hardcover, Softcover
Photobox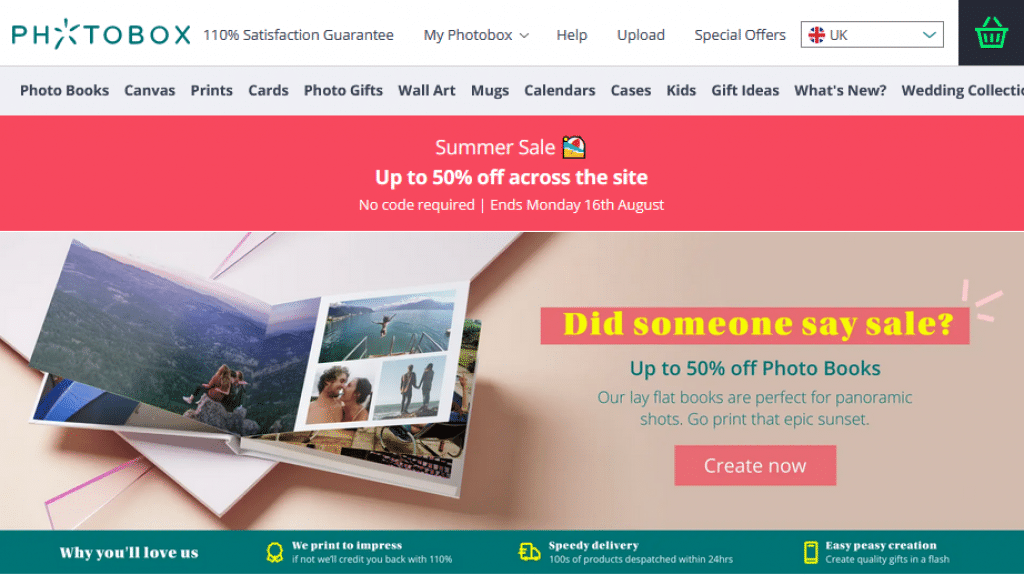 Best UK Photo Book Service for Beginners
Photobox is another great photo book service to use as it not only provides users with great discounts on their products. They come with an easy-to-use software that lets you view the photo book in 3D so you get to see what it would look like and you're even able to add templates, backgrounds and even crop the images to your liking.
It's a highly personalized service that is able to automatically group images together making it easier for you to design the layout. The images were printed well, but we felt it could have been better with slight tweaks being made to the color accuracy and sharpness of the photos.
The only drawback we found was that there are chances the photo books will be delivered with slight creases on the spine. It's not something major, but if you're a person who's adamant that everything needs to be perfect, then you can try our top 3 on this list.
Info
Paper Choices – Standard (170 GSM), Thick paper (230 GSM), High-Gloss Finish (204 GSM)
Sizes – Landscape, Portrait
Cover Options – Hardcover, Softcover, Lay Flat
My Social Book
Best Social Media Photo Book Creator
One of the few unique photo book software out there is My Social Book. This service lets you pick your photos from Instagram or Facebook and have them compiled into a photo book. These hard copies of your favorite memories on social media will surely be something to consider.
They have an easy-to-use software running on their website that lets you add individual links to your social media course and you're even given the opportunity to choose the time frame you want to cover in a particular photo book. The software will then retrieve all the photos from within that time frame and have them added in the photo book, post which you can adjust the layout and even add a cover image for the book.
We found that the quality of the paper and details in the photos were spot on and using My Social Book is the one way you can have a physical copy of the photos you clicked on your phone and uploaded on your social media account.
Info
Paper Choices – Standard (90 GSM), Semi-Gloss Paper (135 GSM)
Cover Options – Hardcover, Softcover
How to choose the best photo book service in the UK?
While there are hundreds of businesses claiming to print the best photo books, there are only a handful that actually do a fabulous job. If you're looking for the best UK photo books service, you will have to consider a couple of things first. We took the same factors into consideration while generating this list.
Check it out!
Paper Quality & Thickness – First thing to consider is the type of paper that's being used. Usually, photo book services do add some options such as glossy paper, matte paper, soft-sheen and more. Pick the kind of paper you feel would be best suited for your photo book. Another thing to consider when looking at the paper type is the thickness of the paper, anything over 90 GSM is great for your photo book.
Customizable Features – Sites let you choose templates and layouts for your photo book, you're able to crop images, add borders, include a cover image and more. Each feature is unique to your photo book and a simple suggestion would be to decide on a service that lets you customize your photo book before you place the order.
Shipping – If you're living outside the UK then you must figure out whether the site ships to your location or not. Most of the services listed above would either ship only to the UK or would cover Global shipping. Make sure to go through the shipping terms and conditions before placing your order.
Also Read: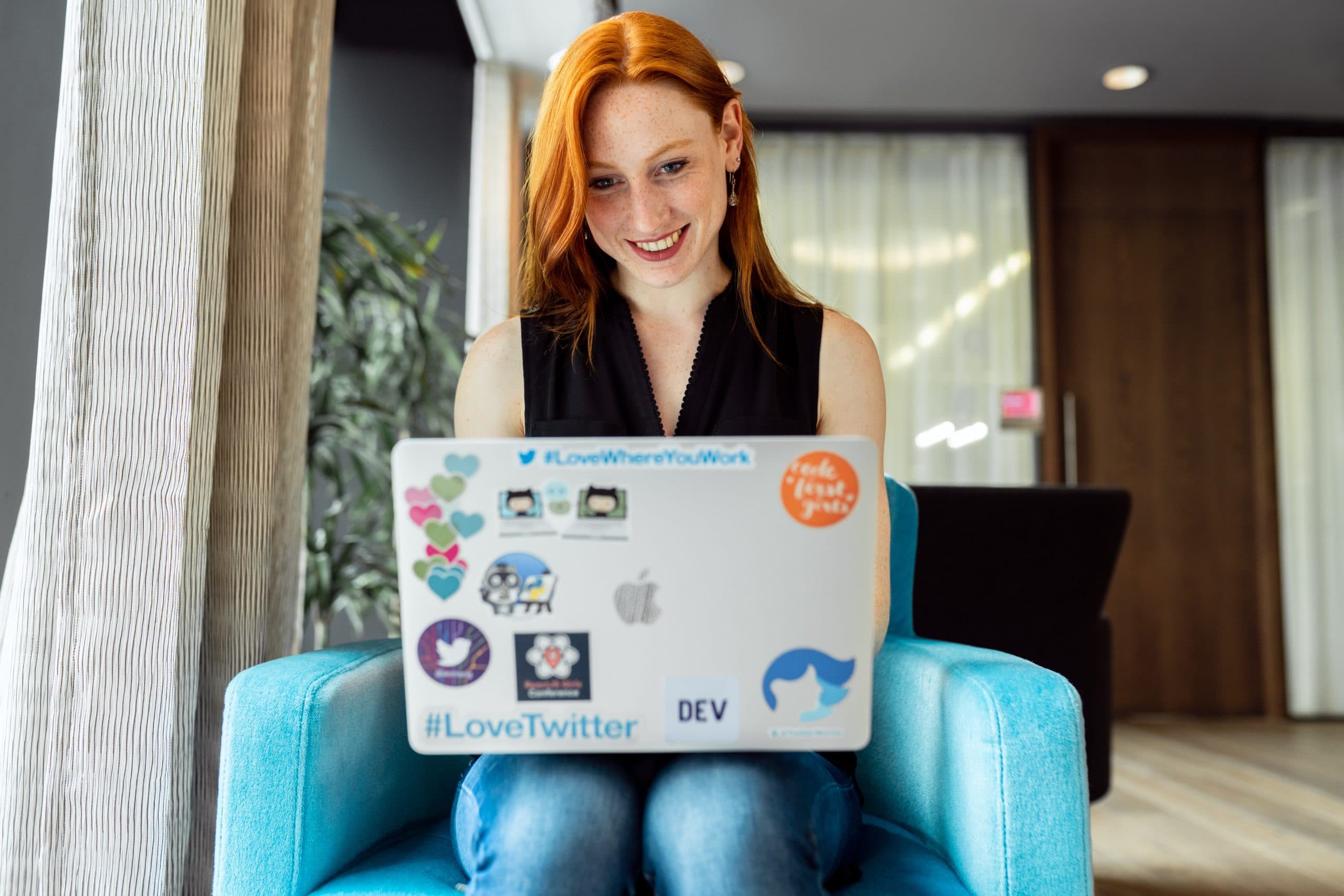 Joanna is a writer, poet, stand-up comedian and holds two master's in arts and history. She founded Discount-age with the intention of providing her readers with solutions to everyday household problems. During her free time, Joanna loves cooking but usually ends up ordering in.