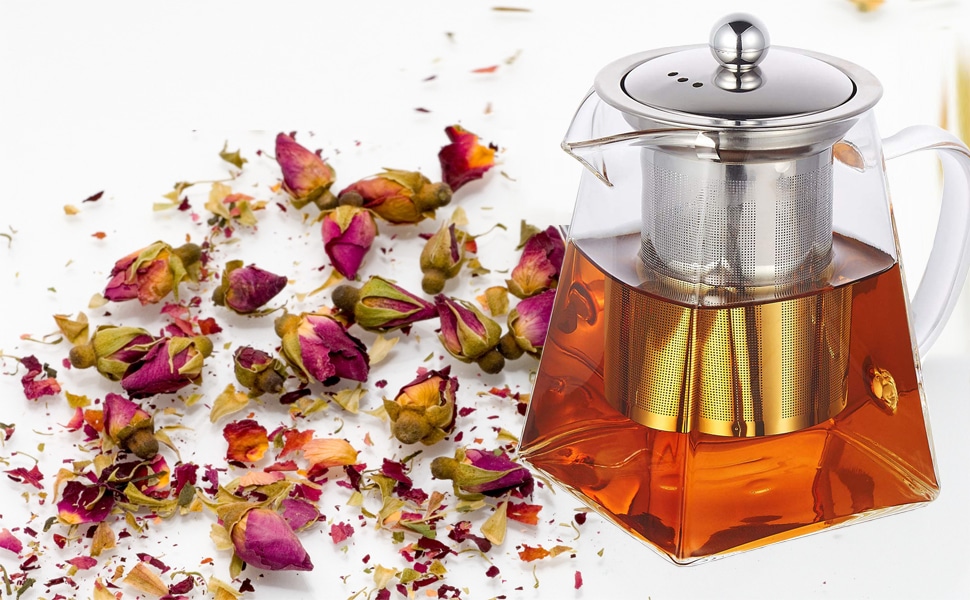 Teapots are quite different from Kettle. Kettles allow you to boil water and later add it to a cup with a bag of tea. Whereas, teapots. Especially teapots with infuser allow you to add loose tea leaves into the teapot itself. Doing this helps you prepare the perfect cup of tea. Check out our list of the Best Teapots With Infusers UK for more details.
Teapots with infusers are a necessity if loose tea is your thing. While teabags are decent enough, loose tea leaves contain the most amount of flavour and benefits. And directly immersing it into a teapot would yield the best results.
Which is why Teapots with Infusers are so popular. However, it can be quite daunting when it comes to choosing the perfect Teapot. So, we've compiled a list of the Best Teapots With Infusers UK after an extensive review.
After reviewing close to 100 teapots with infusers based on various factors like design, material, function, effectiveness, longevity and price, my team and I zeroed in on 7 that really stood out. These 7 were further put through a series of stress tests to determine the best. We found that:
The best teapots with infusers in the UK is the La Cafetière Barcelona. Designed to be one of the most aesthetically appealing teapots in its segment, this teapot with the infuser is made from a high quality blue ceramic that not only lasts for year but it also retain heats and prevent the tea from cooling easily.
Top 7 Best Teapots With Infusers UK 2021
#1 — La Cafetière Barcelona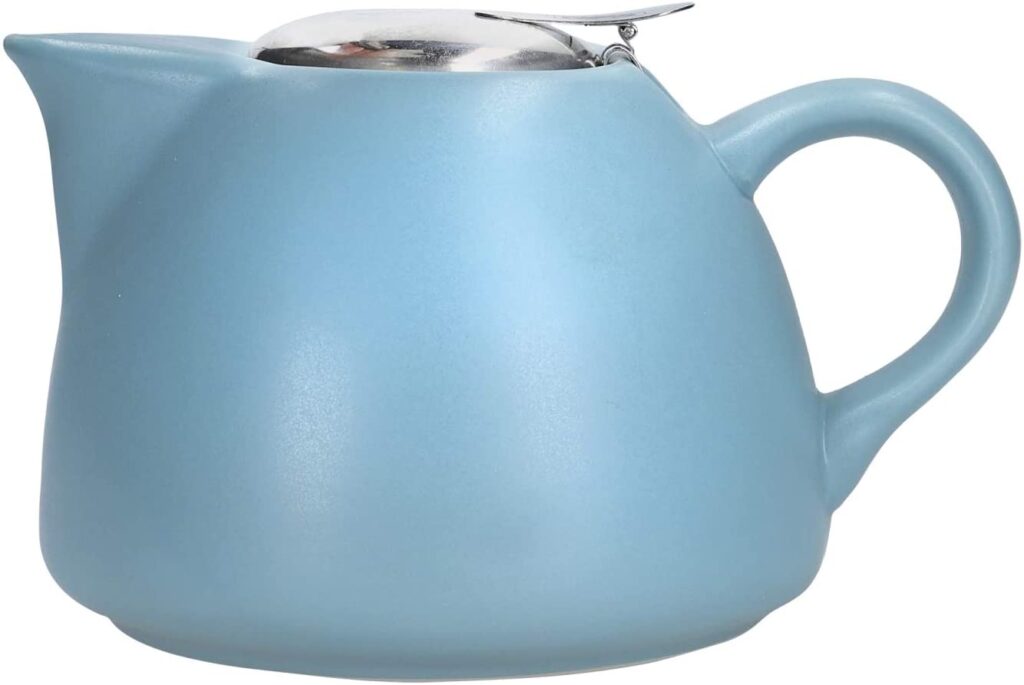 This retro-styled blue colour teapot from the La Cafetiere Barcelona collection is currently one of the Best Teapots With Infusers UK. Although it's beauty is the most important aspect, this teapot also has features that make it a brilliant addition to your household.
This quirky teapot is made from a gorgeous blue ceramic. Not only does it have a matte-finished texture that's good the touch but this exterior is also extremely durable.
It includes a stainless steel lid that easy to open. And more importantly, it has a removable stainless steel tea infuser for tea lovers who fancy loose tea leaves.
This Teapot has a capacity of 900ml which is good enough for a family of three.
While it is a good teapot, it's important to note that you cannot throw this teapot into the dishwasher. You will have to hand wash it as washing it in the dishwasher will result in its deterioration.
What's in it for you?
The ceramic exterior isn't just visually appealing factor its heat resistant feature will also prevent the tea from going cold
#2 — Maison & White's Glass Infuser Teapot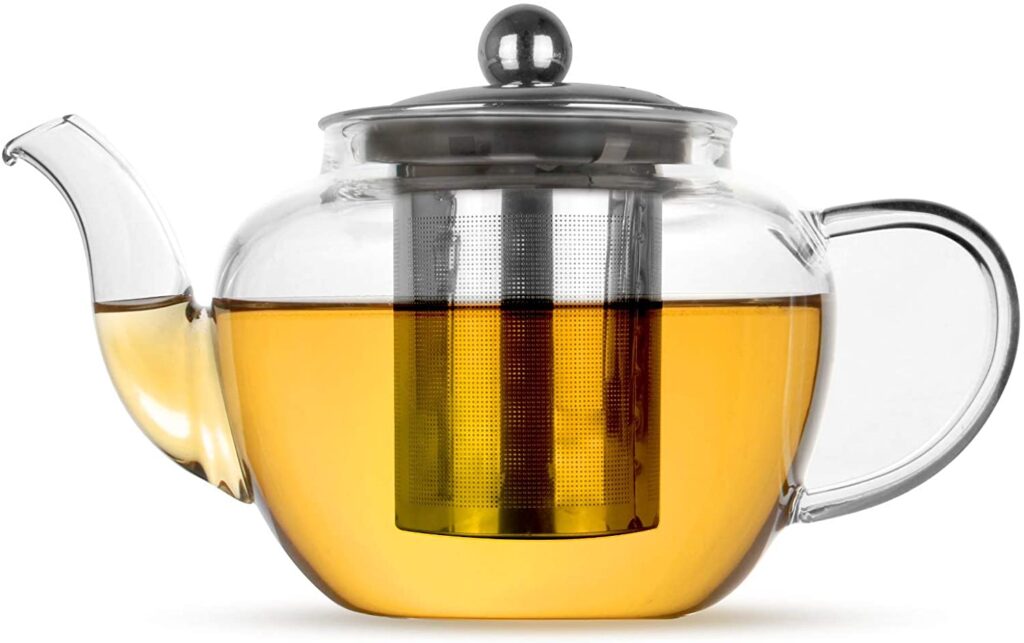 The Maison & White's Glass Infuser Teapot is perfect for tea connoisseurs. Not only does it let you gauge the colour and strength of the tea but it also very easy to clean. It's one of the Best Teapots With Infusers UK.
The design is absolutely brilliant. Especially the crystal clear glass exterior which ensures you can see what's going on the inside. The best part is that it doesn't look out of place at home or even at the office.
The see-through nature and the perfectly designed stainless steel filter helps you control the process of brewing elevate the quality of your drink every time.
As mentioned earlier, it's easy to wash this teapot as it's functional design make for removable components. Basically, you can remove the steel filter and even the lid make it extremely easy to thoroughly clean the pot.
To get the best brew add your favourite tea or ground coffee into the stainless steel filter and then top up the teapot with filtered boiling water. Leave it alone for around 3 minutes for the best taste. Its 600ml capacity ensures 4-5 cups.
What's in it for you?
You get the Double benefit of a glass teapot and an ultra-fine steel mesh filter that ensures the tea is infused into the water is infused with allowing loose tea leaves to transfer into the drink.
#3 — Café Ole Everyday Round Tea Pot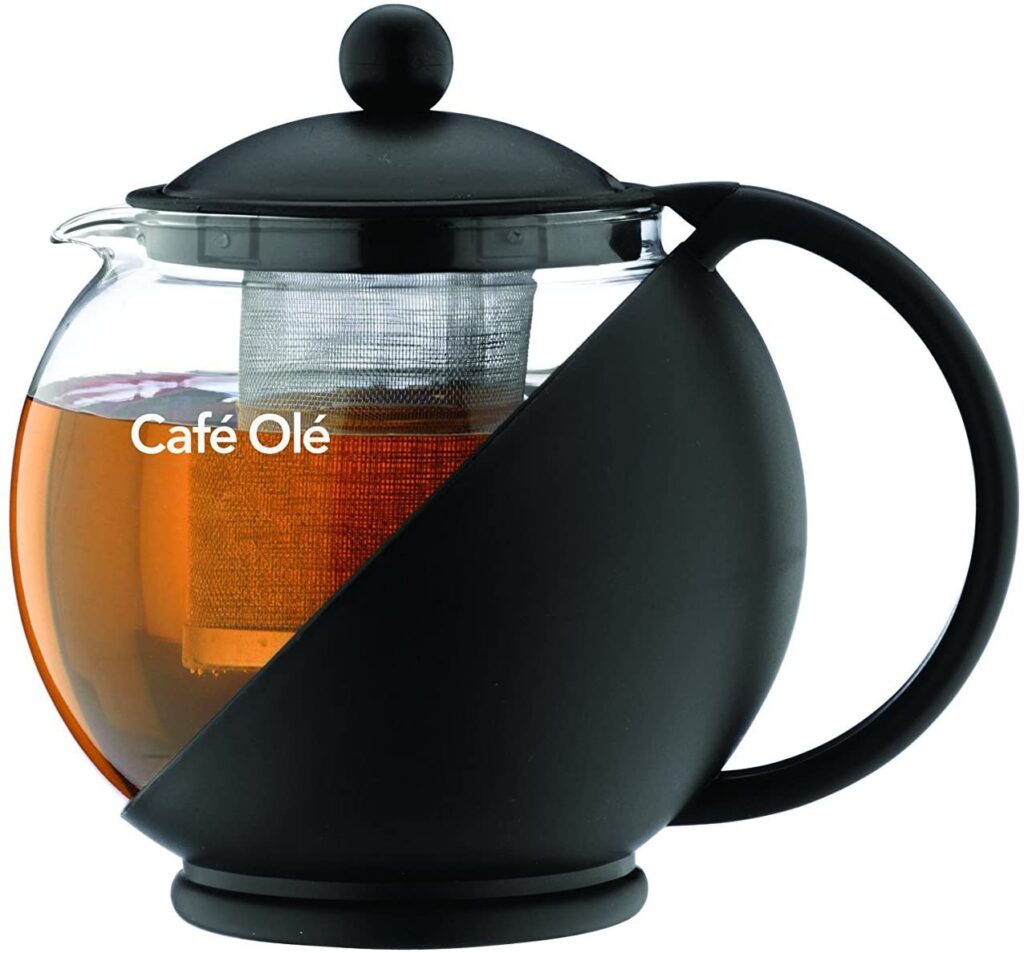 According to manufacturers, the Café Ole Everyday Round Tea Pot is designed to brew the perfect cup of coffee/tea. And it's absolutely true. It's honestly quite surprising how this teapot can elevate the quality of the tea.
It has 700ml capacity which is enough to fill to huge mugs. The design, in general, is also pretty beautiful. And can work as a showpiece when not in use.
Like all teapots on this list, it comes with a stainless steel infuser. You can remove the infuser once the tea is prepared.
This teapot also has an insulated plastic frame with a plastic lid. It's dishwasher safe. However, it is recommended you hand wash it as it helps maintain its integrity.
What's in it for you?
The Handle is made from insulating materials. So it will stay cool even if the pot contains boiling tea. This ensures that you don't burn yourself.
#4 — Bodum 1812-01 Assam Tea Maker
One of the best teapots in the market today is the Bodum 1812-01 which delivers one of the most flavorful experiences around.
It's equipped with a presser and infuser that prevents the tea leaves from mixing with the water and allows you to get the most flavor from your pot of tea.
It's an easy to maintain teapot and can be cleaned with regular dish soap. It's made from borosilicate glass that is durable and resistant to thermal shock.
The filter/infuser is made of stainless steel and can hold an ample amount of tea leaves at a time.
What's in it for you?
Along with the french press system and stainless steel infuser, you can make about 500ml of tea per sitting.
#5 — Andrew James Teapot with Infuser in Glass & Stainless Steel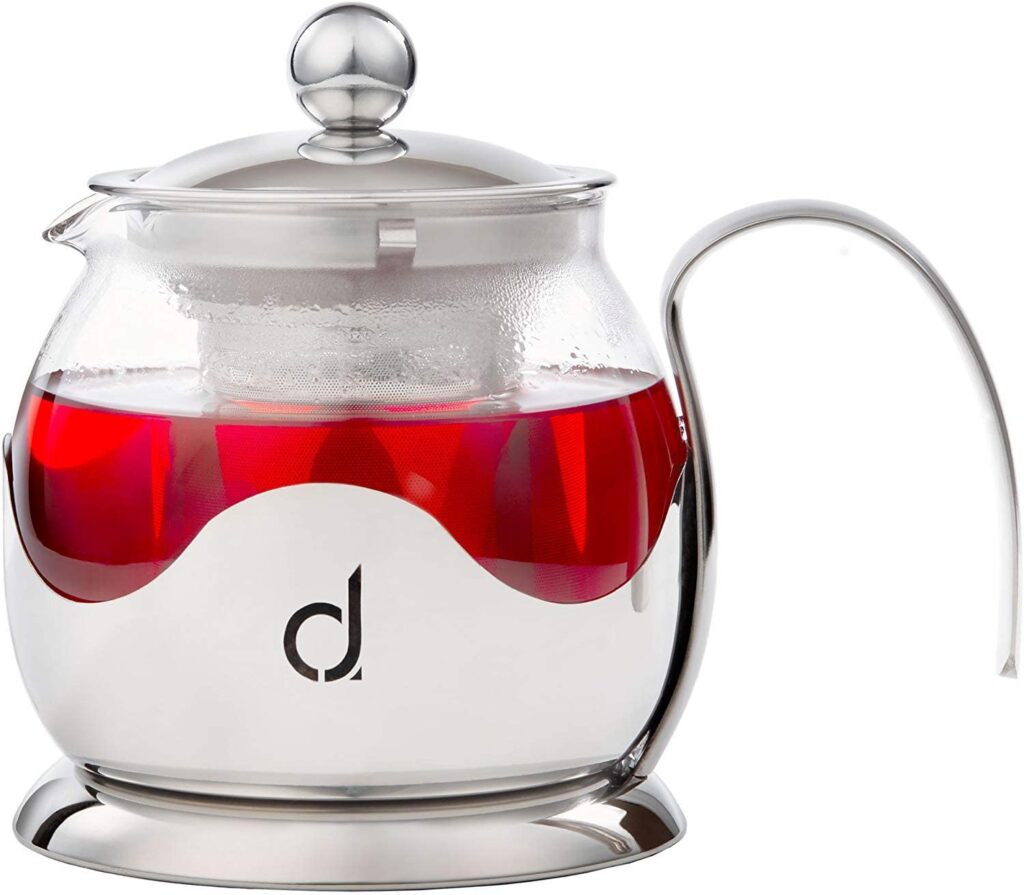 This Andrew James Teapot is quite unique because of it's beautiful stainless steel design.
It has a removable fine mesh infuser core that can house tea leaves and other herbs. You can also remove it if you want to use a regular tea bag.
Although it has a gorgeous steel and glass design the handle is probably the most important portion of this pot. It is designed to allow you to lift the pot with ease and is quite ergonomic.
It has a capacity of 600 ml which can fill 4 small teacups.
What's in it for you?
This teapot is equipped with an infuser core that lets you circulate your ingredients to ensure the best mix of flavour and essence.
#6 — PluieSoleil Glass Teapot
This PluieSoleil Glass Teapot is another wonderful clear glass teapot that is more of a piece of art than a teapot. However, what's truly impressive is that behind this beauty is an unbelievable amount of scientific thought. It's hands down one of the Best Teapots With Infusers UK.
It's made from high borosilicate glass. Yes, the same material used to make test tubes. This ensures an unbelievable amount of heat-resistance. Of course, the design is also as stylish and modern as it can get. Overall, it's a great piece for every home.
This 350 ml teapot comes with a food-grade removable stainless steel filter. This filter is perfect loose tea leaves. Most importantly it's designed to not harm scented tea leaves, thereby ensuring the intended flavour. It definitely beats even the best kettle in the market.
What's in it for you?
This teapot can withstand instant temperature change from minus 20-degree to 130-degree Celsius, making it one of the most durable and toughest Teapots in the market. It will also stay intact even if you fill boiling water into the teapot instantly.
#7 — Tealyra KRP-038A Glass Kettle Teapot
The Tealyra KRP-038A glass kettle teapot is a relatively large teapot that's equipped with an infuser and has been designed to be stove-top safe.
It is able to withstand high temperatures thanks to the borosilicate glass body and even though the handle of the teapot is made of glass, it does not get hot and is easy to hold while pouring a cup of tea for yourself.
This teapot is easy to handle and comes equipped with a drip-proof spout. On the inside of the teapot you'd find the large infuser that prevents small twigs or loose leaves from mixing with your tea, basically keeping the unwanted particles filtered.
It does not require any specific method of cleaning, simply run it under the tap and use dish soap to clean the insides. The infuser can be removed and the old tea leaves can be thrown out.
What's in it for you?
This teapot is capable of making 1400ml of tea in one go which would run up to around 6 cups of tea. This is ideal for offices or if you're hosting a regular book reading club.
How to choose the best teapot with an infuser in the UK
The right teapot can actually make a world of different when it comes to preparing good tea. Teapots with infusers are amazing products, not only do they help wring out the essence of the tea but it also prevents the sweeping from contaminating the drink.
It is especially useful when preparing really premium teas. So, it's important to consider certain factors when choosing the best teapot.
Material
While these kind of teapots can be made from various types of materials, it doesn't mean that all teapots have the same effect of the tea. Each material does have it's own pros and cons. And you will have to invest in those that conform to your sense of aesthetics and lifestyle.
Glass: While glass kettles are gorgeous and help the user keep a track on the infusion process, it does have it's cons. For example, it can't take a lot of heat unless its made from borosilicate glass. It is also irritatingly hard to clean and it stains easily.
Ceramic: These type of kettles are easy to maintain and are great at retaining heat. However, it does tend to chip easily. There have been times when the ceramic chips have found their way into the tea cup. When investing in a ceramic kettle, it is important to invest in one that is built with the finest materials.
Fine China: Porcelain kettles are ancient and look pretty damn good. The only problem is that these kettles are bad at conducting heat.
Cast Iron: These kettles are relatively rare and expensive. They can keep your drink moulding hot for a long time. It's especially great for teas and hot chocolate. The only drawback it that you might burn your fingers easily and the tremendous weight.
Steel: Majority of the Kettles are made from stainless steel. These kettles are cheap and can easily retain heat. Most importantly. it has a massive range when it comes to preparing tea from various types of leaves.
What is the best teapot with an infuser?
The best Teapot with an infuser would have to be the PluieSoleil Glass Teapot. While there are amazing teapots out there. Not comes close to the PluieSoleil Glass Teapot as it made of Borosilicate glass.
This material ensures an unbelievable temperature range from minus 20-degree to 130-degree Celsius. Basically, this teapot doesn't crack or eject impurities into the team when undergoing intense temperature variations.
And it's the accessibility to this temperature range that ensures the preparation of the perfect cup of teas. It can virtually help prepare the best cup of all various types of tea with different optimal temperatures.
Of course, it's also an extremely beautiful teapot which is like a Double Whammy. Check out our list of the Best Teapots With Infusers UK for more details.
Also Read: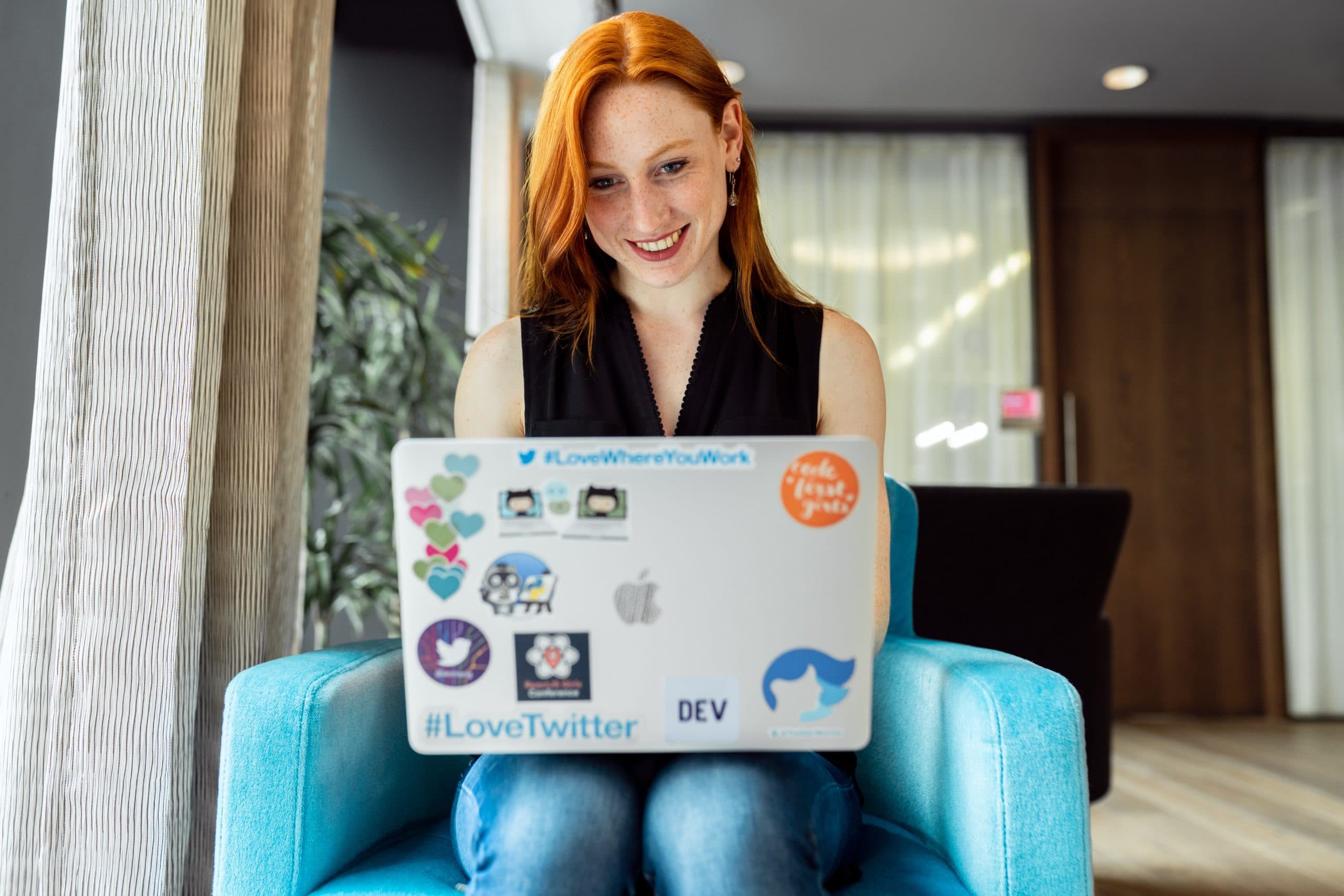 Joanna is a writer, poet, stand-up comedian and holds two master's in arts and history. She founded Discount-age with the intention of providing her readers with solutions to everyday household problems. During her free time, Joanna loves cooking but usually ends up ordering in.