Artists and hobbyists love Apple pencils for the unique functionality that allows them to write and draw on their tablets. On the other hand, getting your very own Apple pencil can be a tad too expensive especially with its exclusivity to Apple products. Check out our guide on the Best Apple Pencil Alternatives For iPad Pro UK.
That's why getting yourself one of the an Apple pencil alternatives is the best method to boost your productivity for half the price. Apple pencil alternatives are just that, they are alternatives that provide the same experience for a cheaper price. The manufactures haven't skimmed in the quality one bit.
The major reason Apple products are so expensive is because of the brand. So, these alternatives give you more flexibility while retaining the same durability and functionality.
Here is the rundown on some of the Best Apple Pencil Alternatives.
Best Apple Pencil Alternatives 2021
Adonit Pro 3
Adonit Pro 3 is one of the Best Apple Pencil Alternatives For iPad Pro UK. Featuring a solid aluminium body and an ergonomic design, this passive stylus is one of the most accurate devices in the market. Although it does not have a lot of features, it's still considered as one of the best when it comes to functionality.
Other than a light aluminium body, this stylus also has a textured grip that's etched onto the barrel. This helps the user write for a longer duration and helps eliminate the stress of the fingers and wrist. You can easily use it on small screens like that of smartwatches without any issues.
This Apple Pencil Alternative comes with a precision disc that elevates the accuracy. Although it doesn't run on electricity, it still can create accurate contact points on the screen. This contact point will help you sketch and write with ease.
It unfortunately does not have functions like palm rejection, tilt-compatibility and pressure controls. However, it still is one of the most stable and accurate Apple Pencil Alternatives in the market.
It also offers considerable amount of stability. Additionality it come with a magnetic cap to protect the nib. Most importantly, this stylus has a clip will allow you to carry it around.
Pencil Features:
Aluminium body
Magnetic cap
Precision disc tip
Clip to help carry it around
Passive Stylus
Textured grip
AIEACH Universal Stylus Pen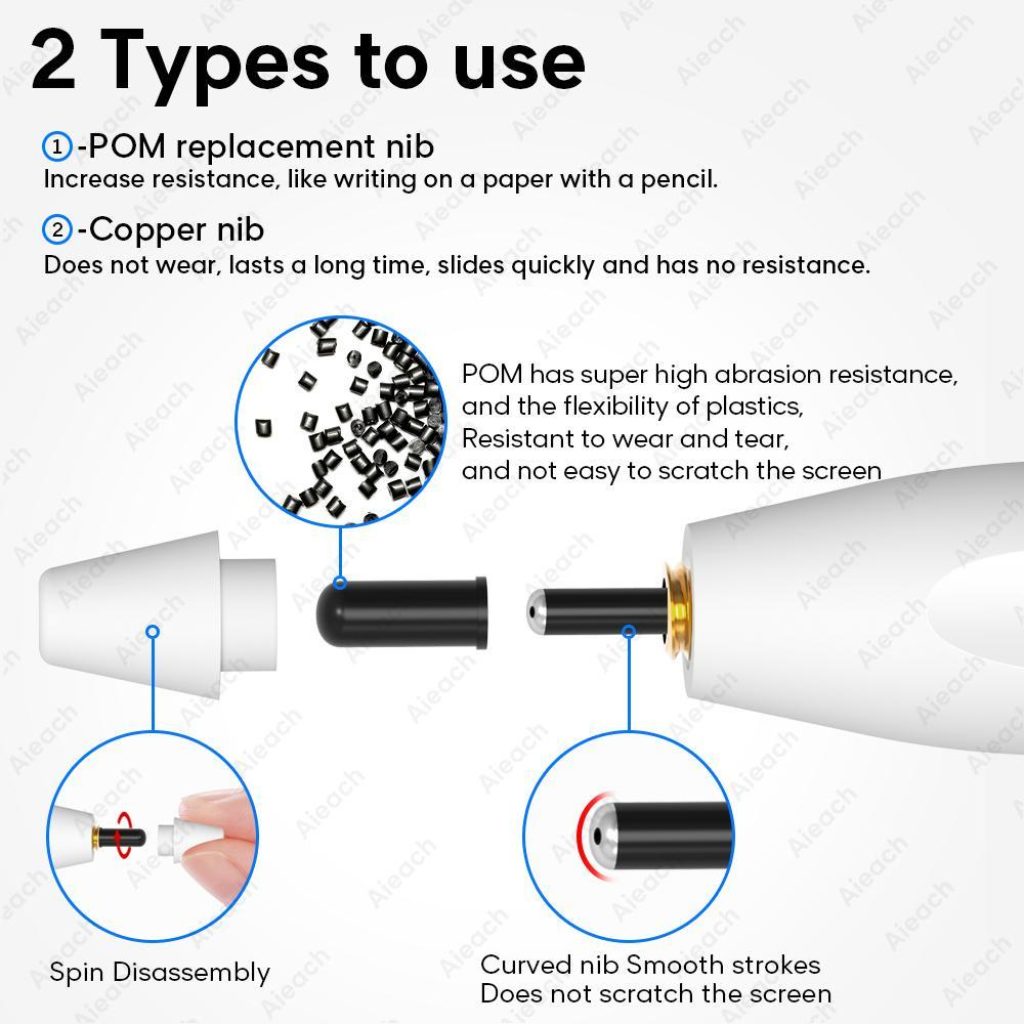 AIEACH is one of the most popular tech shops that you can visit in AliExpress. You can also enjoy their very own Universal Stylus Pen. It is on par with the original Apple Pencil, this alternative gives you the full stylus experience that you have always wanted while doing your blueprints or scribbles. This Is definitely one of the Best Apple Pencil Alternatives.

AIEACH Universal Stylus Pen has a plastic barrel attached to a fibre tip for a good grip and a smooth glide on your screen.
This Apple alternative pen has 12 hours of battery life on its maxed usage, which is a pretty good feature to prevent you from charging and pausing your ongoing works just to charge the pen.
Pencil features:
Plastic barrel
Fibre tip
12 hours of battery life (maximum use)
Power saving feature
Cable charger included
Functions with Windows, Android, iOS
Free 2 extra tips and anti-friction gloves
Available in black and white
Inpher K833 Activ Stylus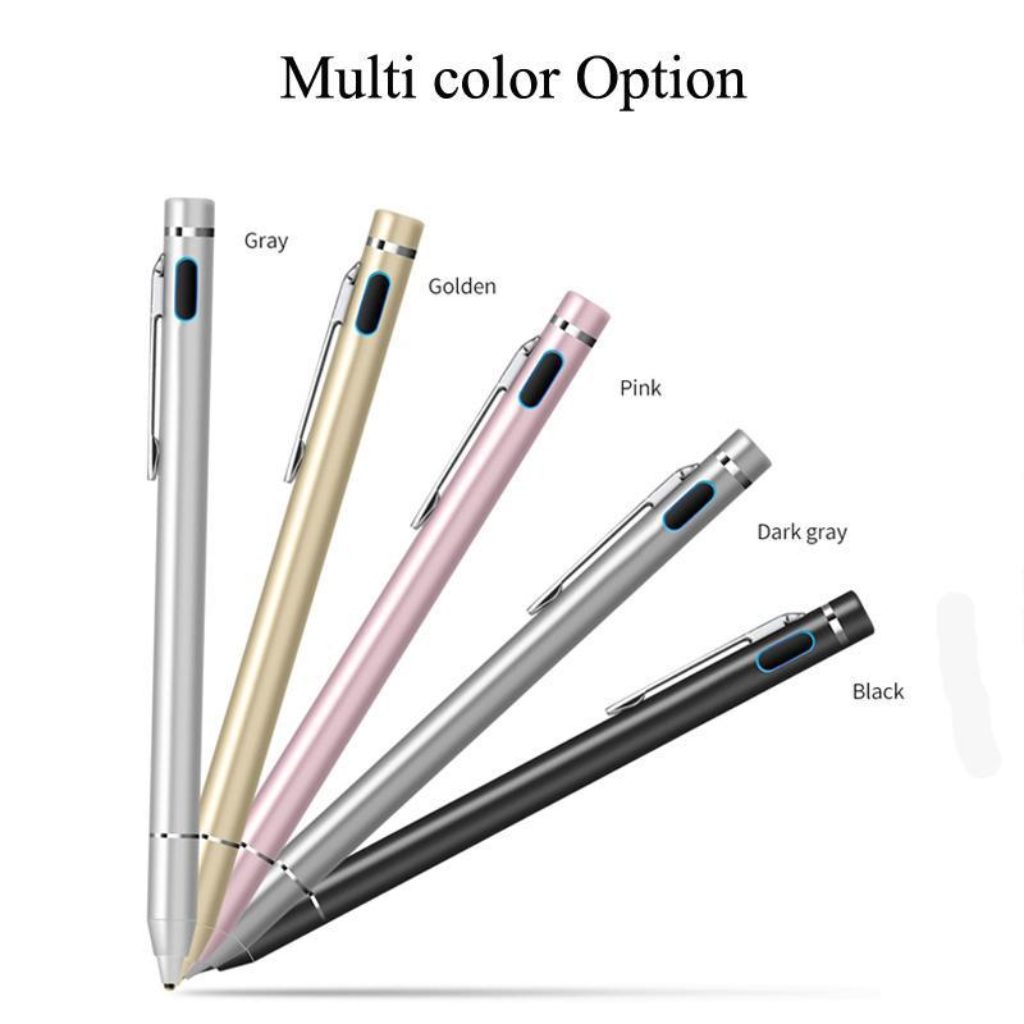 The K833 Activ Stylus by Inpher is designed to look like a professional fountain pen. This Apple alternative pen is classy and perfect for certain situations like your business presentations.
The pen has a great, durable body perfect for business, or just for personal use.
Inpher's K833 Active Stylus has an ink-pen design with a metal barrel which makes it more durable than other alternative pens.
The pen is also available in various colours that you can choose from depending on your preferred style.
Pencil features:
Fashionable ink-pen design
Metallic barrel for business use
1.8mm nib
Different barrel colours on stock
With a classic clip-on hook
AIEACH 2 Gen Palm Rejection Pencil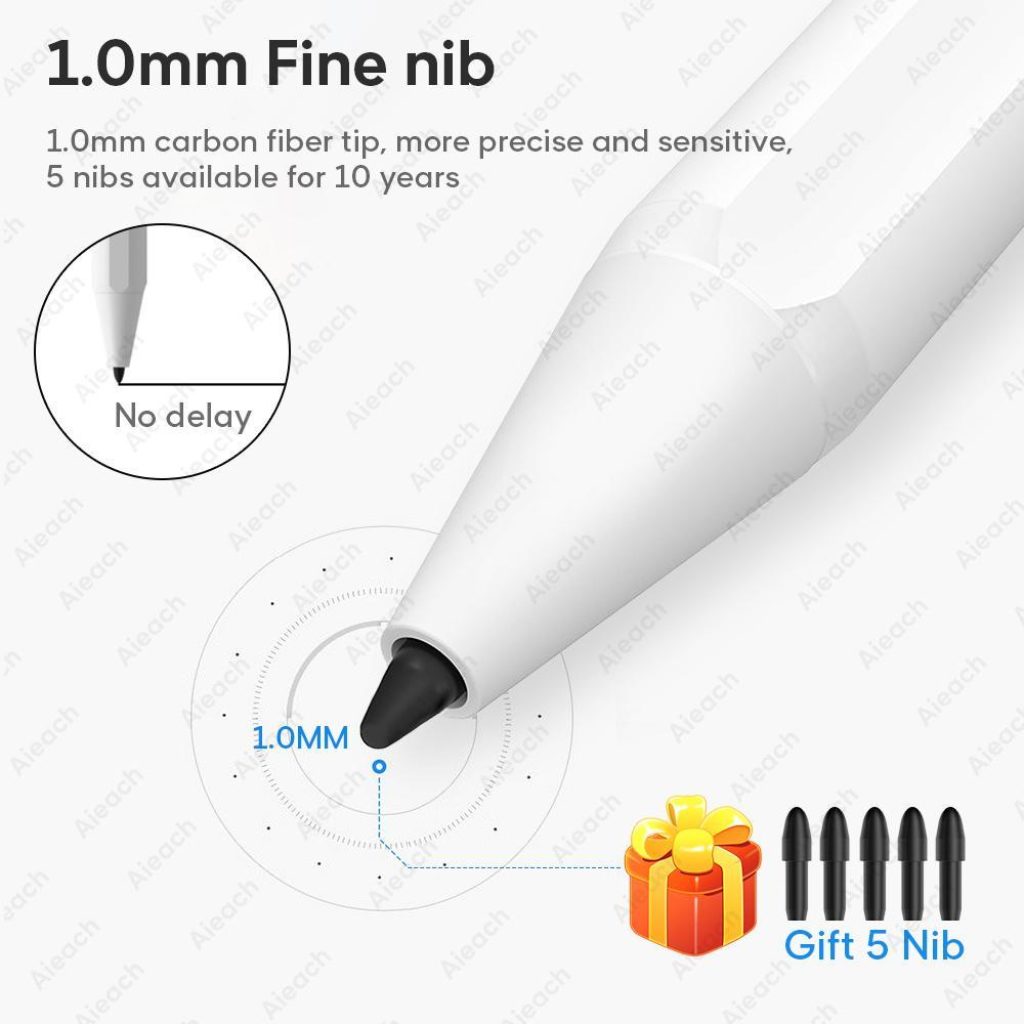 AIEACH is by far the most leading gadgets that have been with AliExpress for quite some time now, and it doesn't really fail to provide the best experience to its customers. And with its popularity, AIEACH released several alternatives to the Apple pencil. One of the quality pens that they are selling is the 2 Gen Palm Rejection Pencil.
The pencil is targeted for Apple users, as it only functions in Apple products.
The AIEACH 2 Gen pencil is the first Apple pencil alternative to have a palm rejection feature, which gives you the ease of drawing without being bothered by your palm touching your screen.
It also has an anti-scratch fibre tip to glide freely across the screen and avoid unwanted damages.
Pencil features:
Unique support palm rejection feature
No delay
Flawless lines
Anti-scratch fibre tip
20 hours of battery life (maximum use)
Free 3 extra nibs
Lagava TTPent5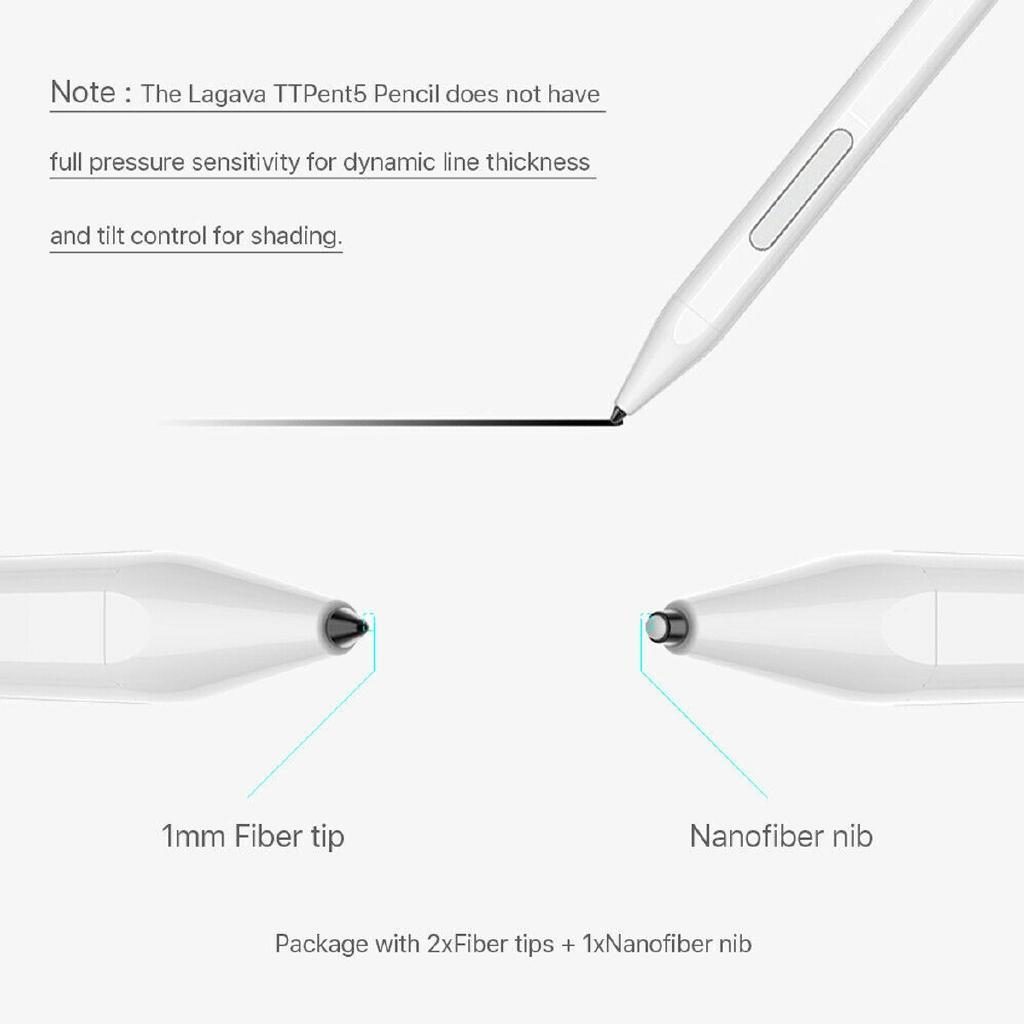 Lagava is a store that you should visit if you want some quality tech accessories at an affordable price. Lagava also sells its very own alternative Apple pan, which is the TTPent5. The pencil is only compatible with the newer versions of the iPad, but it surely does its function as the original Apple pencil.
Lagava TTPent5 also has its palm rejection feature to provide a clean sheet on your screen, free from smudges and excess scratches.
What's more, is that the pen doesn't require Bluetooth connection for it to work.
Lagava's pen has a long battery life, with up to 12 hours of continuous use.
Pencil features:
Compatible with newer versions of iPad
Palm rejection feature
Bluetooth pairing not required
12 hours of battery life (maximum use)
Can be attached to iPad
Micro-USB charger
Free 2 fibre tips, 1 nano-fibre tip
Available in black and white colours
ShelleyPen Generic Stylus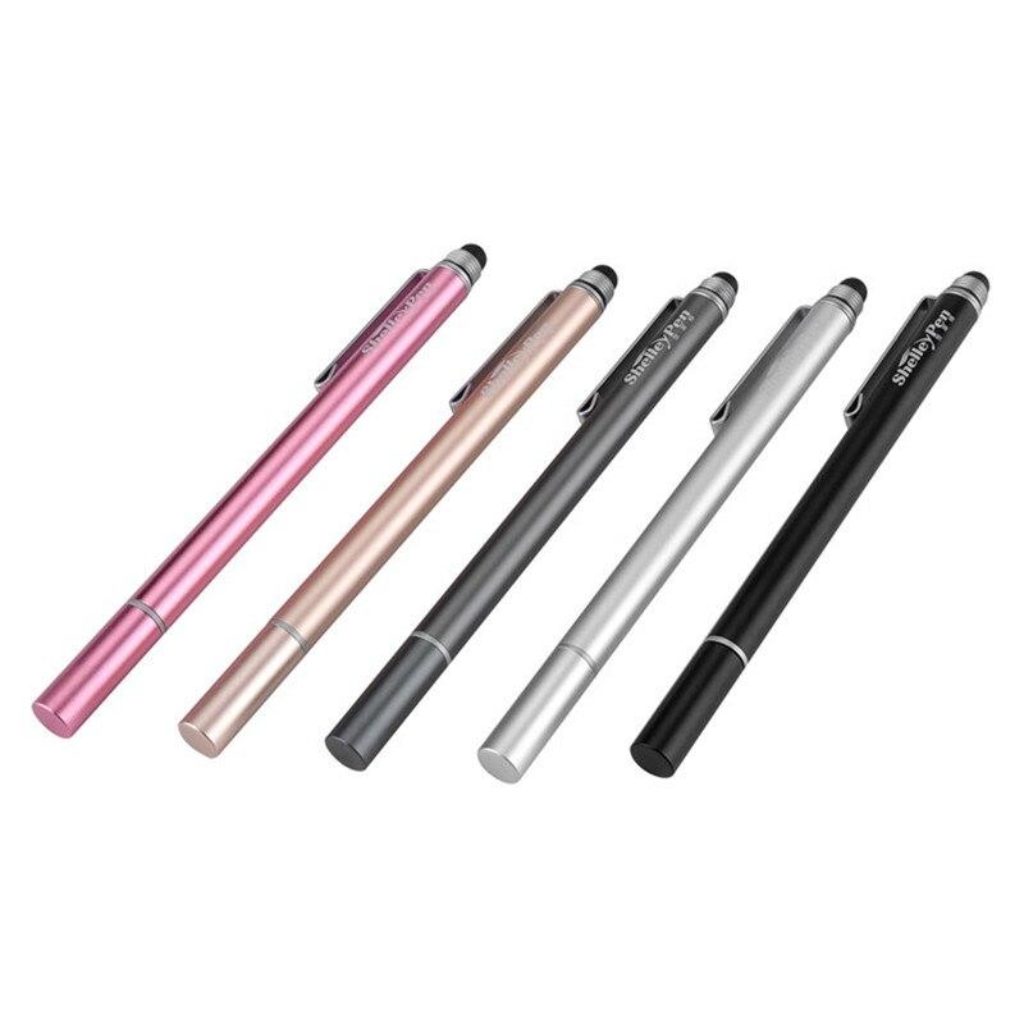 If you still want another of the classic-styled digital stylus, shop one of ShelleyPen Generic Stylus. The Generic Stylus offers a different kind of excitement as you use it, because of it's amazing ink pen-inspired design which is crafted from aviation-grade aluminium.
Shelleypen Generic Stylus might be the one you want if you are looking for an alternative pen that is class-A in durability.
The Generic Stylus works with any operating system that you have, so no worries if you have either Apple, Android, or even Windows device.
It also has a flexible transparent disc on its tip to provide smooth gliding and precision on your entire screen.
Pencil features:
Compatible with any operating system
Aviation-grade aluminium barrel
Flexible disc to provide accuracy
Different colours available
Baseus Universal Stylus Pen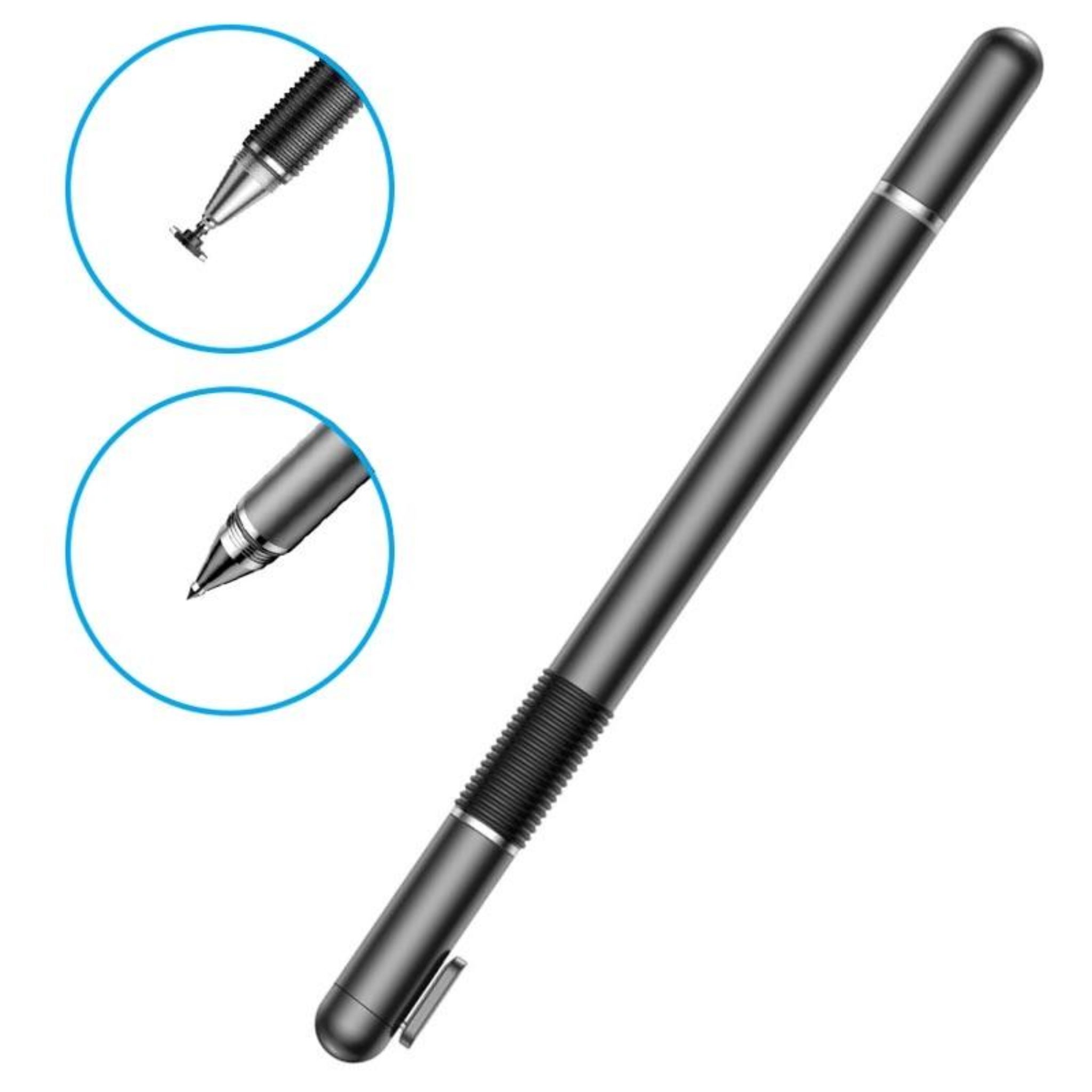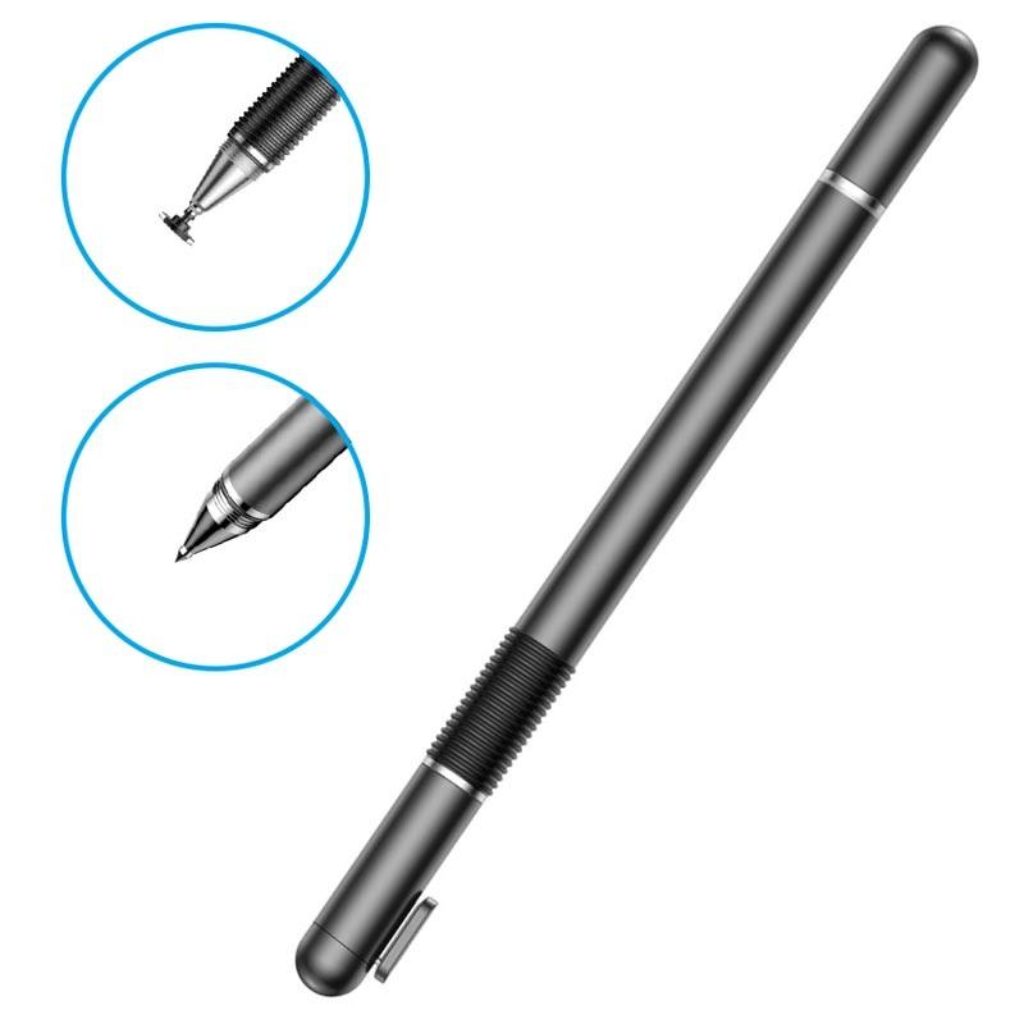 Baseus Universal Stylus Pen is a generic pen that you can use on any device. It can work with any operating system that you have in mind. In addition, the alternative pen also has a double function for maximum accuracy of writing and drawing.
The Apple pencil alternative has two different removable tips that focus on its own functions – a writing tip and a disc tip for drawing.
The barrel part of the Baseus Universal Stylus Pen also has an easy-grip feature for you to have intense writing or drawing experience.
Pencil features:
Removable writing tip (soft silicone)
Removable disc tip (for drawing, soft silicone)
Easy-grip aluminium barrel
Silver and black colours available
MISFUN Pencil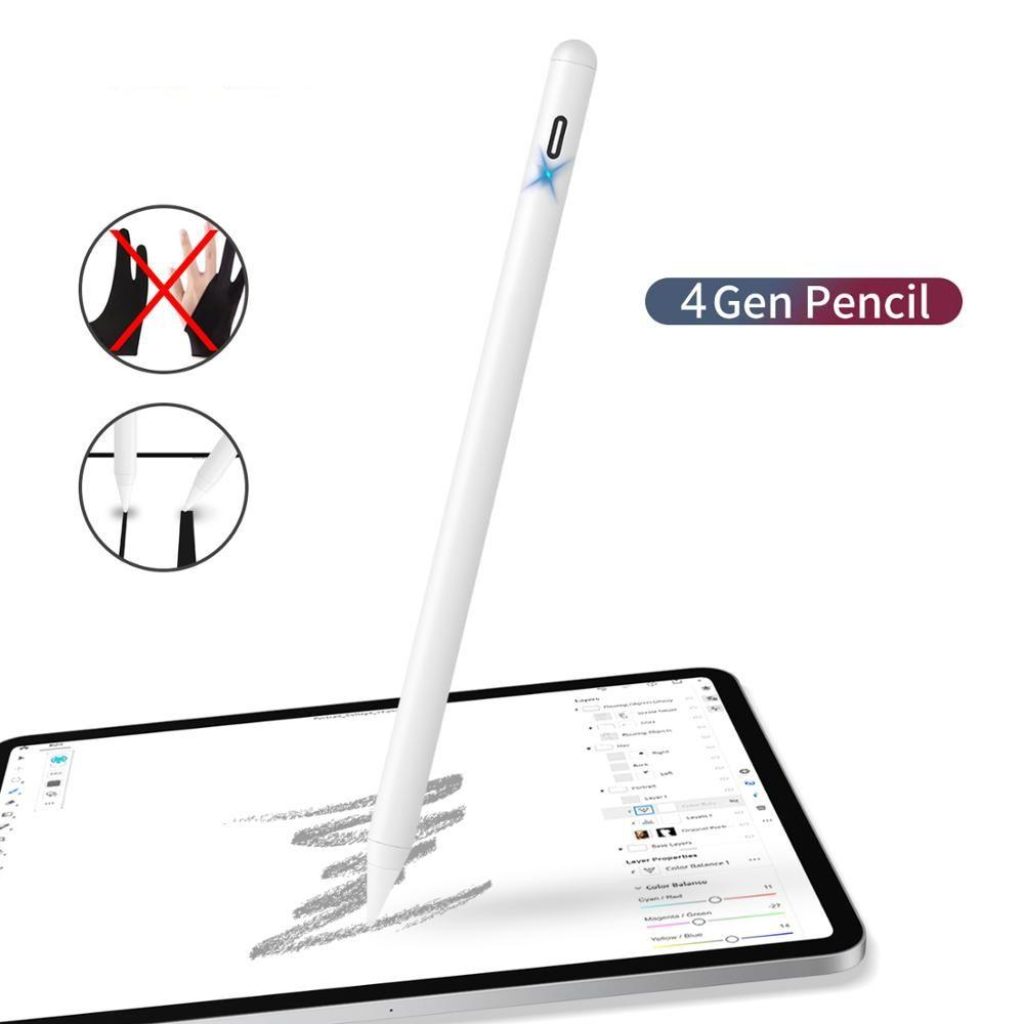 MISFUN Pencil is the only alternative Apple pencil to have a tilting technology that can't be found in other brands. This tilt technology allows the tip to move flawlessly but assuring that no unwanted smudges will be applied when it writes or draws in different strokes.
Depending on the tilt of the tip, the pencil will produce different outline weight.
The pen also has an outstanding 20 hours of battery life for a full experience of giving your artwork or draft a precise touch.
Pencil features:
Tilt technology
Compatible with iPad products only
With touch control
1-2 hours charging time
With micro-USB cable
With extra nib
AIEACH 3 Gen Palm Rejection Pencil
It is doubtful for one to be unsatisfied by AIEACH alternative pencil products. But if you really are, then you should check out AIEACH 3 Gen Palm Rejection Pencil, the latest pencil released by AIEACH. This 3rd gen is the best of the Best Apple Pencil Alternatives.
This pencil supports a wider variety of modern iPads which is great, considering that most of the alternative pencils only support lower version iPads.
If you are a fan of the previous versions of AIEACH, you will be glad about 3 Gen pencil because the 12-hour battery function is kept.
What's more, is that the latest alternative pencil from AIEACH can write even in small characters with thin outlines, so you don't have to by or install magnifiers for your devices.
Pencil features:
Support for latest Apple devices added
12 hours of battery life (maximum use)
With thin outlines for smaller details
Matte barrel grip
With 2 extra nibs
Can be attached to iPad
Different colours available
GOOJODOQ Stylus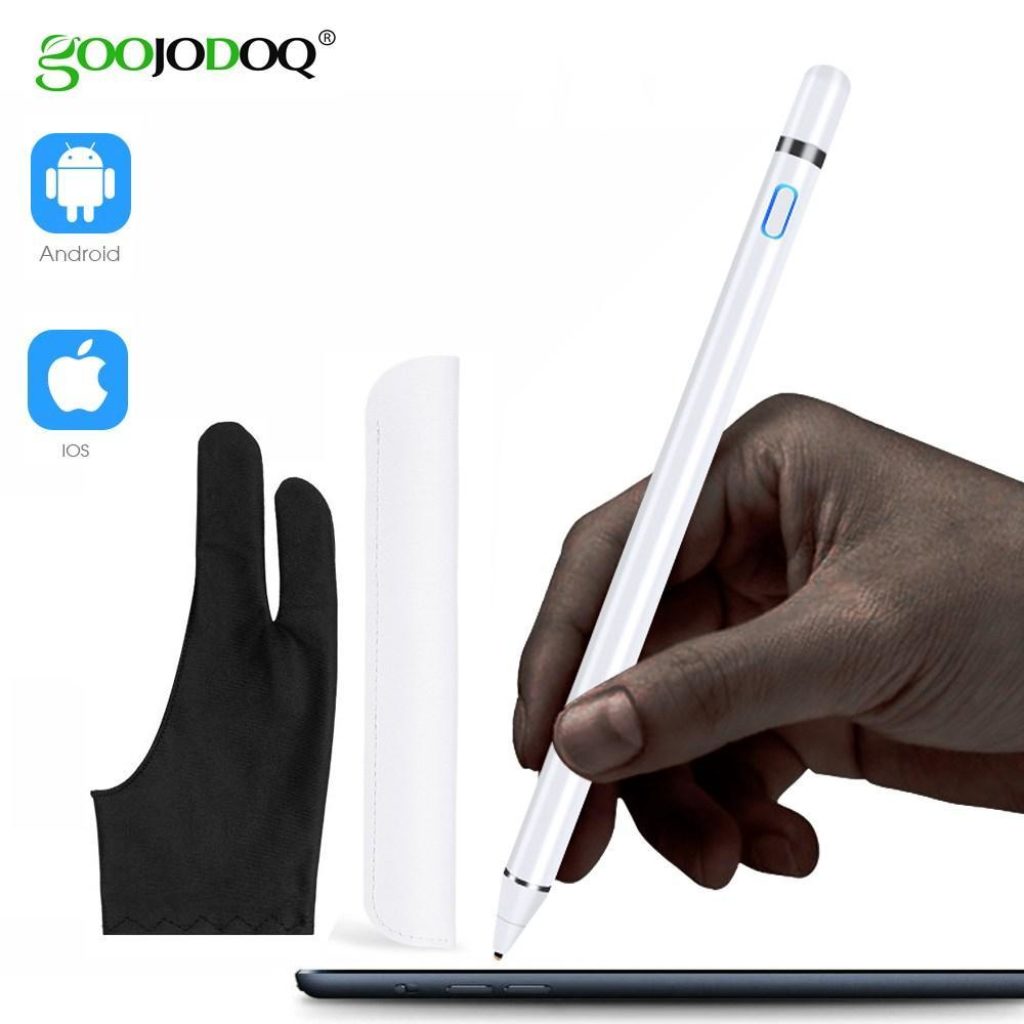 This stylus is best for you if you simply want to have a nice-looking, hassle-free alternative pencil. GOOJODOQ is the right place to find one of these fine stylus that can match the functionality of the original Apple pencil.
The pen the perfect portable companion because of its 20-hour battery life and installed with beautiful carbon fibre on the tip, the pencil can be your perfect partner to draw or write anytime, anywhere.
GOOJODOQ's nib is removable for replacing it with 3 additional backup nibs that come with the package.
Pencil features:
Scratch-free carbon-fibre tip
Removable tip
With 3 extra nibs on purchase
20-hours battery life (maximum use)
With Type-C USB cable
SUNTAIHO Pencil 2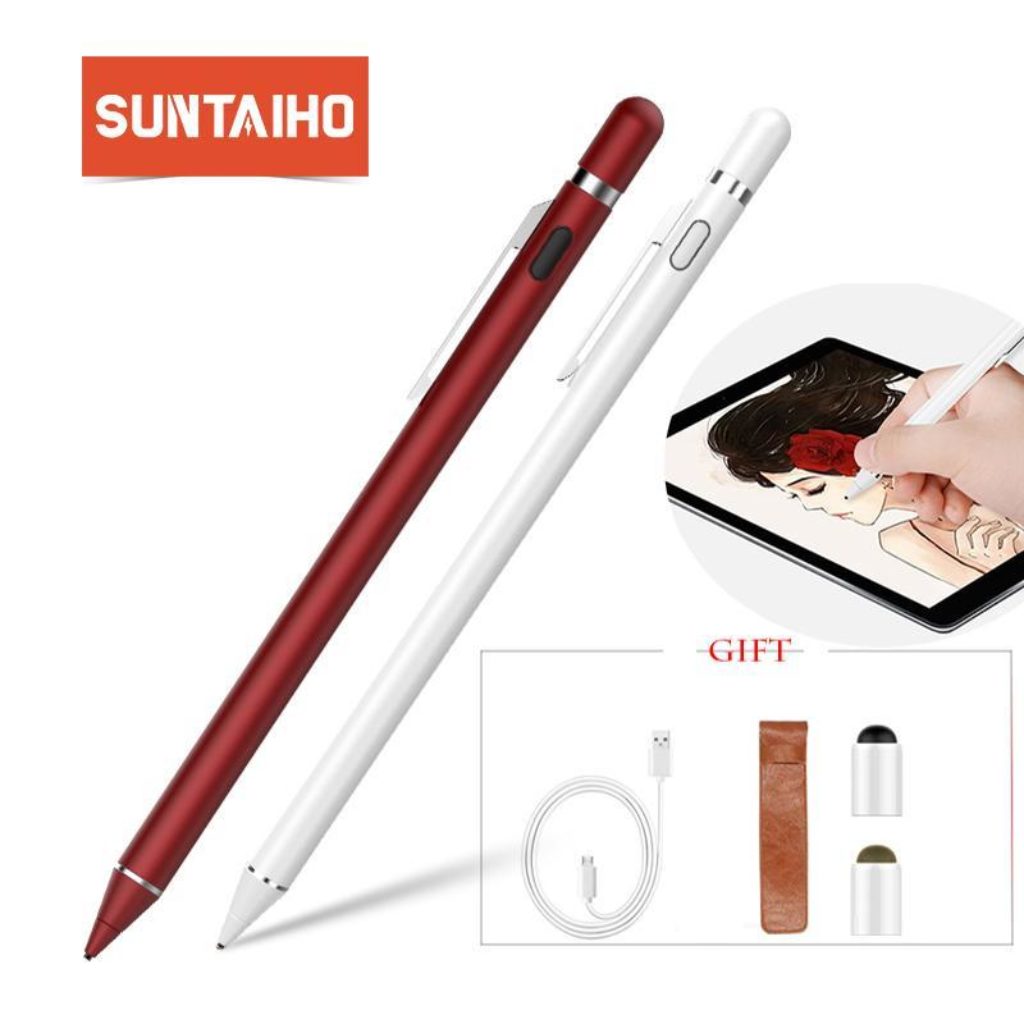 SUNTAIHO Pencil 2 is the dream pencil which is worth its price. And you might be asking why, well it's because SUNTAIHO made sure to deliver their customers a complete package of the pencil.
SUNTAIHO is ready to give its customers a grand experience of drawing or writing with their Apple pencil alternative, combined with a magnetic charger, protective bag, an anti-friction glove, and various types of nibs.
So what more you could ask for? Shop SUNTAIHO Pencil 2 and enjoy your alternative Apple pen experience.
Pencil features:
Easy-grip. Metallic barrel
With magnetic charger
With a free protective bag
With free anti-friction glove
With free extra nibs
Is there a cheaper alternative to Apple pencil?
Of course, there's a bunch of alternative's out there for Apple Pencils.
These alternatives can obviously range from really good alternatives to crappy replicas.
You can never go wrong with AIEACH. It is capable of replacing the Apple pen. While "Apple" recommends you use their product as nothing else might work right.
The AIEACH Pencils are absolutely brilliant as they come with palm rejection, pressure sensitivity and much more for a fraction of the price.
Honestly, its a really good replacement that will save you a lot of money.
Check out our list of Best Apple Pencil Alternatives for all the details.
Is an apple pencil worth it?
Yes, if you love the brand and No if you want performance over brand name.
I personally see value in the performance over the brand itself as there are no tangible benefits that a "brand name" can offer.
The value of an Apple product is insanely high and most of it is due to this brand name. For example, The AIEACH pencil is just as good as an Apple Pencil. But the Apple pencil costs around $99 while the Apple alternative costs around $30.
Also Read: