Magical worlds of Harry Potter or fantastical dragons from the Game of Thrones – books have always helped me imagine a world where anything is possible! Some great books have already come out this year in both fiction and non-fiction genres – so whatever's your style you're sorted! Some of these top-selling novels are even movie-worthy (looking at A Delayed Life by Dita Kraus!).
If books are your best friends – here's a curated list of the Best Selling books In UK 2020.
Best Selling Books In UK
#1 — Pinch of Nom Everyday Light by Kate Allinson & Kay Featherstone
Why not start the new year with a healthy lifestyle? Pinch of Nom Everyday Light has 100 mouth-watering recipes under 400 calories. Regarded as the best and fastest-selling cookbook, it's filled with light and vitamin-enriched recipes for any time of day. It contains recipes for everything you can think of, from chips to pizzas to breakfast cakes. Whether you're a veteran cook or just starting to explore your passion for cooking, you are sure to enjoy these low-calorie recipes that will definitely wow the crowd!
The Author:
Written by Kate Allinson and Kay Featherstone, Pinch of Nom Everyday Light is the latest crowd favorite in the cookbook scene and one of the latest bestselling books. As restaurant owners and head chefs, a Pinch of Nom Everyday Light is filled with slimming and healthy recipes that have wowed over 1.5 million followers.
#2 — The Foundling by Stacey Halls
Set in 1754, London, the Foundling follows the mind-bending twists and turns of Bess Bright and her illegitimate daughter Clara. When Bess Bright returns to London's Foundling Hospital to claim Clara she is stunned to find her daughter missing. Turning her life upside down she must now embark on a journey to unravel the mysteries of her little girl's disappearance.
A thrilling historical adventure that shows you the strength of a mother's love. This definitely is definitely one of the Best Selling Books In UK 2020.
About the Author:
Written by the Sunday Times' best-selling author of The Familiars, Stacey Halls astonished critics with her newest historical treat. Born in 1989, Stacey Halls grew up in Lancashire where she studied journalism at the University of Central Lancashire. She has written for numerous publications including the Guardian and The Independent. Debuting back in 2019, Stacey Halls has kept readers hooked with her historical treats filled with twists and turns.
#3 — Three Hours by Rosamund Lupton
A school filled with unsuspecting students who are fleeing their lives from an unknown shooter forced to endure three hours of high-stake survival. Three Hours by Rosamund Lupton is a pulse-racing novel with intense character build-ups that will leave you rooting for the characters. Delving into what will push men to kill and discover the mysteries behind a fist-clenching, blizzard-ridden, action-packed novel.
About the Author:
Rosamund Lupton has a reputation for exploring the best and worst side of humanity. Her Sunday Times best-selling novel 'Sister' has earned her a steady following of avid book readers who can't wait for what she has in store next.
#4 — A is for Avocado: An Alphabet Book of Plant Power by Carolyn Suzuki
We all know how picky kids can be when it comes to eating. Leafy greens and vegetables aren't always enticing for kids. That is why A is for Avocado: An Alphabet Book of Plant Power is a great way to introduce the colorful world of vegetables to our little ones.
Filled with colorful illustrations, it introduces kids to 26 fresh fruits and vegetables from avocados to zucchinis. Each letter is represented by a plant-based product or vegetable with fun facts that aim to show the fun side of vegetables.
About the Author:
Carolyn Suzuki is a Los Angeles based artist who basks in the color of diversity and patterns. Carolyn owns a cheerful greeting card business for the past 7 years with various cards being sold in Australia, Japan, and the US.
#5 — A Delayed Life: The True Story of the Librarian of Auschwitz by Dita Kraus
You may be familiar with the tale of a Holocaust survivor who smuggled books past Nazi guards. But unlike the Sunday Times best-selling The Librarian of Auschwitz published in 2012 that shone the story through fiction lenses, A Delayed Life by Dita Kraus is a heart-tugging memoir on the unimaginable trials her life brought her. This is a must-read from the top selling books list in 2020 and my personal favorite!
Dita Kraus tells the story of the horrors she faced during the war and the unflinchingly harsh life she lived in the concentration camps. Follow her tale as she smuggles books through heavily fortified Nazi camps to bring joy and knowledge to her fellow prisoners.
About the Author:
Dita Kraus was deported at a young age of 13 where eventually she and her family were forced into labor in Nazi concentration camps. She was left alone to fend for herself when her parents passed away. The trials and tribulations she faced in the concentration camps unlit Prague's liberation is the core of her memoir.
#6 — Joy at Work: The Life-Changing Magic of Organizing Your Working Life by Marie Kondo & Scott Sonenshein
If you are an avid fan of lifestyle series or books then you probably have heard of Marie Kondo. In her book Joy at Work, Marie Kondo with Scott Sonenshein, an organizational psychologist, shows you how to tidy up your work life by refocusing your mind and setting priorities.
As another Best Selling Books In UK 2020, This book shows you the step-by-step process of decluttering your workspace and having a better work-life balance.
About the Author:
Marie Kondo is a Japanese organizing consultant who pioneers in the KonMari method. She has sold thousands of books and sold-out shows, TED talks, and TV specials on her method of decluttering. Inspired by Shinto beliefs, the KonMari method allows a person to declutter her space by getting rid of anything that doesn't "spark joy".
Scott Sonenshein is a professor and organizational psychologist who specialized in using methods to examine the thought process of work.
#7 — Baby By Philippa Rice
Baby is the latest heart-warming comic collection from the New Your Times best-selling graphic novelist Philippa Rice. Based on her cherished moments with her baby, the collection is filled with intimate experiences for first-time parents and the joys of raising a newborn infant. Also, this is one of the best selling fiction in 2020 in the UK.
About the Author:
Philippa Rice is regarded as a multi-talented graphic artist who creates intimate comics about the joys of everyday life. She fills her comics with illustrations on the simple ways we show and share our love with others. A New York Times Best Selling graphic artist with numerous collections.
#8 — Mix Tape by Jane Sanderson
We all have that one person that got away, but what if you had a second chance? Would you take it?
Across time zones, oceans, and a lifetime of various experiences Ali and Dan began a romantic exchange of songs that will leave you reminiscent of your own past relationships. Will they find peace and content in songs? Or will they risk sending messages to pursue the once missed love story?
About the Author:
Jane Sanderson is a British novelist who first debuted in 2011. Since then she has published numerous novels and sequels that captivate her audience. Today with the publishing of her newest novel Mix Tape, bookworms all over Europe can't wait to sink their teeth into this reminiscent romantic comedy.
#9 — Mindfulness for Mums by Izzy Judd
Being a first-time mum is overwhelming. It can bring you a tremendous amount of joy but leave you feeling drained and out of sync. Mindfulness for Mums, one of the top paperbacks, is a collection of exercises and activities that help mothers find their peace in the spiraling chaos that is motherhood. This book includes activities you can do alone and some with your family. Mindfulness for Mums aims to bring the family closer and connect on a new level of calm.
About the Author:
After the success of her first book, Dare to Dream where she recounts the struggles she faced with fertility. She now offers mothers a way to find some peace of mind with simple activities based on their own experience. Izzy Judd highlights the importance of being calm as a mother because she has suffered from anxiety most of her life. Motherhood can take a toll on your mental health and that's why such calming activities are important to keep the family connected and centred.
#10 — Eat Green by Melissa Hemsley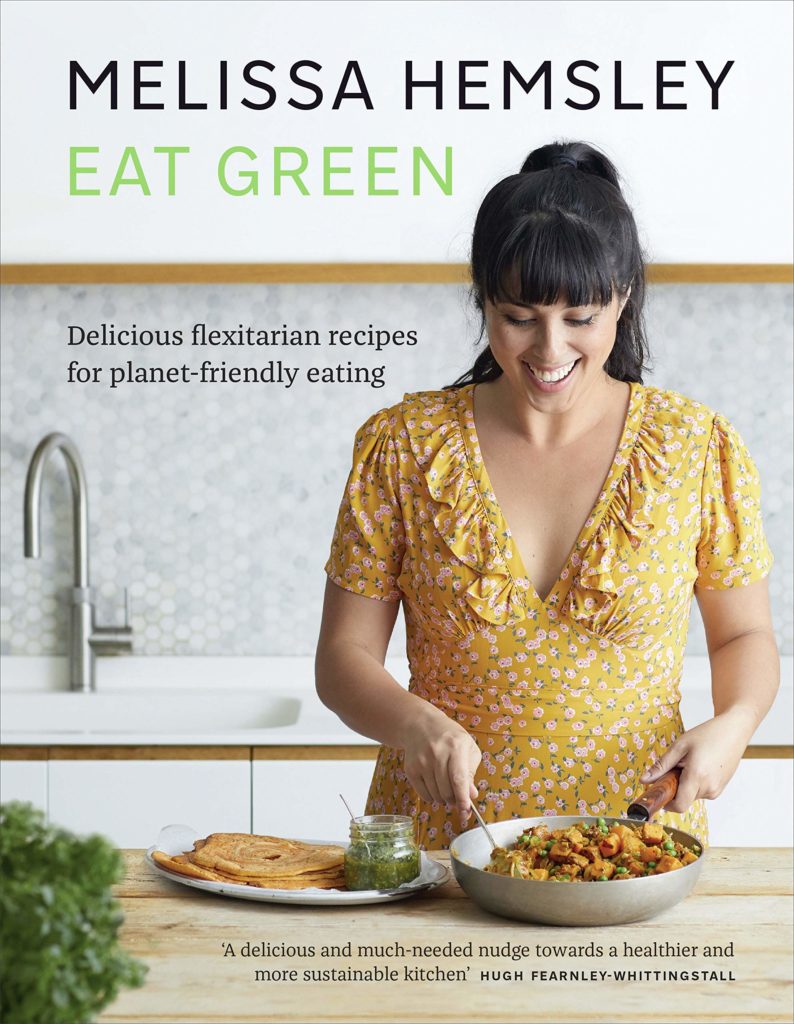 100 recipes that are easy-to-cook using UK-grown ingredients from the best-selling home cook author Melissa Hemsley. The vegetable-packed cookbook aims to help you cut down on cost and food waste while maximizing the flavor of each ingredient. Chapters that are dedicated to One Pot recipes, Cook Now – Eat Later recipes, and 30 minutes less recipes.
You are sure to love the recipes by Melissa Hemsley no matter what.
About the Author:
Melissa Hemsley is a self-taught chef and food columnist. Despite that, she has sold best-selling books and cookbooks that promote sustainability and fair trade food. Her books have earned her a reputation and platform for her advocacy in reducing food waste that plagues the world.
Books are never out of season. With the growth of technology books are even more accessible today. With options to have hardbound or paperbacks sent right to your door or download Kindle versions of them, you are sure to find your fix. Whether its books of fiction, non-fiction, or lifestyle genre, there are numerous best selling books in the UK in 2020 that are sure to soothe your literary cravings.
Also Read: