The stress and strain of daily life affect not only our health but even our hair if left untreated. This daily stress accumulates in the form of muscle stiffness and poor blood circular. While it is recommended you treat it on a daily basis it's impossible to go to SPA every day. Which is why technology has replaced a masseuse in the form of an electric massager. Check out our list of the Best Electric Head Massager UK for all the details.
While it is true your entire body can be affected, most of the time this stress is accumulated in our head and neck. This can be attributed not only due to psychological strain but also due to poor posture. These electric head massagers can relieve the stiffness and even provide intense relaxation.
Most importantly this must-have device can even help with local blood circulation and promote hair growth. So, it definitely is one of the best hair care products in the market. However, choosing the right can be quite difficult. So, check out our list of the Best Electric Head Massager UK for more details.
Recommended Read: Best Acupressure Mats
Top 8 Best Electric Head Massager UK
#1 — Breo iDream5 Head Massager
The Breo iDream5 Head Massager tops this list not only because it's equipped brilliant features but also due to the fantastic experience it offers. This electric head massager targets the eyes, the top head and the back of the head creating a one of kind experience that relieves stress while providing intense relaxation. It's the Best Electric Head Massager UK.
This electric head massager certainly looks gorgeous. It looks like a fusion between large padded goggles and a futuristic helmet. Most importantly, it's quite ergonomic. The head strap is adjustable and the device itself is extremely comfortable.
The eye portion/goggles can be removed so you can chill, read, or watch a movie while getting a massage.
This unique head massager uses a combination of air compression, a heat compress of about 107F, vibration and Finge-like kneading to effectively relax your head and eyes. This massage soothes your pressure points melting away your strain and fatigue to help your body relax.
It is equipped with a powerful rechargeable lithium battery that can last a week on a single charge. Of course, this is only if you use it for a maximum of 15 mins (Recommended duration) every day.
Breo's iDream5 Head Massager is one of the few devices that come with a proprietary companion app. This app will let you control the various function of the massager including the session length, the heat, massage settings and other settings like music, etc. It will also let you customize your own message. This definitely makes is one of the best products to buy on Amazon UK.
What's on it for you?
The Breo iDream5 Head Massager specifically targets your pressure points around your eyes, head, temples, scalp and the back of the neck. This targeted massage is not only extremely effective and relaxing but it also helps promote restful sleep.
Key Features
Looks Amazing
Ergonomic, adjustable and comfortable
Ideal for those who work on a computer or read for extended periods.
Targets your pressure points and relieves pain and stress
Promotes restful sleep
Decent battery life
Companion App
#2 — Zjchao Electric Head Massager
The Zjchao electric head massager is one of the best head massagers on this list and probably one of the most futuristic looking devices you could ever use. It resembles Iron-man's helmet from the Avengers and features a humanized design that delivers 8 different levels of massaging intensity that can be adjusted as per your liking with the help of your computer/laptop via the USB connector.
This electric head massager can be used anywhere and helps relieve headaches, fatigue aches and is known to promote deep sleep and improve your quality of work.
It can be dismantled so you can easily position it the right way on your head. The front and rear panels are made from plastic and are connected together with the help of an elastic panel that is adjustable.
This head massager is not recommended for those below the age of 12 and the kit includes the massager, a USB connector and a 100-240V power adapter.
What's in it for you?
It's an easy to use electric head massager that comes with the power button and USB port on the top of the head-gear. It's capable of delivering up to 8 different levels of massaging intensity depending on the type of headache or migraine you have.
Key Features
Targets specific acupuncture points on your head and relieves stress and tension that you might be suffering from.
Comes with a built-in charging port and runs on 3 x AAA batteries as well.
Ideal to use under any circumstances. Can be worn at home, work, school or while traveling on a train/bus.
#3 — MANLI Cordless Hair Scalp Head Massager
This deep scalp massager is currently one of the most popular electric head massagers. It has 4 removable heads and 28 massage knots that provide a 360 kneading deep scalp massage. This not only helps relieve stress and relax but it also helps increase blood circulation and enhance hair growth.
The MANLI Cordless Hair Scalp Head Massager is very compact with dimensions of 11 x 11x 14 cm. It so lightweight and compact that you can easily carry it around during vacations and business trips. Like all modern devices, it is equipped with a USB which will let you charge through a power bank.
It has a decent battery life as it can last for about 60 minutes on a 2-hour charge. O)f course, it can also last for 5 to 6 days if you use it for around 10 minutes every day.
As mentioned earlier this head massager has 4 detachable heads that provide a kneading experience. These 4 massage heads are, in fact, made of silicone that is soft yet strong enough to replicate a finger massage. You can also be used to massage your various parts of the body.
In fact, you can use it to massage your face, neck arms, foot while bathing. Since this head massager is IPX-7 waterproof you can make the best use of it when your shampooing to give your scalp a deep cleanse massage that can strengthen the hair follicle.
What's on it for you?
This electric head massager uses massage therapy to provide you will a head full of healthy hair. The best part is that it uses a quiet technology so it doesn't emit much noise. With a noise output of less than 35db, it won't bother you at all.
Key Features
Promotes hair growth
Quiet
Waterproof
Helps deep cleanse your scalp
4 massage heads
Soft silicone that replicates finger movements
#4 — Holoras Electric Head Massager
The Holoras Electric Head Massager is a unique electric massager that effectively relieves your tight muscles and spasms using a technology that emits over 8500 micro-vibrations per minute. This vibration therapy accelerates blood flow to your scalp resulting in healthy hair and a relaxed mind. It's one of the Best Electric Head Massager UK.
The five fingers of this head scalp massager use tapping and shaking dual motion to generate vibrations that affect trigger points and pressure points on your scalp. This replicates a head spa and improves the nutrient intake of your hair resulting in better hair growth.
Unlike the majority of the electric massagers out there that run on in-built rechargeable batteries, the Holoras Electric Head Massager is powered by 2 AAA batteries.
It's also pretty lightweight and is designed to be portable. So, you can use it at home, office or even when travelling.
What's on it for you?
The strong vibration therapy relieves spasms, tight muscles, headaches, fatigue and much more. It also improves memory, relieves brain fatigue and even helps improve productivity.
Key Features
Portable and lightweight
Produces strong vibration therapy
Relieves spasms, tight muscles, headaches and similar issues
#5 — Marnur Electric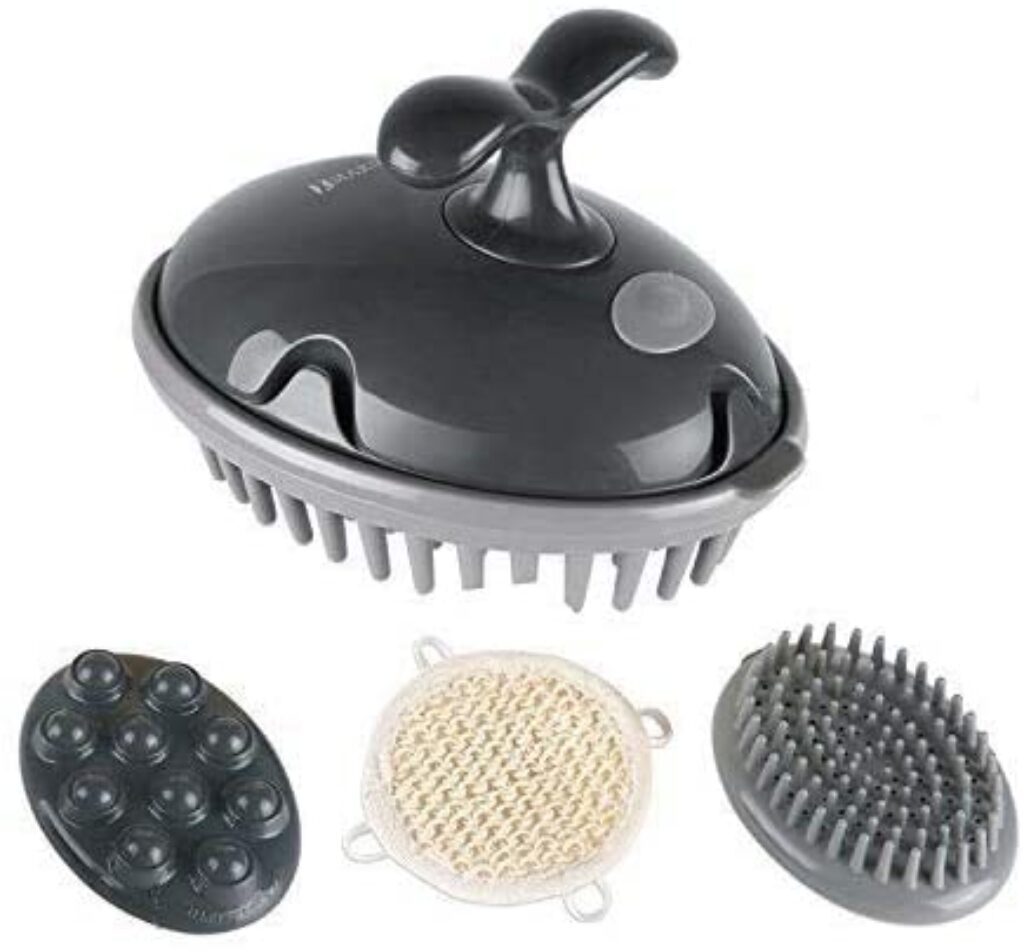 This scalp massager is best used when shampooing. It's specifically built to be used when washing your head. The Marnur Electric can help you wash your scalp and deep clean it. This electric head massager essentially helps getting rid of dead skin cells and promote hair growth. It's one of the Best Electric Head Massager UK.
The Marnur Electric is extremely ergonomic and is designed to fit the palm of the hand perfectly. The contoured body of the massager helps provide stability and comfort when massaging your head. Especially, during slippery shampooing sessions.
The handheld electric head massager comes with 3 interchangeable attachments: A scalp massaging shampoo brush to relive tension, deep clean and improve sleep. A loofah brush to exfoliate your skin and improve hair health and a silicone massager that relieves stress through vibrations.
Other than deep cleaning your scalp this massager uses a vibration function to help you relax. This also makes it multipurpose. So, you can also use it on various body parts like your back, foot, shoulder arms and much more.
This electric head massager also cones with external batteries. However, unlike Holoras Electric Head Massager. The Marnur Electric uses 2 AA batteries that offer more power and battery life.
What's on it for you?
This massager delivers the best results in the shower so it's extremely waterproof. The scalp massage brush removes the first and dead skin, thereby rejuvenating your hair health.
Key Features
Rejuvenates hair health by removing dead skin
Waterproof
Uses strong vibration to help you relax
Interchangeable attachments
Ergonomic design
#6 — Breo Portable Scalp Mini Massager
The Breo Portable Scalp Mini Massager is a powerful and effective electric head massager. It has has a powerful motor and battery-life of a week. However, it's most unique feature would have to be its finger-like protrusions that mimic the movements of a traditional Chinese massage.
This compact electric head massager is ergonomically designed to fit in the hands of both males and females. It also has a sleek and beautiful design that makes it easy to use in any setting. The bamboo-trimming charging base alone makes it a perfect accessory.
Like most electric head massagers on this list, the Breo Portable Scalp Mini Massager is also IPX7 waterproof which makes it ideal to use in bath or shower. It also comes with an interchangeable head which more effective in the shower.
The electric head massager is made from food-grade silica gel which is gentle yet firm and has a texture that does not irritate the skin. This massage head creates a pressure that stimulates blood flow, thereby improving hair health and growth.
What's on it for you?
This electric head massager uses a sophisticated technology that replicates the Chinese Six traditional massage skills of longitudinal gliding, kneading, trigger point therapy, and oscillating pressure. This highly effective massage relives tension and stress while promoting hair growth.
Key Features
Replicates the traditional movements of Chinese massage skills
Highly effective
Promotes hair growth
Made from silica gel that doesn't irritate the skin
Waterproof
Beautiful design and ergonomic structure
#7 — NORLANYA Electric Head Massager
Unlike most of the electric head massagers on this list, the NORLANYA Electric Head Massager is one of a kind. This helmet-like massager is much more effective as it'll target your entire head, unlike other devices that you need to manually run along your scalp. It's certainly is one of the Best Electric Head Massager UK.
It's designed in the form of a helmet that virtually covers your entire head. Thereby, giving it the full massage you're looking for. It's perfect for busy people who don't want to manually massage their scalps. You can strap this on and relax while the device does the job.
Although it isn't the most aesthetically appealing device, it is quite effective. I personally would only use it in the confines of my home as it'll be quite embarrassing to wear it in public or at the office.
It has 3 massage programs with combinations of massage modes and technology like vibration and heat. It primarily helps relieve pain and helps you sleep better. Interestingly, this device does come with 3 music options to calm you. However, it's actually pretty annoying. So, I just turn it off.
The battery is pretty good and it lasts up to 3 hours on a single charge.
What's on it for you?
You also get a handheld controller to adjust settings, music, duration and even the power. This is honestly much better than fumbling about trying to push buttons on the helmet.
Key Features
Handheld remote to control various settings
Decent battery-life
3 massage programs
Helmet-like design that provides massge to the entire head
#8 — UNIROI Cordless Hair Scalp Massager
The UNIROI Cordless Hair Scalp Massager uses technology to emulate the famous shiatsu massage. With this electric hair massager, you can kiss your exhaustion and stress goodbye. In fact, it will not only help you relax but it will also relieve pain and help stimulate hair growth. It's currently the trending massager on Amazon UK.
Although it looks pretty similar to most of the electric massagers on this list is quite different in terms of operation and function. It has a one-button operation that's easy to use. There are no wires and it looks good in general.
It's made from an IPX7 waterproof material which can help you out in the shower. You can certainly achieve a deep cleanse with this device. It also has an eco-friendly soft silicone head to prevent damage to the hair and skin.
This device has four massage heads with 21 nodes that rotate clockwise and anticlockwise. This gives you a soothing massage and helps remove dead skin cells. It also improves blood circulation which promotes hair growth.
What's on it for you?
As mentioned earlier, this electric head massager uses 21 nodes to replicate the powerful actions of a shiatsu massage. This not only helps you relax but it also relieves pain on your head, neck, arms, thighs, etc.
Key Features
Replicates the powerful actions of a Shiatsu massage
Removes dead cells and deep cleanses your scalp
Waterproof
One-button operation
What Is a Head Massager?
Am electric head massager is a device that designed to mechanically emulate the process/actions of a regular human head massage. Most, importantly, it is specifically built to stimulate your scalp, head and neck muscles. It not only relieves stress and strain but it also deep cleanses your pores, helps circulate blood flow, thereby promoting hair growth.
These devices usually come in a variety of shapes and sizes. Most common are the handheld one which you can control and specifically target different parts of your scalp and there are also specially designed head massagers like helmets which provide a comprehensive/overall massage. Check out our list of the Best Electric Head Massager UK for more details.
How does a head massager work?
We all suffer from the stress of everyday life in different ways. Most common are headaches, muscle tension and poor blood circulation. A good head massager stimulates the muscles in your head and relieves all the tension accumulated during the day, it will also improve the local blood circulations which will benefit your hair follicles.
This nourishes your hair will more oxygen and nutrients and promotes hair growth. Check out our list of the Best Electric Head Massager UK for more details.
What are the benefits of an electric head massager?
While head massages, in general, can be extremely beneficial and therapeutic, having your head manually massaged is quite tedious. Especially, if it's on a regular basis. You'll have to visit a professional and pay them an unbelievable amount of money every time.
An electric massager on the other hand essentially replicates that expertise in a much more convenient fashion. Not only is it a one-time investment but you can also keep the massage at home and use it whenever you want. It is basically a piece of technology that can target all the right spots and provide great relaxation and stimulation among other things. For example, it can:
Promote Hair Growth
Probably the most common physiological benefit of the head massager. A hair massager will stimulate the blood flow and a by-product of this would be the increase in the microcirculatory ecosystem of the scalp. By stimulating this on a regular basis, it brings oxygen and nutrients to the hair follicles and helps it grow.
Helps With Headaches
By stimulating blood flow and by stimulating the stiff neck, an electric massager can relieve tension and provide instant relief to stiffness and headaches. Of course, these headaches should be a symptom of sitting down for long durations or living a stressful life. It won't be able to get rid of headaches that are a symptom of a medical issue.
If done right and in a timely manner, it can not only get rid of headaches but even neck and back pain.
Helps With Stress Levels
As mentioned earlier an electric head massager can get rid of depression and even anxiety. This is done by stimulating the neural pathways on the brain and ensuring that it activates more cells. This also gives rise to better cognitive abilities and lucidity. It also stimulates serotonin the happiness hormone and helps reduce cortisol which is the stress hormone. It can even improve short term memory.
Also Read: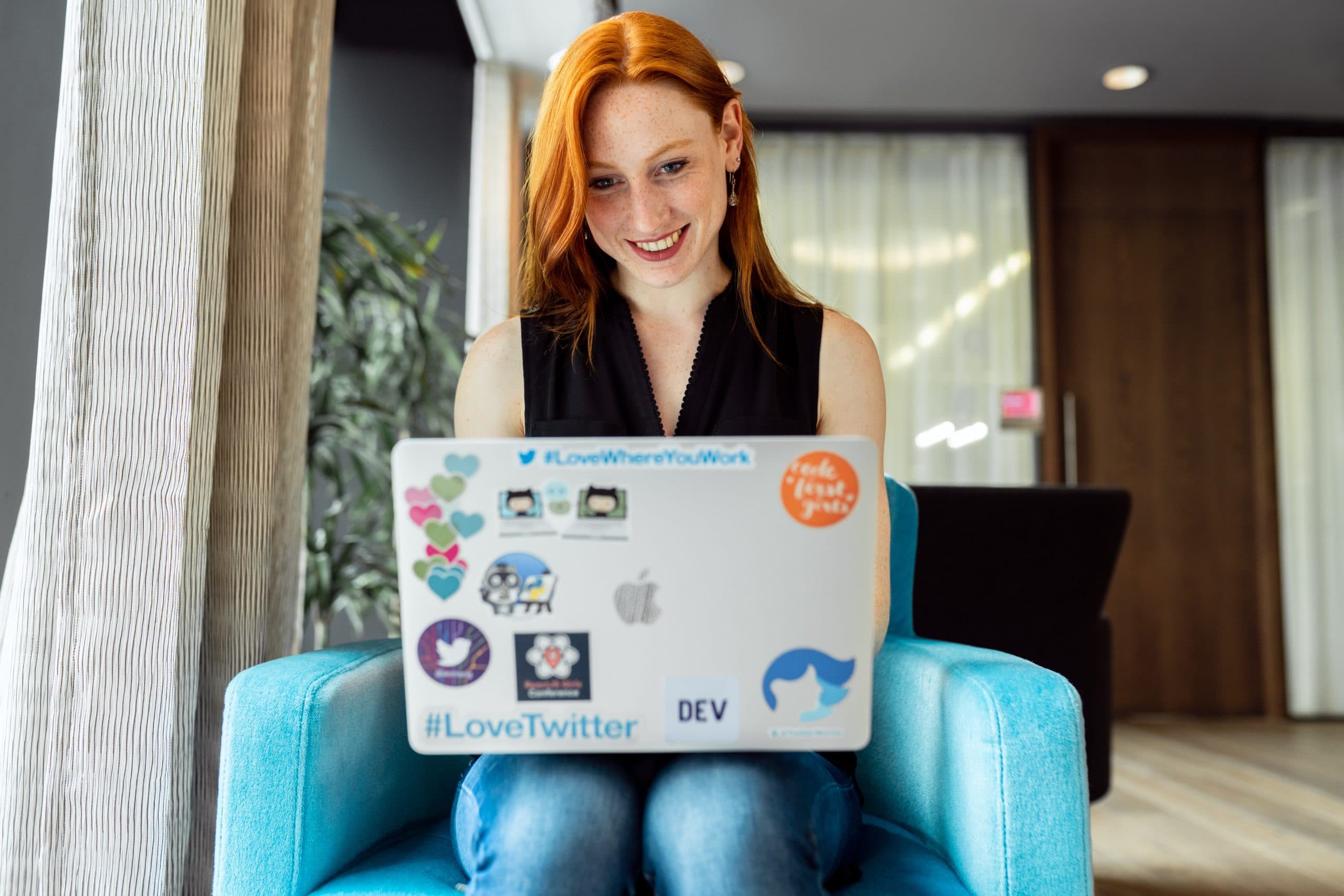 Joanna is a writer, poet, stand-up comedian and holds two master's in arts and history. She founded Discount-age with the intention of providing her readers with solutions to everyday household problems. During her free time, Joanna loves cooking but usually ends up ordering in.