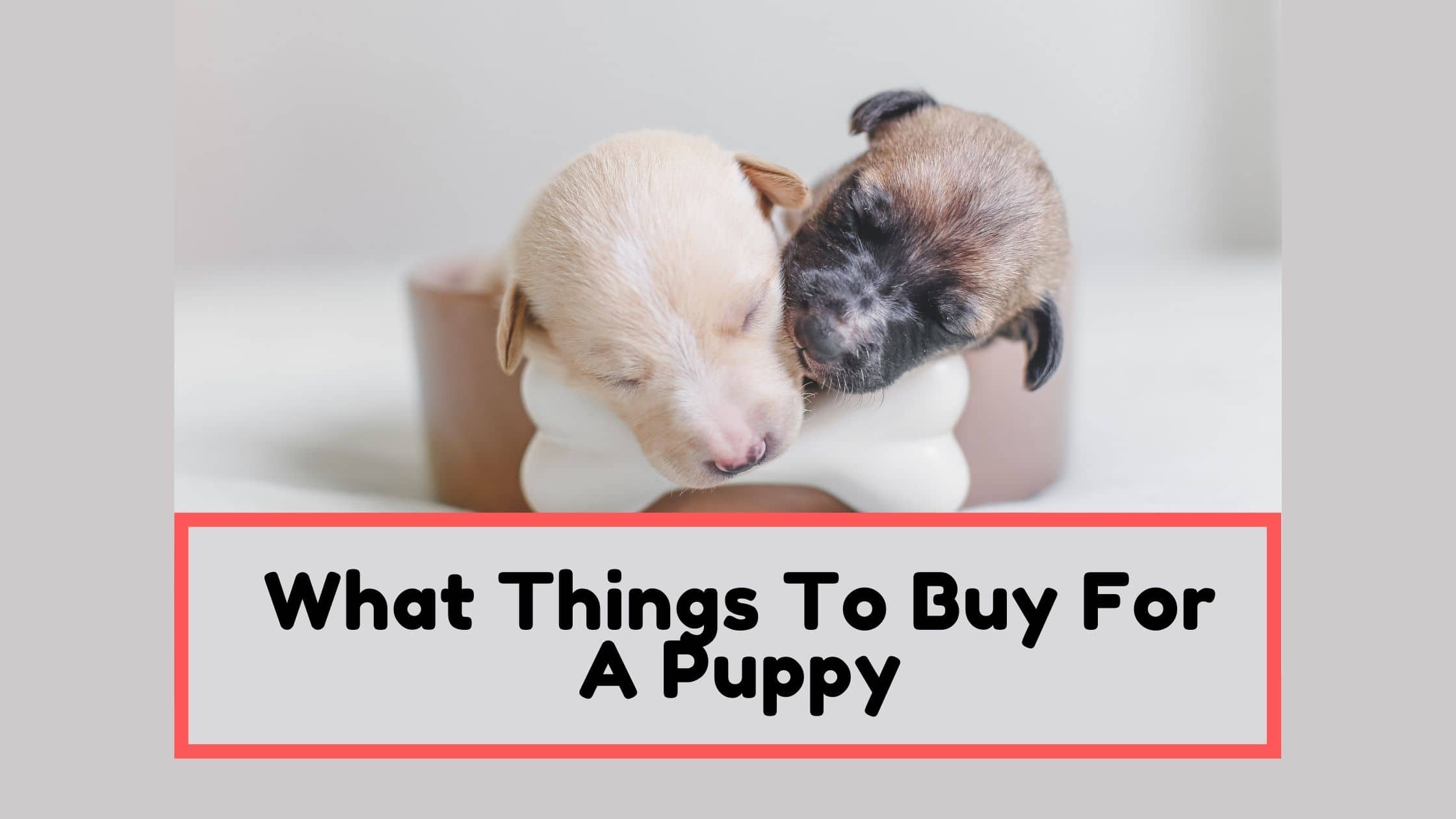 If you are a dog lover like me, you will know the happiness they bring to one's life. When Joey, the Maltese entered our lives, everything changed for the better. My partner who wasn't a pet person warmed up to him in a jiffy and now she loves him more than I do.
But it wasn't all hunky-dory from day one. As all new pet parents, we were nervous too. We wanted the best for him and that made it harder. The first challenge that confronted us was, "what things to buy for a puppy"?
It was followed by queries like, will he like the things we buy for him? Do all breeds have the same requirement? Will we be able to provide him all the things he needs?
Along with detailed research and tips from other pet owners, I have put together a list of things to buy for a puppy. Rest assured, you can get started with your new pup the right way. 
Bed and Living Essentials
Feeding Essentials
Puppy Food and Treats
Puppy Harness and Leashes
Toys for Puppies
Puppy Grooming Essentials
Puppy Cleaning Essentials
What Things To Buy For A Puppy
Like babies, pups need a host of things for the right kind of upbringing.
To make things simpler for you, I have listed the things to buy according to categories like food essentials, bed and living essentials, food, harness, toys, grooming tools, etc.
Check out the entire list of categories below and don't skip through sections. 
Bed and Living Essentials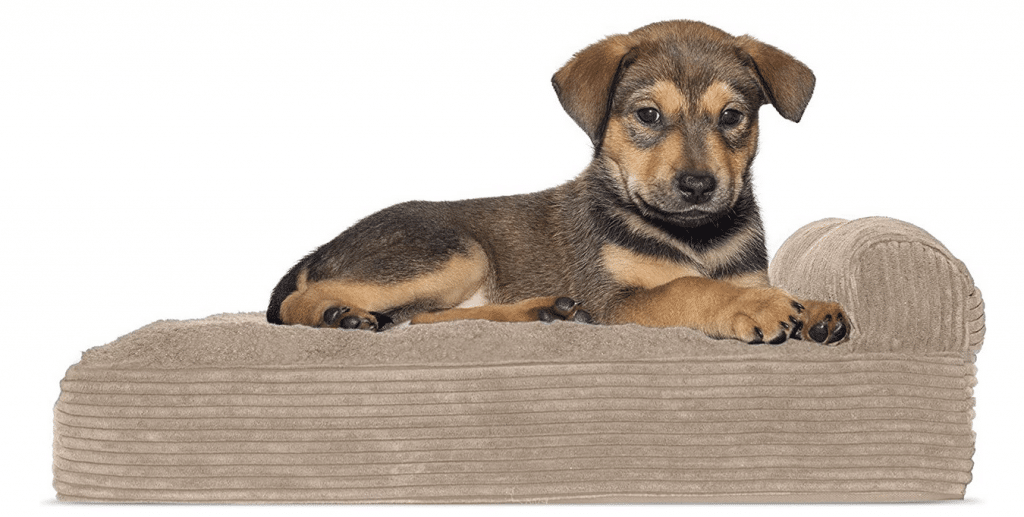 Giving your pup a space of his/her own is very essential. Even though a crate or a cage is where your pup will sleep, a bed is a prerequisite for its upkeep. Choosing the right bed with a secure base is very important.
Make sure the size is right and it is kept in a quiet place without any disturbance. You can always add a blanket to keep them warm if required. Do get a bigger size as pups grow real fast and make sure you get a durable one as they tend to rip things off during teething.
In my search for the perfect bed for my list of things to buy for a puppy, I came across the FurHaven Deluxe Orthopedic Chaise Couch Pet Bed. This snug two-tone bed is made of faux fur and Joey loves it.
The bed has L-shaped bolsters which support his back and hips. This bed is easy to clean and is made with medical-grade foam, just unzip the cover and it can machine washed.
You can also consider the following products that come under the same category
Foldable Dog Crate
Folding Metal Dog Home
Dog Crate Cover
Feeding Essentials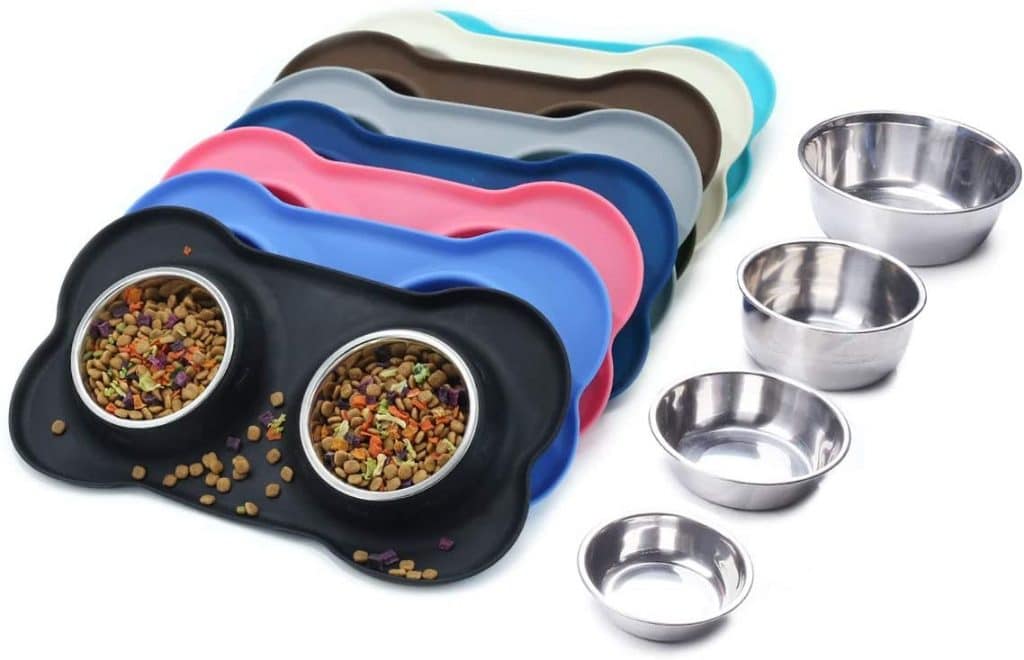 Teaching your pup the right discipline early on goes a long way in making them responsible pets. They should be fed in a particular place and specific bowl so they learn food is only served there.
Another important thing to consider is water, your pup should have access to fresh water in a bowl at all times. You must consider a separate bowl for food and water. If your puppy tends to eat fast, you also have a choice of buying them slow-feeding bowls that help them eat at a considerable pace.
After thorough research, I have added The VIVAGLORY stainless steel water and food bowl to my list of things to buy for a puppy. This product is a convenient way to train your pup to eat. The double-bowl design is perfect for serving both food and water and comes in two bowl sizes too.
It is both durable and easy to clean. Made of stainless steel and a roll-up silicone under mat, it sticks to the floor and avoids spillage. 
You can also consider the following products that come under the same category
Slow Water Feeder
Smart Digital Feeding Bowl with LCD
Slow Dog Food Feeder
Puppy Food and Treats
Pups like little children need utmost care and nutrition. Choosing the right puppy food should be of prime importance to a new pet owner.
You need to get them habituated to the same kind of food so they become less picky when you travel or visit places. The food can be changed as they grow by consulting your veterinarian.
Puppy treats also make a big difference in training pups. Using the right kind of treats can make your pup a well-trained dog. It also helps form a strong bond with you and results in positive behavior. Make sure you pick soft and chewable treats that are low fat and high protein.
Harringtons Complete Dry Puppy Food is a good pick to start with. Made with turkey and rice, this puppy food is rich in taste and has no artificial colors and flavors. Packed with Omega 6, antioxidants, and kelp, this dry puppy food supports good digestion in puppies which is important. All this goodness in a product had to make it to my list of things to buy for a puppy.
Puppy Harness and Leashes
Keeping your pup healthy is solely your responsibility. Walking your puppy regularly is a great way to help your puppy be active and socialize with others. Picking the right harness and leash helps you control your pup's movements. 
Consult your vet or a trainer which harness would suit the breed and get a secure and sturdy fitting one to ensure comfort. I wanted a product that will suit Joey and I stumbled upon FakeFace adjustable puppy harness with a leash. It is with experience that I add this to my list of things to buy for a puppy.
This product includes a harness and 120 cm dog leash which was a perfect fit for him. Made of scratch-resistant nylon, breathable mesh lining, and soft padding, it ensures extra comfort. It avoids unnecessary pulling of his hair. The product also comes with a 3M reflective design for visibility at night too. What else can you ask for? 
You can also consider the following products that come under the same category
Dog Collars
ID Tags with Contact Information
Leads
Extendable Leashes
Toys for Puppies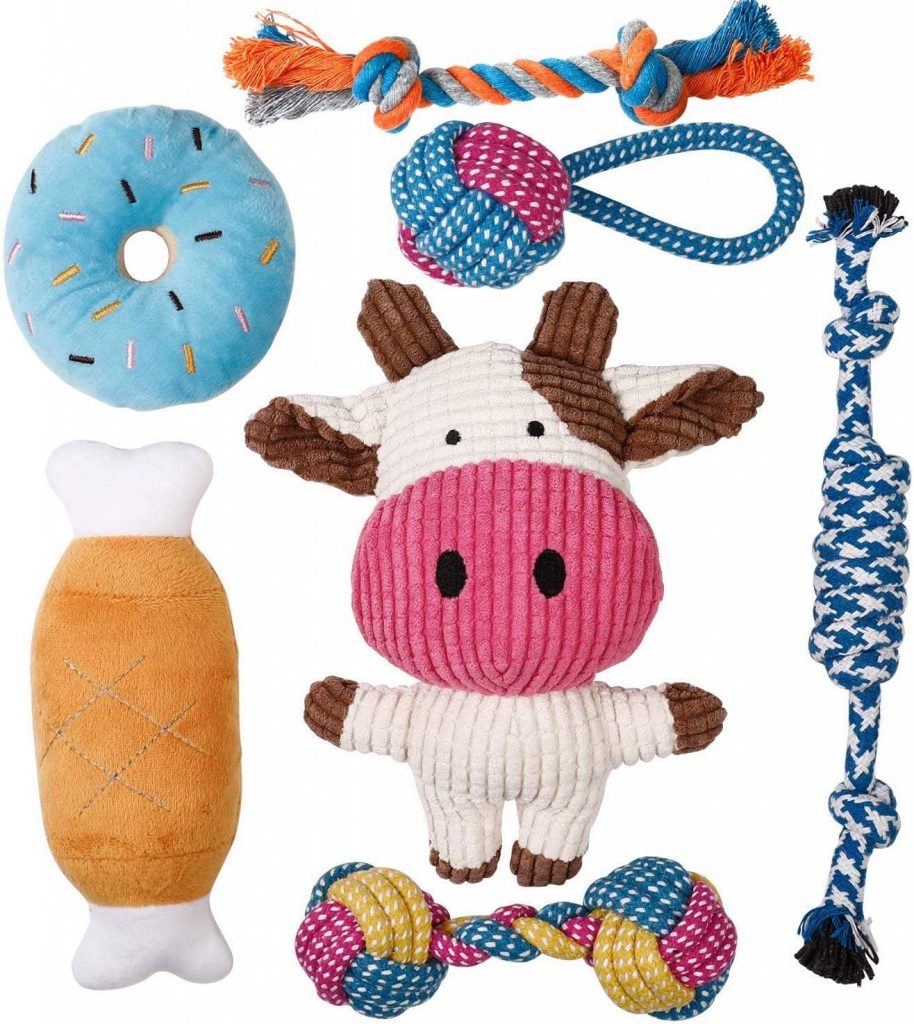 Toys are a great way to stimulate your puppy mentally and also get them to interact with you. So toys are an important part of things to buy for your puppy. You may have seen a lot of toys for dogs and cats but choosing the right size and material is important. Smaller dogs have toys designed for them.
You should also consider interactive toys so it engages them. It is also ideal to allocate a time of your day to play with your pup. Believe me, he will love you for it.
My mutt, Joey loves the Toozey puppy toys. They come in different shapes and sizes. They have donuts, bone-shaped, and a cow-shaped toy too. The squeaky kinds are his favorite and it helped him when he was teething too. These toys are puppy-safe and non-toxic. 
You can also consider the following products that come under the same category
Toy Ball
Chew Toys
Fetch Toys
Puppy Grooming Essentials
When it comes to certain breeds, grooming becomes an integral part of caring for your pup. My Maltese pup, Joey needs lots of grooming and this product is one of the top things on the list of things to buy for a puppy if you have a hairy puppy.
You can always take professional help when it comes to grooming your pup but you must learn to do the basics at home too. A perfect grooming tool will help remove mats out of your pup's hair making it feel smooth.
The Hertzko Self Cleaning Slicker Brush helps remove loose hair, knots, and dirt stuck to your pup's fur. This tool works on all types of hair too. The product has fine bristles that penetrate deeper and don't hurt your pup while removing mats.
The brush is self-cleaning and all it takes is a simple push of a button. It's worth a try. 
You can also consider the following products that come under the same category
Shampoo
Dog Comb
Nail Clippers
Fragrant Powder
Puppy Cleaning Essentials
Our folks would know the trouble they went through while potting training us. Similarly, we need to be patient with our pups as they aren't potty trained too. As a new pet parent, you need to be prepared for the worst. Hence, cleaning essentials had to make it to my list of things to buy for a puppy.
You need these essentials to clean urine and poop stains and also disinfect the living area to avoid infections. You would also need tools to clean hair from your furniture and other areas of your home.
To tackle the first problem I would recommend the OUT! Go Here Absorbent Dog and Puppy Training Pads. The moisture lock pads are 53cm x 55 cm in size and can absorb urine, prevent leaking, and neutralize odor too. Made with strong fiber, these pads don't tear or shred easily. 
You can also consider the following products that come under the same category
Poop Scoopers
Disposable Gloves
Cleaning Liquids
Takeaway
I hope my list of 'What things to buy for puppy" helps you in your journey of being a great pet parent. I wish you a lifetime of happiness with your mutt.
Joey says hello to your pup too!!
Also Read: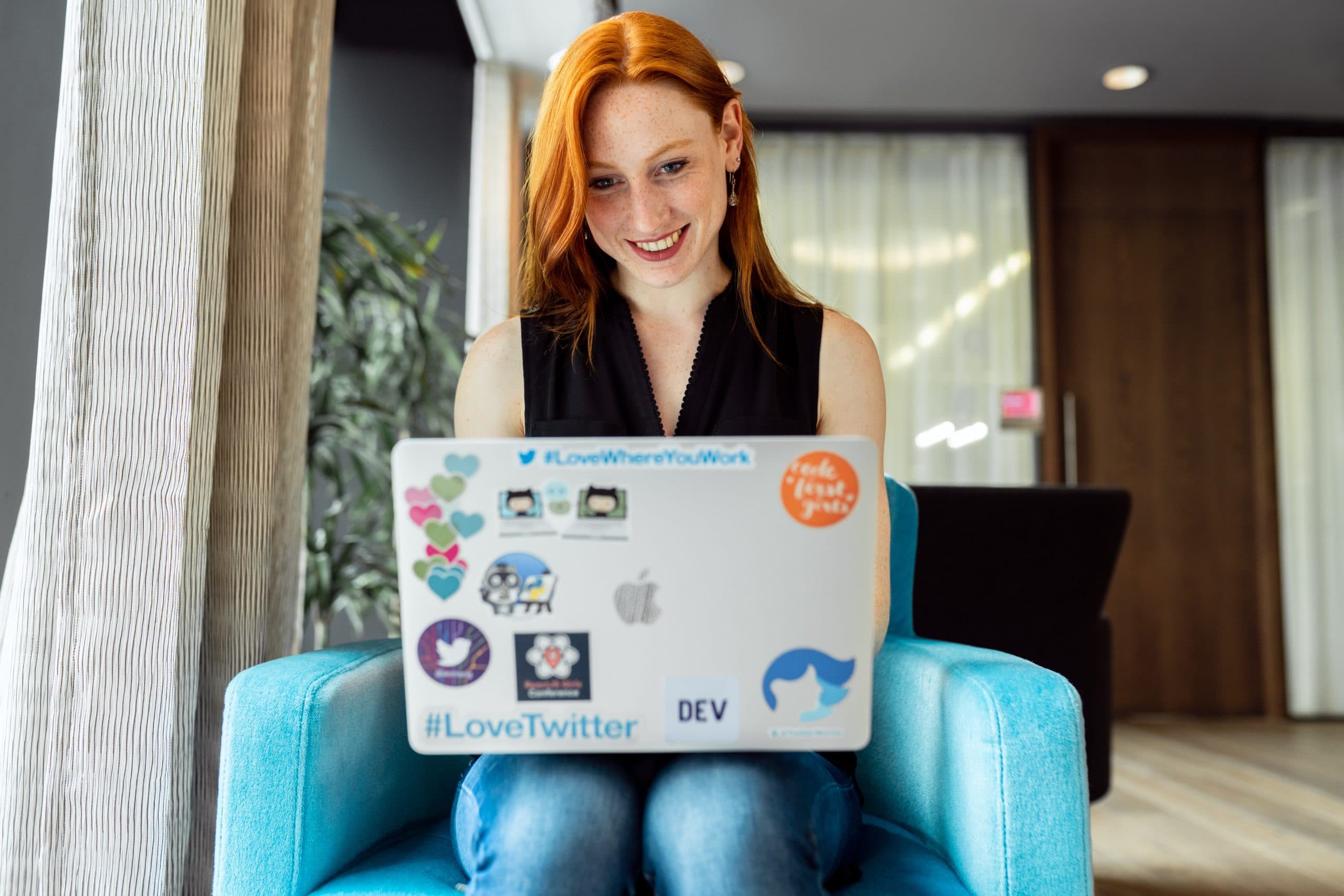 Joanna is a writer, poet, stand-up comedian and holds two master's in arts and history. She founded Discount-age with the intention of providing her readers with solutions to everyday household problems. During her free time, Joanna loves cooking but usually ends up ordering in.