I had a bad experience once where I wore ankle socks with my formal black brook shoes. Half away through my friend's wedding, my socks rolled in and caused an ankle bite. Being the groomsmen everyone watched me as I limped my way through the altar. I was dressed to impress but the socks got the best of me. Which is why investing in a pair of Top British Sock Brands is a must.
This experience thought me a valuable lesson, socks are the base foundation for your feet and attire, your feet comforter during winter, and your stylish foot lining for your crocs in summer. In other words, these products worth putting some thought into. If your current casual sock collection consists of shoddy matches between different pairs then this guide is for you.
After reviewing the top 100 sock brands in the UK, I zeroed in on the top 8. These socks were put through various durabilities test's and were chosen based on additional factors like design, comfort and value for money. We found that:
The Top British Sock Brand is Pantherella. It's considered Englands finest men's brand not only because it has decades worth of legacy behind it but also because it's made from high-quality material and yarn. These beautiful socks are extremely durable and are versatile.
Top British Sock Brands
#1 — Pantherella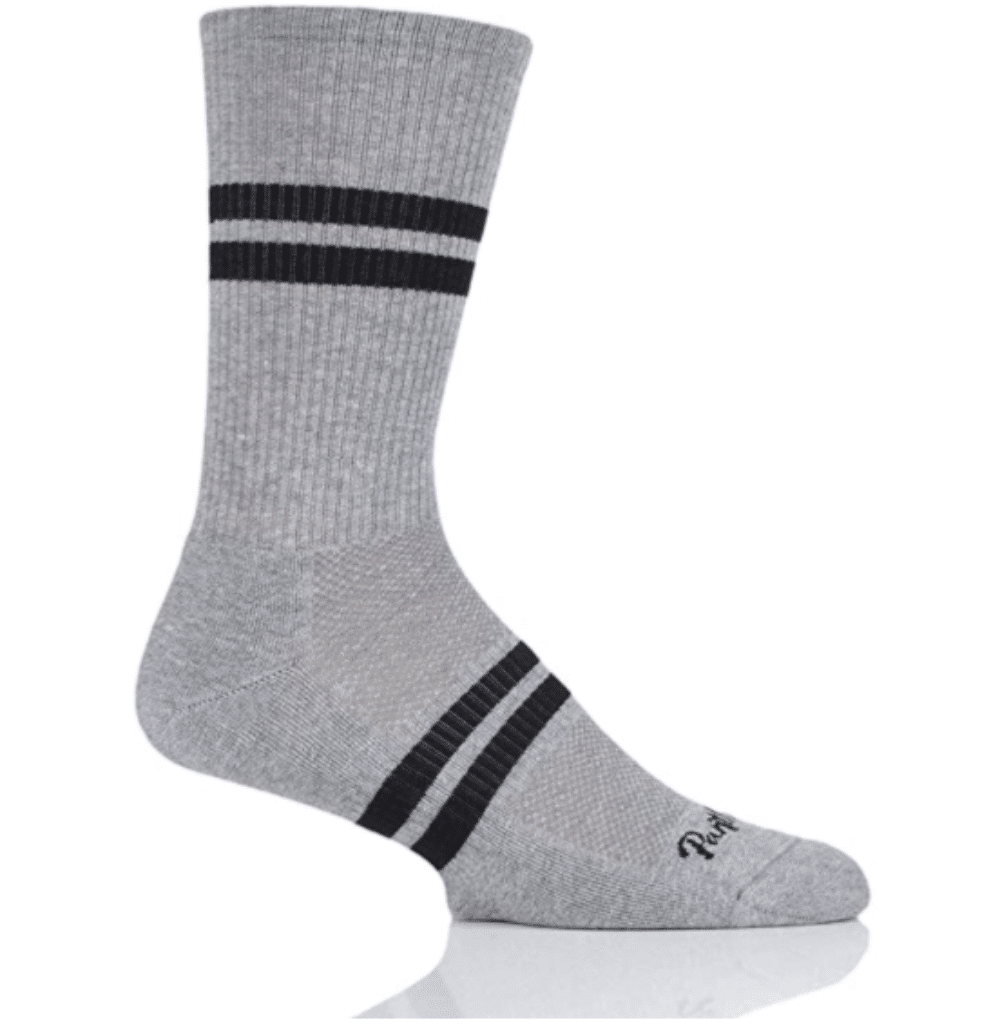 The first brand on your list is known for making the world's finest men's socks in England. They were established in 1937 and immediately come to fame after. All their products are manufactured from their factory in England and sent to your doorstep. Almost all their products are known for their luxurious material and the best yarn money can buy. It's one of the Top British Sock Brands.
Their most popular product is the Pantherella Men's Sport Luxe Spirit. These socks are a fusion of the classic causal sportswear with Egyptian luxury quality cotton put together by excellent English manufacturing.
The socks combine the world's finest yarn with an elegant casual design. I wear these for my causal outing as they look great with my jeans and go really well with my sneakers.
The socks are finished by Pantherella signature branding, sport stripes, and linked toe design to ensure all-day comfort.
Key Features
If you are looking for socks that you can wear for your everyday work and casual outings this one will do the job as its all cosy soft interior provides all-day comfort. Perfect for the stylish modern man.
#2 — John Smedley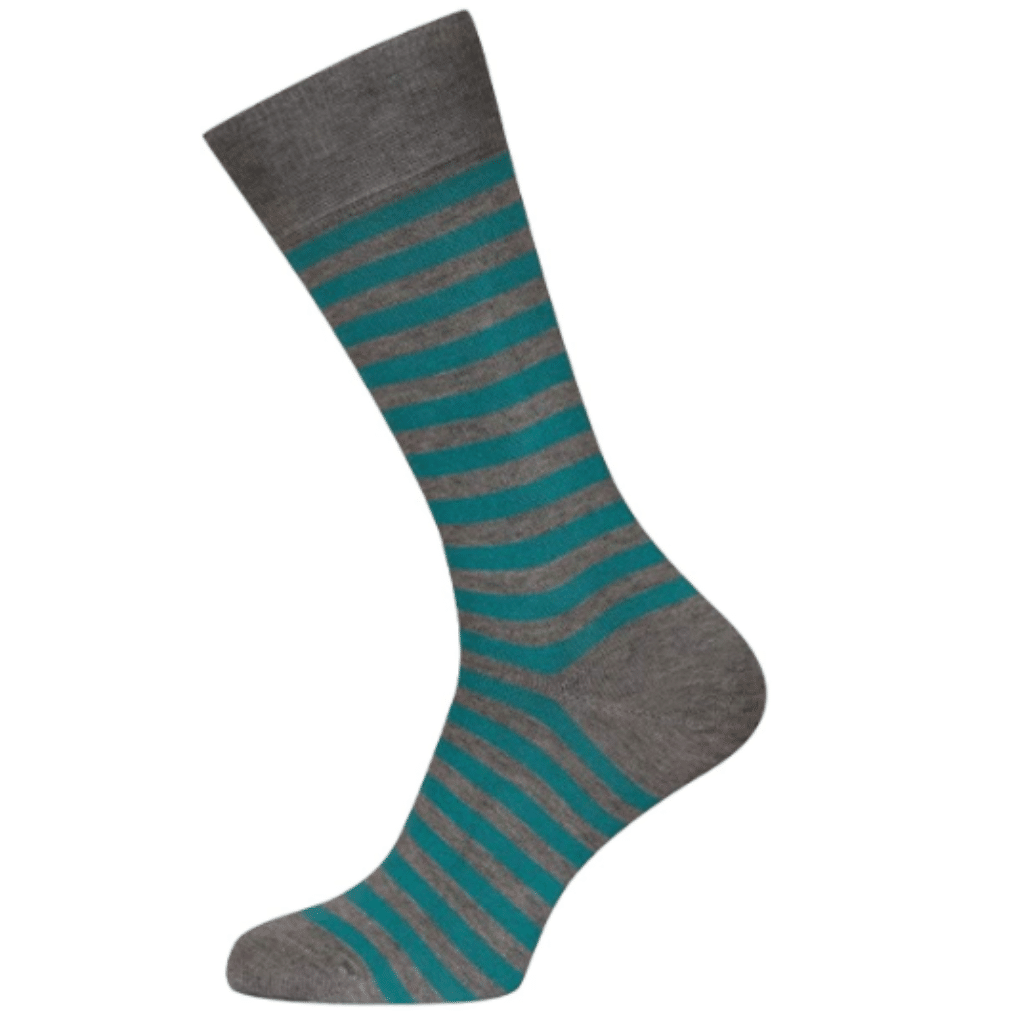 If you wear suits often you have to John Smedleymid-calf socks as they specialise in them. They accompany both casual attire and office. They manufacture all their products from their factory in Lea Mills, Darbyshire. John Smedley is well known for quality as they embedded it into every stitch.
John Smedley is famous for its Hecate Striped Fashion Socks. This fashionable cotton sock is of standard length and has been crafted from a high-quality blend of 78% sea island cotton and 22% polyamide that give you the utmost comfort.
Cotton's natural ability to be a breathable material helps keep your feet feeling fresh and odourless. It features a bold stripe design with beautiful tones to catch anyone's eye.
Key Features
If you are looking for socks that are a fine mix between fashion and comfort giving you a casual yet classy look at work. It's one of the Top British Sock Brands.
These socks from John Smedley have bright contrasting colour tones giving you a hint of fashion and comfort. Perfect for those evening dinner parties.
#3 — Samson Hosiery
The high-quality good producers started their journey in 1981 and have been driven by dedication and experience ever since. The company has survived and seen the fruit of their business because of their dedicated team that can fulfil even the tallest order in the toughest deadline. They truly strive to be the best with their dedication.
Their Football Novelty Performance Funky Knee High Socks is one of the most trending socks on Amazon right now.
When you are out there on the football field you need to feel complete and focused and when you have your entire kit with Samson's football socks. You not only feel good, but the funky design of these socks will also defiantly get you the attention you deserve when you zip past to score.
These socks are available in a variety of different colours and funky designs to match your teams uniform. These socks have a sweat-wicking fabric which has a ribbed design to make it breathable.
Which gives you excellent comfort while playing the game and definitely makes a fashion statement.
Key Features
If you are looking to stand out in your future soccer game in style and have the comfort of breathable ribbed designed. These socks will set you apart from the rest and will have people looking at your socks more than the soccer ball.
#4 — Scott-Nichol
The Scott-Nichol manufactory their products in Leicester, the heart of England. They are close to any British gentleman and lady as they're hand-finished to the highest standards. It's one of the Top British Sock Brands.
The company uses leisure knit which is a superior gauge than what is used by Pantherella which create exquisite versatility. All their socks are knitted to form a beautiful blend of warm wool taken from the first shearing of their finest sheep with a hint of nylon.
These hand-finished socks are made from a wool blend that gives the warmth and breathability that wool is known for.
A hint of nylon is added to give you a premium fit. These socks are designed to have the Burghley fashioned look with ribbed knits for contrasting detail from heel to toe.
Key Features
If you're looking for hand-finished woollen socks, these Burghley styled cocks will give you the comfort of a breathable woollen material along with its unique ribbed design.
These socks are perfect for hiking as it provides excellent warmth.
#5 — Stance Socks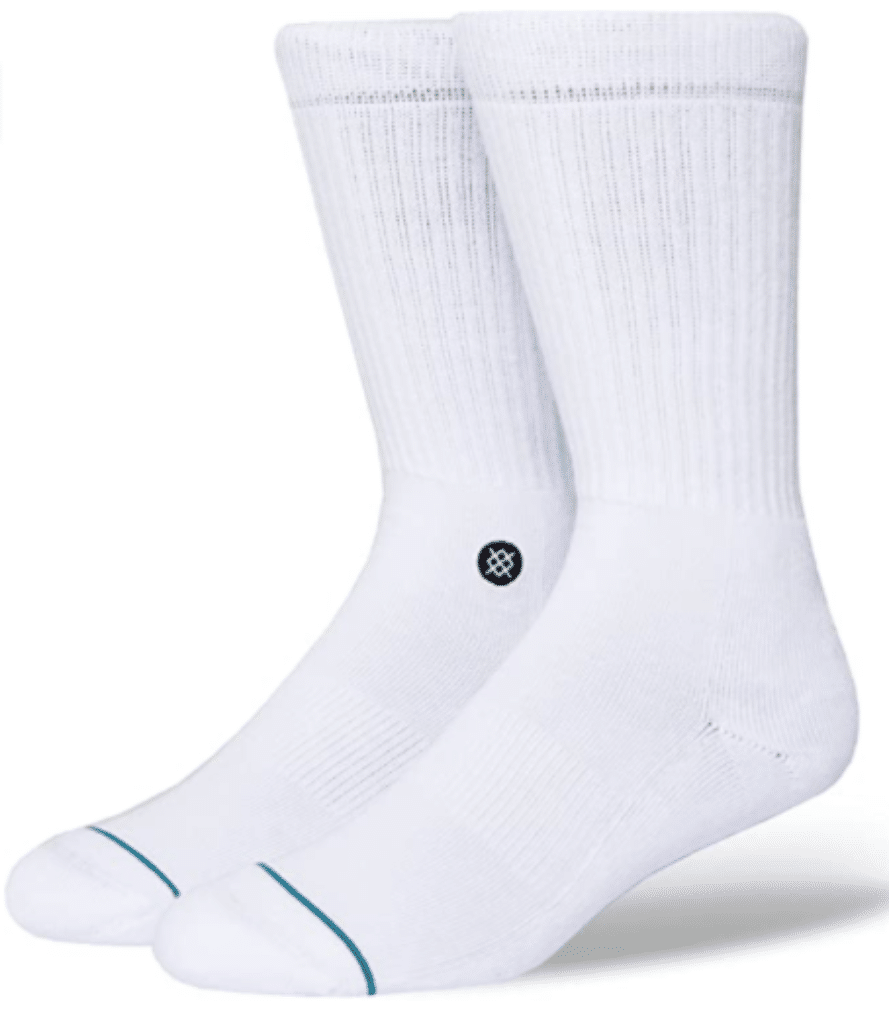 The stance the brand is the brainchild of five individuals who took the everyday sock which has been an afterthought and brought it in front of the camera of sports fashion. Founded in 2009, Kearl one the of the five members was the previous chairman for Skullcandy a leading headphone. He quoted that the stance came looking for a suffering category and found socks as their sliver lining and found it to have great potential. 5 years later there are all over the world.
The Stance Men's Icon Classic Crew Socks is one of the best socks in the market. Stance Classic Crew socks brought to the world, the everyday sock for the everyday drawer.
These socks, not only do they show class I love how minimalistic design and stitching. They're crafted with lush combed cotton and are available in variant colours, the brand logo signifies the essentials of the everyday gentleman, classic crew socks for all of life's special moments.
Key Features
Have you imagined trying to improve a plain white sock not very exciting is it? Stance managed to pull it off with its iconic 200 uses crew socks the brand's signature fibre technology to strengthen the key area and increase durability.
It has proven to be stronger than a lot of thick sock options in the market.
They have reached homes all around the world including mine. Never has white looked so good!
#6 — Norse Projects
Norse Projects is a modern clothing brand based in Copenhagen but made its way to the UK and got a firm grip while doing so. They brought streetwear and classic everyday workwear and mixed it up with high-end fashion.
They designed and developed a collection for both men and women that started at chains of skateboarding stores. In 2015 they released a sleek and classy European twist which put them on the map.
The Norse Projects best seller is the Bjarki Neps Socks that really gives meaning to what they say "a product of the cold cold north". The reason why is because these socks are a classic wool blended pair with a unique speckled design that features ridden cuffs for protection.
These socks provide a sense of evergreen style with the Norse Projects branding at the bottom of the sole. I specifically love the comfort these socks offer and the design of white strips look excellent when I play tennis.
Key Features
If you are looking for to have a contemporary take on the classics these socks are sure to give you the feels.
These tasteful striped pair are an excellent example that brings simple style and assuring thickness to your feet.
I personally love wearing them when I play tennis as they look really good on whites.
#7 — Smartwool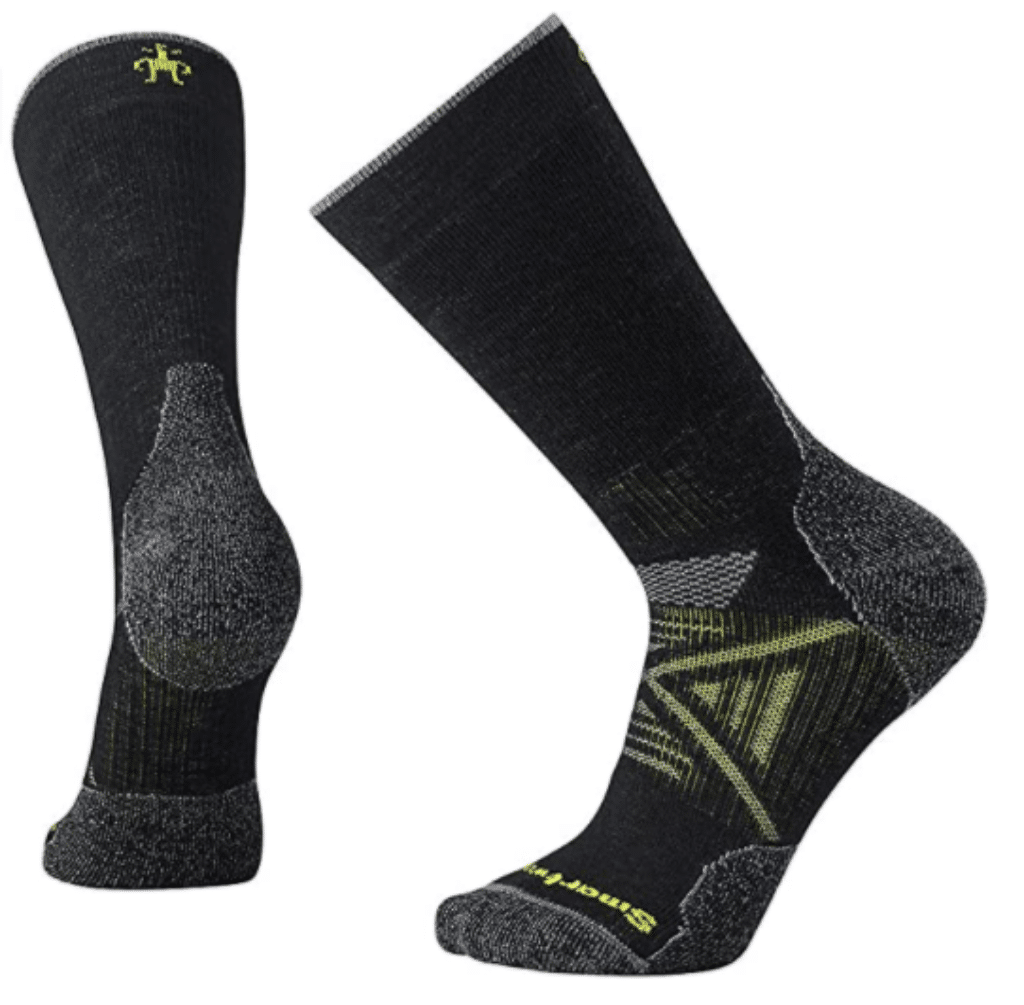 The Smartwool community is a brand started by collective people, that made their as into the UK market. They started in 1994, the idea came to them when the founders just wanted to be able to ski without losing their toes. That lead to the discovery of the merino wool as an athletic fabric.
The material was softer than wool, thermoregulating and sustainable with a self odour neutralizing feature. They went on to be the first company to make merino wool ski socks forever altering the way outdoor ski enthusiasts viewed their feet and the rest was history.
Smartwool Men's PhD Outdoor Medium Crew Socks is one of the best in the market. From all the socks I've tried and trusted me I've tried quite a bit, these Smartwool socks stood out the most.
The brand has outdone itself with a not so bulky look but gives the feels of the traditional hiking socks that does not sacrifice comfort. These socks feature their indestructawook fabric, that provides excellent durability and virtually seamless toe with added comfort.
Key Features
If you looking for socks that can keep you warm during your ski trip, I can assure these are the best.
I love to ski and spend most hours outside in the freezing temperatures I used wool socks before and it never seemed to do the job. Till a friend suggested these beauties.
The socks feature a thermoregulating that gets warm when its cold and gets cool gradually without causing sweat. The perfect combo to I need to ski for extra long hours.
#8 — Ted Baker
Ted Baker launched itself as a shirt specialist in Glasgow, they quickly gained fame from their contemporary design. Ted had a clear vision and attention to detail not to forget a quirky sense of humour.
So much that their first store provided a laundry service for every shirt purchased. That gave them the title "No Ordinary Designer Label" Every product under the brand of Ted baker had his personality and quirkiness woven into its very soul.
Ted Baker Mens 3 Pack Hoisted Organic Cotton Contrast Socks are Ted bakers, top seller, for their excellent comfort and colour combination.
These socks are a blend of 86% high-quality cotton for soft and breathable comfort and 14% nylon for excellent seamless fitting.
They provide comfort with a quirky sense of style. If you like vibrant colours on your socks. You will be blown away by their socks collection.
Key Features
If you are looking for casual colourful socks to go wear for your evening dinner date. These will definitely set the right impression.
Its colourful blend with the matte black tone sets a stylish impression when walking.
The material is a combination of soft cotton and nylon that is made to be breathable so your feet are fresh and odourless when you take them off.
#9 — Pringle of Scotland
Pringle of Scotland has been knitting a variety of socks for the last 200 years out of the Scottish borders. Their socks are made from authentic English cotton and are seamlessly constructed so you don't get blisters on your feet.
It's good to note that Pringle of Scotland are not solely sock manufacturers, rather they have an extensive catalog of products that offer traditional Scottish styling with some modern upgrades. With soft quality fibers used, you can wear these socks while running, hiking, riding and can be worn all day without shoes on your feet.
Pringle of Scotland's Full Cushion Socks are their best rated product available today. These socks look nice and are so comfortable that you can actually forget that you're wearing socks on your feet.
They are made from cotton, polyester, polyamide and elastane allowing them to be washed numerous times without them losing their size or shape.
For added comfort, the sole is cushioned making them ideal for the Scottish highlands.
Key Features
These socks are ideal for those looking to protect their feet while hiking or biking. They are knitted with 81% cotton, 11% polyester, 6% polyamide and 2% elastane.
The full cushion sports socks are available in a single size.
The socks can be washed in your washing machine and are available in a range of colors..
#10 — CorryMoor Mohair
The CorryMoor Mohair is a luxurious brand that specializes in hard-wearing fleece from CorryMoor Angora goats hat have been farmed in Devon for over 25 years. This brand has been self-breeding their own organic Angora goats and have been perfecting their Mohair socks.
Considered to be a natural strong fiber, the Mohair that's used is highly resistant to abrasions making them durable and long-lasting.
Their most popular socks are the CorryMoor Mohair Devon Stripes. These are their most customizable socks where you can pick which color combination goes on each pair.
As with all CorryMoor socks, these are spun and dyed in Launceston, Cornwall and are knitted in Loughborough.
The socks are mid-calf and have a smooth hand-linked toe seam for added comfort levels while walking or riding your cycle.
Key Features
Since these socks are made from smooth Mohair fibers, they are odor resistant and can be worn for long periods of time.
These socks can be washed at 40⁰c and can be worn by all.
The Devon stripes is made up of 62% CorryMoor Mohair and 38% JAS Nylon offering a little extra elasticity so they don't get damaged while putting them on.
What is the best sock brand?
The best sock brand in the UK is Pantherella. Not only do they offer socks with an amazing design but they are also extremely durable and can be worn for pretty much any situation. These socks are made from the highest quality yarn and materials. Most importantly, it is extremely affordable and is true value for money. Check out our list of the Top British Sock Brands for more details.
Also Read: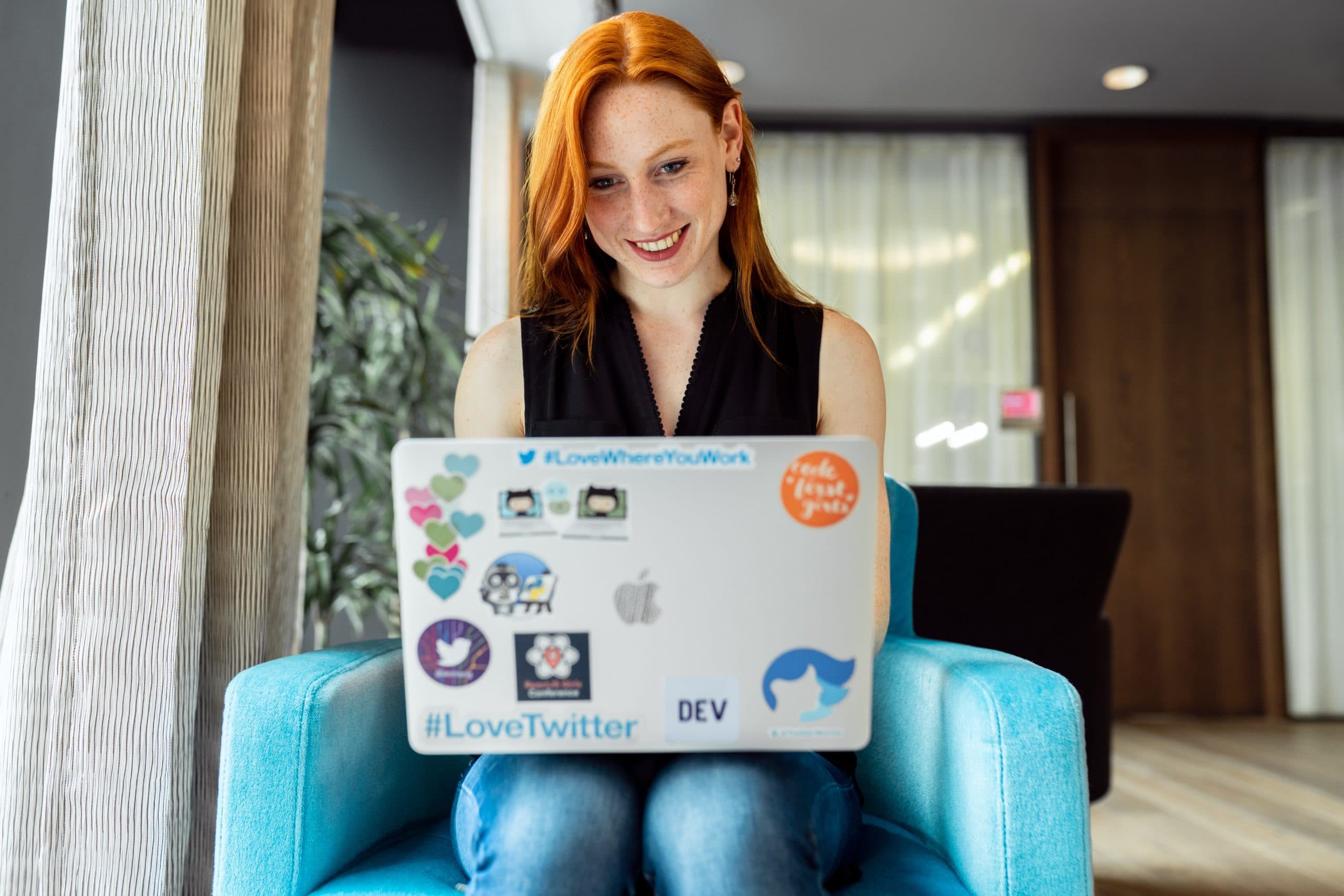 Joanna is a writer, poet, stand-up comedian and holds two master's in arts and history. She founded Discount-age with the intention of providing her readers with solutions to everyday household problems. During her free time, Joanna loves cooking but usually ends up ordering in.