I personally love the bags from the UK. From design to quality, it's always unique and high in quality. When it comes to fashion and accessories, British brands have made amazing products that have helped the country become the standard. Not only have our local brands set the benchmark but it has also put our heritage and culture out there on the global map. Check out our list of the Top British Made Bags for all the details.
Although it lives up to the hype, British bags can cost quite a bit. So, it's important to invest in bags that not only look good and stay relevant for a while but bags that are made with high quality and durable material. So, Here's our list of the Top British Made Bags.
After having reviewed 100 British Made Bags based on various factors like design, material, and price: My team and I zeroed in on 6 that really stood out. These 6 were then put through a series of tests to determine the best. We found out that:
Top British Made Bags
The best British made bag is Bennett Winch. These minimalistic bags are handmade from the finest leather using traditional skills and craftsmanship. Bennett Winch Bags are known for their timeless nature and unique functionality. Every bag is manufactured to be of use to its owner. Most importantly, it one of the more affordable brands in the market.
#1 — Bennett Winch
It doesn't get more British than Bennett Winch. This brand is famous for its absolutely brilliant bags and leather goods. Most importantly, these beautiful bags are handmade using traditional skills and materials. Although these bags a minimal is look, it is still aesthetically pleasing. It's one of the Top British Made Bags.
Underneath that minimal look, the Bennett Winch bags house an unprecedented level of functionality. The makers give thought to the presence of each pocket and compartment, making it one of the best in terms of usage.
In fact, this was one of the main tenets behind this new brand. When two friends Robin Bennett and Robin Winch quit their jobs to start this luxury bag business, they had always wanted to create timeless pieces that were untainted by seasonal trends.
Using traditional techniques and high-quality materials they manufacture innovative leather bags. They brainstorm in London and their final product is made in a factory in Carlisle. So, it really doesn't get more British than that.
#2 — Chapman Bags
Chapman Bags is another brand that's from Carlisle, Cumbria. However, unlike the Bennett Winch, this one is a legacy brand that first started selling its products in the early '80s. With an unbelievably long tradition and techniques that have been refined for 4 decades, they are also known to make timeless pieces. In fact, the Chapman Brand logo is an hourglass.
Each bag is given a considerable amount of time and care. And all bags are made in Britain. Which majority of the materials also sourced from various parts of the country. The brand is known to work towards being as sustainable as possible.
However, the most unique aspect of this brand is not the bags themselves but the bag makers. They invest years as an apprentice before becoming a Chapman bag maker. So, the craftsmanship is of the highest level. They invest not only a considerable amount of time in creating the bag but their attention to detail is impeccable. All the bags pass a stringent quality control test before being shelved in the stores.
While the craftsmanship and techniques are from the eighties, the designs are fairly modern with certain bags even having neon colours. However, the most beautiful bag from Chapman is the Navy Tote Case.
#3 — Padfield England
Padfield England goes a step further as a British business. Not only is every aspect of their business intertwined with the country but they even partner with other British companies. They are known for their commitment to their customers. Most importantly, they are known for Authentic British Craftsmanship and luxury bags.
This brand is also another advocate of timeless pieces and honestly, we'd have it no other way. If a bag went out of trend that easily we'd be losing money faster than you can say "God Save The Queen!"
Their bag collection is inspired by not only the cities but also the countryside. All these luxury bags are produced right here in England with even the leather being sourced from British Tanneries.
Padfield happens to be a highly sustainable company. They not only sourced locally and contribute to the local economy but they've also implemented sustainable practices at work. For example, it's a completely plastic-free company.
#4 — Holdall & Co.
Holdall & Co. is another British company that was founded in 2012. Known for making personalised leather products that grow with their owners, this company creates products that can be passed down from generation to generation.
This luxury leather designer makes bags with leather sourced from various parts of Great Britain. Even the techniques are traditional and tools are homemade. The innovation and engineering, on the other hand, is always progressive.
This brand is also unique as there use the highest quality materials and the finest full-grain vegetable-dyed leather.
Holdall & Co. briefcases are the best of the best in the country. It's like something out of Mad Men. While the styles are relatively the same the range of colours is quite amazing.
#5 — Tusting
Tusting is the oldest brand on this list. With over 135 years of legacy, this family-run business is known for its amazing traditional handbags and briefcases. What started off as a shoe business evolved into one of the finest bag makers in the country.
Their products are made in Lavendon which is situated the nexus of the British leather industry. Tusting is known for their quality pieces that can test time.
Most importantly, they are known for their custom-made bespoke handbags and briefcases that are made from Eglish bridle leather.
#6 — Blackshore Bags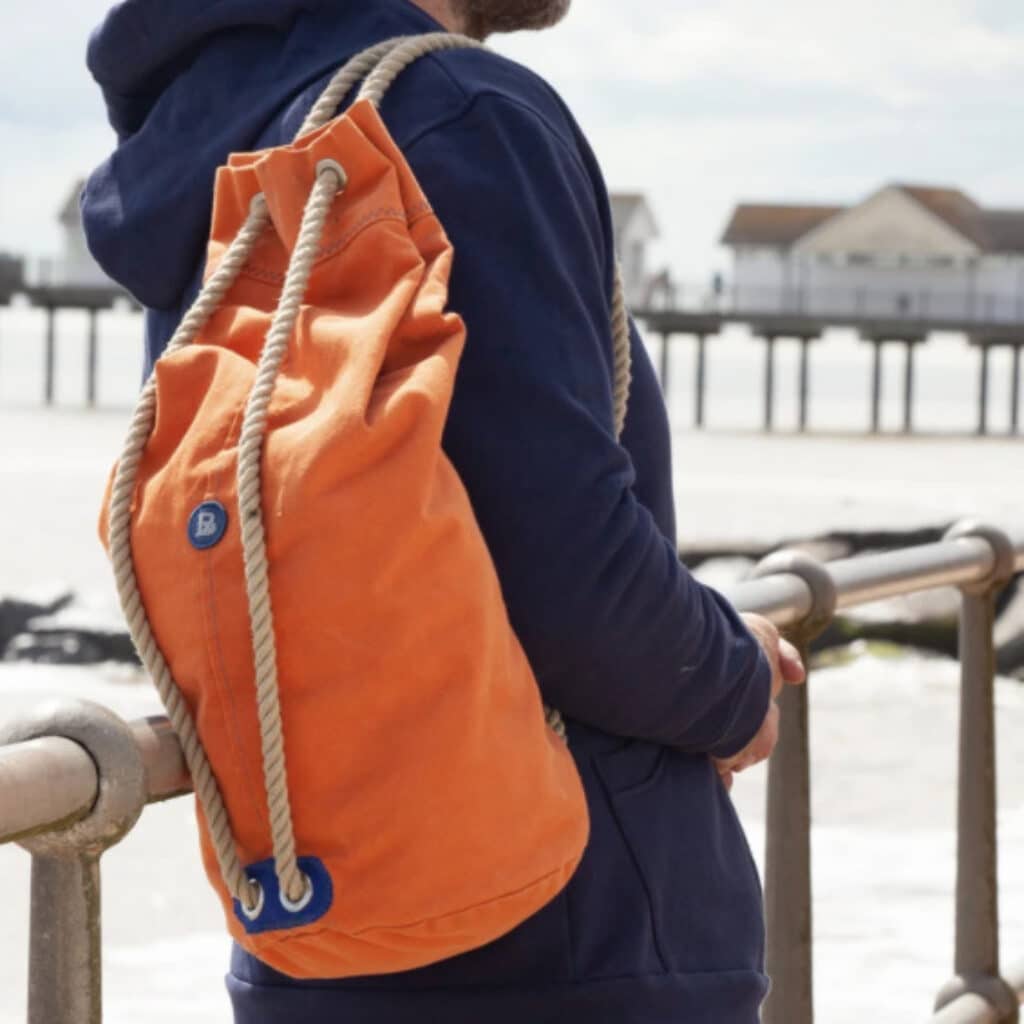 Blackshore Bags is one of the best garment manufacterer's in the UK. This Suffolk Based Brand are also involved in small-scale crafts. And their bags happen to be one of the best in the country. It's one of the Top British Made Bags in 2021.
All Blackshore products are made with high quality materials, premium standards of manufacturing and the best industry techniques. Their products are all made in the UK. In fact, all of the products come out from two factories. i.e one from Suffolk and the other from the Channel Islands.
In addition to the local manufacturing, even the majority raw materials are sourced from the country. Blackshore has pretty much given up on the unacceptable work practices used in fast fashion and is primarily focusing on slow manufacturing methods that offer amazing timeless quality. Since most of the materials are also sourced locally, they've tried to build a sustainable model taking the pressure of the environment.
Most of their products are made from British Spun yarn and British leather. Even if they do procure materials from elsewhere, they make sure they source it ethically.
#7 — Nelson Were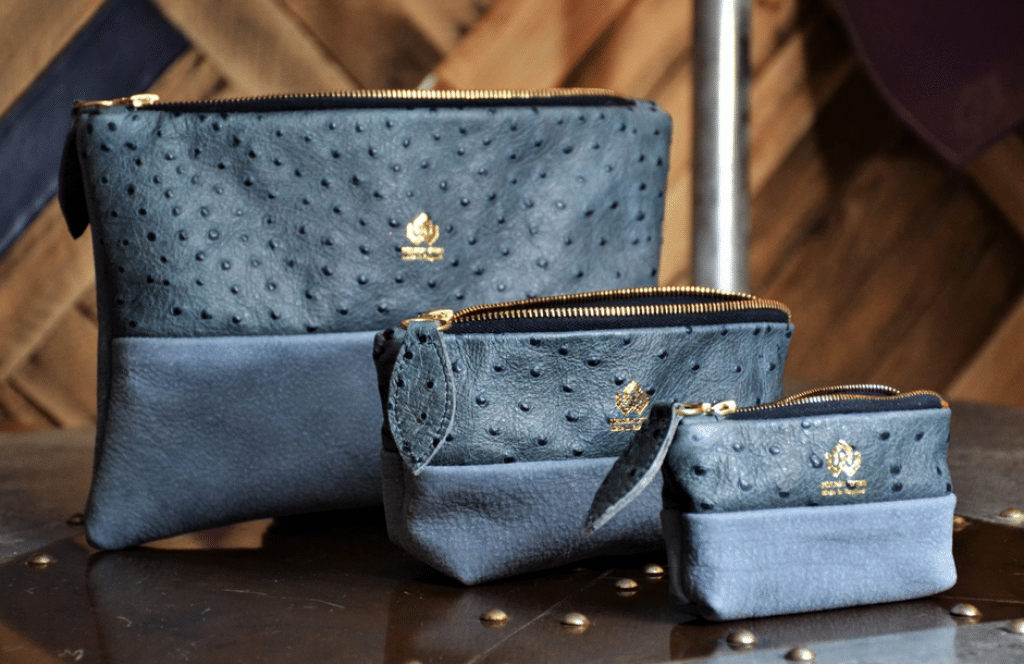 Nelson Were is a small family run business that has been designing and handcrafting leather bags and accessories for a while now. It was founded by a Kenyan born designer who started off making his own clothes and later moved onto designing bags once he set up shop in the UK.
These unique bags are designed and handmade at the Quex Craft village in Birchington, Kent. Potential buyers can approach them to have something commissioned.
One of their most popular products is the set of three blue purses. This item is ideal for all your traveling needs and is made from soft blue leather and blue ostrich embossed leather. You can either choose to buy this as a combo of three or go for them individually. All you would have to do is reach out to the company and they will be able to help you out with personal customization.
All their products are made from real leather, so you would notice a degree of natural leather marking present.
Are British Made Bags Good?
Yes, British made bags are quite good. While it obviously depends on the brand. The average quality is rather high. Not only are they made from the finest leather, but they are also manufactured using traditional techniques. So, you can expect beauty and functionality when you buy a British made bag. Check out our list of the Top British Made Bags for all the details.
Which is The Best British Made Bag?
Unfortunately, there is no clear cut winner when it comes to the best British made bag. To be fair it's a three-way tie between Bennett Winch, Chapman and Padfield England.
There are also known for their amazing quality products that can easily pass the test of time. Unlike other seasonal bags, these bags never go out of style. Additionally, all these bags are made from the finest leather using the best traditional techniques. Check out our list of the Top British Made Bags for all the details.
Also Read: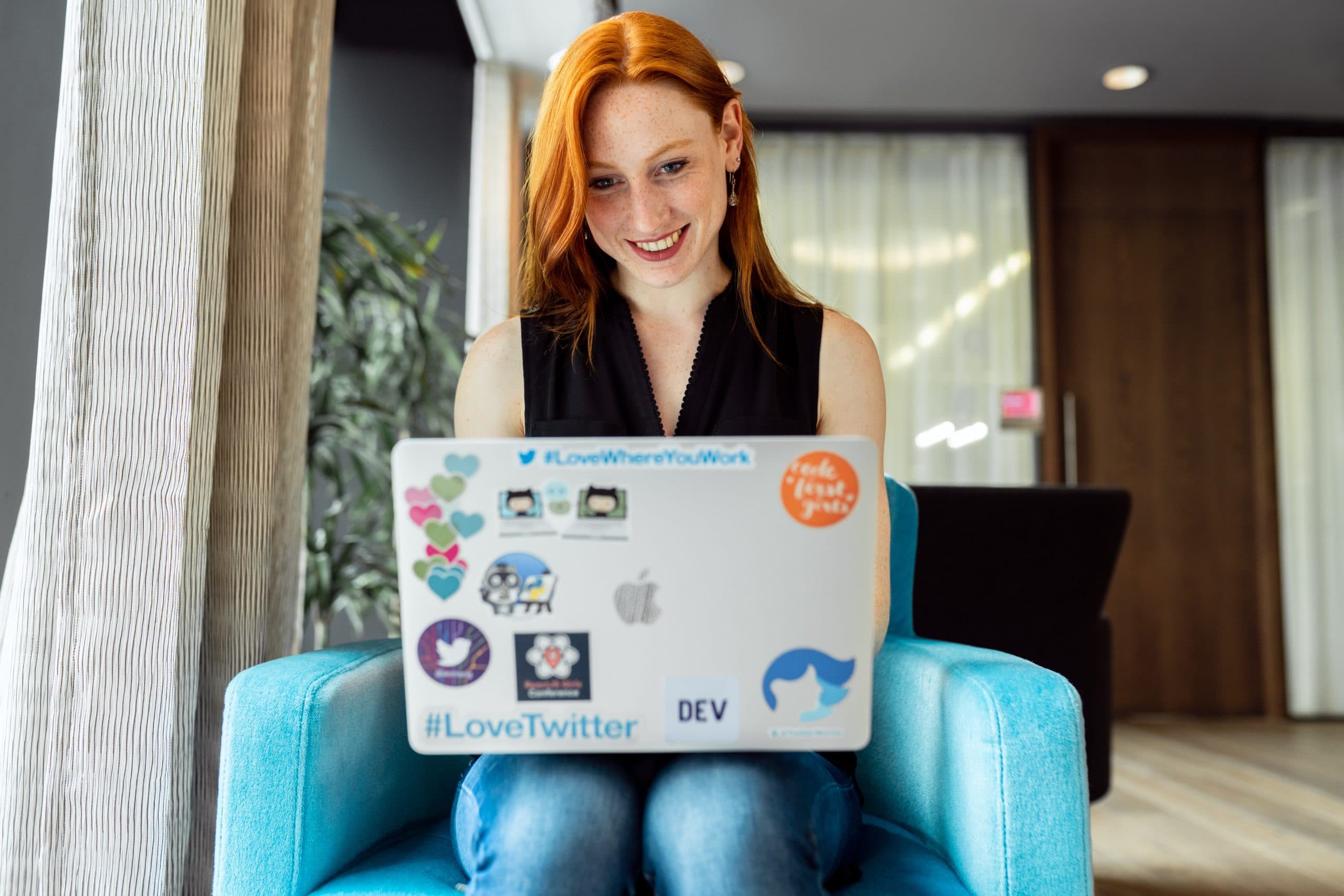 Joanna is a writer, poet, stand-up comedian and holds two master's in arts and history. She founded Discount-age with the intention of providing her readers with solutions to everyday household problems. During her free time, Joanna loves cooking but usually ends up ordering in.