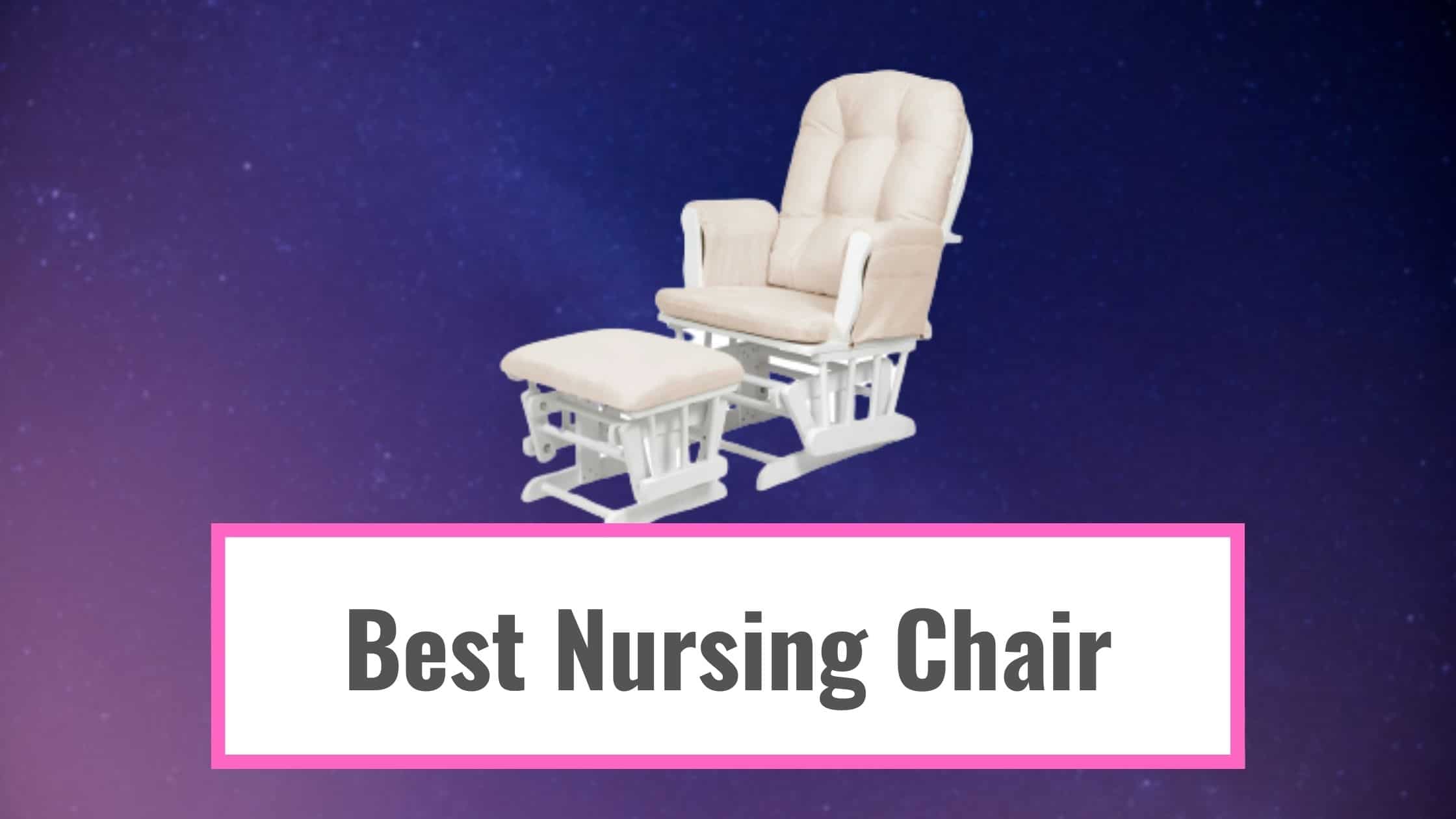 If you are preparing for the arrival of your bundle of joy and are looking forward to all the joys of motherhood, you would want to read this. I have written a few articles on babies and baby care but this one is for mothers.
When you are a new mother, you need a place to relax and rejuvenate. It may not be possible at all times, and I speak out of experience but you certainly need your space. A nursing chair or a glider is what I mean when I say your space in the nursery at home.
Must Read: What things to buy for a newborn baby?
A new mom needs good lower back support while breastfeeding and a nursing chair offers that. Nursing chairs give you an opportunity to feed and bond with your baby in a comfortable position.
I have shortlisted the best nursing chairs for you so you don't have to do all the research. You deserve all the rest and care and I'm happy to help.
Kub Haywood
Tutti Bambini
IKEA Poang
Serenity Nursing Glider
WOLTU Rocking Chair
Obaby 7 Position
Best Nursing Chair
Top 6 Best Nursing Chairs
Features
Best For
Kub® Haywood
7 recline positions;
56cm wide seat;
Ergonomic and comfortable;
Footstool included
Overall Best Nursing Chair
Tutti Bambini
Easy to clean;
Padded arm rests with magazine holders;
Made from solid wood;
3 recline positions
Best Quiet Nursing Chair
IKEA Poang
Made from bent birch;
Increased durability;
Customizable colors
Most Durable Nursing Chair
Serenity Nursing Glider
Affordable and ergonomic;
7 recline positions;
Smooth rounded finish;
Footstool included
Best Value for Money Nursing Chair
WOLTU Rocking Chair
Maximum load of 100kg;
Available in 3 colors;
Multi-functional design;
Padded seat
Best Nursing Chair Design
Obaby 7 Position
7 recline positions;
Made from solid wood;
Padded arm rests with magazine holders;
Footstool included
Most Adjustable Nursing Chair
Let's check the best nursing chairs in the market, shall we?
Kub's nursing chair is one of the many beautifully crafted products from the Kub brand. They make a lot of quality products like rockers, mattresses, and cots. The Kub Haywood is on the top of my list of best nursing chairs as it is the most comfortable glider I have used.
This smooth glider comes with padded cushions for extra comfort along with storage pockets which are such a necessity. You will know what I am talking about once you use this product.
The Haywood reclining glider designed with one thing in mind, comfort. The functionality is also something that sets it apart.
Why should you buy this?
7 recline positions
Easy to operate and glide
The footstool is very comfortable
The positioning support is just what you and your baby need while nursing.
It has a 56cm wide seat.
The upholstery is soft and has ergonomic cushions.
Why shouldn't you?
Mothers over six feet may have to slouch a bit.
The gliding mechanism can hurt small children if they try to operate without supervision.
Also Read: Best baby bottle makers
The Tutti Bambini is my pick of the lot for a nursing chair that is perfect for a quiet cuddle, or for you to relax after a tiring day. The glider chair is stylish and practical and I feel every mother deserves this.
I got this as a gift when I had my second child and it is one of the strongest gliders I have used. Like I mentioned earlier, this product is designed for relaxation. It is the best a mother can get as it is ideal for feeding, cuddling, and relaxing while the baby finally sleeps.
You can use it in the lounge or the living room as it is a beautiful piece of furniture too. It is easy to clean and comes with a padded armrest for added comfort.
Why should you buy this?
The cushions can be dry cleaned and the footstool comes with plastic covers that can be removed.
The armrest has magazine pockets for storage
It is a sturdy chair with a solid wooden base and it prevents the baby from getting caught in between
It has a spindle effect
Three reclining positions for lower back support and comfort
Why shouldn't you?
It may be expensive for some of us at 197 pounds
I have seen a few complaints about the locking mechanism and some chairs cracking at parts with regular use.
I love IKEA products, they are simple and so elegant to look at. I had to list the IKEA Poang on my list of best nursing chairs for the durability and the material it is produced with. You must check it out if you want something minimalistic yet functional.
The frame made of bent birch is super strong and the neck and back support are commendable too. I love the fact that the cover is removable and easy to clean.
Why should you buy this?
You also have the opportunity to mix and match with alternative colors to change the look of this nursing rocker.
The rocker is durable
It is easy to clean
Why shouldn't you?
It doesn't come with a footstool
No storage pockets and extra cushioning
It is pricey at 269 pounds
Serenity Nursing Glider is a deluxe nursing chair that is of absolute value for money for the features it offers. I was so pleasantly surprised at the luxury and comfort this product provides new mothers which they need.
It is a multipurpose chair too, my partner uses it to just relax. I personally love the cream color and its seven recline positions. The size of the recliner is 72 x 68 x 103cm (D x W x H), Footstool 40 x 50 x 38cm.
Why should you buy this?
Safe for pre and post-natal babies and moms with a smooth gliding motion
Luxury nursing chair with 40 x 50 x 38cm footstool
Spindle back style
Value for money at 166 pounds for the package is impressive
Ergonomic design
Safe, rounded edges
Easy to adjust the backrest and armrest
Why shouldn't you?
A few people complained about the fabric
I had a problem with it squeaking after a while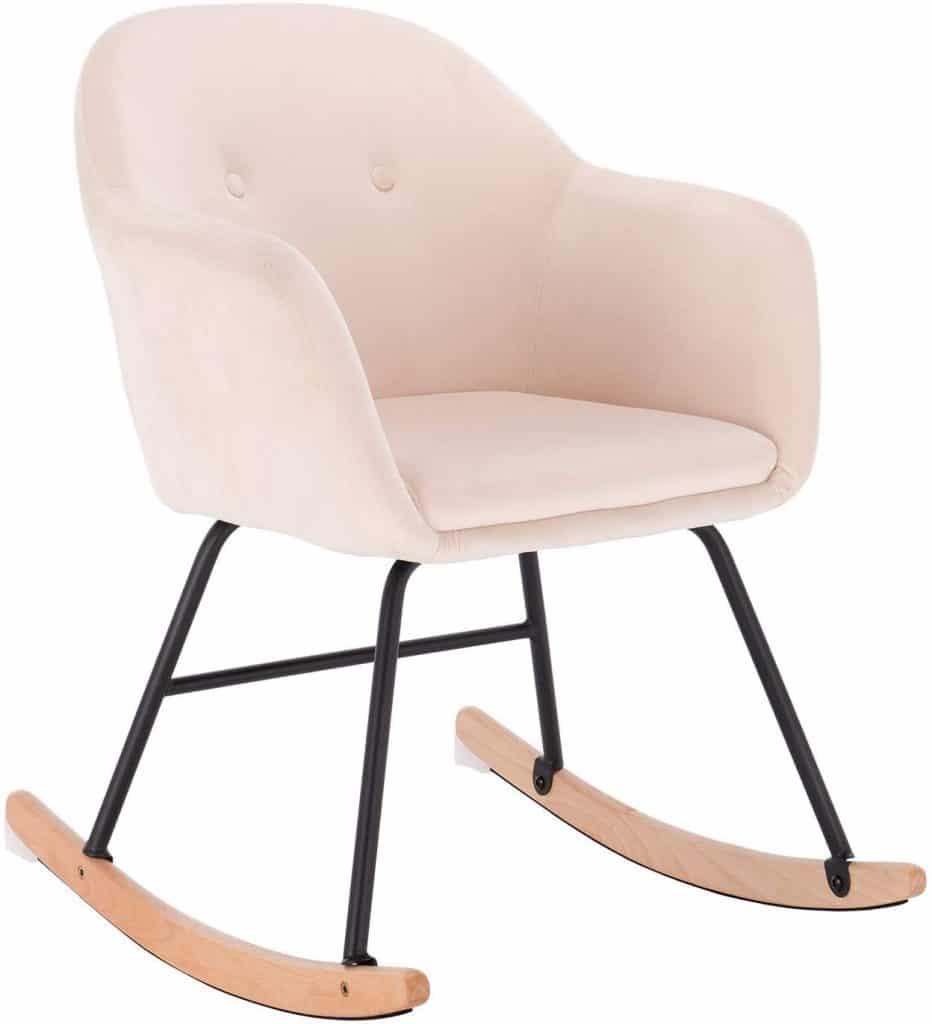 I have listed this particular rocking chair as one of the best nursing chairs for the way it is designed. I love the color and the material. It is unlike any nursing chair but it makes up for it by being really durable.
The material is a breathable velvet with a solid steel outer structure that will last a long time. The size of the rocking chair is as follows – Height ca.80cm; Seat height ca.48cm; Seat area(WxD) ca.40x40cm; Backrest height ca.42.5cmm;
Why should you buy this?
It can take a load of 100kg
It comes in 3 different colors. All three look attractive.
The sturdiness
Well-padded seat
Ergonomic design for lower back
Pricing
Multi-functional
Why shouldn't you?
It is not your usual rockers if you expect it to rock a lot. It has a limited swing
A few complaints I read were about the return policy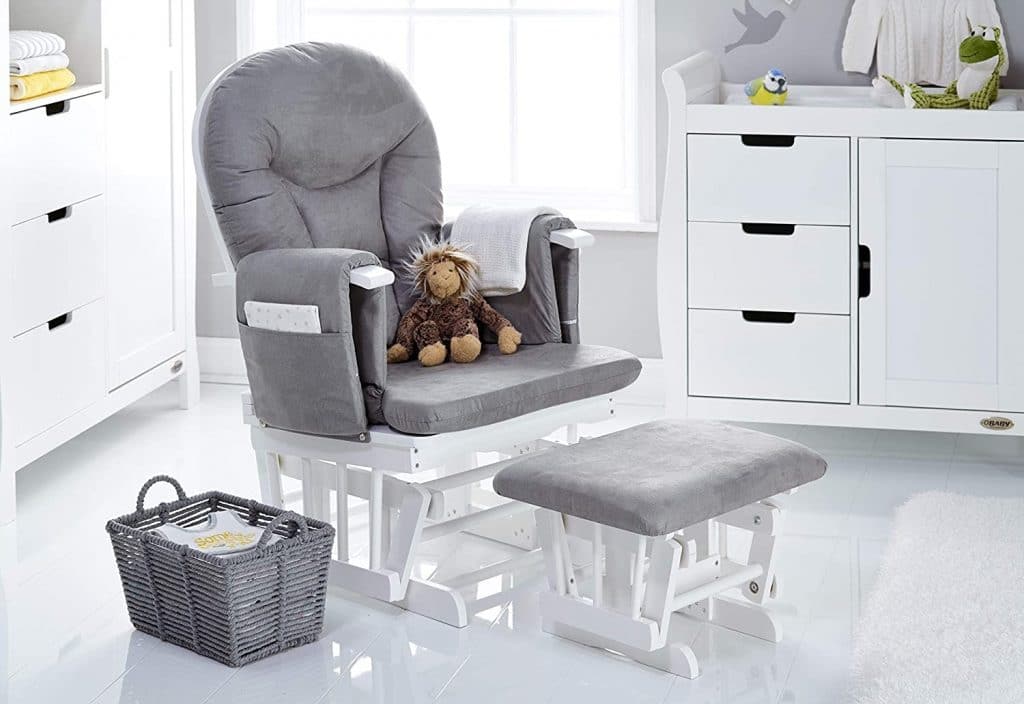 If you are looking for a nursing chair that you would love to spend time in. Look no further than the Obaby 7. I loved owning and using this product. The comfort level is amazing and both you and your baby are sure to enjoy this.
You can simply use this to rest, read a book or just put your feet up and sleep. The Obaby 7 has a gentle gliding motion which is smooth and won't give you or your baby a jolt like some of the nursing chairs.
Why should you buy this?
You can easily adjust the seven positions by lifting the arm ends.
The gliding movement mimics the motion of the chair so there no sudden jolts
Comfortable padded seat and armrests
Solid wooden frame
Storage packets
Traditional Design
Why shouldn't you?
A friend of mine got a damaged product. You might want to check the package as soon as it arrives.
Buyers Guide
Now that you know the pick for the best nursing chairs and why you should or shouldn't buy them. Here's everything you need to know before buying a nursing chair..
Why do you need a nursing chair?
New mothers hardly get rest, but they deserve it the most. When a baby comes home, everyone is so busy with the bundle of energy, a few forget to tend to the mother. I would advise planning and getting a nursing bed beforehand so when the baby and the mother get back home they get the comfort they need.
How to pick the right nursing chair?
So how did I pick the best among all the choices in the market, you may ask? I chose them based on the following factors:
Comfort – The most important factor to consider before buying a nursing chair is to see how comfortable it is. This is because, as a mother, you will be seated in the nursing chair for quite some time and if you happen to sit on one that's not comfortable enough, you'd definitely get back pain.
Type – There are different types of nursing chairs available such as, Gliders, Rocking Chair, Ottoman's and so on. Pick one that will best suit your nursing needs.
Construction – It's ideal to find something that's sturdy and is built using high-quality materials. Since the chair is going to be used frequently, you'd want something that won't break easily.
Functionality – Keep in mind that since you're going to be seated, you will need something that either rocks or has an adjustable back rest. This will prove beneficial when you're nursing your baby or putting them to sleep.
Maintenance – Another thing to consider is the maintenance of the nursing chair. The more complicated the chair is, t he more maintenance it will require. Find something that does not require you to regularly maintain it as you would be in quite a pickle then.
Safety – One of the key factors to consider before buying a nursing chair is whether it's safe for you and the baby or not. To know how safe a nursing chair is, you will need to figure out the type, construction and functionality.
The noise factor – Some of the nursing chairs that are made of wood and leather tend to be noisy either while adjusting the backrest or while rocking your baby to sleep. You will want to pick something that does not make much noise while you're nursing your baby.
What are the benefits of owning a nursing chair?
Helps mom's breastfeed or cuddle the child in comfortable positions
It is a beautiful piece of furniture to have in any house
A nursing chair offers a comfortable space so the mother and baby are not stuck in one room all the time
The rocking motion helps soothe babies and puts them to sleep
Nursing chairs have storage which is really helpful for new moms especially in the first year
It is ergonomically designed
The multi-purpose chair can be used as a reading chair, relaxing chair or even space for the child to play in once he/she grows up.
Takeaway
I really hope you guys can make the right choice taking into consideration all the above factors. I really wish you a wonderful time raising your little baby.
It is truly a wonderful feeling and I really hope you cherish it all your life.
Also Read: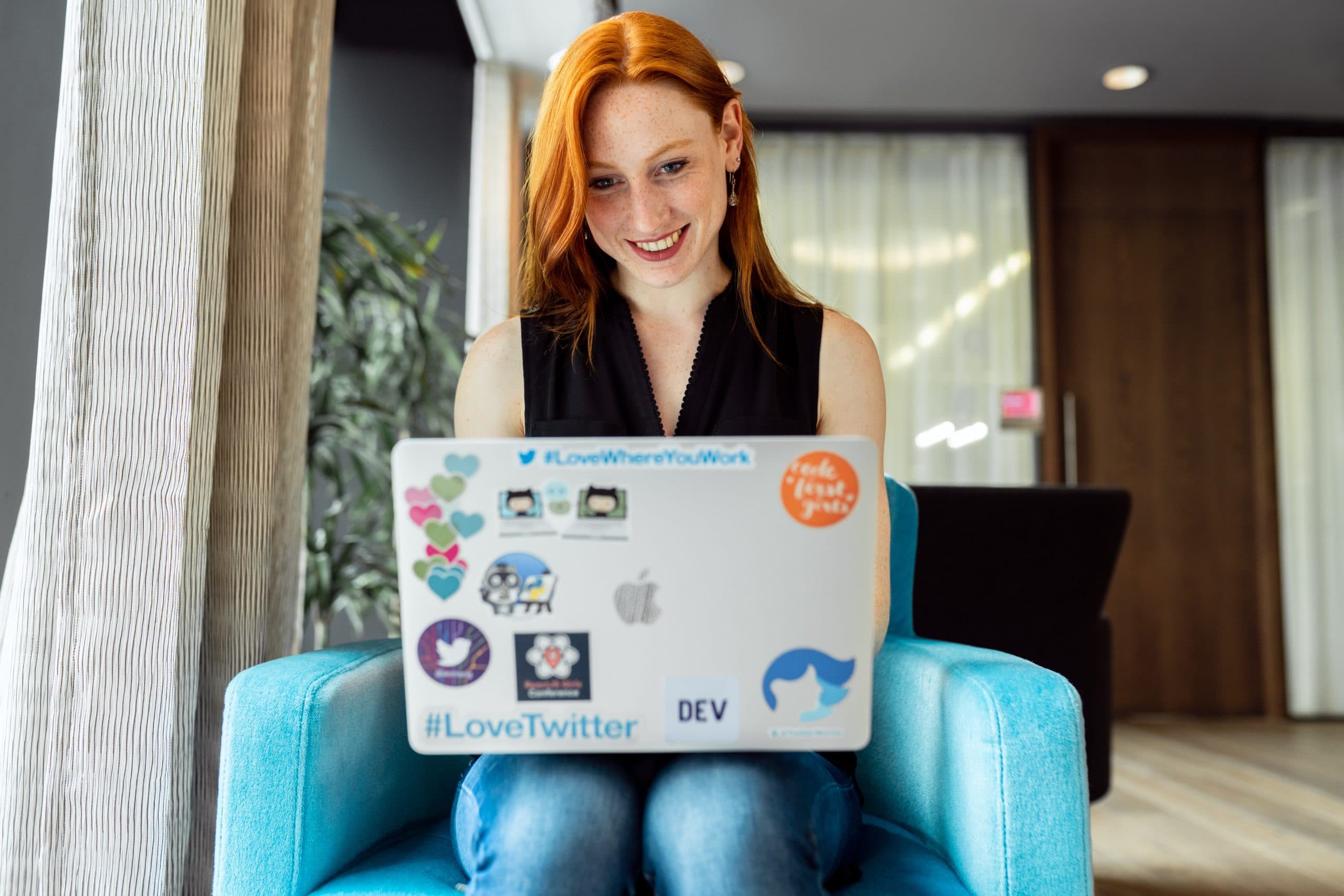 Joanna is a writer, poet, stand-up comedian and holds two master's in arts and history. She founded Discount-age with the intention of providing her readers with solutions to everyday household problems. During her free time, Joanna loves cooking but usually ends up ordering in.