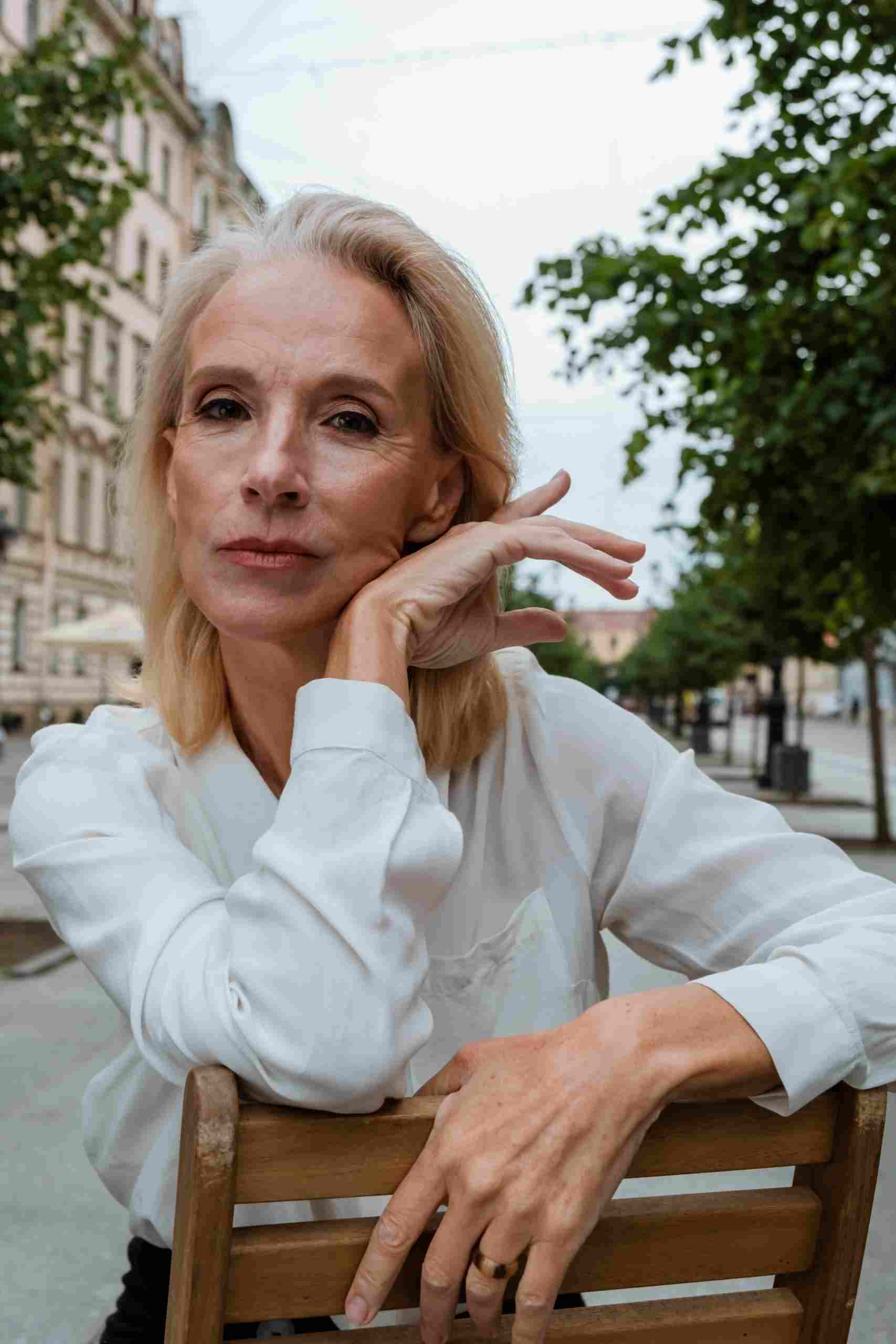 With age, your skin requires more care to keep it looking healthy and glowing. That's why we've got these best facial exfoliator for mature skin UK.
If exfoliation brings the image of scrubbing your face with something rough to remove the dead skin cells, move away from that image and that advice! Exfoliation should be as gentle as you would treat your skin otherwise.
As you get older, you need delicate, yet, effective ingredients to scrub away the dead cells without damaging your skin. So what makes the difference between an exfoliator and a regular face wash? Well, it's all in the ingredients.
Delve in to read the reviews and discover some of the best facial exfoliators for mature skin in the UK:
Best Facial Exfoliator For Mature Skin
#1- Paula's Choice SKIN PERFECTING 2% BHA Exfoliator
Best Exfoliator For Whiteheads
The SKIN PERFECTING 2% BHA exfoliator by Paula's Choice is a simple, straightforward leave-on product that works like a charm.
With 2% salicylic acid, this exfoliator wipes away the dead skin cells and gives you brighter, softer skin.
It is light and spreads evenly. It gets absorbed quickly into the skin and you don't have to use too much effort, pressure or time to massage it in.
This exfoliator gives you a more even skin tone and shrinks the pores without clogging them. This certainly helps in reducing the occurrence of blackheads and acne.
#2 – Sisley Paris Botanical Gentle Buffing Exfoliator
Best Exfoliator For Sensitive Skin
Pure botanical extracts are perfect if you have sensitive skin.
The extracts of matricaria in the Sisley Paris Botanical Gentle Buffing Cream is like a calming, healing tea for your skin.
It soothes the skin, reduces inflammation, heals it and protects it from further damage.
The astringent properties in this are mild.
This exfoliator acts like a mask and removes away the dead cells to leave you with softer skin.
#3- SUMMER FRIDAYS Overtime Mask
Best Exfoliating Face Mask
All you need is about 10 minutes of your time once a week to give you amazingly glowing skin.
Perfect for mature skin, the SUMMER FRIDAYS Overtime Mask has a combination of apricot kernel and pumpkin in it to give you luminosity and a honey-dew glow.
It clears your skin, removes all the residual dirt that your face wash couldn't manage to remove, plus gets rid of the dead skin cells that are dulling your complexion.
This may not be great for sensitive skin as some people might experience a reaction to the apricot.
#4- Alpha-H Liquid Gold Exfoliator
Best Face Scrub For Dark Spots
Your skin deserves nothing that gold itself and the Liquid Gold by Alpha-H is a great choice.
This is a leave-on exfoliator that you can use at night like a regular night cream and wash away in the morning to reveal brighter, younger-looking skin.
The glycolic acid is a powerful exfoliator that removes the duller skin while also clarifying the skin and evening out the tone.
Within about a month of usage, you will notice that your skin is more luminous, softer and brighter, with a visible reduction in blemishes and age spots.
#5- Kate Somerville Exfolikate for mature skin in UK
Best Face Scrub For Glowing Skin
If you can't hire Kate Sommerville herself to give you the skincare she gives celebrities, simply buy her Exfolikate to get the same results!
This is a miracle in a tube, for sure. All you need is two minutes once or twice a week to give yourself a quick and easy facial and some super smooth skin afterwards.
With a blend of chemical and physical exfoliants, this not only scrubs away the dead cells but also improves your texture and tightens the pores.
The powerful glycolic acid and lactic acid work to chemically exfoliate and reveal your fresher skin.
The soft silica beads and the enzymes of papaya, pineapple and pumpkin act as the physical exfoliants to scrub your skin while giving it the vitamins and antioxidants to keep it glowing.
Rosewood and cinnamon extracts help minimize fine lines and plump up the skin. Honey and aloe vera and the Vitamin E smoothen and soften the skin.
#6- Aveeno Positively Radiant Face Exfoliator
Best Exfoliator For Dry Skin
A brand that is popularly chosen for babies owing to its delicate ingredients, is certainly a good one to choose for mature skin as well.
Aveen Positively Radiant is a concoction of soy, jojoba oil and castor oil to give your skin the nourishment it needs.
Natural soy granules work as a great exfoliator to gently remove the dead skin cells, while the protein in it strengthens the skin, evens the tone and makes it clearer.
The jojoba and castor oils are perfect especially if you have very dry skin as these moisturise the skin deeply without clogging the pores.
#7- Pharmagel Enzyme Ex-Cell Face Exfoliator
Best Face Scrub For Glowing Skin
Papaya has the properties of not only exfoliating your skin but also removing the tan from sun exposure, lightening it and leaving you with brighter, glowing skin.
Pharmagel Enzyme Ex-Cell has papaya extracts as the main ingredient along with finely ground walnut shell to gently polish your skin as you scrub it.
The allantoin and sunflower oil moisturise the skin and leave it hydrated without stripping it off the natural oils.
Free of irritants, this pharmaceutical grade exfoliator can be used by all types of skin.
#8- Dr Dennis Gross Alpha Beta Peel Extra Strength Formula
Best Face Scrub Without Microbeads
Trust a doctor to give you the best! We know that nothing gives you results like the chemical peels in a dermatologist's clinic. But, they work out to be expensive plus you need to make the appointments in advance and drive down there.
Dr.Dennis brings you this treatment in the form of wipes that you can use every day to give you the same results in a fraction of the price and time.
This extra-strength formula is chock full of alpha and beta that balances the sebum production in your skin, exfoliating gently to give your brighter skin, along with an anti-aging neutralizer.
This reduces the fine lines and wrinkles as well. Now, skincare can't get any easier.
#9- Pixi Glow Tonic Facial Exfoliators
Best Exfoliator For Combination Skin
The Koreans discovered the goodness of ginseng and Pixi bottled it for you as a tonic for your skin.
While the glycolic acid exfoliates the skin, ginseng is a wonderful anti-ageing antioxidant that takes care of slowing down the ageing process of your skin.
It repairs the damage, keeps the skin supple and activates the cells.
This tonic also has aloe vera that moisturises the skin without clogging the pores and keeps the skin hydrated throughout the day.
It is also a cooling agent that soothes bruised or sun burnt skin, reduces inflammation and softens the skin.
#10- Cetaphil Extra Gentle Daily Scrub Face Exfoliator
Best Exfoliator For Clogged Pores
Cetaphil is a brand recommended by a lot of dermatologists owing to its ingredients that are hypo-allergenic and super mild on the skin.
Cetaphil products give you the results without drying the skin or damaging it.
The Extra gentle daily scrub has glycerin to moisturise the skin well without clogging the pores while Bambusa extracts lock in this moisture to keep your skin hydrated throughout the day.
Panthenol pumps the skin with plenty of Vitamin B5 to keep it supple and healthy.
The particles are very fine and are non-abrasive while still doing the job, so you can use this every day.
#11- St. Ives Radiant Skin
Best Cheap Face Scrub UK
St.Ives is a popular drugstore brand, easily accessible. What makes this a favourite is how effective the products are and at prices that don't burn a hole in your pocket.
The Radiant Skin face scrub is a gentle exfoliator that has soft granules of walnut shell and lemon peel.
But they are so fine that they feel like a regular face wash. It also has pink lemon and mandarin extracts which brighten the skin, dullen age spots and blemishes and give you visibly smooth, glowing skin.
This is paraben-free and safe to be used one or twice a week for best results.
#12- Lancer The Method: Polish Exfoliator
Best Splurge
Another brand by a renowned dermatologist, the Polish by Lancer is an investment for your skin.
This is the first step in the recommended 3 step skincare process. With algae as its major ingredient blended with plenty of fruit extracts, this is like a boost for your skin while the exfoliation takes place.
It is very gentle and non-abrasive, which is what makes this perfect for mature skin.
This is quite expensive, but the results you get after every wash is well worth every penny.
#13- Clarins One Step Gentle Exfoliating Cleanser
Best Exfoliator For Oily Skin
If you have skin that is very sensitive and easily breaks out into rashes when you use strong washes, the One Step Gentle Exfoliating Cleanser by Clarins is something you could consider.
With natural orange extracts as one of its active ingredients, this exfoliating cleanser is mild and soft on the skin.
This product not only removes the dirt and dead skin cells, but also brightens it with the help of the vitamin C and other minerals from the orange.
It leaves your skin soft, smooth and does not dry it up.
#14- Sunday Riley Good Genes Treatment
Best Exfoliator for Wrinkles
If only we all were born with amazing genes that gave us flawless, youthful skin even when we get to 60! Since that's not possible, Sunday Riley helps our mature skin slow down the ageing process and feel better about what we've been blessed with.
The active ingredient, lactic acid is one of the most effective AHA you can find that exfoliates your mature skin to reveal fresh skin underneath.
The liquorice contained in this treatment brightens the skin and diminishes blemishes and age spots.
The cream is soft and gentle enough to be used in your daily skin cleansing routine.
#15- StriVectin Labs 5-Minute Weekly Glycolic Peel
Best Face Exfoliator For Acne
We always suggest using this chemical peel with the Detoxifying Primer. It contains glycolic acid or AHA which removes all dirt, dead skin, and bacteria from your pores. It's gentle enough on mature skin as well.
It removes blackheads, unclogs pores, brightens complexion, and leaves your face soft, glowing, and younger-looking.
The glycolic acid peel is gentler than physical exfoliators.
It helps remove acne and dead skin cells
#16- Indeed Labs Facial Powdered Exfoliator
Best Face Exfoliator For Blackheads
This is one of the best facial exfoliators for mature skin UK in the powder form. Such exfoliators are common in Asian beauty regimes. These contain enzymes that are activated when you mix them with water.
The Indeed Labs Facial Exfoliator comes with bamboo extracts, red algae, hyaluronic acid, and rice bran. Together, these powerful ingredients not only tackle signs of aging like fine lines and wrinkles but also work wonders on blackheads.
It contains the pineapple extract, Bromelain that removes dead skin layer from the skin.
This product is vegan.
The best part is that you can adjust how exfoliating it is by the quantity of powder used.
Should you exfoliate mature, aging skin?
Exfoliating is an important part of your skincare routine which means that your dead cells will be washed off with every exfoliating process that you take.
For mature skin, it is important to have a gentle scrub that does no harm to the skin texture and treats the skin cells with the right amount of ingredients and pressure.
How often should you exfoliate mature skin?
Mature skin is often more sensitive. So it's best to exfoliate at least two to three times a week. It's also recommended that you use chemical exfoliants like AHA and BHA and not physical exfoliants with walnut extracts or beads.
How do I know if I need to exfoliate?
Exfoliation is needed when there are too many dirt or dead cells embedded in the pores of the skin. While exfoliating the skin the dead cells, blackheads, and whiteheads effectively and gives you beautiful and glowing skin.
Exfoliating the skin involves applying heat so that your pores open up and the dirt is washed off from the skin.
Is it better to exfoliate at night or during the day?
This completes depends on when you have the time which can be dedicated to exfoliating the skin or when you want to appear glowing and bright. It is preferred to exfoliate your skin at night and then continue with your other facial serums to complete the process.
Do I exfoliate before or after cleansing?
Exfoliating is a deeper process and requires more time and effort than cleansing. Cleansing only takes away the surface dirt and pollutants and exfoliating does the bigger work of removing blackheads and other embedded particles.
Also read: