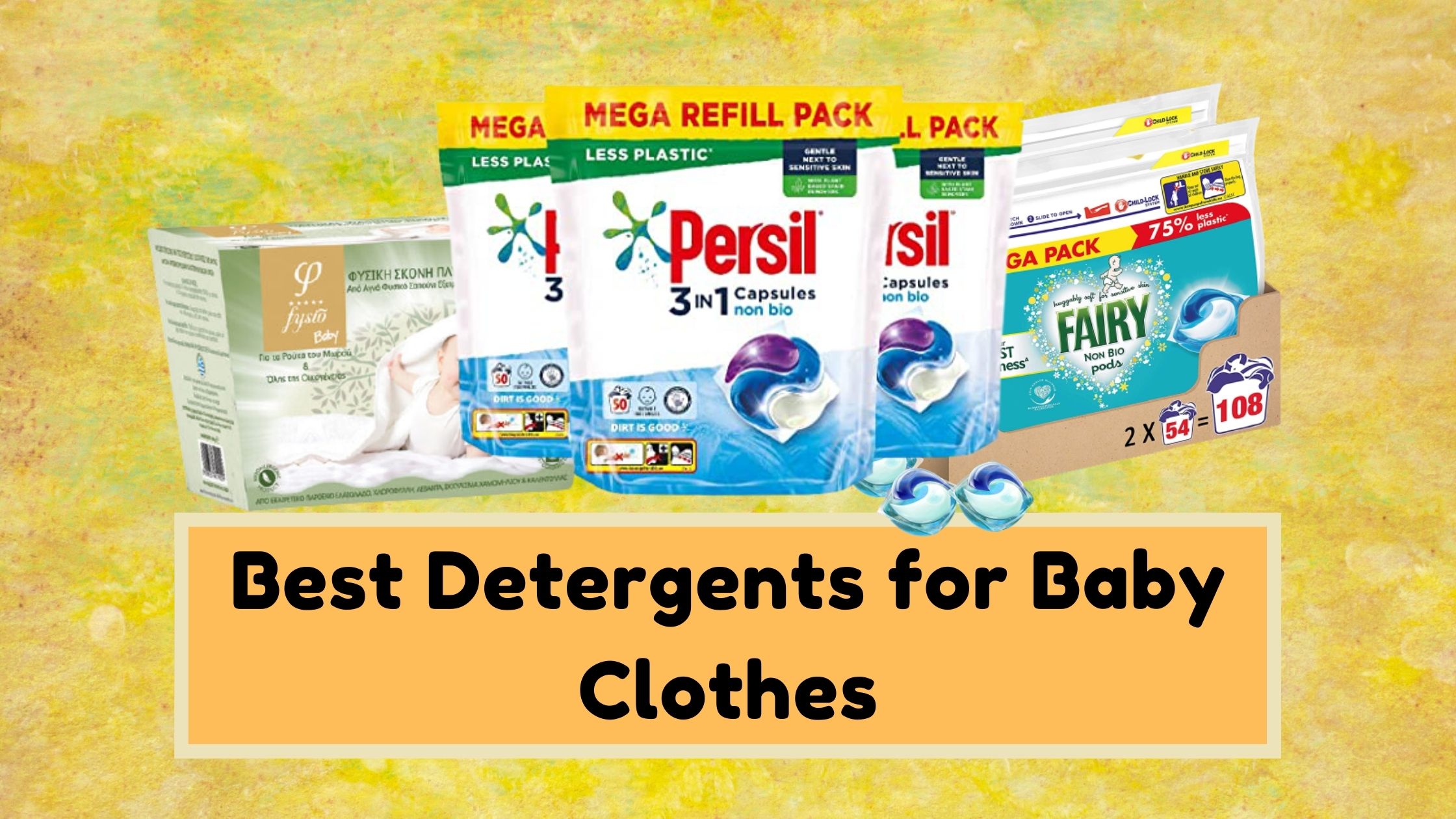 If only I knew babies go through so many clothes in a day, I would've probably thought about having one. I'm just kidding. But on a serious note, I was surprised at the change of clothes babies actually need after we had our little boy.
It is a never-ending cycle of cleaning, drying, and more cleaning. I was doing the laundry one day, yes only baby clothes when it struck me. How can I not think of the detergent I am using for my baby's clothes.
Am I using the right kind of detergent? I wanted to know how these detergents are affecting my baby's soft and sensitive skin? All these thoughts made me do a little bit of reading on baby detergents. 
After reviewing numerous detergents for baby clothes, these 8 really stood out from the rest. To make it easier for you to know which are the best detergents for baby clothes, I will take you through the top 8 best detergents for baby clothes.
They are:
Persil 3 in 1 Non-Bio
Fairy Non-Bio Pods
Fysio
Comfort Pure
Simply Pure Allergen
Botanical Origin
Baby Anthyllis
Nuk Detergent
Best Detergents for Baby Clothes
I have listed below my favorite baby laundry detergents that are sensitive to my baby's skin but are equally tough on stains.
Let's dive in, shall we?
Best Detergents for Baby Clothes
Reason To Buy
Price
Persil 3 in 1 Non-Bio
Sensitive skin
Washing Capsules,
plant-based,
Recognized by the British Skin Foundation
£15.89 – £20.49 
Fairy Non-Bio Pods
Dermatologically tested,
Child Lock System,
Extra gentle on skin
£22.44 – £32.99
Fysio
Grated Olive Oil Soaps
Enriched With Chlorophyll,
With Chamomile Extract, Lavender & Calendula
£15.44
Comfort Pure
Hypoallergenic fabric conditioner,
Incredible softness,
58 washes in one bottle
£23.53
Simply Pure Allergen
Allergen and Fragrance-Free,
Ideal for eczema and sensitive skin,
Made in the UK.
£11.47
Botanical Origin
Natural based laundry detergent,
Botanical Origin ingredients
£13.59
Baby Anthyllis
Sulfate Free,
Organic,
Vegan,
No synthetic ingredients
£14.95
Nuk Detergent
No fragrance,
pH neutral.
Quick and easy to rinse.
£5.06
#1 — Persil 3 in 1
The Persil 3 in 1 is a non-bio washing capsule designed to be gentle on baby skin and baby clothes. I personally like these capsules as they are produced with plant-based ingredients that are biodegradable.
The detergent is recognized by the British Skin Foundation too. Another plus point of the product is the packaging. It comes in a resealable pouch that can be reused. I am always for products that care for our planet and reduce the use of plastic. I pick Persil 3 in 1 as one of the best detergents for baby clothes for all the above reasons.
As a parent, I also want to save a little when I shop for my child and with this product, I have an option of buying the mega refill pack that has enough capsules to last me for months.
#2 — Fairy Non-Bio Pods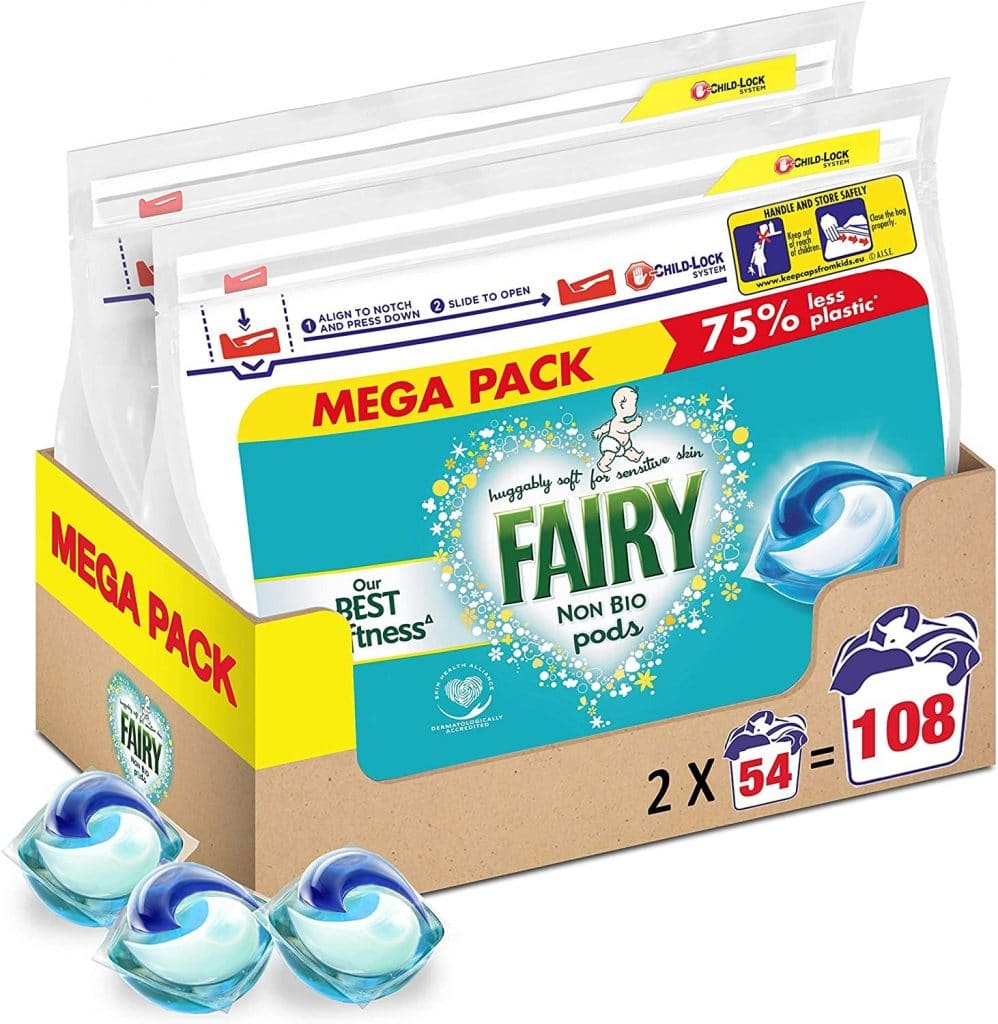 Another top pick is the Fairy non-bio pods washing liquid capsules. They offer gentle care to my baby clothes and the packaging is impressive as it comes with a child lock system.
The detergent is sensitive to skin and has been awarded by the British Allergy Foundations's seal of approval. I couldn't ask for more.
I added this product to the best detergents for baby clothes as it has an innovative film that completely dissolves as soon as it comes in contact with water.
The pods are made with 30% Anionic Surfactants, 5-15% Soap, <5% Non-Ionic Surfactants which is not totally natural but it is soft on the clothes. The Fairy non-bio pods has also been voted as the No 1 brand for sensitive skin in the UK.
With time, I have noticed that washing clothes with this detergent is as good as washing it in just water, my baby never has had any issues and I feel good sharing this with you.
Recommended Read: What Things To Buy for a Newborn Baby?
#3 — Fysio
This washing powder for newborn babies is 100% natural and is made from quality ingredients which makes it a preferred detergent for my baby's clothes.
The ingredients include grated soap, virgin olive oils, herbal extracts, and other essential oils. These help in keeping my baby's soft and gives the clothes a fresh feeling.
I have used it for both my kids and apart from disinfecting, the garments smell good and has never caused any skin problems.
It is a Greek product and is chemical-free, sulfate, and phosphate-free. Not just that, you can be sure of the product being dye-free, SLS-free, paraben-free, and fragrance-free too. Now that's some reassurance, right?
#4 — Comfort Pure
This ultra-concentrated fabric conditioner is UK's number 1 fabric conditioner for sensitive skin. This hypoallergenic conditioner has been tested and is bound you keep your baby's skin soft like it has to be.
I have trusted the brand for ages and I took to this product quite naturally. There is something about some brands that make it click for you. This product has been made after a lot of research and has been recognized by the British Skin Foundation too.
Formulated with ingredients that are safe for a baby's skin, even the bottle is eco-friendly and uses 34% plastic than usual.
I had to add this to my list of best detergents for baby clothes as I am a sucker for such things. The product helps keep my baby's clothes smooth and easy to iron. The fragrance is soothing and nontoxic.  You can now try the convenient 6 pack for more washes.
#5 — Simply Pure
This 5 to15% Oxygen bases detergent is made of a non-ionic surfactant. Simply Pure is a dissolvable soft-tabs that have been patented globally for its innovation. It is made in the UK in West Yorkshire.
The formula is designed to avoid atopic and skin conditions that aggravate eczema. My first child has skin sensitivity and I had to look for alternatives like Simply Pure and I am really happy with the product.
It is not only sensitive to my baby's skin but also tough on stains. That's all a mother ever needs according to me. Add to that an environmentally friendly product and you had me sold.
The company is the first one in the EU to be awarded the European Eco-Label making it the right choice. 
#6 — Botanical Origin
Another natural product in my list of best detergents for baby clothes is the Botanical Origin detergent made with 95% of botanical-based ingredients.
I like it for the fact that it removes stains even in cold water and leaves my baby clothes as fresh as ever. I couldn't leave this out of my list of best detergents for baby clothes for many such reasons. The fact that it is certified by Ecolabel as a product for sensitive skin is proof enough.
The Botanical Origin is a natural-based detergent with a lavender and jasmine fragrance. You may avoid this if your baby is sensitive to these smells. The ingredients are 5% – 15%: Anionic Surfactants, Non-ionic Surfactants, <5%: Soap, Phosphonates, Enzymes, Perfumes.
But please be cautious as it may cause irritation in kids if they come in direct contact. Read the directions on the label and use them carefully. Avoid any contact with the eyes. 
Recommended Read: Best Baby Hair Oil
#7 — Baby Anthyllis
This revolutionary product is made from organically farmed olive and rapeseed oil. I love the fact that it has been dermatologically tested for sensitive skin and it totally non-irritating on the skin.
The formula is designed to suit delicate to sensitive skin types making the baby's skin top priority. This is possible due to the absence of the alquilsulfates. This made me opt for the Baby Anthyllis detergent.
With no chemical ingredients like sulfates, synthetic preservatives, and petroleum products. The Baby Anthyllis is an environment-friendly product as it contains aquatic toxicity that prevents long-term effects on aquatic organisms, and aids fast biodegradation.
The product has no allergens and is vegan friendly with a certification from the vegan society too.
#8 — Nuk Detergent
Nuk is a leading brand in Germany for baby detergents and rightfully so. I came across this product when we had our second child and I was super impressed by its nonfragrant and perfume-free detergent.
I had to add this to my list of best detergents for baby clothes as it is a pH neutral detergent with no chemicals. It is also extremely effective on tough stains.
The product comes in a 500ml size which might be an issue but the quality sure makes up for it. I like big bottles personally but I didn't mind stocking up on these 500ml bottles for my baby's sake.
As it is formulated with natural ingredients, it is safe to use around newborn babies too. It has deep cleaning properties and is easy to rinse off. 
Now, you may ask me, which is the best detergent for baby clothes?
Well, I found my answer to this question by testing out several detergents. I used to buy small sample packs and washed one load of baby clothes and tested how my baby reacted to them. If I even saw a little bit of reaction to a detergent, it was out. Use this technique and make the right choice.
My mantra now is to stick to a baby detergent that ticks all the boxes on my checklist which consists of the following:
Dye-free
Fragrance-free
Brightener free
Hypoallergenic
Make sure you avoid the following chemicals when you choose your baby detergent as well.
Bleach
Chlorine
Sodium lauryl sulfate (SLS) and Sodium lauryl ether sulphate (SLES)
Optical brighteners
Do you need detergents for baby clothes?
When you start thinking as I did, you need to think of a baby's skin. It is very different than ours and there is a risk of skin conditions. So I checked with a few pediatricians I knew to check how these detergents affect a baby.
I was relieved to know that if we don't let any residue stay in the fabric, it won't be a big issue for the baby. So the solution is washing the clothes carefully.
As a parent, you need to be extremely cautious and use a detergent that has no artificial ingredients, fragrances, and dyes. You have to ensure the detergent is gentle and baby-friendly.
If you ever notice a skin condition, please check with your child's doctor and make sure it has nothing to do with the detergent you are using. If it is, my advice is to switch to a mild, scent-free, hypoallergenic detergent.
Another good habit is to rinse your baby's clothes in water a couple of more times so no residue is left over after the wash. 
Takeaway:
It's always going to be difficult finding the right detergent for your babies clothes. After trying and testing numerous brands, we've drawn the conclusion that the Persil 3 in 1 is the best detergent for baby clothes as it's gentle on the skin and keeps the clothes fluffy and soft.
I would suggest avoiding the chemicals I have mentioned above and stick to the essential ingredients so your baby always has the cleanest and softest clothes to wear without any underlying skin complications or allergies.
Also Read: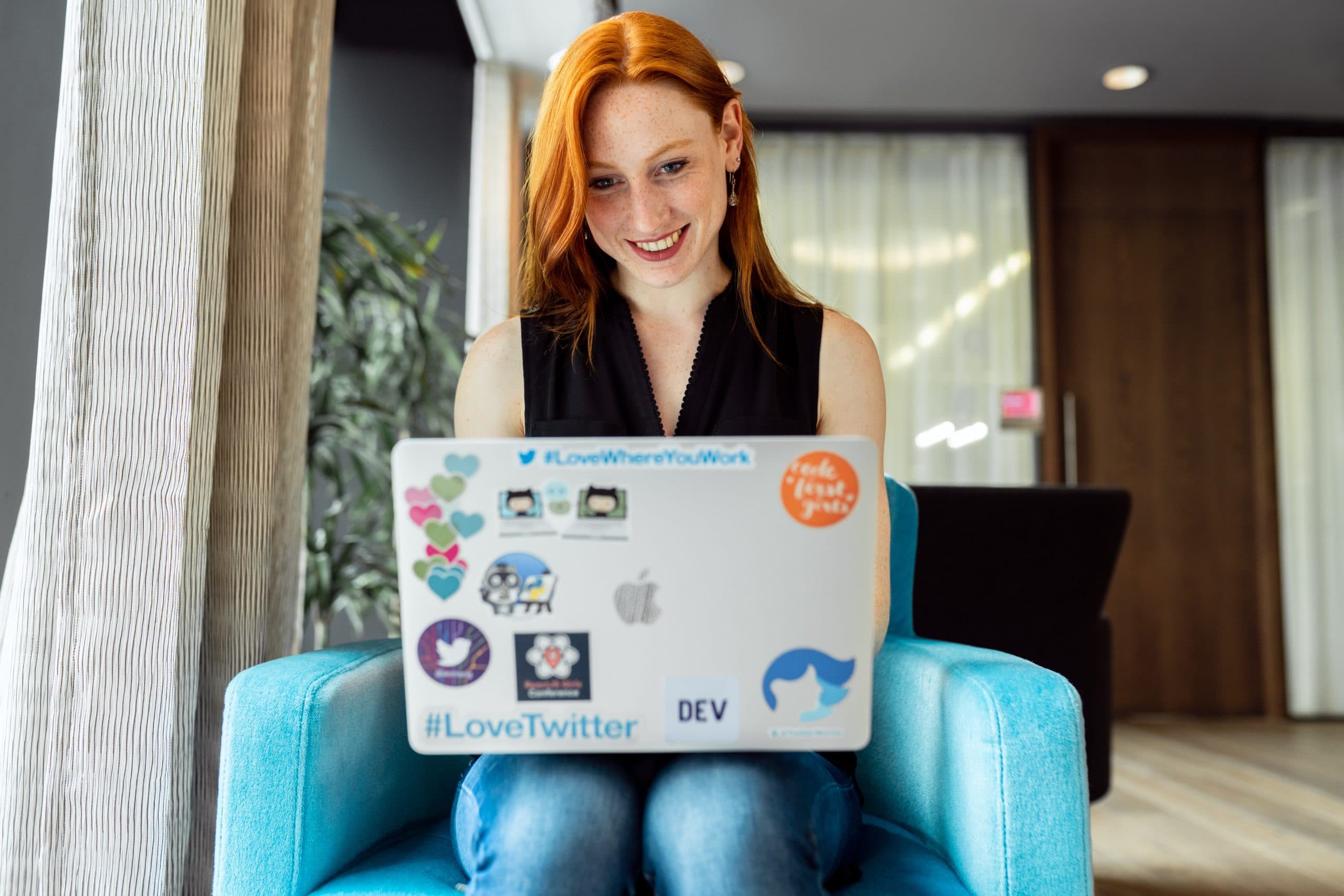 Joanna is a writer, poet, stand-up comedian and holds two master's in arts and history. She founded Discount-age with the intention of providing her readers with solutions to everyday household problems. During her free time, Joanna loves cooking but usually ends up ordering in.