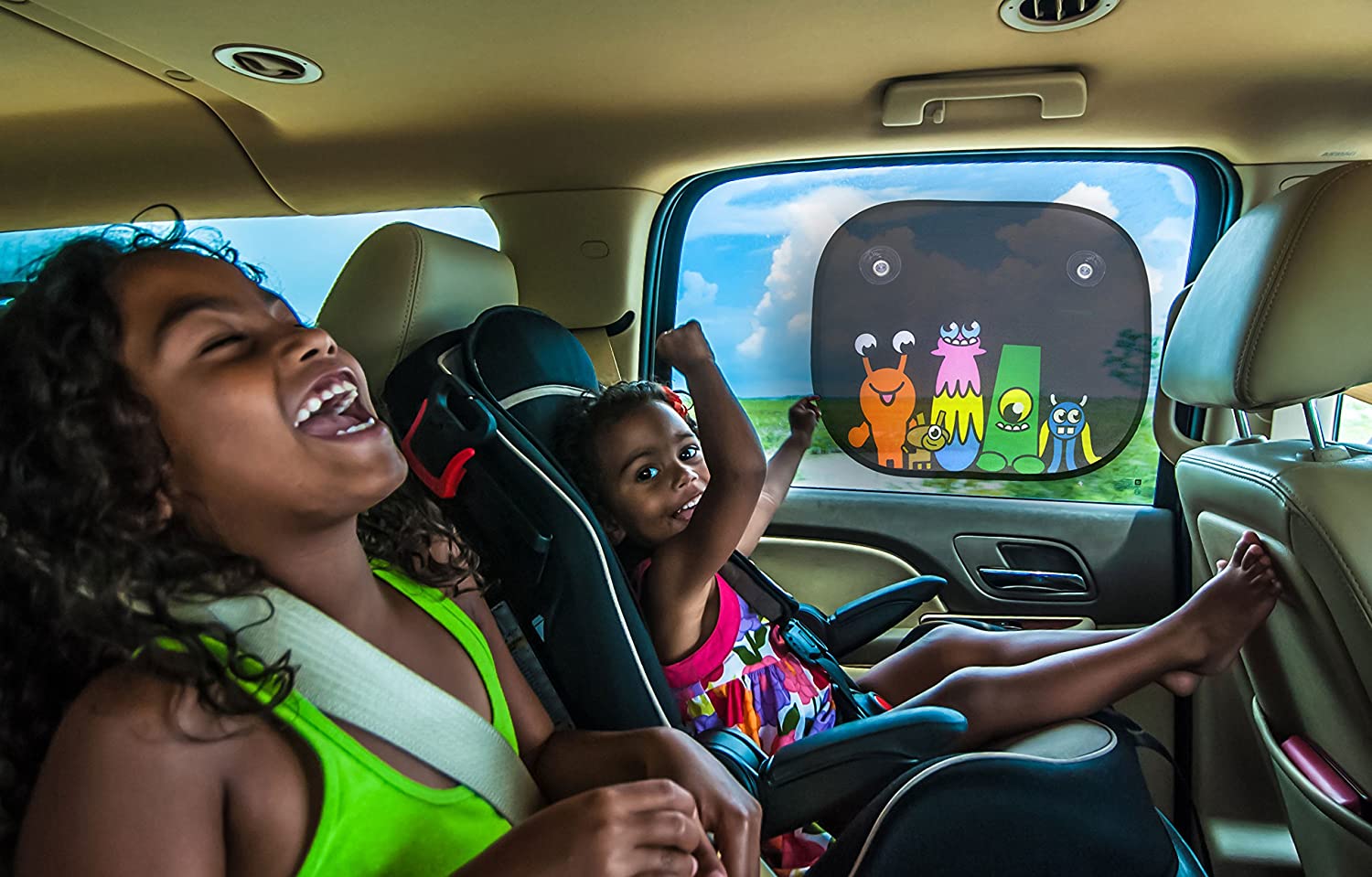 You might be wondering the need for a child car sunshade. According to WHO, Ultraviolet radiation has long term adverse effects on our kids. As our kids grow their vital functions, like their immune system, is still in the developmental phase. Unfortunately at this stage, our children are also more susceptible to environmental hazards like UV rays. Thankfully we have a solution in the form of a car sun shade. Check out our list of the Best Cheap Child Car Sun Shade UK 2020.
Car shades help reduce UV ray damage that can cause skin damage, sunburn, and may lead to skin cancer as they age. Overexposure to UV radiation is also known to cause eye damage and hasten the development of cataracts.
As parents, our primary task is to keep our kids safe and provide a conducive environment for their growth during the most crucial times in their lives. Car shades are extremely important and the best are quite budget-friendly.

Best Car Window Sun Shade For Baby
With the heightened levels of UV radiation, you can expect the UV effects on the immune system, eyes, and skin to be aggravated. Now more than ever do we need to exercise extra precaution when exposing our kids to direct sunlight.

#1 — JellyBabaBaby Car Window Shades
JellyBabaBaby window shades give you a double-layered dark cotton cloth wrap for your car window that covers 100% of your rear windows that keep your kids safe from harmful UV rays. It is certainly one of the Best Cheap Child Car Sun Shade UK 2020.

The wrap-around technology reduces the fuss of conventional sun shades that have suction cups and rollers that tend to get in the way of rolling the windows up or down.
Since the double-layered cloth wraps around the door frame your child can still enjoy a cool breeze without being exposed to damaging sun rays.
The downside to the JellyBabaBaby wrap-around is that the outer layer can become dusty or wet since it's exposed to outside elements.
It is important to note that the JellyBabaBaby window shade may not fit luxury saloon cars and extra-large vehicles.
Other than that it's perfect for your child.
Key Features:
Wrap-around technology
Double-coated UV ray protection
Let's you roll down the windows
May not fit luxury saloon cars and wider vehicles
#2 — Calish Car Sun Shades
Calish car sun shades are a more conventional and budget-friendly option that gives you 80gm of UV ray protection perfect for young children enjoying the car ride view.
The Calish sunshade gives you a larger option of 52cm by 32cm that fits most cars.
These sunshades are fireproof, rip-proof, and weatherproof without the suction cups.
With a thick and PVC-free material, it effectively protects your children and passengers from sun damage.
To make it better Calish car sun shades come with a compact travel pouch with instant installs that unfolds in a few seconds.
Key Features:
Large option 52cm by 32cm
Includes compact travelling pouch
Thick PV-free material
Weather, fire, and rip-resistant
The best car side window shade
#3 — PEYOU UV Protection Sun Blinds
Peyou car shade comes with a 4-pack window shade for your children that has oval-shaped double-layered material that provide around 50gsm of sun protection. It is one of the best car side window shade.

Compatible with various cars each pack includes 2 black sunshades with a 51×30.7cm diameter and a 2 pack giraffe car shade with 43x35cm diameter.
All of these sunshades have 51gsm of PVC polyester fabric that can block 60%-70% of harmful UV rays.
Peyou 4-pack car shade is easy to store and unfolds in seconds, for a hassle-free car ride that doesn't risk your kids to sun exposure.
Key Feature:
50gsm of protection
Made with PVC polyester mesh fabric
2 dark sunshade and 2 giraffe print car shades
#4 — Sfee Car Window Shade
If you're looking for an alternative to mesh car shades Sfee retractable sun blinds are a good alternative to conventional car shades.

It closely resembles house blinds that you can pull down and stick in place with its suction cups to provide you with UV ray protection.
Sfee sun shade effectively blocks 98% of the harmful UV radiation during your car ride.
Each pack includes 2 roller car sunshade and 6 suction cups to pin it to place.
The Sfee car shade has a one-touch retracting system for a quick retract and adjustments.

Key Features:
UV blocking blinds
15.8"x17.8" that fits most cars
Blocks UV rays while maintaining visibility.
#5 — Skribbies Window Sun Shades
For some kids taking a long drive isn't the most exciting thing in the world. Children are known for having short attention spans and as a parent, we have to find ways to keep them entertained during our trip. Luckily Scribbies offer an alternative to conventional car shades by including stickers and activity books that will keep your child entertained for hours on end.
Scribbies sun shade fits most cars with a dimension of 43cm by 36cm.
It has suction cups that are easy to put on and clip your sunshade on.
It is a fantastic twist to your regular sunshade, Scribbies car sun shades keep the sun out of your children's eyes while entertaining them with activities and cute creature designs. This makes it one of the best car window sun shade for baby.
Key Features:
Dimensions 43cm by 36cm
Twistable shade tat unfolds in seconds
Does not interfere with drivers view
#6 — Disney Princess Car Window Sunshade
Sunshades don't always have to be pitch black and dull. For Disney princess enthusiasts the official Disney car sunshades are pure delight.

This fun Disney princess sunshades give a hint of pink and wonder for your car ride.
Easily attach the sunshades to your car window with the built-in suction cups that provide a strong attachment that you don't have to worry about.
It has a dimension of 19.6×15.4 cm.

Key Features:
Fits most cars with a 19.6×15.4 dimension
Disney branded sunshades
#7 — Kinder Fluff Sunshade
The 4 pack Kinder Fluff sunshade is known as one of the most durable sunshades in the market with an 80gsm sun exposure coverage and 20' by 12' dimensions. The Kinder Fluff is by far the Best Cheap Child Car Sun Shade UK 2020.
Kinder Fluff doesn't use any bothersome suction cups, instead, they use static to conveniently attach to your car windows without leaving marks.
Its budget-friendly with thousands of positive reviews on Amazon.
Kinder Fluff sunshades have no designs but have a high level of UV blocking.
Kinder Fluff is highly durable and recommended by parents everywhere.
Key Features:
Plain black mesh
Attaches by static
20' by 12' dimensions
Lightweight and affordable
Durable and the best car window sun shade for baby.
#8 — Dreambaby Adjustable Car Shade
Dreambaby Stretch-to-fit car shade isn't your typical car sunshade. Most often sun shades come in a fixed shape while the Dreambaby allows you to stretch it and adjust to fit your needs.
Its the perfect car sunshade for homes with multiple cars with varying sizes.
The elastic material allows you to cover the fullness of your rear window with a 33 by 46cm dimension that can stretch up to 46 by 69cm.
Despite not being the most popular sunshade in the market Dreambaby Stretch-to-Fit car sunshade is a fantastic addition to your car that protects your child from UVA rays with 100% polyester material.
Key Features:
33×46 cm- 46×69 cm dimensions
Durable suction cup
100% polyester
What is the best car sun shade for a baby?
Car sunshades may seem uneccsesary but UVA's from the sun pose a real threat to your kid's health. Skin cancers, melanoma, cataracts, and immunity suppression are results of prolonged exposure to these harmful rays by the sun.
JellyBabaBaby Car Window Shades and Kinder Fluff Sunshade are some of the two sunshades that are really good. They are designed very well and are more than capable of protecting your child from UV ray. They also last long, so you don't need to worried about replacing them very often.
These are definitely the best of the Best Cheap Child Car Sun Shade UK 2020.
How effective are car sun shades?
The best car sunshades are actually quite effective in blocking out UV rays. Close to 99% infact. For example, despite being budget-friendly JellyBabaBaby Car Window Shades are capable of shielding your children and passengers from sun damage during long car rides.
Also Read: