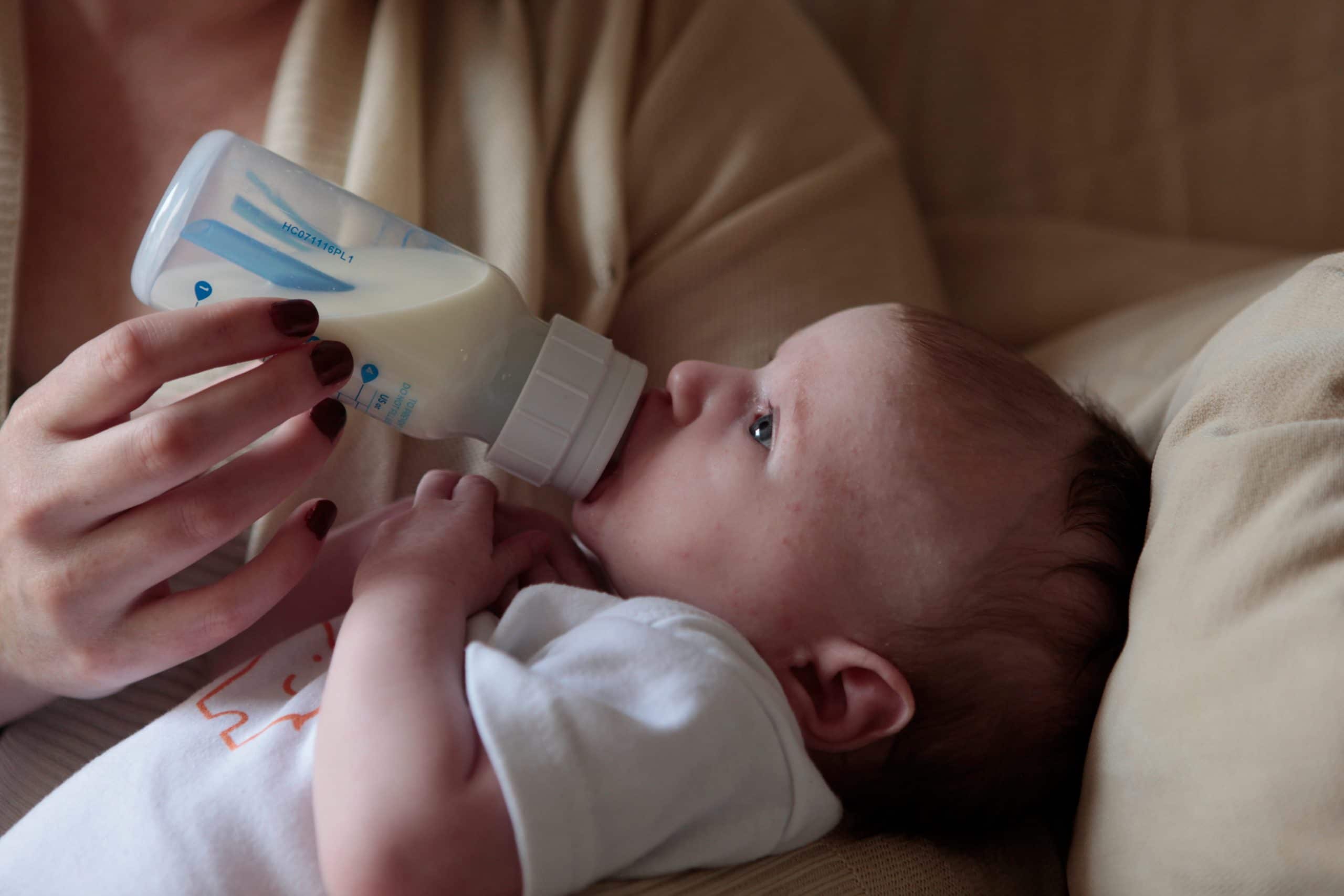 Whether it's your first time expecting a newborn baby or you've been through this road before, we all know how crucial and difficult it is to perfect our babies formula milk. Imagine waking up at 3 in the morning, walk your way down to the nursery to prepare your babies bottle while half asleep; there's a huge chance that you won't get the measurements right.
And formula milk can be temperamental, adding too much or to little water can affect the nutrients that your baby can absorb.
Luckily, the best of the Best Baby Bottle Prep Machine UK 2020 eliminate chances of error and ensures your baby has the right amount of formula and temperature to enjoy.

No parent wants to see their child, let alone a baby feel discomfort. Thankfully, we now have these amazing preparation machines that reduce time spent on perfecting a baby's bottle, It also alleviates the stress of getting things right, and ensuring that your baby will get the exact amount of formula, nutrients, and temperature they need to grow and develop. Here our list of the Best Baby Bottle Prep Machine UK 2020.

Best Formula Maker 2020
#1 — Tommee Tippee Perfect Prep Machine
Tommee Tippee is the best-selling and most recognizable bottle prep machine in the UK. They are known for delivering quality products that prepare your babies formula milk in a few short minutes while getting the measurements and temperature just right. Tommee Tippee is the Best Baby Bottle Prep Machine UK 2020.
The user-friendly interface is perfect for those who have little to no experience in making formula milk.
Every bottle of milk it produces has no air bubbles and the perfect consistency of formula milk to water.
Prepare your baby's bottle in a fraction of the time while being more accurate than conventional methods. In less than 2 minutes you get a fresh bottle of milk at the perfect temperature.
The Tommee Tippee Perfect Prep Machine has a filtration system that removes any impurities in the water.
Its Hot Shot function disinfects and kills off bacteria that may have contaminated the formula. You can get body temperature milk with the right amount of formula consistently in every bottle.
Key Features:
Prepares formula in less than 2 minutes
Compatible to any powdered formula
Built-in filtration system
Hot Shot function
Can only be used with Tommee Tippee bottles
#2 — Burabi Wi-Fi Smart Formula Maker Machine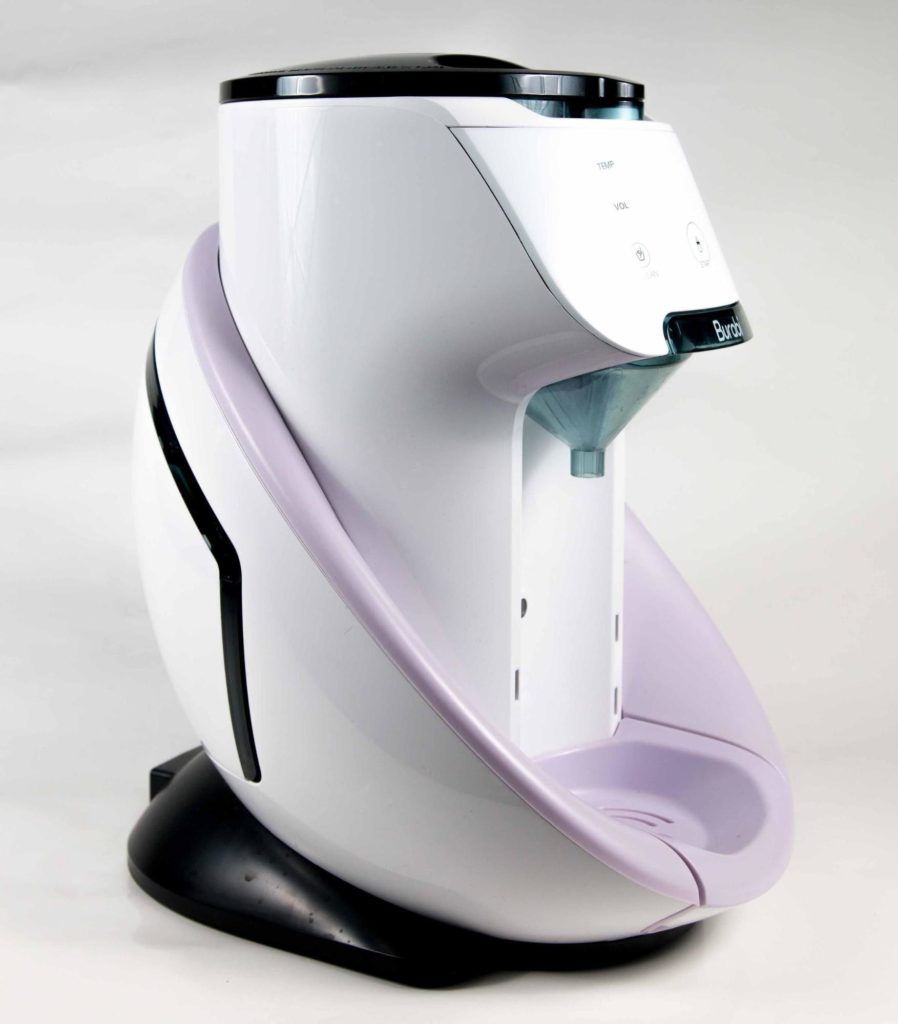 When you have a newborn baby your time becomes very important. You try to find more ways to spend time with your little bundle of joy without neglecting any of your responsibilities.Burabi's Smart Formula Maker Machine will let you do just that.
Made with BPA-free material, the Burabi Smart Formula Maker Machine can accurately distinguish various formula milk brands and stages to accurately portion the right amount of formula powder to water.
With a simple touch of a button either on the angled panel or on your smartphone, you can easily make formula make with the exact temperature and concentration you desire in seconds. Never miss any precious moments with Burabi Smart Formula Maker Machine.
Key Features:
400g powder capacity
1.7L water capacity
Compatible with IOS and Android
Smart Proportioning System with memory operation
Thermoblock Heating Technology
Food-grade materials
Airtight powder formula container
18 built-in sensors
#3 — ÜneeQbaby Baby Formula Kettle with Built-in Thermostat
ÜneeQbaby's Baby Formula Maker looks completely different from the rest of this list and that's because they have a different take on how to perfectly make your babies formula milk.
It is true that ÜneeQbaby Baby Formula Maker does not mix your babies formula for you, on the other hand, it gives you the exact temperature you need to manually mix your babies formula milk. 
Having readily available water throughout the day can save you tons of time and worry. For half the price of branded bottle prep machines, the kettle can help you out a lot.
Key Features:
Maintains 37°-70°C for 24 hours, 71°-90°C for 3 hours
Boil and keep water warm with one button
Touch screen display
4 pre-set options
#4 — Beaba Bib'Expresso bottle prep machine
Perfect for moms who have busy schedules, the Beaba Bib'Expresso heats up water in just 30 seconds that can either be used for your babies formula milk to their porridge.
The multi-functionality of the Beaba Bib'Expresso puts it at a step above the rest.
It is one of the few machines that aren't restricted to only making formula milk.
There is a removable and portable compartment that can be used separately to heat up your babies food options. Not to mention storage for 3 baby bottles to keep them clean from dirt and deposits.
Key Features:
Prepare 6 bottles per day
Can be used for other heating options
Has a portable detachable heating unit
Stores up to 3 clean baby bottles
#5 — YXLONG Perfect Prep Machine
Get instant formula milk in just 10 seconds with the YXLONG Perfect Prep machine.
You get the right consistency and temperature every single time.
The YXLONG Perfect Prep boils water silently making it easier to place in the baby's nursery.
With just one touch of a button, you can easily make a bottle of formula milk. The YXLONG baby bottle prep machine makes things a little bit easier for parents by being easy to clean and easier to use. 
Key Features:
Silent operation
Perfect consistency and temperature
Makes formula milk in 10 seconds
#6 — Baby Formula Maker Wifi App Control
With the Baby Formula Maker, you can feel completely secure and in control, as this is app-controlled baby prep machine that automatically mixes and warms your baby's formula milk instantly.
Either press a button from the control panel on the baby bottle prep machine or tap once on your mobile app to get an instantly mixed temperature-controlled formula milk in 8 seconds.
Press twice to dispense water, and press three times to connect to Wi-Fi. It's that easy! You can also set the amount of milk and water Made with BPA-free material that gives you instant fresh hot water.
Key Features:
Wi-Fi compatible
App-controlled
Makes formula milk in 8 seconds
BPA-Free Tritan
#7 — HANHJ Baby Formula Maker
HANHJ Baby Formula Maker is perfect for parents who always have their hands tied with their babies.
It gives you convenience like no other with easy operation, quick responses, and multifunctional.
With a single finger pressure, you can easily drain the Baby Formula Maker with ease.
Equipped with instant heating that gives you formulation in under 10 seconds. It can boil, dechlorinate, and reduce harmful gases from the water used. 
Its high-precision sensors accurately dispense the right temperature and consistency of the formula. What's more, HANHJ Baby Formula Maker has a mobile app that lets you easily portion out your babies formula while controlling the temperature at all times.
Key Features:
10 seconds to make formula milk
Multi-functional
Built-in high-precision sensors
#8 — AZUNX Baby Formula Maker
The AZUNX is one of the fastest baby bottle prep machines in the market. Not only does it provide you with a perfect bottle of formula in 8 seconds but you can also accurately tailor it to a brand of formula you use. It's definitely one of the Best Baby Bottle Prep Machine UK 2020.
The AZUNX is designed to look like a coffee machine, so it looks really stylish. Even the buttons are digital so you don't have to worry about loose knobs or dials.
It's quite sleep-friendly. It relatively quiet so it won't disturb you or your child when you use it in the middle of the night.
It's extremely easy to use and maintain. And as a plus, it's made of BPA-free material.
It has an instant heating function that can provide you with the perfect formula in under 8 secs. It also has high capacity storage of 300 ml. So you can fill it with the formula and it won't spoil or create blockages.
The most amazing feature is the patented smart MCU feature. Basically, this baby bottle prep machine can accurately and automatically mix the milk and formula in terms of concentration, temperature and capacity.
Key Features:
MCU feature
Instant heating features
High-Capacity
Relatively quiet
Beautiful aesthetics
Are Baby Bottle Prep Machines Necessary?
Baby bottle prep machines either mix your baby's milk for you or heat up the water to the necessary temperature. According to the World Health Organization (W.H.O), this is extremely important as our baby's formula needs to be prepared with water boiled to at least 70℃ to kill off any bacteria that lingers.
These machines also help you get the specific ratios of water to a formula that you need to ensure your baby gets all the nutrients from their formula. For most of the UK's top formula brands, the correct ratio is listed on the packaging, however, it can be difficult to get the exact measurements perfect all the time.

However, the main benefits of getting a baby bottle prep machine are being able to gauge the correct temperature to water ration consistently with a push of a button.
It's speedy and convenient which is just the thing parents need when they have a newborn.
Not to mention that most machines sterilize the bottles effectively before making the formula milk.
A properly sterilized bottle reduces the likelihood of your baby contracting diarrhoea and other ailments.
By getting your baby a formula prep machine you're reducing the amount of time you toil on preparing their milk and food but also reduce the number of appliances you need to keep them safe and healthy.
Can you use different bottles with the perfect prep machine?
Having a baby is one of the most magical times of your life. At the same time, it can be really overwhelming when choosing various products for your child.
As far using different bottles with the prep machine, Tommee Tippee Perfect Prep Machine is the best. According to the company any bottle can be used with their product.
What bottles are best for newborns UK?
The best baby bottle prep machines in the UK give you one less thing to worry about in your day. Each of these machines gives you well-formulated milk with just the right amount of milk powder and water consistency to ensure maximum nutrients.
As for Bottles, you can't go wrong with any Tommee Tippee Product.
Also Read: