Air fryers are fantastic devices that can cut calories from your favourites food and dishes without having sacrifice flavour and taste. More importantly, fried food can now be considered healthier as air fryers cut down on fat content. Check out the Best Air Fryers in the UK for all the details.
It's an amazing device that works on the power of convection, circulating hot air around to expose every surface of your food to heat and oil. The beauty of it is that it only needs a tiny dollop of oil. As for texture and the flavour you get from fried food, this is creat via the "Maillard reaction".
With it being a pretty amazing kitchen gadget, it comes as no surprise that everyone wants it. There are a significant number of air fryers out there, but finding and choosing the right one can be daunting. Luckily, we've compiled some of the Best Air Fryers in the UK market below.
Best Air Fryers in the UK 2020
#1 – Tower T17005 Healthier Oil Free Rapid Air Fryer

This is an extremely popular air dryer in the UK that is not only low-cost but also reliable and user-friendly. The Tower T17005 Healthier Oil Free Rapid Air Fryer is known to fry up excellent quality food. It is definitely one of the Best Air Fryers in the UK.
Many have praised it for being a fantastic air fryer for family use, and how big it cuts down on fat – by nearly 80%.
It also has a wide range of accessories with it and some that you can buy separately, such as a divider to cook two meals simultaneously and a baking pan.
The Tower T17005 Air Fryer uses rapid air circulation technology and a low-calorie cooking spray to fry your food without the excess fat associated with traditional frying.
This air fryer has an adjustable dial that ranges between 80-200 Degree so you can easily cook various meals like vegetables, chips, chicken and even cake. The best part is that it has a large cooking basket with a capacity of 3.2 litres. So, you have ample space for grilling, frying, roasting and baking.
Specs
Capacity
3.2l
Power
1350W
Display
Manual Timer
Accessories
Sold separately
#2 — Power Air Fryer XL

When it comes to the air fryer with the best value, it doesn't get better than the Power Air Fryer XL, a mid-range air fryer that's easy-to-use. You can cook non-greasy healthy food that's packed with flavour for a great price. This Affordable appliance is one of the Best Air Fryers in the UK.
Adjusting the temperature and the cooking time can be done with the Power Air Fryer. It also has seven preset functions, namely roast; prawns; chicken; steak; fish; fries; and bake. It comes with an LED control panel which is super convenient.
A baking pan and a basket divider come free with the air fryer for a much-varied cooking experience. The recipe book that also comes with fryer is a great addition to have.
This air fryer also comes with a 3.2L capacity. So it's perfect for the entire family.
Power Air Fryer XL can quickly fry your food at 200°C/400°F. It is 70% faster than conventional cooking methods.
The most fantastic part about this air fryer is the clever all-in-one alternative to 5 cooking methods. Basically, you can fry, grill, bake, saute, roast and steam food with this air fryer. Also, this air fryer is extremely easy to clean and is dishwasher safe.
Specs
Capacity
3.2l
Power
15000W
Display
Digital
Accessories
None
#3 — Morphy Richards 480001 Health Air Fryer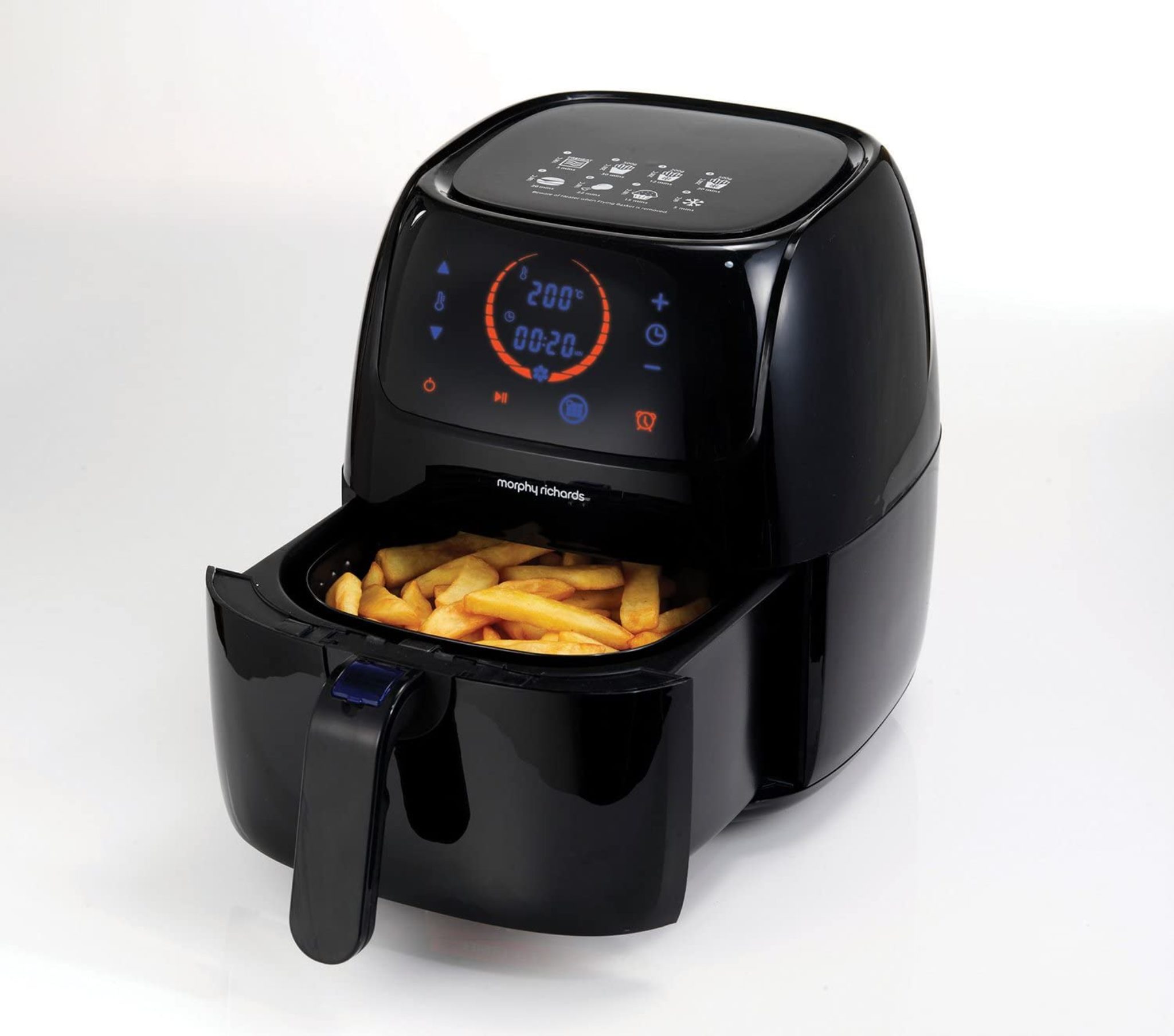 The Morphy Richards 480001 Health Air Fryer perfect for the family. It also cooks faster than your conventional oven. You can fry, roast, bake and grill all your favourite family meals in a healthier and more convenient way
The preset functions can be found on the top of the air fryer while a nice digital display and buttons are located on the front.
It has a large capacity of 3 litres. And you can cook even and consistent food with just a spoonful of oil. Imagine if every single one of your french fries were perfect.
This air fryer comes with eight pre-programmed settings. You don't have to guess if the time or temperature is right. It's all taken care of. You get perfectly cooked food every time. The digital display also helps you keep track of your food.
Specs
Capacity
1.6 kg
Power
1400W
Display
Digital
Accessories
None
#4 — Lakeland Touchscreen Air Fryer
The Lakeland Touchscreen Air Fryer is a brilliant device where functionality and design meld seamlessly to form the perfect cooking experience. This air fryer is equipped with a clear digital display and touchscreen controls.
You can do wonders with the adjustable temperature settings and various other features.
It's very user-friendly and has several features to it, such as a timer and a temperature gauge, and a cool-touch handle so that you can check the progress of your cooking without Burning yourself.
With just a teaspoon of oil, the Lakeland Touchscreen Air Fryer can already fry up to 500 grams of chips, and other food.
It also has an auto-stop function that many seem to love. The air fryer will automatically stop when you pull the basket out. The Lakeland Air Fryer is dishwasher safe.
Specs
Capacity
2.6l
Power
1300W
Display
Digital & touchscreen
Accessories
None
#5 — Philips Avance Collection Airfryer XL HD9240/90
A stellar device from Philips, this air fryer is not only highly functional but comfortable on the eyes, too. It's sleek and attractive and blends nicely in any spacious kitchen.
Its design is not only meant to be attractive but functional. It's been designed in a way that the air circulation gives a nice crisp and even cook every time. Performance-wise, it's a real winner.
The Philips HD9240 can fry, bake, grill, and roast up to a temperature of 200C.
You can save the settings for your favourite dishes using the pre-set feature and access it whenever you want. It's also dishwasher safe. So, you don't have o worry about cleaning it.
Specs
Capacity
3l
Power
2100W
Display
Digital & touchscreen
Accessories
None
#6 — Ninja Air Fryer AF100UK
The Ninja Air Fryer AF100UK promises a healthier alternative to regular frying of up to 75% less fat, possibly paving the way for you to enjoy your chips healthily and at the same, in bigger bulk; this can fry up to 900 grams of chips.
Versatility is a strong feature as the Ninja Air Fryer AF100UK. Frying isn't the only thing you can do with it. You can also roast your food, or get even healthier by dehydrating food like apple slices and veggies crisps for wholesome snacks.
This air fryer also allows you to reheat leftovers easily. Smooth controls, and a digital display with a customisable cooking program. It's definitely one of the Best Air Fryers in the UK
Specs
Capacity
3.8l
Power
1550W
Display
Digital
Accessories
Removable Crisper Plate
Which is the best air fryer to buy?
The best air fryer would have to be Power Air Fryer XL, this is the best value air fryer in the market. It has seven preset functions, namely roast, prawns, chicken, steak, fish, fries, and bake. The best part is that the dishes prepared by this air fryer is 70% healthier than the traditional method of frying.
But, of course, there are other amazing air fryers out there. Check out our list of the Best Air Fryers in the UK for all the details.
Most importantly, you need to know how to choose the right air fryer. So peruse through the information below to help you make the right decision.
Dishwasher-Safe Parts
Not everyone likes to wash things by hand, especially with an air fryer.
Some air fryer presents some difficulty when it comes to hand washing so it can be bothersome.
That's where dishwasher-safe parts come in. It's excellent when parts of the air fryer can be chucked into the dishwasher with you having to worry if it'll be okay or not.

Manual Timers and Digital Timers
Some air fryer users will argue that they prefer a manual timer while others would opt for digital ones. Both do have its advantages and disadvantages.
For one, a manual timer is pretty easy and straightforward to use. A digital timer might be harder to operate mainly for those who aren't used to having their kitchen item digitised.
Then again, for some, a digital timer allows them to move around the kitchen to do other things and simply glance at the timer to know how much time is left. It all comes down to preference.

Stirring Paddle
A pretty nifty feature, some air fryers come with a stirring paddle that moves the food around automatically while it cooks.
The stirring paddle was primarily created to ensure an even cook on your food all around. It also helps that it saves you the hassle of having to watch and continuously stir.
It's pretty amazing what brands can come up with now to make life easier for us. But if you choose to just stir your food because you want to, most stirring paddles can be easily removed and stored in a safer place.

Smart Controls
Some people can't live without their phone simply because of how easy it makes things.
Can we really blame them? And now, things are getting even more accessible in the kitchen as you can control kitchen gadgets and devices from your phone.
There are some air fryers on the market that have a smart control feature that lets you control your cooking from your phone. You can control things such as temperature and length of cook time. It can also alert you when you're cooking is done.

Grilling Mode
Air fryers have gone above and beyond that to give you the option of air frying. Now, some air fryers have the grill mode option available.
This is perfect for those who want to cook some meat or fish but don't want to fry it. Some air fryers will also come with two compartments.
These two compartments let you cook two different dishes at the same time, perfect when you're putting together a fancy dinner or a big family meal.

Are air fryers any good?
Air fryers are really good. The food cooked in an air fryer can be a much healthier alternative than traditional frying as it will not contain large amounts of grease and fat.
Choosing the perfect air fryer for you does come down to preference and knowing what you need out of your chosen air fryer. If you don't need a whole lot of features, forgo the expensive ones and opt for the budget to mid-range air fryers that can still do the job.

Along with that, don't forget to consider how this method revolutionizes the way you dine and cook your meals. Not all recipes that you're used to cooking can be done with an air fryer, so you have to consider that.
At the end of the day, we advocate a healthy lifestyle and a better diet and an air fryer can definitely help you achieve that.
Also Read: